The White Tiffin Changi City Point – Modern Peranakan Food
White Tiffin pitches itself as "Local Delicacies with a Modern Peranakan Twist"
If a restaurant is mediocre, I will not return but White Tiffin was standout for me from our first family visit back in November 2021 and so when we had the chance being in Changi City Point area I jumped at the chance for a second visit.
The location for both dining experiences was obviously Changi City Point but they also have another outlet White Tiffin Woods Square: 6 Woodlands Square #B2-01 which is not very convenient for us in terms of where we live and work but a great opportunity for anyone living that side of Singapore.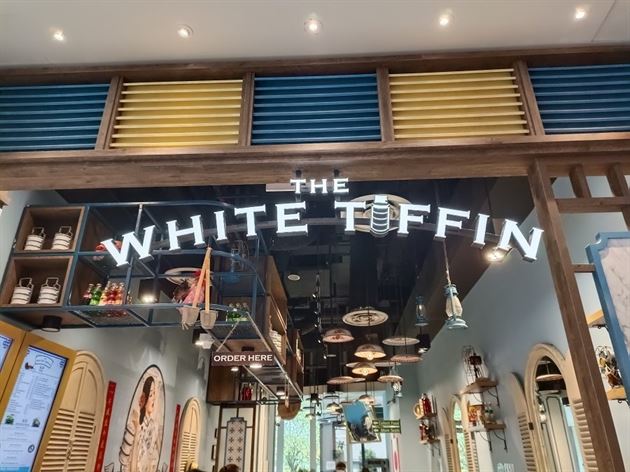 So what does Tiffin mean?
It is claimed that an Englishman living in India would often pass up a meal for a swig of his favourite diluted liquor called Tiff. He did this due to the sweltering heat (I am not surprised really) and it became stuck as a term.
So in the Indian context it's a meal taken between breakfast and lunch. Side note India has an incredible network of people that deliver Tiffin boxes sent by their wives to their husbands at work, its an incredible sight to see!
But Tiffin has two meanings, the other being a British cake/dessert that is produced by mixing chocolate, golden syrup, and crushed biscuits, and then placing it in the refrigerator to cool.
Both meanings are in context for this discussion on White Tiffin which you will see shortly.
Check out these Tiffin Boxes at White Tiffin!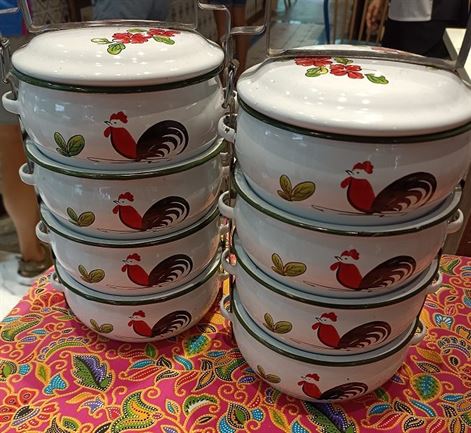 White Tiffin Food at Changi City Point
Borneo's first Chinese settlers in the region were the Peranakans, who intermarried with native Malays and created the Peranakan cuisine known as Nyonya cuisine. White Tiffin takes those old local traditional recipes and adds a magical Peranakan twist to their food to give it a modern touch.
Now clearly, we are here to read about food so let's dive right in to this one and less on the history please!!
Let me tell you it's packed with so many of the local delights, but Nasi Lemak is the star here and with so many different options to choose from, so more on that later!
For those of you who are always undecided on what to choose when presented with too many options White Tiffin offers the White Tiffin Special menu, there are two options, firstly Tiffins Local Trio which consists of a sampling set Mini Laksa, Mini Mee Siam and Mini Nasi Lemak – Costs SG$12.90
Next up is the Tiffins Sampler for 1, which comprises of Mini Curry Chicken, Beef Rendang, Babi Pongteh & Black Vinegar Pork with Jasmine Rice – Costs SG$17.50. Those prices are directly from the booking website yet the menu board in the restaurant says a different price.
On our first visit we ordered both the Tiffin Local Trio & Tiffins Sampler for 1 to share amongst 3 of us and boy was it enough despite looking small portions. We did add some desserts to that as well, again more on that shortly.
Amongst all those dishes I am sure a family of3 or 4 would find a variance of dishes that they each prefer and being able to taste and enjoy a larger selection then this would be the best sharing option here, it certainly was for us. 
The Beef Rendang and Black Vinegar Pork were my favourites, my wife enjoyed the Curry Chicken and the Mini Nasi Lemak, whilst my daughter preferred the Mini Nasi Lemak and Mini Laksa. So you see something for everyone!
White Tiffin offers a set meal promotion with every main course.
Set A Add on Hot Coffee/Tea +SG$1.00 (usual price SG$1.30)
Set B Add On Hot Coffee/Tea & Kueh/Cake of Choice +SG$1.90 (Usual price SG$3.10)
Set C Add On Hot Coffee/Tea & Chendol Ice Cream + SG$3.90 (Usual price SG$5.20)
We opted for Set B & Set C on both visits as they had the most value to what we ordered.
Most Nasi Lemak places will serve simply with chicken, but the variety offered he just for Nasi Lemak was delightful, let me list them out here for you to drool over.
Nasi Lemak with Prawn Paste Chicken SG$8.90
Nasi Lemak with Crispy Battered Fish Fillet SG\$8.90
Nasi Lemak with Curry Chicken SG$12.90
Nasi Lemak with Whole Fried Seabass SG$16.90
Nasi Lemak with Cheesy Lobster Gratin SG$22.50
Nasi Lemak with Sambal Aioli Lobster SG$22.50
Nasi Lemak with Beef Rendang SG$16.90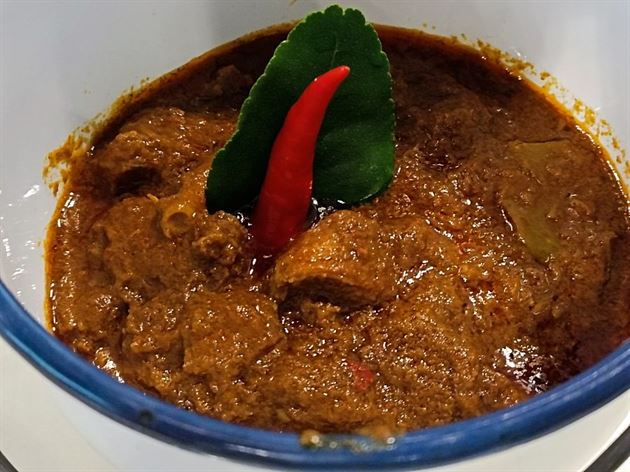 What we ate at White Tiffin on the second visit
For the second visit I opted for the Nasi Lemak with Beef Rendang SG$16.90, the serving size was very big and came a cone of Jasmine Rice, small bowl of Sayu Lodeh, some beautifully pickled Achar and a large crispy poppadom. Just look at the regional food influences here, original fusion cooking!
The Beef Rendang was a powerhouse of flavour, the softened beef had encompassed the spices and coconut milk throughout the long cooking process, setting the dish up with its fiery red chili poking out told me everything I needed to know about its spice level, and it did not disappoint. It reminded me of Brian's post called Mel's Devil Curry!
The accompanying Jasmine rice was an elegant compliment too with its lightness but floral notes hitting the rendangs mighty flavour and soothing it with every bite. That touch of sourness from the achar sent another burst of flavour to the tastebuds in a one two three pinch knockout, absolutely incredible combination.
The odd sip of the curry gravy from the Sayu Lodeh gave a powdery spice and thick coconut texture, the vegetables were soft as they had been boiling away in the vat of curry gravy for many hours, delicious!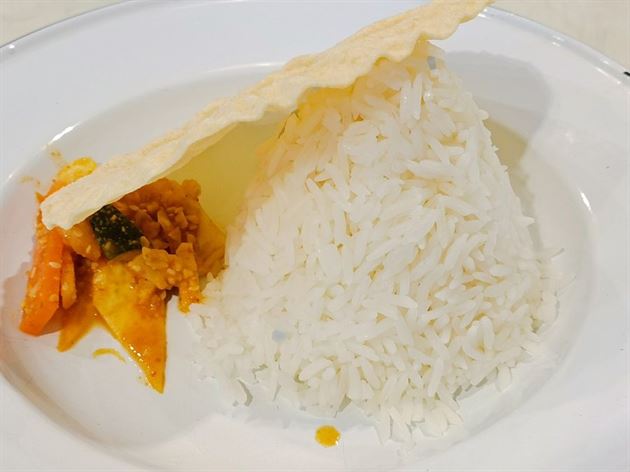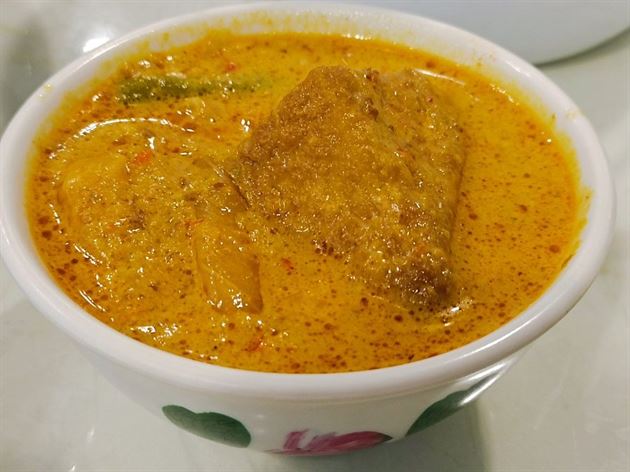 So many sweet desserts and cakes to choose form so little time!
The desserts bring back flavours of a bygone era for my wife, porting her back to her childhood growing up in Singapore and spending time with the family in Kukup in Malaysia.
This was our Selection on the two separate visits
Kueh Kosui SG$1.60
Kueh Dar Dar SG$1.60
Pulut Hilam Hot SG$2.50
Chendol Ice Cream SG$3.90
But in terms of variety, you should check out the Swiss Roll SG$3.00, Kueh Salat SG$1.60, Bingka Ubi SG$1.60, Durian Salat SG$2.60, Kueh Lopes SG$2.40 or the Kueh Lapis SG$1.60 (9 layer cake).
The Kueh Kosui was soft and wobbly, the coconut was rich and crunchy and the gula melaka for flavourful but not overpowering, overall, a very enjoyable morsel to eat with your Teh!
Chendol Ice Cream was a hit on both sides of the table, with green rice flour jelly, coconut milk, and palm sugar syrup were all used in the making of this Cendol Ice Cream.
Kueh Dar Dar or Kueh Dadar as others might call it is my firm favourite in this mix but then again, I have a very sweet tooth, the gula melaka, couple with that sweet coconut milk is pulled together by the unassuming pandan leaf that blends itself well with the egg and flour wrap.
The wife opted for the Pulut Hilam Hot, I had a bite, not a fan to be honest but our taste buds are polar opposites when it comes to sweet and savoury!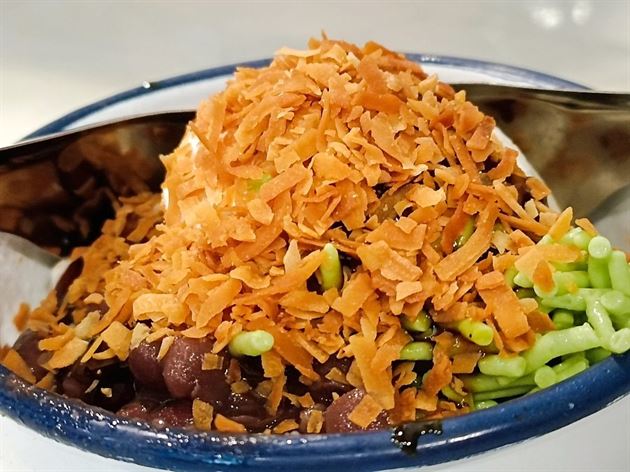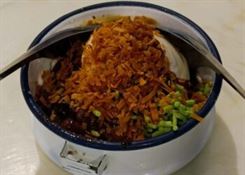 Other House Made Desserts you can try
Pulut Hitam with Coconut Ice Cream (A combination of the above) SG$3.70
Green Bean Sago SG$2.50
Snowq Fungus with Red Dates Soup SG$3.90
Durian Pengal SG$6.50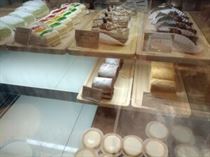 White Tiffin offers an old school kopi shop vibe with a modern spin, the drinks are served in white painted tin cups which fits the overall décor of the place. Again so many choices to think about.
House Made Hot
Water Chestnut SG$2.20
Herbal Chrysanthemum SG$2.20
Luo Han Guo SG$2.20
Brewed Barley SG$2.20
Lemongrass Pandan Tea SG$2.20
Speciality Drinks ICED
House Made Iced Lemon Tea SG$2.50
Honey Yuzu Cintron Iced SG$3.50
Honey Lemon Iced SG$3.00
Bandung Sago SG$3.00
House Brew Wintermelon Tea Iced SG$3.20
Speciality Drinks Hot
Honey Yuzu Cintron Iced SG$3.00
Honey Lemon Hot SG$3.00
House Brew Wintermelon Tea Hot SG$2.80
Home Made Barley SG$2.00
I am always the regular Teh drinker in our house whilst the wife opts for Teh O Kosong, she is always chooses the healthier option out of the two of us for sure, so I decided for this post to dig a little deeper and found that the Singapore Health Promotion Board has run a campaign to get people to move away from using condensed milk in their Teh, see the image below!
I guess I must now jog ten minutes to my local Hawker center to enjoy my Teh from now on!
White Tiffin Review Conclusion
White Tiffin is really good value for money, the food is high quality and cooking times for each of these dishes needs to be factored into this pricing. Great tasting dishes is why this places is always business when we walk past with families of all ages coming here to taste the culinary history of yesteryear!
I really only have good things to say about White Tiffin given the two experiences I have had here so far. The only bad thing I can say is there are too many choices and now I will have to come back and try whatever they have on the menu I missed in the first two seatings!
Address &Telephone Number
Changi City Point: 5 Changi Business Park Central 1 #01-44
Phone: +65 8125 5135
Other location: Woods Square: 6 Woodlands Square #B2-01