French-style Mussels in White Wine avec Tarragon
Blink and you'll miss this one folks. This is a really fast, and really simple recipe, so you will need to keep up. This goes back to Christmas Day 2014 and dinner for my wifey on this special day. Not bad to get French-style tarragon & white wine mussels eh? Well, here they are.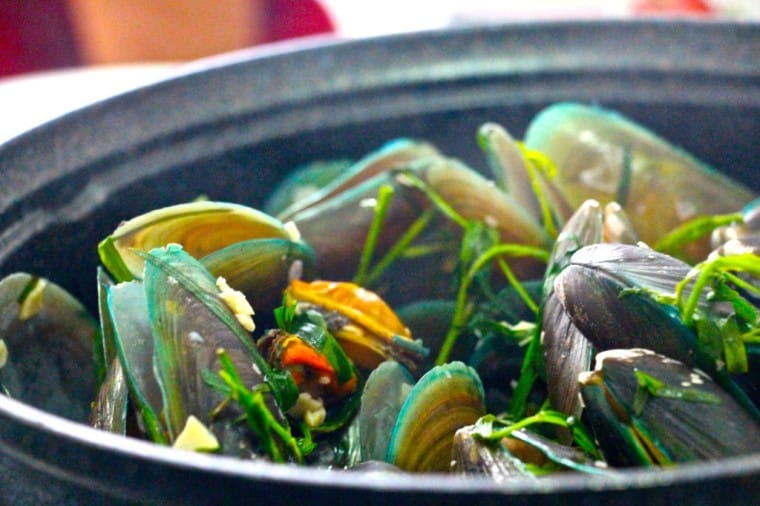 This easily fed two for a nice hearty lunch. Serve this with some nice crusty bread too, so you can soak up the juices in the bottom, or just use the shells as quasi spoons to scoop up little mouthfuls of the liquor. For French-style tarragon & white wine mussels for two you will need;
Ingredients:
2 packets of fresh Green-lip mussels;
3 packets of roughly ripped French Tarragon;
1 tablespoon of roughly chopped garlic, and
2 cups of white wine (I used a Chardonnay);
(Now you could also add a roughly chopped chilli padi in here if you wanted to spice it up).
Instructions:
Take a deep pan and get that on the heat, pour in the wine and mussels and place the lid on;
Keep shaking the mussels with the lid on to soak them all in the wine and to get the steam cooking them through;
Gradually the shells will also start to open up;
In with the garlic and the tarragon (and chilli padi if chosen) and let the wine bubble and boil and steam – keep stirring or swilling it round for a mother few minutes;
In effect, you are then done. You'll know when this is ready because you won't smell the strong smell of alcohol or wine anymore.
Served straight from the pan, just giving the girls another clean bowl to throw those shells. Rough carve some crusty bread to accompany it and maybe a glass or two of the remaining Chardonnay of course. Told you this was quick hey!!! My French-style tarragon & white wine mussels!
ENJOY!!!
Connect with Us on Social Media