The Providore Raffles City Restaurant Review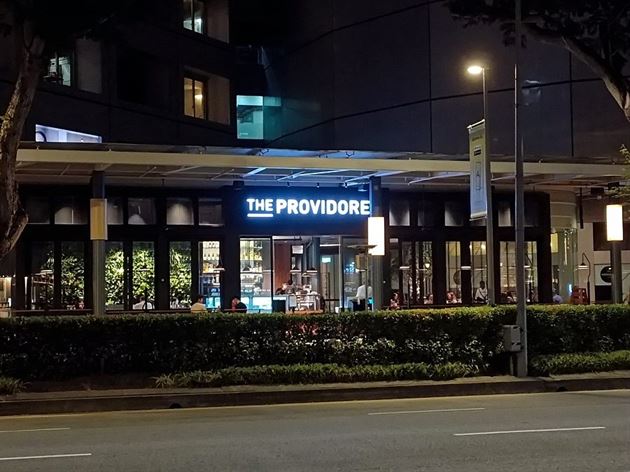 The Providore Raffles City Review; This was our second visit here, and I realised I have never written about the first experience and it is a cracker and therefore needs a review. 
The Providore is a chain with other branches at Downtown Gallery, Raffles Place, Mandarin Gallery, PLQ, Wisma Atria, and Warehouse.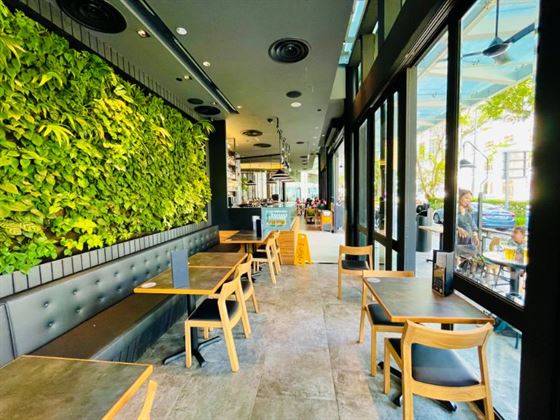 At The Providore, Singapore's most esteemed gourmet food company, Bruce Chapman serves as the Managing Director and The Providore owner. Since its conception in 2012, Bruce has been instrumental in helping the Providore become Singapore's most sought-after and well-known gourmet food outlet.
Let's have a look at the food we ate today off the Providore Menu
RISOTTO – with shredded duck confit, mushrooms, truffle oil, green peas, Parmigiano Reggiano & crispy duck skin
This is a CRACKER. Jude Jude and I shared this one. Yummo!!!!
@ $29.50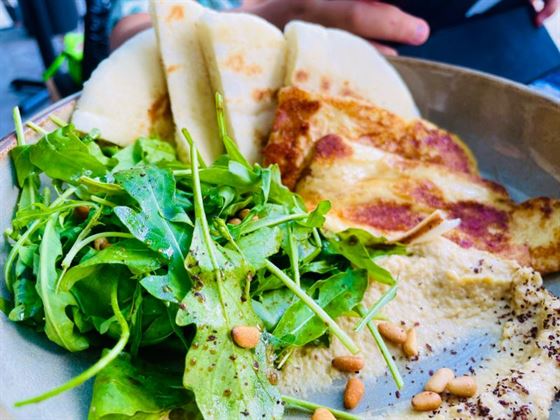 GRILLED HALLOUMI – with rocket, roasted pearl onions, toasted spiced pine nuts, hummus and grilled pita bread.
Squeeze the lemon and get tucked into this. Eat it whilst hot. Incredible squeaky cheese.
@ $18.50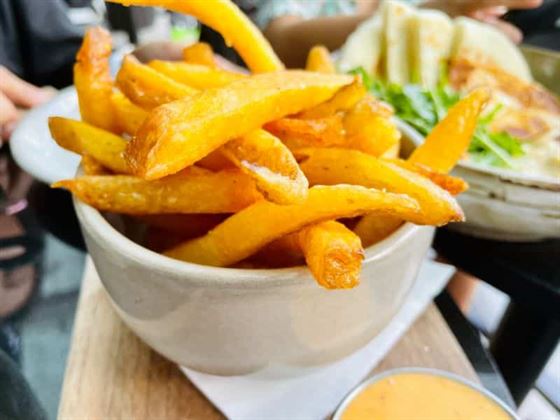 PROPER CHIPS 'w' CHIPOTLE MAYO – the very best chips I have had for a long while. So crunchy and so very tasty!!!
@ $11.50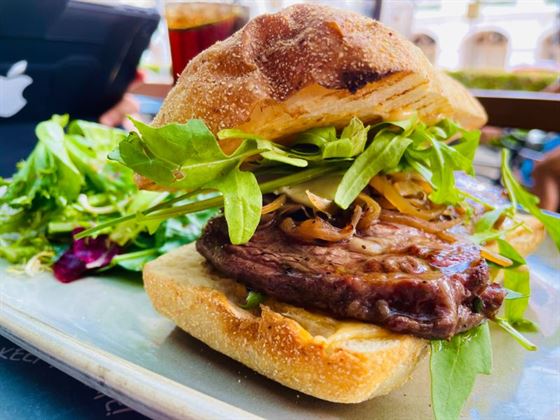 STEAK SANDWICH – grass-fed Ribeye with smoked Cheddar, caramelised onion, truffle aioli & rocket in country bread
I watched Amy devour this. Beautifully cooked steak to a lovely medium-rare, toasted bread and superb accompaniments – she looks beautiful.
@ $26.50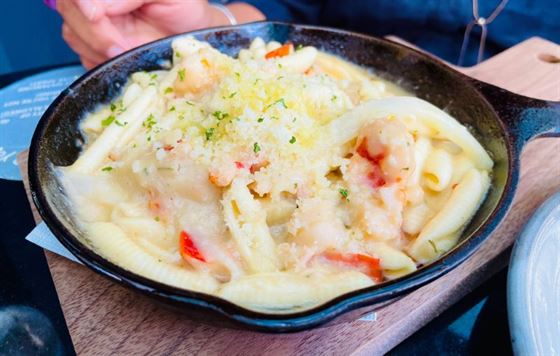 LOBSTER MAC & CHEESE – Pastificio dei Campi pasta with poached lobster, shaved fennel & fresh dill, baked in a light cheese sauce
Wifey devoured this. I thought she was going to lick the bowl clean. It looked and smelt incredible. What a cracking dish.
@ $28.50
GRILLED SHULZ BACON – Jude Jude and I had this to accompany the duck risotto and what a choice that was.
I have never heard of Shulz bacon but I am so glad I do now. Super-smoky and with that char it was just a WOW!!!
Schulz Butchers' award-winning bacon is cured using a traditional brine recipe including Juniper and Bay, then smoked over Beechwood. WOOF!!!
@ $5.50

Every day, their pastry crew prepares a variety of freshly baked cakes, which are available for both dining in and taking out at any of their cafés. If you're planning a party or other special occasion, you can even purchase them in advance online!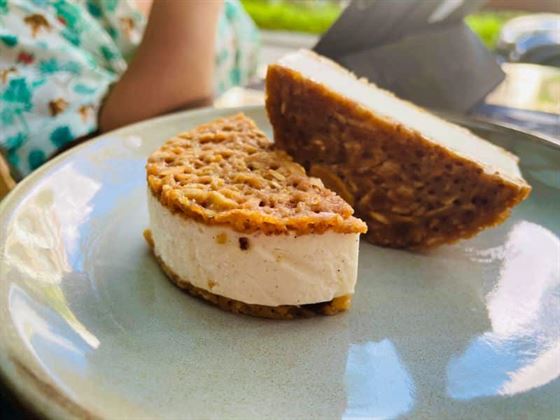 ICE-CREAM SANDWICHES – Yes the kids went for these and they were fricking awesome. TOP quality ice-cream with vanilla seeds in there to prove the quality and then sandwiched between these delicious slabs of yumminess.
@ $7
The Providore Raffles City Menu
The Providore Singapore Specials
They don't really have specials but you can do this…
BE A PART OF THE PROVIDORE COMMUNITY
Earn a point with every dollar spent covert your points and redeem your rewards!
The Providore Cooking Studio Events
Yes they even do classes for cooking and baking which look really interesting. I think I'll be looking into this a little bit more. Very interesting.
European Theme Hands-On Cooking Class
Type: Team participation
Description:1, 2, or 3-hour team bonding/building classes with hands-on cooking.
Hands-On Baking Class
Type: Team participation
Description:1, 2, or 3 hour team bonding/building classes with hands-on baking.
Let's hear from them... I am in complete agreement!!!
Does The Providore Singapore do Delivery
Yes indeed they do deliveries and in fact, have a whole retail on-line shopping site with foods, drinks, produce and even cookware & glassware.
For the food, it is the usual suspects in Grab, Deliveroo and FoodPanda.
The Providore Raffles City Opening Times
| | |
| --- | --- |
| Friday | 8am–10:30pm |
| Saturday | 9am–10:30pm |
| Sunday | 9am–10:30pm |
| Monday | 8am–10:30pm |
| Tuesday | 8am–10:30pm |
| Wednesday | 8am–10:30pm |
| Thursday | 8am–10:30pm |
If you don't want to travel or get a delivery, why not cook your own dinner or lunch by following some of our simple lobster recipes to compete with The Providore's Lobster Mac 'n' Cheese.
The Providore Raffles City Location & Contacts
Other Providore Locations
THE PROVIDORE DOWNTOWN GALLERY
6A Shenton Way
OUE Downtown Gallery #B1-07
Singapore 068815
Mon to Fri: 8am to 1030pm
Sat: 9am to 9pm | Sunday: 9am to 6pm
Sat/Sun: Cafe closes at 6pm
THE PROVIDORE MANDARIN GALLERY
333A Orchard Road
Mandarin Gallery #02-05
Singapore 238897
Monday to Sunday: 9am to 10.30pm
1 Paya Lebar Link
#01-01, Paya Lebar Quarter 1
Singapore 408533
Monday to Friday: 8am to 10:30pm
Saturday and Sunday: 9am to 10:30pm
THE PROVIDORE RAFFLES PLACE
7 Raffles Place
Singapore 048625
Monday to Friday: 8am to 1030pm
Saturday and Sunday: 9am to 6pm
Warehouse
315 Outram Road
Tan Boon Liat Building #05-03
Singapore 169074
THE PROVIDORE WISMA ATRIA
435 Orchard Rd, #02 – 02/03,
Singapore 238877
Monday to Sunday: 9am to 1030pm
Other restaurants we reviewed near The Providore
Connect with Us on Social Media