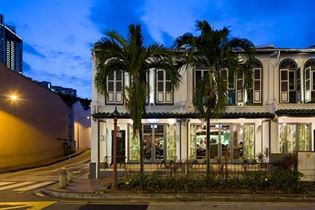 Tasting Menu | Chef Ryan Clift | Singapore
Tippling Club Lunch coming up…..It's me birfday, it's me birfday…
So what to do?
Wifey and I managed to persuade Jude Jude to allow us to have a staycation. Off we went on Sunday night to stay at a cool boutique place on Seah Street, Naumi, and then the next day went for lunch at my likely favourite restaurant in Singapore, Tippling Club. Wifey is a Tippling Club Virgin – so even more special to take her today.
A new 11-course set tasting menu was the adventure. Plus accompanying that a new cocktail menu to boot.
Chey Ryan was in the shop along with Chef Ayo & Chef Andrew. The Holy Trinity of Tippling Club was in the hood. Bring it on gents…
Yes, this video is EPIC – but how do you keep a review of ELEVEN COURSES to a short video. Suck it up, folks. If you don't want to watch it, jump a Grab and get over to the restaurant then…
You will end up dining on the very best food, in the coolest of restaurants, an ambience to die for and accompanying drinks to ensure you leave the car behind and don't return to work that afternoon. It's up there with the very best – the gents did not disappoint today.
A VERY memorable and enjoyable birthday lunch with Wifey for this fat bastard!!! Chef Ryan and Crew – THANK YOU!!!
ENJOY!!!
Tippling Club Location and Contacts
OPENING HOURS
Lunch:
Monday-Tuesday/Thursday-Saturday
12 noon – 3pm
Dinner:
Monday-Tuesday/Thursday-Saturday
6pm – late
Bar:
Monday-Tuesday/Thursday-Saturday
12 noon – 12 midnight
Closed on Wednesday and Sunday
LOCATION
38 Tanjong Pagar Rd
Singapore 088 461
CONTACT US
enquiries@tipplingclub.com
+65 6475 2217
Connect with Us on Social Media