Noka by Tippling Club review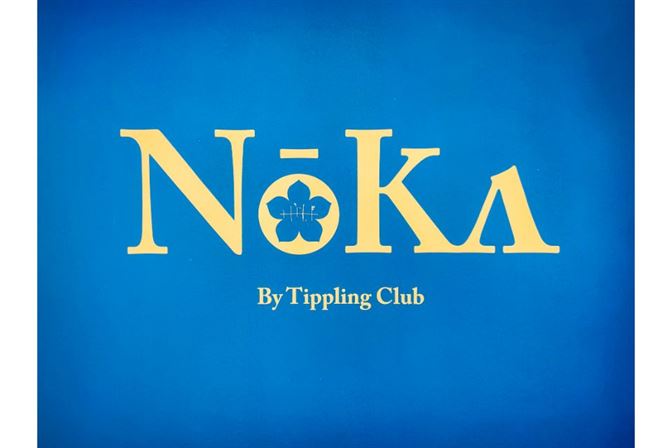 I love the new sign / logo. Maybe you need to know Tippling Club to know why I love it so? The flower of the 'o' of Noka has Tippling Club's logo in there making it look like the stamen of the flower. This is Chef Ryan's quirkiness coming out again with the horizontal line being the menu and the vertical lines being food and wine pairings… GENIUS!!!
Could this be the best Japanese food on Red Dot? I think it could be. Chef Ryan Clift has always been influenced by Japanese fair and ingredients and I love this new concept of his and we simply had to visit and complete a feed and a Noka by Tippling Club Review in 2022. 
You kind of think… Funan Mall??? Why Funan Mall??? Funan is more 'mall food styles' where Chef Ryan Clift is exquisite and quirky fine dining, up there in the $ (but you absolutely get what you pay for). But, when you get to the 7th floor you realise it is the rooftop, and it is neighbours with an incredible rooftop urban farm with fresh herbs and vegetables galore. What a superb partnership.
Ryan Clift, chef and owner of Noka by Tippling Club, has created a style of contemporary Japanese cuisine that is lighthearted, fresh, and playful. The dining experience is elevated to the level of theatrical performance through their plating, and some of the table-side serving, like the video of the pork belly, as a result.
The food is just so fresh and plated to perfection. We went al la carte this day because the Omakase menu is too loaded with our piscatorial friends for Jude Jude and me, but what an al la carte menu they have on offer as you will see below.
Noka by Tippling Club is a must-try for you if you like Japanese food Singapore, but it is not the same old run-of-the-mill Japanese food that you'll sometimes eat. This is up there with a new lens on style and pairing of ingredients and booze!!! Hail the new Emperor of Japanese cuisine, Chef Ryan Clift!!!
Noka by Tippling Club really is in Funan Mall, which has also had a massive facelift from its rather dated and boring past. It's cool in here. Make sure you find that lift lobby and don't try to get to 7th floor on the escalators.
There is even one restaurant / cafe that has the very food truck I am crying out for. The shell of a VW Camper converted to a food truck, even with lift up roof to allow you stand and cook in comfort.
The crying shame is that the restaurant is not even using it… man oh man what a waste!!! I WANT IT!!! It's criminal to have that beauty sat there not being used…
Noka by Tippling Club Interior & Exterior...
The interior of Noka by Tippling Club has such clean lines and is so airy and light (although bring a top as it was on the chilly side). We had this fantastic sofa seat, but you could also sit at the counter-top to watch the chef action. That's so very Tippling Club. 
And then you walk outside to greenery. Smack back in the middle of an urban area is their neighbour, an urban farm. I wonder if this is where my local produce is sourced from when I buy my Singaporean-grown mushrooms. Every green thing you see is pretty much edible on the right hand side of the photo.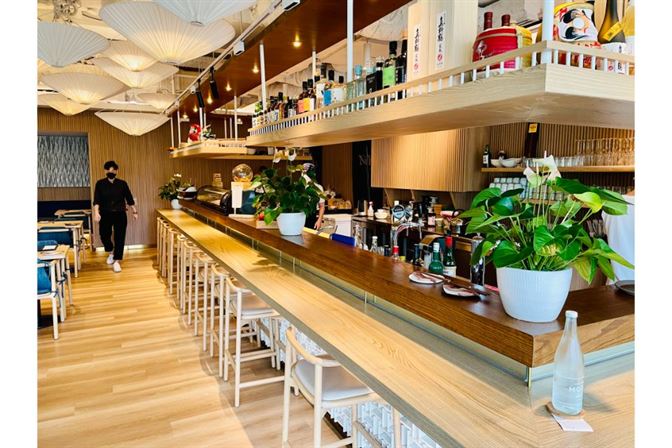 A picture paints a 1,000 words, so watch our Noka Review 2022 Vlog
Let's check out the 2022 Noka Menu by Tippling Club
The 2022 menu at Noka by Tippling Club is a belter and just an incredible demonstration of how Japanese food could be. It's simple by the number of options, but complex at the same time with those ingredients.
For those not piscatorial inclined it has a great balance of other options. On occasion, you might need to get Google to help you with a few of the items on the Noka by Tippling Club menu, but trust me all work in such balance and harmony. It really is up there as one of my favourite Japanese restaurant menus on Singapore.
Let's hear from Chef Ryan Clift & the crew at Noka by Tippling Club
I am adding everything they say about themselves here. It's all absolutely ON THE MONEY. It's SHIOK here, believe me. Never a truer word has been said than the words below. Chef Ryan Clift and the Noka crew are absolutely rocking it.
We simply have to go back one day and get stuck into that Omakase menu and other delicacies we simply could not squeeze into our massively full tummies today. What a feed.
Don't take my word, or their word for it? Let's look at the food we consumed this day at Noka by Tippling Club. Pictures can't lie, right?
I love to have this cucumber dish, Morokyu, when I visit Japanese restaurants, but Chef Ryan has taken it up a level. The freshness and intensity was the best I ever experienced, almost akin to a Japanese palate cleanser. This is Japanese cucumber, moromi miso, myoga flower. Savoury, sweet, salty and then crisp with the cucumber – bring me another beer please!!!
@ $14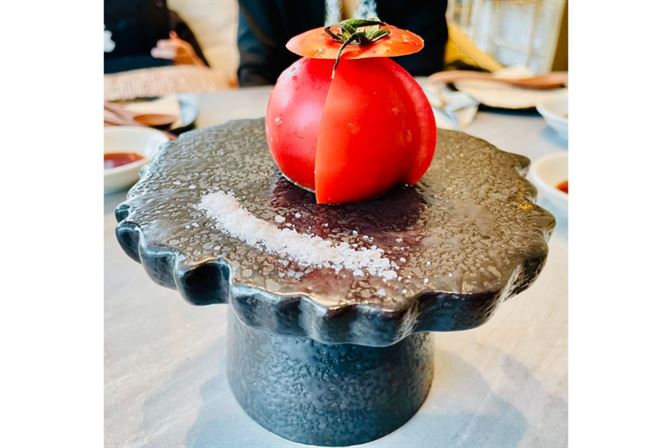 I am just going to give this a WOW and massive thumbs up. You'll probably cringe when I tell you the price of this for one tomato, but believe me this is a tomato on steroids for flavour. And then try it with a little salt and you'll likely fall off your chair with just how insanely good a tomato can taste. Japanese fruit tomato, sea salt.
@ $12
Oh my… up next is a potato. Yep, a sweet potato. I mean how can you write a review about a potato, right? Well this is where the whimsey and creativity of Chef Ryan Clift kicks in.
Check out what he does to a potato to make it likely the best you'll ever eat as a stand alone dish. Sweet potato skins, black truffle sour cream, ebi sakura, wasabi. Like off-the-charts good. The skin was a piece of crispy heaven we were all fighting for, and the potato pieces were like super-savoury fluffy clouds.
@ $12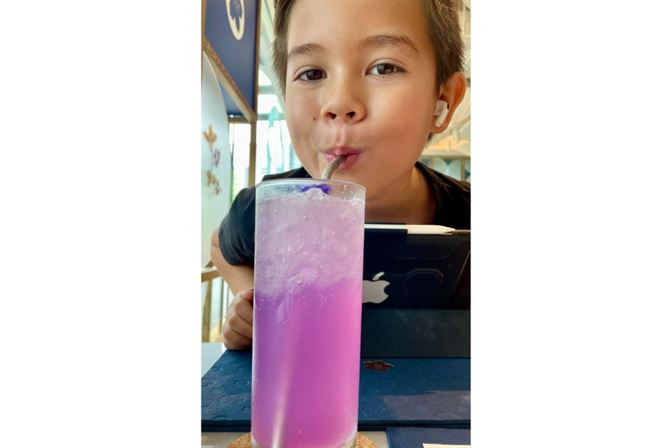 I have to call this one out. Jude Jude ordered a lemonade, and this bad boy rocks up. I had to ask… They use blue pea flowers to make this lilac hue for the fresh lemonade. Best you'll ever have.
@ $8
Another one I simply cannot comment on I am afraid, apart from how absolutely divine that looks plated up. Uni on toast, nukazuke morokyu, oba chimichurri, fermented green kombu hot sauce.
It disappeared and I was very lucky to get a photo before it did. Wifey calls out the freshness of everything, in between chomping.
@ $50
Now we're back in my wheelhouse with this fatty, unctuous thing of beauty. I literally only managed to commandeer half of one, because Jude Jude snaffled the rest. Damned-fine food.
I seriously could have order another portion, but we had so much still to come. What a beauty!!! Wagyu Beef Sushi.
@ $30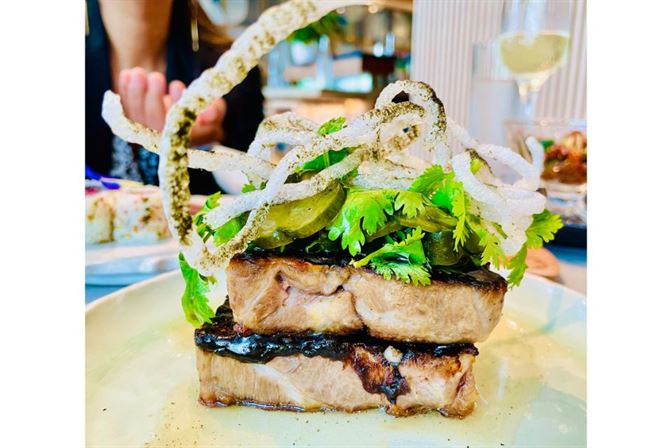 When someone says this has been sous vide for 36 hours you just know something is going to be rather special. Not that I like sous vide, but rather the low and slow approach of cooking. And yes, this pork belly was just up there with the gods of pork belly.
You even have a table-side serve of some dressing (which I have completely forgotten what it was). This is touch and fall apart, fatty, ever so unctuous and just delectable pork belly. Kagoshima pork belly, dashi noodles & fermented cucumber.
@ $44
And saving the biggest of the servings to last is this umami big boy. Woof!!! OK, Moo!!! What a steak. Touched by the flame, but such a perfect char and smoke for this butter-steak. I call it that because you put it in your mouth and it melts.
Then you see this beauty of a Burrata cheese topped with blanched Japanese Fruit Tomato and hiding a secret Kampot black pepper paste to jazz it all up. Add to that the crisp fresh salad with a beauty of a mustard salad dressing. I did ask for a little salt for the steak, it's a me thing with steak especially with Wagyu. This was lusciousness!!! A5 Kagoshima wagyu sirloin, burrata, fruit tomato, mizuna salad.
@ $150
Our conclusions of Noka by Tippling Club
It has to be called out that it is up there on the $$ at $500+ for the three of us for lunch today, but I'll caveat that was our choice through what we ordered. And we ordered top-end of town. How could we not when you start to thumb through that menu.
A special shout to the staff at Noka by Tippling Club as exceptional. They were so friendly, engaging and really knew their product on offer to the nth degree. They made it such a pleasure to dine here – worth noting @ChefRyan and #BeProud.
We sat on the most comfortable seating for lunch today, so comfortable you kind of regretted it when the server came over to say they were closing, because we had literally put roots down.
Noka by Tippling Club is now our family favourite and best Japanese restaurant in Singapore. It is truly wonderful. You cannot beat the freshness of the ingredients, the plating is to die for, it's literally art, and the flavours take you on a food journey to heaven and back. It's first class all the way on that journey.
Chef Ryan Clift and his ever growing crew always rock my foodie world, and long may that continue. Next it's a trip to Bali in October to visit The Cave by Tippling Club, something I just can't wait for. Bring it on!!!
Arigatō gozaimashita Emporer Ryan Clift.
Chef Ryan Clift & Tippling Club Reviews
We've been to Tippling Club now quite a few times, both with mates and for my Wifey Wedding Anniversary.
It really is such a special place. Incredible cocktails and wines pair the stunning food. I say stunning absolutely on purpose because you get food theatre to entice your eyes, aromas wafter around you to hit those nasal senses and then the taste and textures literally smack you in the mouth.Read on for some reviews of Chef Ryan Tippling Club;
How about some ISLIFEARECIPE-dia for some FAQs and answers...
Address of Noka by Tippling Club
Funan, 109 North Bridge Rd, #07-38 (Lift Lobby A)  Singapore 179097
Make sure you find that lift lobby because the escalators don't go to the 7th, only the 4th. Basically don't do what we did.
Connect with Us on Social Media