To Book just click to Klook
One-Day Tickets
Adventure Cove Waterpark
Sentosa | Resorts World Singapore
Stuck on Red Dot for nearly 2 years now with our mate Covid. Back on a loop, we go to revisit some old favourites to keep the family entertainment levels up by visiting South East Asia's most-fun water park.
Adventure Cove Waterpark is a large water park located in Singapore. To date, the park contains six different attractions within its many pools and slides. These Sentosa attractions include, but are not limited to an enclosed children's area for those who just want a little bit of a wild time, a wave pool where surfers can enjoy their time in the ocean without getting their feet wet, and a lazy river where families can spend hours floating around.
Lunch at Hard Rock because it was open at 1130 and off to Adventure Cove to have some fun splashing about.
Actually going to the waterpark was VERY good timing as Jude Jude has shot up so was able to go on so many more of the rides, which made it a superb day of fun fun fun.
Yeah, we had some adverse weather, which was a massive ball-ache and literally rain did stop play for an hour. But we have a real giggle messing about in this cave thingy despite the weather.
A great day of fun for the family. It really was. Some real nonsense of Covid management needs, but hey, it is what it is. We all had a blast and had some very tired kids at the end of the day.
Get yourself off one island to another.
Like everywhere at the moment you do need to book a time slot on the day:
Book Adventure Cove Waterpark with Klook
ENJOY!!!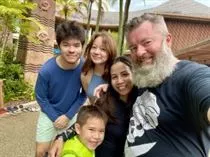 It's fun here for ALL ages and sizes. What a great day we had it really is such fun and we saved some cash too by using Klook Adventure Cove for the booking.
Klook Adventure Cove 2022 - Discount Pricing
It really is so simple to get a discount with Klook Adventure Cove you just to click the link above, select how many Pax, adults, and kids and enjoy the discount pricing.
This is what you can save;
Adult; $39.90 normal price vs $32.00 from Klook Adventure Cove $7.90 saving per Adult Pax
Kids; $31.90 normal price vs $24.00 Klook Adventure Cove $7.90 saving per Child Pax
Let's have some ISLIFEARECIPEdia about Adventure Cove Waterpark Sentosa 2022
Adventure Cove Waterpark Sentosa Address
Connect with Us on Social Media