Roasted and Curried Red Snapper
My theory was, that if it is baked in a baking paper bag it would keep all the juices in the fish and therefore be super moist? Yep it worked roasted and Curried Red Snapper is quite a simple recipe, although there is a fair bit of prep.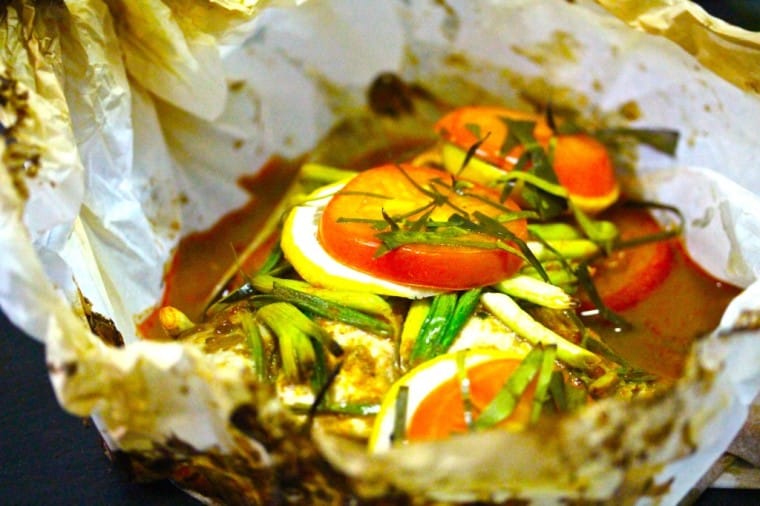 You end up with this beautifully baked fish curry in a bag, and the curry turns almost like a Tom Yum soup. Quite an amazing transformation happens in the bags as you're baking. According to the consuming audience it was a transformation very well received. If you're ready let's begin – here comes Roasted and Curried Red Snapper.
For three people you will need;
3 red snapper fillets – with skin still on;
1 packet Asian fish curry paste;
8 red tomatoes, cut in to slices;
2 large lemons, cut in to slices;
4 Spring onions, cleaned and cut in to 2 inch pieces on an angle to make them pretty looking;
6 Kaffir lime leaves – roll these up and slice thinly;
3 tablespoons of lime juice;
2 tablespoons of fish sauce; and
A tablespoon of caster sugar.
Take a shallow baking tray and pour out the fish curry;
Then add the lime juice and fish sauce and give it a wee mix around;
Take your three fish fillets and using a rather sharp knife score the flesh side of the fish, and then lay that in the 'sauce' you just made;
Pop that in the fridge whilst you prep the rest of your ingredients – yes you are letting it marinade;
On a flat surface lay out a piece of greaseproof paper, or baking paper – you'll want about a foot or so long depending on the size of your fish fillet;
In the middle lay 6 slices of tomato, and then on top of that lay 6 slices of lemon;
Repeat this two more times so you have three identical piles on three pieces of baking paper;
Take your fish fillets from the fridge and place them on top of the tomato and lemon slices;
Equally pour the remaining marinade over the fillets;
Then place three lemon slices on top, then three tomato slices;
Again repeat this process on all three fillets on the three pieces of paper;
On to each of these piles sprinkle some of the Spring Onion and Kaffir lime leaves, and then a small sprinkle of sugar;
Pull all the paper corners together in the middle and crumple and twist the four corners together to make a sort of seal;
Repeat this on the other two pieces of paper;
There you go there little parcels or fish curry with veggies;
Place these on a baking tray and slam in a warm oven set at 23o degrees and bake for about 20-30 minutes;
I checked at 20 minutes and popped a sharp knife in to the thick bit of one of the fillets. If the knife comes out hot all along (touch it on your top lip and you'll feel it easily) it is cooked, if you feel any cold patches on the knife, slam them back in the oven for another 5-10 minutes.
When you're happy it is cooked take them off the baking tray, and place them on a serving platter. Open the bags up as you'll see in the picture, and serve. Looks good, looks unusual and clearly will leave some questions re cooking technique. Always a good thing. Hoping you have a crack at my Roasted and Curried Red Snapper, and if you do – ENJOY!!!
Is Life a Recipe YouTube Channel