Roast Kurobuta Pork Belly & Gravy Rice
This has #BillWallaceFriendly written all over it. This is the Wagyu of the pork world. This is a stunning piece of meat. They take the skin off though for some reason I am not sure of, so no crackling. Hey Ho. Still, it is the very best pork in my reckoning. It's so tender and sweetmeat, it tastes just like a human (apparently haha). This was our dinner today. So very simple to make too as you just sort of leave it alone to its own devices. That's both elements of this dish as one goes in the oven whilst the other goes in the rice cooker. Simples.
Roast Kurobuta Pork Belly & Gravy Rice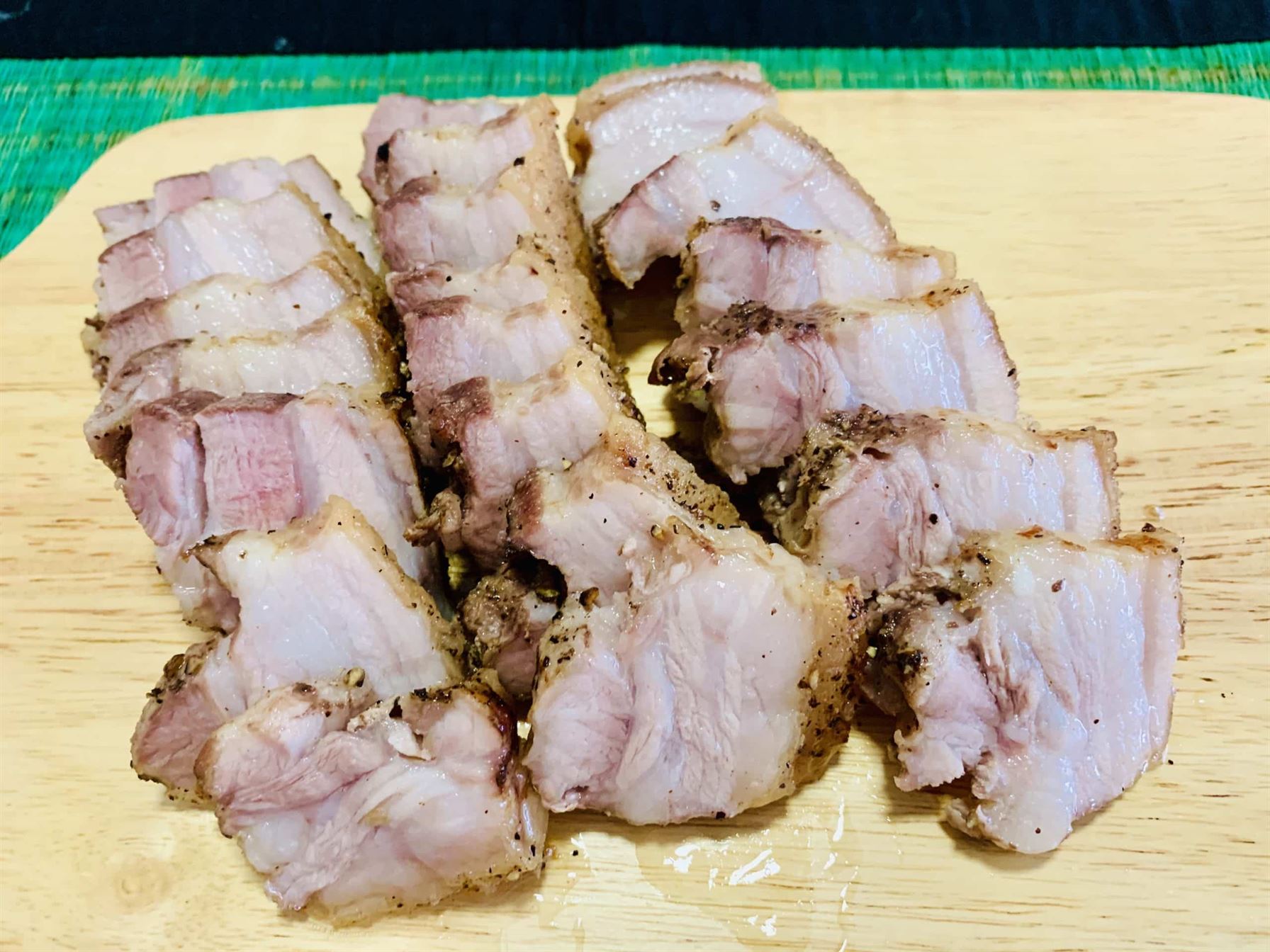 Easily enough for four here and so simple, there is no need for ingredients and instructions;
We had about 600g of Kurobuta pork belly;
Stab your pork belly all over with a meat tenderizer or thin metal skewer;
Pop it in a baking tray;
Drizzle with a good Olive oil;
Season well with sea salt & cracked black pepper;
In the oven, she goes at 90 degrees for 2-3 hours and then 200 for 15 at the end to crisp her up;
Slice into thin slices and serve on a platter – so simple.
DO NOT throw the fats and juices away – keep for later. It's a surprise…
Same again for the rice;
Something like 2 cups of rice into the rice cooker and steam away;
Whilst that is doing that make some gravy;

2Tbsp beef gravy granules
1Tbsp chicken stock concentrate
1 Tbsp finely chopped garlic
Boiling water – stir through until it thickens

When the rice is cooked stir in the gravy so it coats all the rice;
Pour over the super-hot fats and juices from the roasting tray to get that porkiness into the rice too – who needs MSG?
There you have it. My Roast Kurobuta Pork Belly & Gravy Rice. It's a match made in heaven. So easy to prep and cook, with super-intense flavour outcomes. It's a must for a family lunch for you one day. Or dinner of course. It's a cracker it really is. Flavour explosions for this dish my friends. Nothing really glamourous, but the flavour punches above its looks weight. Get in there and – ENJOY!!!