Roasted Berkshire Kurobuta Pork Collar – Rosemary, Lemon & Herbed Butter
I ordered a little 250g Berkshire Kurobuta Pork Collar from Meat Collective to experiment with. Timing is everything as it arrived the night before and I had defrosted it already, and she was at room temperature. I was actually cooking the fish dish and looked at those ingredients and thought to myself that they would work really well with our little fatty pork collar. And. fuck. me sideways they did indeed. That is how this amaze-balls pork dish came about today. Roasted Kurobuta Pork Collar 'w' Rosemary, Lemon & Herbed Butter really is a MUST TRY folks. It is really up there amazing. This really is one of the best recipes so far in the series of ChillaxBBQ Stay@Home Recipes #23.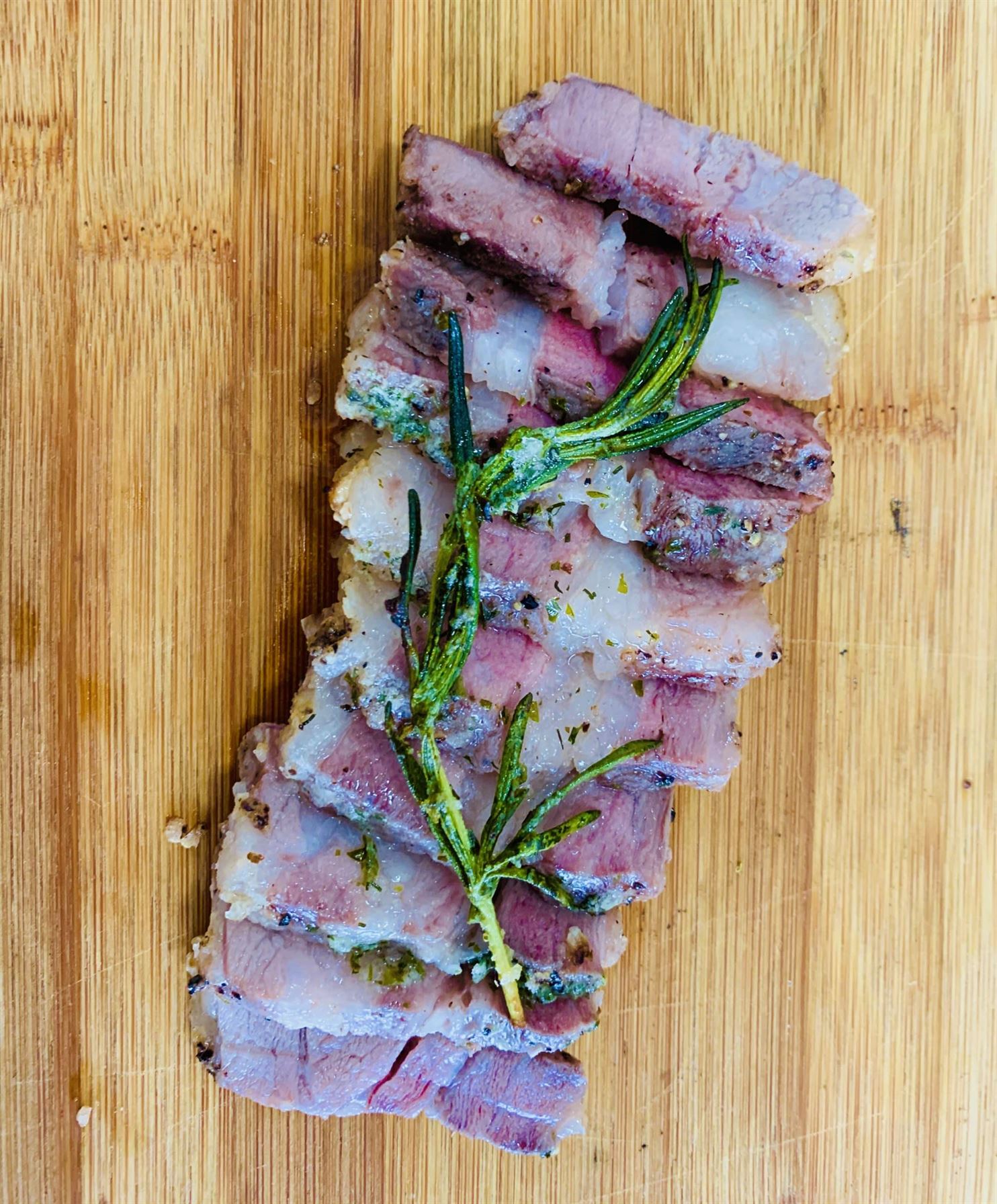 So how did we do it and what did we need?
250g of Kurobuta Pork
1 sprig fresh rosemary
Sea salt & cracked black pepper
2 slices of fresh lemon
Herbed butter (make your own remember and freeze, or just buy some)
Follow the steps folks, follow the steps;
Drizzle the pork fillet with a little Olive oil and give a good sprinkle of sea salt and cracked black pepper all over;
In a roast tin lay down the two slices of lemon and pop your pork fillet on top;
Lay on your sprig of fresh Rosemary;
Pop the herb butter on top of that;
In the oven at 180 for about 15 minutes until charring a little, with melted butter and still pink in the middle;
Rest it for 5-10 minutes out of the oven in the roast pan;
Thinly slices and plate up, like in the photo – you could give a little squirt of fresh lemon if you wanted it more citrus.
And that really was that. It is so very simple to make. It is so. absolutely bloody delicious to eat. Very proud of this dish. So much so, I just ordered 4 more fillets and I want to eat this again and again. And I know Jude Jude does too, and Wifey and #1 and Strawberry Blonde. Yeah, 4 more should do it for lunch for ONE day. Jeeze. Of the 23 recipes so far this one is coming highly recommended as an absolute cracker is my Roasted Kurobuta Pork Collar 'w' Rosemary, Lemon & Herbed Butter
. More to come too. I just ordered some
Bone Marrow
and massive Beef on the Short-Rib. Watch this space for #24, this was
ChillaxBBQ Stay@Home Recipes #23
– ENJOY!!!
Connect with Us on Social Media