Alegria Singapore Breaking news for June 2023
Alegria Singapore is closing its doors for a Dimples Romana revamp. This is super-exciting news that ISLIFEARECIPE.net has to report, which will also be causing us to scamper back to try out the new Alegria Menu for 2023. They will be closed from the 18th to the 27th of June and open up again on the 28th of June – goodness me that's my birthday.
They state, and I quote: "On 28th June we unveil a new menu, revamped layout, and good vibes only, as always!"
Alegria Singapore is one of the Best food on Tek Lim Road - Best Mexican Food Singapore with a Filipino 'twist'
Alegria Singapore is Filipino & Latin American Fusion - now that is seriously worth a look at...
This is a new restaurant for us. I spotted it whilst searching for Filipino restaurants to treat Wifey to some home food because we have not been home for 2 years now. But actually, Alegria Singapore offers Filipino fusion food offerings with Mexican and Latin American influences. How could I not come and explore a place that is serving Sisig Tacos. I mean come on, the last time I had those was at one of our favourite restaurants Smoque in our 2nd home Island home of Bohol, The Philippines.
Alegria are nestled in amongst some hallmark foodie neighbours, such as Lime House, Potato Head and our BFFs down the road on Ann Siang Road The Tippling Club. They also used to be direct next-door neighbours to Chef David Pynt and Burnt Ends before they relocated to be part of the Dempsey Hill food scene.
The name Alegria is derived from the Portuguese word for "joy" or "happiness" which perfectly captures the essence of this place because it really is joyous, bright, and brilliant. They have these eye-catching wall murals akin to Graffiti and a visually striking bar as you'll see from the photos.
A little bit of history about Alegria Singapore to start because my Wifey loves this. It's actually owned by a very famous Filipino Actress, namely Dimples Romana. Her love for restaurants and F&B may herald from her studies because Romana finished International Hospitality Management Major in Culinary Arts at Enderun College. She has also been named as an ambassador for the Philippines Department of Tourism – hey "It's More Fun in the Philippines!!!"
Have a watch of the Alegria Singapore Vlog here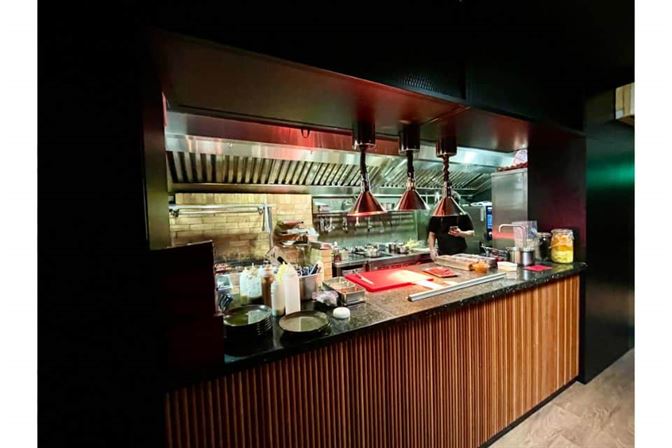 I love an open kitchen at Alegria Singapore…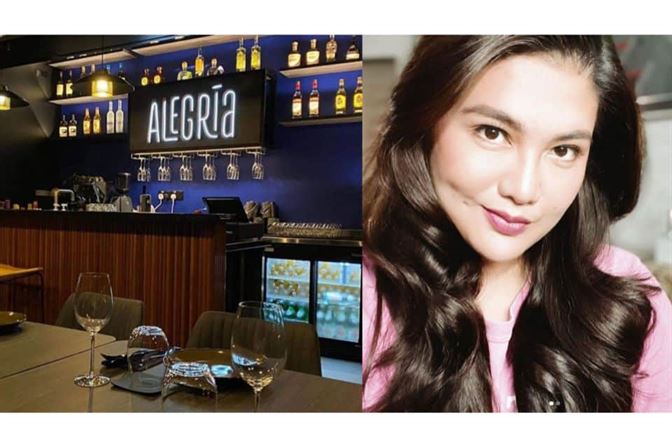 Photo 'borrowed' from Dimples Ramora's Instagram
What did Dimples say back in May 2021 when Alegria Singapore opened?
I like this lady a lot!!!
As does Wifey, but of course, she is massively biased!!! But did she also like Alegria Singapore?
Alegria has such a cool interior...
Frequently asked questions about Alegria Singapore, answered by ISLIFEARECIPE-dia...
Mon: Closed
Tue-Thu: 15:00-22:30
Fri-Sun: 12:00-22:30
It is nestled in the rather hipster and groovy neighbourhood of the Teck Lim Road and Keong Saik Road food scene, just up the road from Duxton Hill and Ann Siang Road with its restaurant and bars. 
 18 Teck Lim Rd, Singapore 088390
Alegria Address & Telephone
Address

:

 
18 Teck Lim Rd, Singapore 088390
Nearest MRT: Outram MRT (EW16/NE3/TE17)
Let's check out that food we had today at Alegria - YUMMO!!!
Ceviche – Tuna, Octopus, Scallop, Ponzu Vinegar, Sesame, Mango Salad. How pretty is this dish? Woof!!!
@ $22
Antichucho De Moela – Grilled Chicken Gizzard Skewers, Adobo Rub, House Vinegar. Filipino street food on steroids served with the classic Flipino Native Sauce. Woof! What a great start.
@ $8
Very tasty, just a little chewy sadly but that's USDA for you. It was very beefy and tender, just overly chewy and gristly and needed trimming, and it definitely needed some salt to lift it.

Bistecca

– 380g USDA Angus Rib Eye, Cherry Tomato Confit (deelish), Chimichurri which was fantastic with the steak.
@ $45
Of course, we ordered this because wifey saw this on the menu. Pulpo – Like the steak, she also said it was. a little chewy and the sauce was SUPER-spicey but she 'soldiered' on and ate the lot haha. 
Singapore's top pulpo dish as rated by my Filipino is still Spago up Marina Bay Sands.
@ $40
Hello, my darling. One of the key reasons to visit Alegria today was this that I spotted on the website. Sisig – Pork Belly, Dinakdakan Sauce, Onions, Purple Yam Tortillas. Just wonderful!!!
@ $8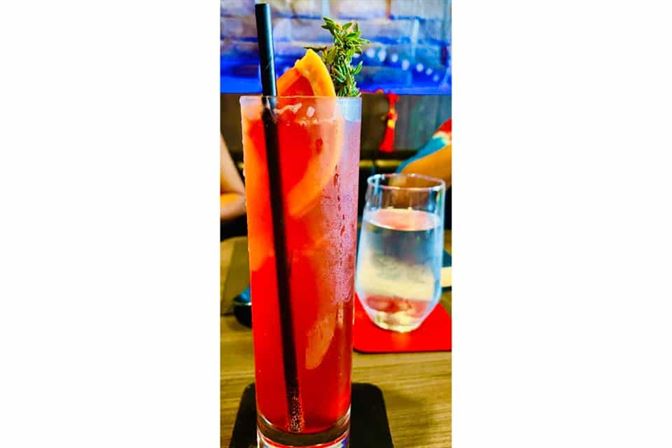 The kids go straight to the Mocktail menu and order these Berry Bubbles. Seriously so refreshing, me like this.
@ $12
What is the Alegria Singapore Menu 2022
You can tell Alegria strives to keep the menu basic from its three-page only offerings, but full of flavour and complexity, elevated but rooted in familiar flavours of the  Philippines and Latin America and sensations of look and texture. It really is so very good.
Alegria Singapore Specials (currently running as of February 2022)
Our conclusions about Alegria Singapore Restaurant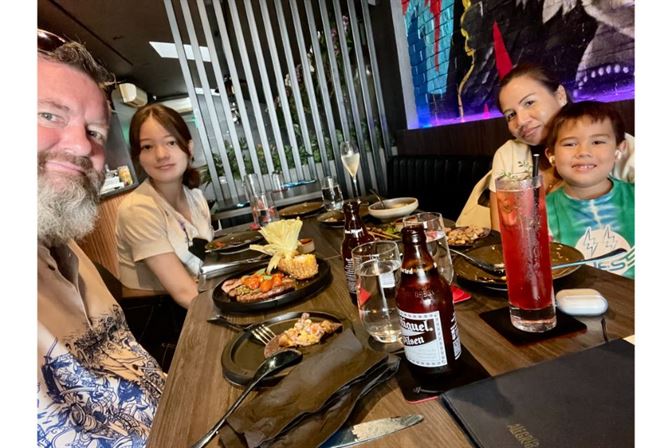 Exceptional, in a word.
Alegria lived up to the name for sure, because we walked out of there with a spring in our step and full of "joy" and "happiness" – yes, Alegria Singapore.
We were able to get our fix of Mexican food Singapore, and sort of visiting a Filipino restaurant in Singapore at the same time. You have to love fusion!!! This is a GEM in the Keong Saik Food scene, just turn off Keong Saik Road into Tek Lim Road to come to visit. The action happens here.
I can't say that it is the best Flipino food Singapore because it is a hybrid fusion with the Latin American influences kicking off all over the place.
I love the simplicity of the menu, but I think perhaps some specials will be needed on top of that or a rather frequent menu change to keep the footfall coming back. In my humble opinion that is.
The crew at Alegria was great. Super-helpful and chatty and knew their product so well. Thank you guys and Be Proud Dimples, your team here is living the brand.
The food at Alegria was fantastic. I really enjoyed it. Just a couple of over-chewy moments to mention was literally the only niggle. Plus to wash down with some icy cold San Mig OPilsen was heavenly for me and it has me transported back to the Philippines in the blink of an eye.
We'll be coming back to Alegria for certain. Great location, superb restaurant, delicious food and awesome crew looking after you.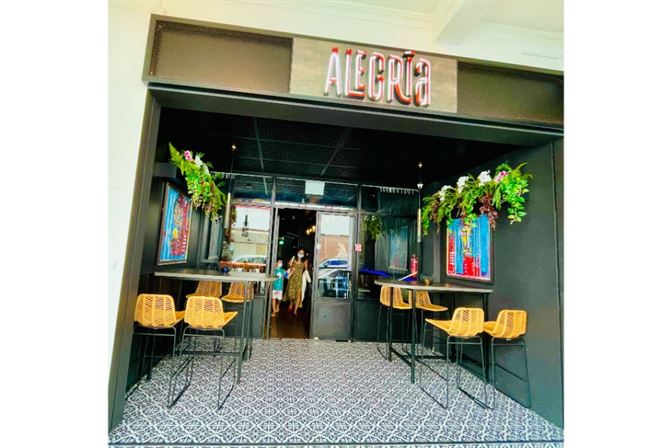 To compare Alegria Singapore to other Latin American, Mexican & best Filipino food Singapore restaurants let's have a look at some other local reviews from ISLIFEARECIPE