Chicken, Cheese & Foie Open-Pies Recipe
Another weekend blurred into a normal working weekday. Same location, same desk, same Mac. Broken up this weekend with some lovely 'exercise' though with the kids down to East Coast Lagoon. Just to get the legs moving again after so long. And also broken up with a shit load of cooking. Two ChillaxBBQ Stay@Home Roasts went out, which I give a lot of care and attention to as they are for mates and/or ex ChillaxBBQ clients. So they have to be good, right? And still, we have the kids to feed, and still, we need variety. Today I ran the kids over for some Easter Egg buying so we could do an egg hunt in the condo this morning, and whilst there grabbed a few bits to make lunch with, and that is where ChillaxBBQ Stay@Home Recipes #17 was born from. I espied a few ingredients and made up;
Was this #BillWallaceFriendly? It's a good question. But in Cold Storage, they had no bog-roll but they did have Fois Gras & Short-Crust Pastry. So I was making use of what they have in their freezers and cupboards. Does that count???
It really is simpler to do. this if you have cutting rings or a set of stacker rings. But, if you don't have these types of thing in your kitchen, you always just cut around a glass of a coffee mug or something like that. No major dramas folks. I made 12 little pies today for the fam. Basically enough to fill one muffin baking tray. Literally that is what I used.
ChillaxBBQ Stay@Home Recipes #17 started like this…
For this recipe you will need;
1 honey-roast chicken from Cold Storage, or equivalent, & strip all the meat off the bone;
1 packet of Foie Gras (I know, I know I'll get complaints – whatever…);
3 or so sprigs of fresh Thyme – strip off the little leaves;
5 sheets of short-crust pastry from the frozen section of Cold Storage, or equivalent;
Black truffle oil spray or any spray oil to be honest – the spray stuff is ace for this;
Grated Cheddar cheese; and
Sea salt & cracked black pepper.
When the small circles of pastry are golden brown on the under-side flip them over to do the other side to the same brown colour. These become your crispy little pie lids. You can get these done as soon as they cook as you can set them aside to concentrate on the pies.
When you see the pie-crusts start to brown a little in the muffin tins whack them out and spoon in the chicken and foie mix so it hits the top of the piece crust. You don't want it overflowing. I found that the ingredients I used above were the perfect amount for 12 pies. No wastage. Pop the stuffed pies back into the oven for another few minutes to cook the chicken, and to melt the Foie. Keep watching that the pastry is not burning though.
Out they come again after about 4-5 minutes. Turn off the oven. Sprinkle the grated Cheddar cheese all over meat mix in each pie, and pop that back in the oven and let the retained heat melt the cheese. When that is gooey, bring them out again, it's time to plate your Short-Crust Pastry – Chicken, Cheese & Foie Open-Pies for ChillaxBBQ Stay@Home Recipes #17.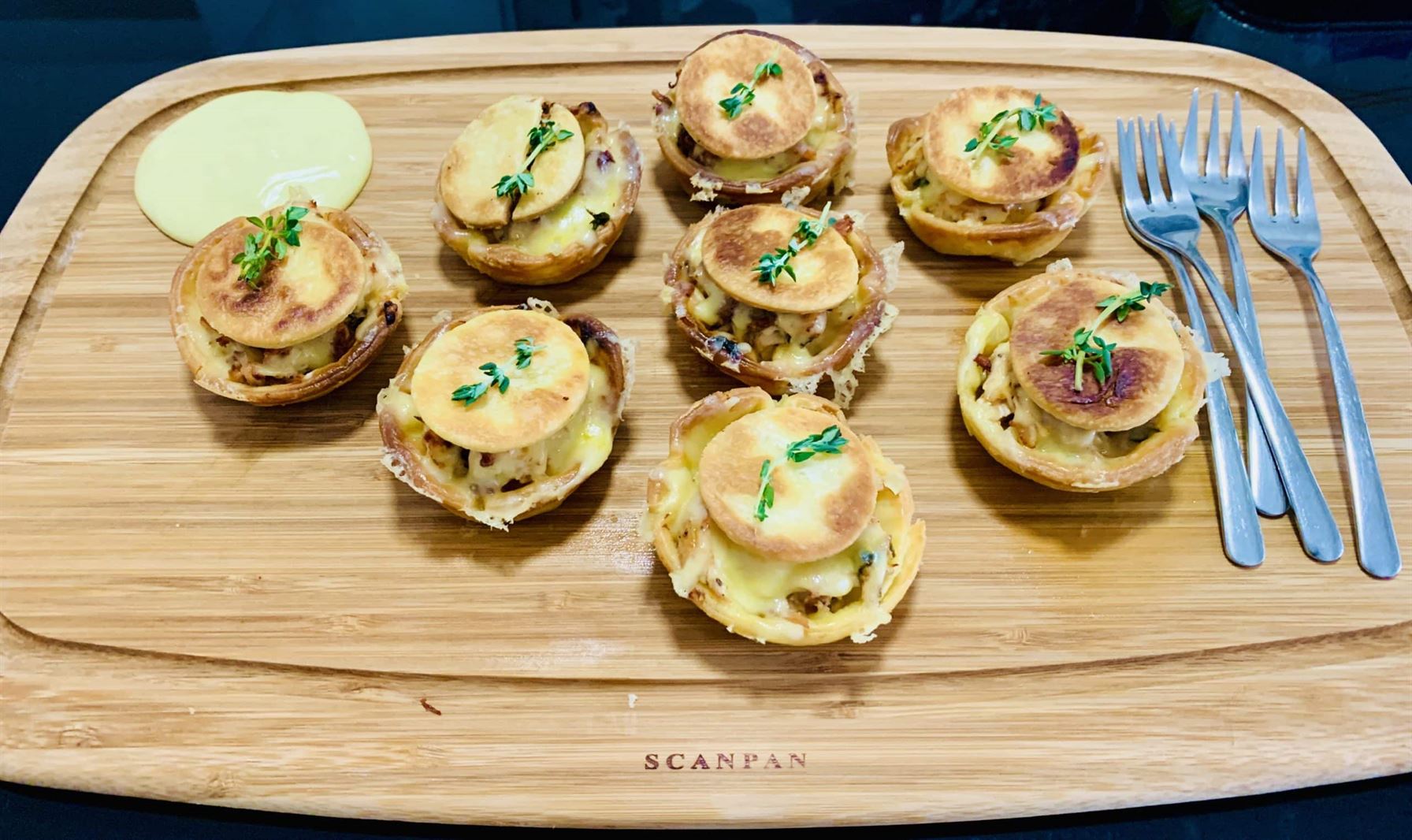 ChillaxBBQ Stay@Home Recipes #17 was a cracker. One to try folks. Pretty simple as everything is pretty much done for you. You're mixing and assembling not really 'cooking' – but the outcome is awesome. I loved my little Short-Crust Pastry – Chicken, Cheese & Foie Open-Pies, and hope you do too – ENJOY!!!
Is Life a Recipe YouTube Channel