Mykonos on the Bay is an incredible Greek Restaurant on Sentosa
Sentosa Quayside Isle
Mykonos on the Bay, what a Great Find! 6-months into Covid and I think everyone is realising just how bloody small Singapore is now because we have no breaks away from it. No long weekends to the chaos of South East Asia on our doorstep anymore. It's like doing quarantine in a big room, but just a room of 50×27 Km. We needed to get somewhere else. I saw some mates of mine hit this new beach/sea view restaurant called Stella down Changi but we could not get a booking. So a quick search on Google and I found a few and we chose.
It felt like we had left Singapore for a day @ Quayside Isle. Well, a lazy long lunch because it really did feel like we had left Singapore, sitting there admiring all the superyachts and the like, mixing with the Sentosa Islander-folk. We were very impressed with where the restaurant is located as Quayside Isle is fricking awesome.
Affordability
You surely do pay for the experience. We ate a lot, absolutely agreed, but this was one of the most expensive meals we have had in Singapore. They are charging $16++ for a pint of beer for example. WTF. I get a pint for $8 net in Siglap, but I do get having a price-hike for where you are eating, but double the price and ++ is obscene. Really way over the top. I'll share some pricing in the Mykonos On The Bay review below.
It does make me giggle that Sentosa Cove residents get a 10% discount on food. Hold on a minute, it's us that can't afford to live on Sentosa that need the discount surely, and we have the cost of getting there too.
Perhaps the additional cost is for this;
Top;

best 5 Greek restaurants in Singapore
10 best restaurants with a view in Singapore
15 restaurants for the best romantic dinner in Singapore
Mediterranean restaurant in Singapore by Top in Singapore

Best Restaurant in Sentosa by Best  in Singapore
Anyways, moan over and back to the lunch.
First, though let us hear from Mykonis by the Bay;
"Mykonos On The Bay is an extension of co-owners Executive Chef Mauro Muroni and General Manager Gerri Sottile's time in Greek Tavernas around the Hellenic Islands in Greece. As part of the Mangiatutto Group of Restaurants, our focus is on authentic Greek cuisine using the freshest and finest ingredients."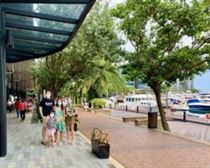 Mykonos on the Bay Opening Times
Saturday, Sunday 12-  10:30pm
Monday, Tuesday, Thursday, Friday 12 – 3pm & 6 – 10:30pm
Wednesday 6 – 10:30pm
Mykonos On The Bay Menu
Location and Contacts for Mykonos on the Bay booking
31 Ocean Way, #01-10 Quayside Isle, Sentosa Cove
+65 6334 3818
mykonos.sentosa@gmail.com
So there you have it. A lovely afternoon with the family. Rather delicious food whilst looking over amazing yachts and boats. Stunning actually. And yes, cold beverages. Just abso-bloody-lutely expensive beverages. Not really incentivized to sit there again for a long afternoon of beers. But, the food really was excellent. Mykonos on the Bay @ Sentosa is serving up truly excellent Greek food. It really is up there with the best we have had in Singapore and overseas. Great service too from the lovely ladies at the front-of-house, all of whom were Filipina. It's well worth a visit. Maybe BYO on the hooch front, haha – ENJOY!!!
Other recent Mediterranean restaurant reviews from ISLIFEARECIPE
ENJOY!!!
Connect with Us on Social Media
(Visited 1,053 times, 1 visits today)