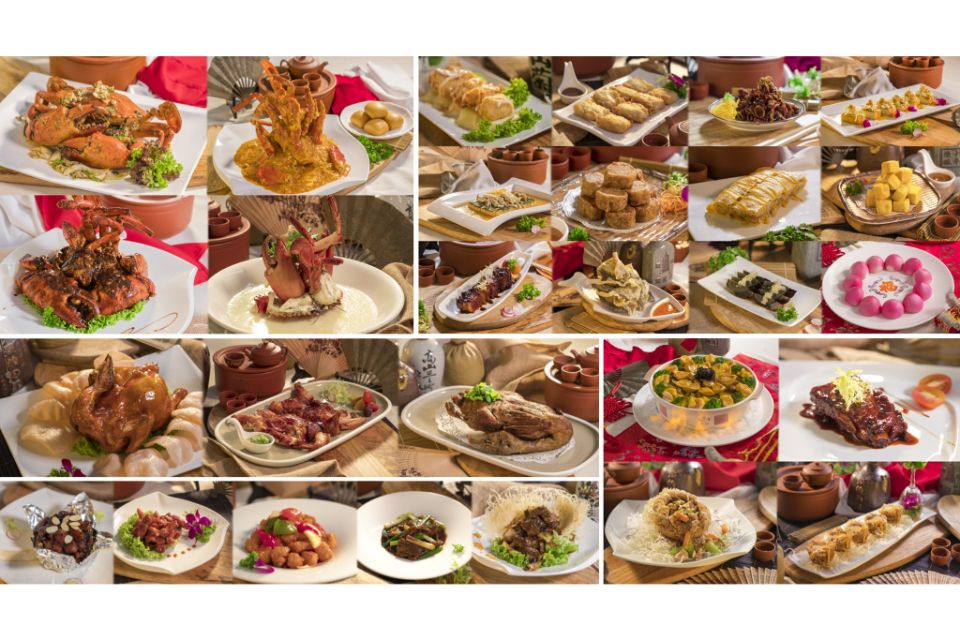 Eating out again and not cooking. Dear me I must fix that. A great night out with our friends Steve and Pia Rutherford, their girls and Arnaud and of course my gang Mary, Ollie, Amy and Jude.
We're all giving a big thumbs up for Hua Yu Wee restaurant down at 462 Upper East Coast Road.
This place is massive, truly. The car-park is packed every night. People are overflowing from inside to out. The kitchen is packed with chefs and so many woks. It is really impressive.
The food is exceptional. This is on a top list of must visit again locations Singapore. It must be on your visit list, as this is a belter. Hua Yu Wee. Don't forget that name!!!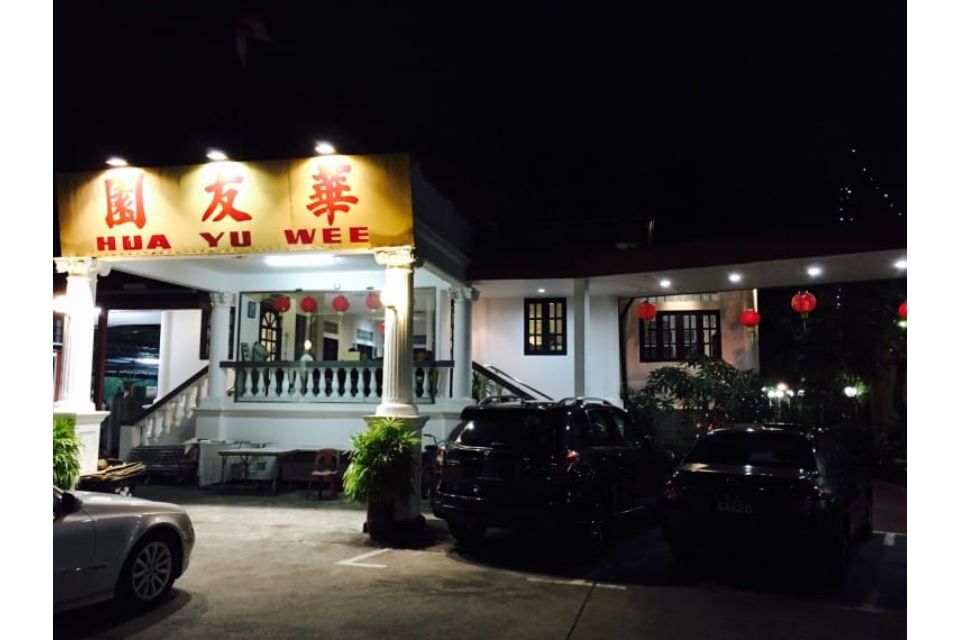 Living in Siglap, we can bus or walk to Hua Yu Wee Seafood Restaurant. As you walk through Siglap there are tourist signs with black and white pictures showing days of old with Kampongs dotting the coast. Yes it's all reclaimed land to the beach.
So this incredible old skool Seafood restaurant befits the area perfectly. It's not hawker but it's also not fine dining. But it is incredible dining.
Just look for that name in lights and get in here.
Let me start with some insight to this place, from a kitchen perspective that is.
I managed some sneak peak snaps in the kitchen at Hua Yu Wee Restaurant. It's incredible.
You walk up to kitchen entrance and there are these continual 'roars' as they lift the woks to stir fry the food and the burners let out a huge noise as the heat and flame hits the air.
Times that noise by 20 chefs and circa 40 woks and you can kind of get a sense of this place. It is busy. I don't just mean cooking of a few covers at once, I mean 40-50 dishes all on the go at once.
These guys know how to churn out good food fast – and kids fast food that is good is this, it is NOT the clown with the arches. This is the food you want your kids to consume. Believe me. 
This is how to dispatch a crab...
Next to the main kitchen is a wet kitchen. 2 staff here prepping the seafood. Again there is this is continuous flow.
This chap here is filleting and de-scaling a fish, but in 30 seconds he'll be chopping up a live Mud crab, then some crayfish etc.
The speed this guy is going at with his chopper (ooer missus!!!) is so impressive. He would have a live crab out of the box and chopped to the exact requirements of the chef to then stir fry in the chili sauce in about a minute per crab.
Incredible. Even the camera could not focus his knife it was moving so fast.
You want fresh. You can't get much fresher than that. Alive to table in about 10 minutes. That's WOW!!!
A little ISLIFEARECIPE-dia for you. What is Zhi Char?
Ze Char, also romanized as Zi Char, is a Singaporean Singlish colloquialism that originates from the local Hokkien dialect and is used to describe an affordable food stall that offers a broad selection of typical and inexpensive dishes that are similar to home-cooked meals. 
The majority of Zhi Char stalls can be discovered in the hawker centers and kopitiams that are located in the central regions of Singapore. These establishments sell foods that are typical of the cuisine of Singapore. As a consequence of this, the most majority of them are typically located in environments that are not air-conditioned.
However, there are a few Zhi Char stalls and restaurants that also have their own own air-conditioned dining room, and the government mandates the installation of ceiling fans in those stalls that do not have air conditioning.
Hua Yu Wee Restaurant has both, with inside aircon dining, and then our favourite…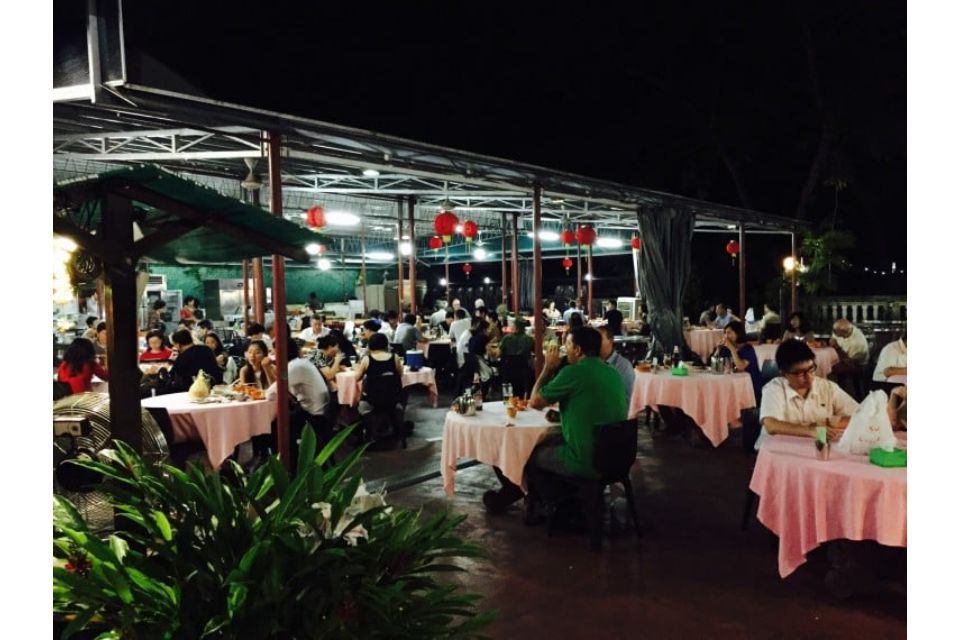 We had booked and even then there was only room outside at Hua Yu Wee, so we recommend that you book ahead if you fancy dinner here one evening – especially if a big group as we did with 10 Pax.
But I have to say, I'd much rather sit outside anyway. Fans all over the place to keep you cool in the humid night air, but by sitting outside you feel more part of the experience.
You can hear the kitchen, you get engaged with the servers who are all lovely ladies donned in a replica of the Singapore Airlines stewardess uniforms strangely enough. Make sure you ask for outside too.
Let's have a look at the food we consumed today at Hua Yu Wee Restaurant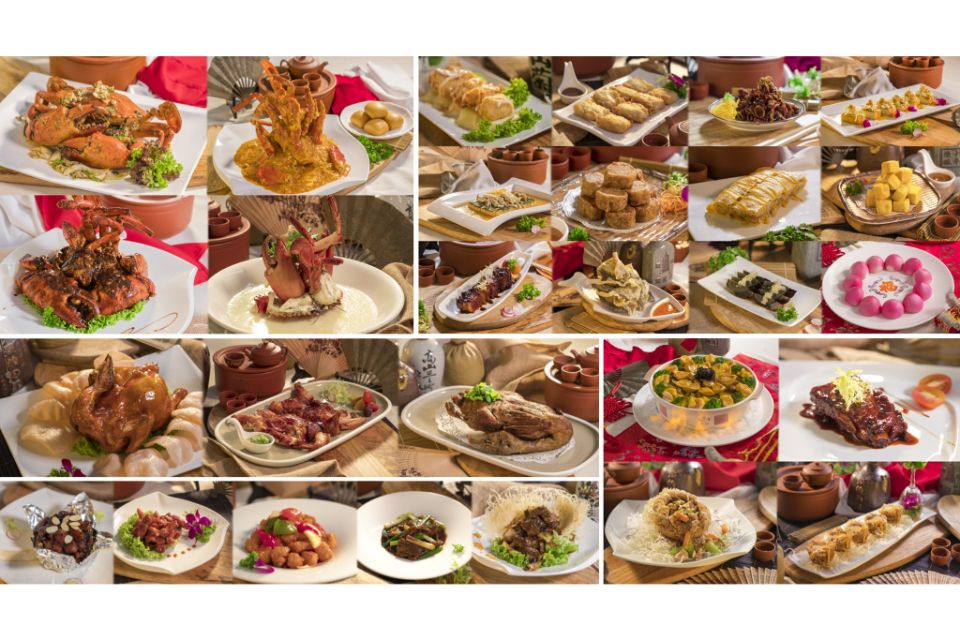 Suffice to say there is a massive selection on the Hua Yu Wee Menu, which then almost doubled in size for the Hua Yu Wee CNY menu 2022.
(Photo courtesy of Hua Yu Wee Facebook site.)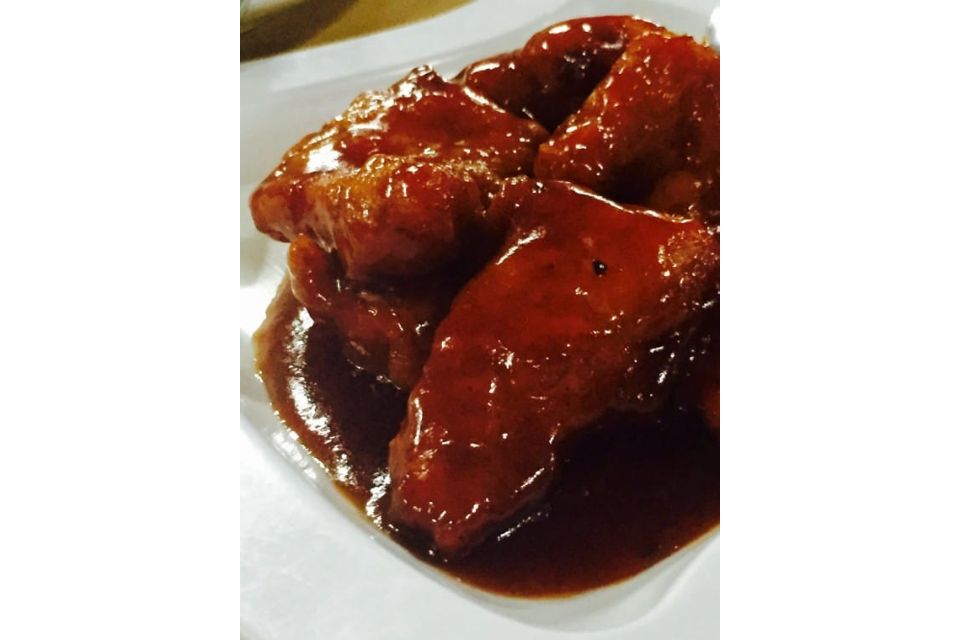 Pork rib like no other OMG. De-boned pork spare ribs in a tangy Chinese style sauce. Stop the bus. No in fact don't stop the bus I don't want to get off, I want to keep going. These bad boys were just amazing. So soft, perfectly cooked in fact and tasty beyond belief. 
Hua Yu Wee's Pork Ribs
Price starts at small at $12.84 and a large will set you back $25.68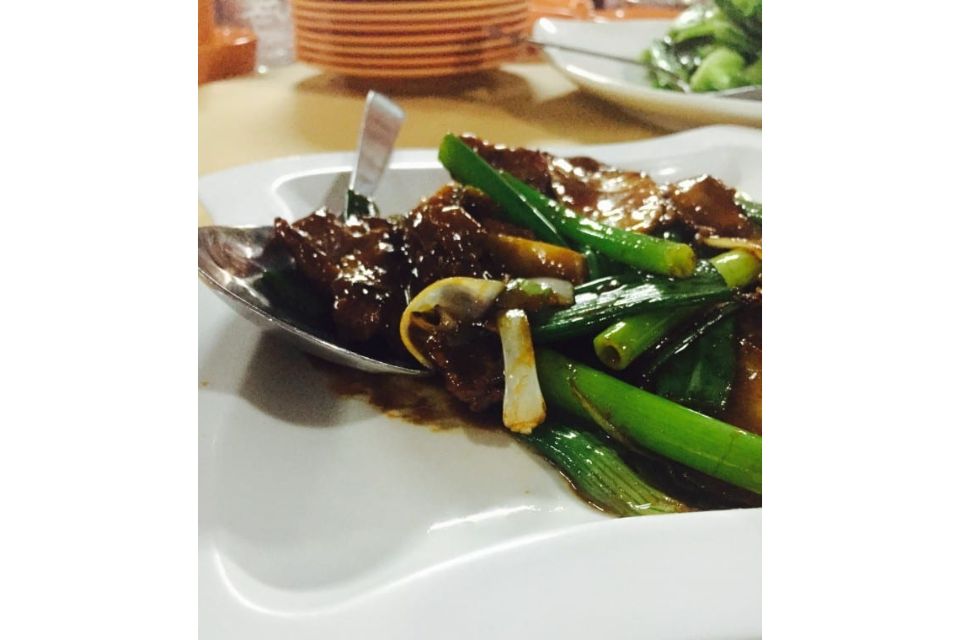 Beef is soft tender beef, Here comes the Hua Yu Wee Beef with Spring Onion and Ginger.
This is right up there with the best of this dish I have had.
The beef melts in your mouth, the ginger was not overpowering as sometimes it can be, and the Spring onions just gave it a little 'edge', and the gravy was simply to die for. A must try!
$16.05 for a small for this dish and $26.75 for a large. 
If you know me well, you are probably asking why the hell does Brian not like Hua Yu Wee's Drunken Prawns.
Well I don't – end of story.
But let me just say, these turned up on the table and within about 2 minutes were devoured. In fact there were shouts of joy when the table thought there were only two left and a third floated to the top.
So yes the table voted with their mouths and they voted that these were killer. They were GONE in minutes.
These are punchy on the pocket though starting with a small at $20.33 and a large at $54.78
The girls chose this dish. Steamed Grouper in Hong Kong Style Sauce. I did actually try a little piece of this and I will admit it was seriously good. So moist, melt-in-mouth and a really delicious sauce.
I actually did indeed enjoy this until something like chew #4 when the fish taste kicked in. Such a bugger.
I can easily see why this was a plate of fish skeleton bones in about 5 minutes of it being served up. A cracking dish. Yummo!
This is priced per at $9.63 per 100g
Mmmmmm sweet and sour pork nuggets, AKA Hua Yu Wee's Sweet & Sour Pork.
I managed to sneak another meat dish in a renowned seafood joint off the Hua Yu Wee menu.
Don't forget who's writing this review, the one who doesn't do cooked fish right. But anyway this was yet another stunner. Sweet and sour pork nuggets. Just look at these. Crunchy little parcels of yummy pork with a tangy but sweet sauce. A belter.
You'll pay $12.84 for a small, and $25.68 for a large
Smoky smoky fried rice, oh yeah baby.
Perhaps not every day you would rave about rice. But this one deserves a call-out. Bloody nice in fact.
I don't know how these guys achieve that smoky, almost BBQ flavour of egg fried rice but they did/do.
Seafood rice in steroids. Jude went bananas for this – and actually so did yours truly minus the prawns of course. Spoon some of that rib gravy or the sweet and sour sauce over this and you have a Mr and Mrs match made in heaven.
$17.12 for a large one or $8.56 for a small.
I missed a photograph of one dish, which was the Crayfish in Black-Bean Sauce. Sorry about that guys.
Now, this dish was consumed so so fast. Does that give me the excuse as to why no photo? No really it was gone in the blink of an eye.
This dining style was a hands in affair. Black-bean sauce everywhere. Everyone was covered, including me and I didn't eat any.
My dining colleagues all confirmed this was an amazing dish, clearly confirmed by an empty dish. Well, it was empty apart from crayfish shells.
Quite punchy at $29.96 for a small, and $59.92 for a large.
Our conclusions of Hua Yu Wee Seafood Restaurant
And there you have it. Our experience of Hua Yu Wee. A restaurant I have not been to for over 8 years now. Yes, it was one of the very first restaurants I ever went to when commuting back and forth from Melbourne to Singapore.
Who took me that very first time to a completely unknown place in a foreign country? Well that would be my mate Dani Rossetti.
So long ago now (8 years ago) I have to admit I had sort of forgotten about it until now. But I am so happy that I got re-introduced. Now we know it is a mere 3 bus-stops away we will indeed be back very soon.
Hua Yu Wee – it's another must visit on the East Coast.
ENJOY!!!
This is not the Hua Yu Wee CNY menu 2022, this is the standard Hua Yu Wee menu for 2022 as per their website.
If you don't reserve and can't get a table at Hua Yu Wee Seafood Restaurant, here are some other great restaurants nearby to try...
Address & Telephone Number of Hua Yu Wee Seafood Restaurant
Address 462 Upper East Coast Road Bedok, Singapore 466508