Kubo, a restaurant inspired by the cuisine of the Philippines, has opened in Singapore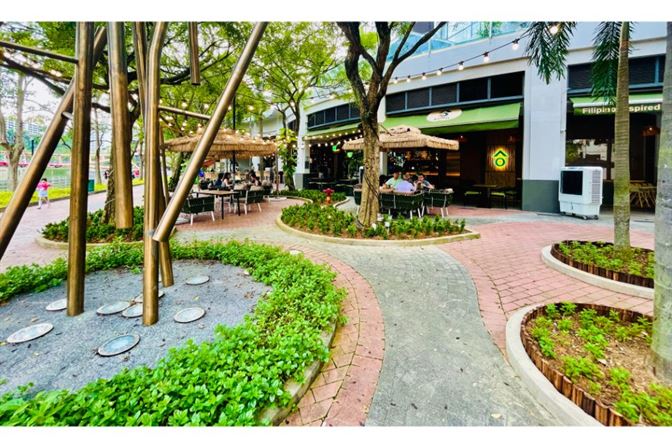 Kubo Woodfired Kitchen Review (2022) is a proud one for me. What with my Filipino wife, 2.5 kids, house in Bohol, and so on. I love to be able to write about some of my favourite food on this planet because sometimes Filipino food gets tagged, incorrectly, as bland. It is far from it and Chef Sombero is pushing that 'rumour' even further into the back with his menu and offerings. This place came as a recommendation from a colleague of mine, Mr Lois Baude and I thank him sincerely for this. It's a belter.
Chef Sombero is importing wood from Australia that burns hot and blackens because it is dry. The wood in Singapore is too wet for his needs. It's a perfectionist thing. This wood gets super-hot and generates that all-important smoke to feed his smoker – read on for more on that below.
He stole some of his Grandmother's artwork from her house in the Philippines, and that now adorns one of the private dining rooms in this Filipino restaurant in Singapore.
There is imported furniture from the Philippines to make this as authentic as possible, even with little mock-up Kubos for the outside dining.
They have stunning murals painted on the walls depicting old Kubo from back home, but interestingly they have been painted by an Indonesia artist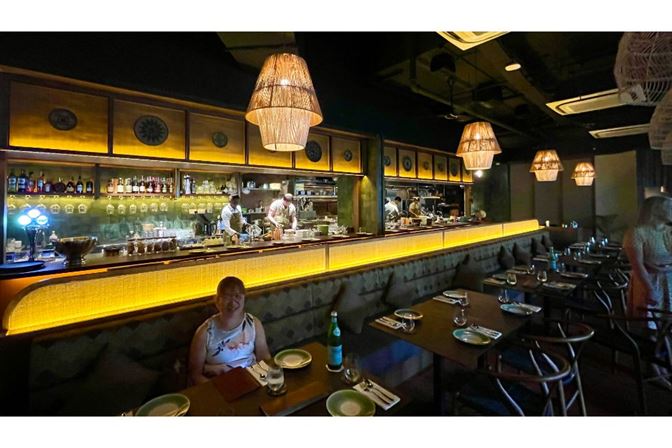 Chef Kurt Sombero worked under Chef David Pynt at both Burnt Ends and Meat Smith.
Chef mentioned to me that Chef Pynt has been super-supportive of his Kubo style restaurant and helped him massively with the set up of this new Filipino restaurant in Singapore, Kubo Woodfired Restaurant.
He even extended that support to the use of the Woodfired Oven, Smoker, and Gaucho (adjustable) Grill – that you'll also see front and center at Burnt Ends.
As I sat there I realised that I had briefly met Chef Sombero when he was Head Chef at MeatSmith. MeatSmith and Burnt Ends were part of a Sky High Gourmet Fiesta event run by Marina Bay Sands and Ce La Vi. Remember that blog? Have a read below.
Here's some of our smorgasbord of excellent Filipino food Singapore. You need this in your life... Kubo Woodfired Kitchen Review (2022)
At this Kubo style restaurant there is Sisig, Lechon-Style (and full-on Lechon to come), Chicharon, Turon, Halo Halo, Sorbetes, and so on. Plus they have their very own spins on Filipino classics with Tuna Tartare replacing the infamous Kinilaw. This really is exceptional Filipino food Singapore, just with a quirky spin, and you should try it.
I reckon this could be one of the very best Filipino restaurant in Singapore, hands down!!! It is oozing with quality. Quality EVERYTHING.
Let's hear from Kubo Woodfired Kitchen about their Filipino food Singapore: Kubo Woodfired Kitchen Review (2022)
Breaking news from Kubo Woodfired Restaurant is that LECHON will soon be on the menu
Filipino Lechon is some of the very best pork you will eat in your life. I kid you not. It is my stable food whenever I am in my second home. They have even coined a new version BellyChon, for smaller hawker-style restaurants that can't have the whole beast. Well, it is coming to this Kubo style restaurant imminently. I saw the roasting pit, spit, and even coconut husks. It's gonna be epic!!!
Some ISLIFEARECIPE-dia for you. What is LECHON?
All over the Philippines, lechón is a staple food that is cooked for holidays, celebrations, and other special events all year long. Despite its Spanish name, Philippine lechon has pre-Hispanic roots; pigs are a native domesticated animal of all Austronesian cultures and were transported to Polynesia during the Austronesian Expansion.
The Philippines is a country that was once colonized by Spain. Lechón's meaning has broadened over time to encompass any type of roasted pig (including suckling pigs). Lechón de leche is the name for suckling pigs in the country, which is the equivalent of the Spanish word cochinillo.
Its original Tagalog name, inihaw [na baboy], means "charcoal-roasted/barbecued pig" and is synonymous with lechón.
For several hours, they are turned constantly (traditionally by hand) on a bamboo spit that is placed over a charcoal fire. After several hours of roasting, the pig is ready to eat. The crispiness of the pork skin, a result of the cooking and basting process, is one of the dish's defining characteristics.
Kubo Woodfired Kitchen Review (2022) VLOG
Kubo Woodfired Restaurant Al La Carte Menu (2022)
We actually found it really hard to find the Kubo Woodfired Kitchen Menu, so we are delighted to be able to offer that to you at the click of a button above.
We dined from the Al La Carte today at this Kubo-style restaurant, but my next trip is the Kusinero Menu. Only served at the bar, so also you get to watch all the prepping, cooking, and plating action. Kusinero is Filipina for Chef or Cook. So you get to watch Kusinero Kurt Sombero working his magic.
This is priced at $150 a head, with an additional $40 supplementary. This is a superb option to consider because you get 5 or so menu options from the Al La Carte menu, and then an additional 5 unique offerings prepared by Chef Kurt. The intent is to provide a gastronomical journey to experience the essence of Kubo Woodfired Kitchen.
I am so coming back to have this with either Wifey or another "boy's lunch" with Jude Jude.
Let's see the food we consumed this day at Kubo Woodfired Kitchen. Yep, it's a LOT... Kubo Woodfired Kitchen Review (2022)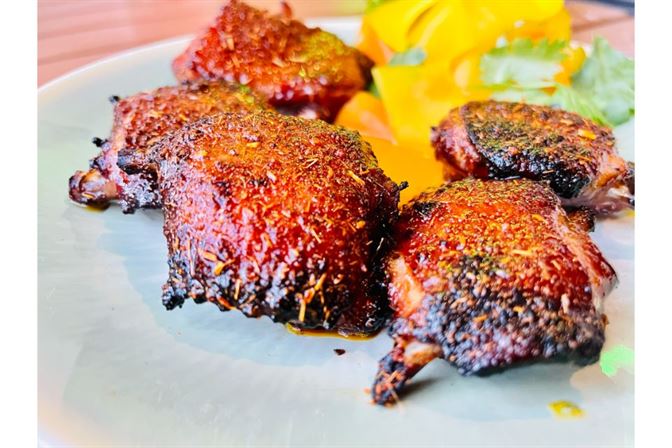 Inasal Mid-Wing, Annato Glaze, Pickled Green Papaya
We had two serves of this. It really is just an incredible dish. The chicken is fall-apart tender, it's so very juicy, smoky and then that crunch of the skin. This is, without doubt, one of the best chicken dishes ever to cross these big hairy lips of mine. Outstanding.
@ $14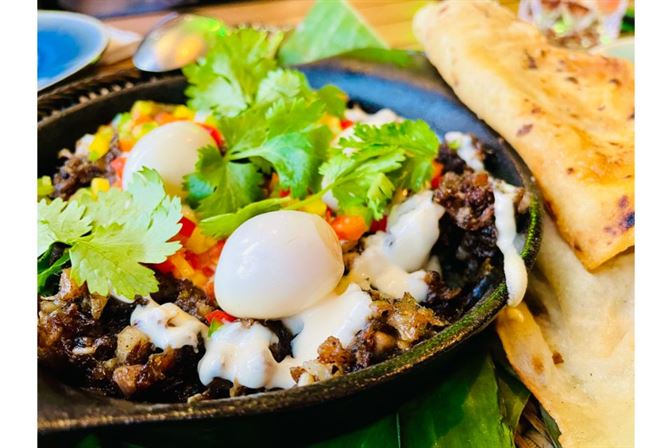 Sisig, Foie Gras, Salted Egg
This is like a Pinoy tacos recipe, just with these superb homemade flatbreads instead of the actual tacos. Sublime, with each Quail egg being perfectly onsen with a runny yolk within.
Now that is one thing I was not expecting to see on a Pinoy pork menu. With those homemade flatbreads, this became almost a Pinoy tacos recipe. Delicious Filipino food. I will say though, that I am a Sisig purist and I do like a bit of pig ear, liver, kidney, and sour in a sisig. Still is an exquisite dish though. Great job Chef.
@ $25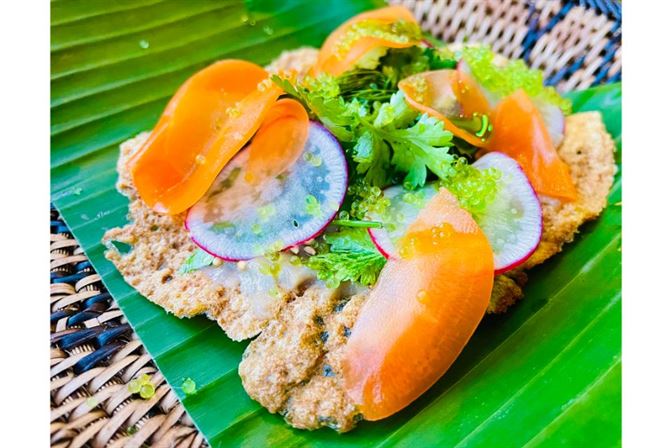 Home-made Cassava Chips, Roasted Egg Plant, Tobiko
Wifey had this one and gave it a 50/50 sort of response. Sure looks pretty though.
@ $12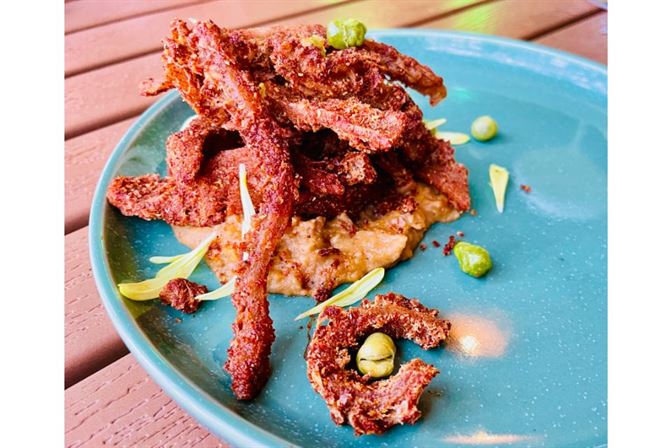 Honeycomb Tripe, Chick & Green Peas
Oh man was this good or what. Beer food on steroids. You could not stop chomping on this. Crunchy, almost like crisps. I think this could have been Jude Jude's favourite. It surely was up the top of the list for me too. Scrummy!
@ $14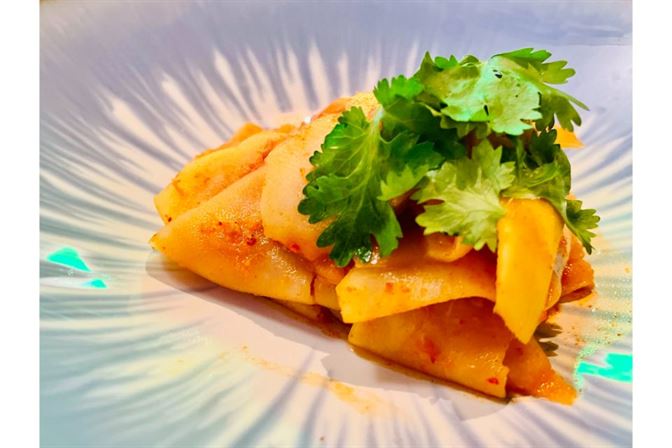 Green Mango Kimchi
All I can say about this is WOOF!!! Absolutely genius dish. So tart with a lovely warmth throughout. Best kimchi ever. It's like a little palate cleanser. Just superb.
@ $8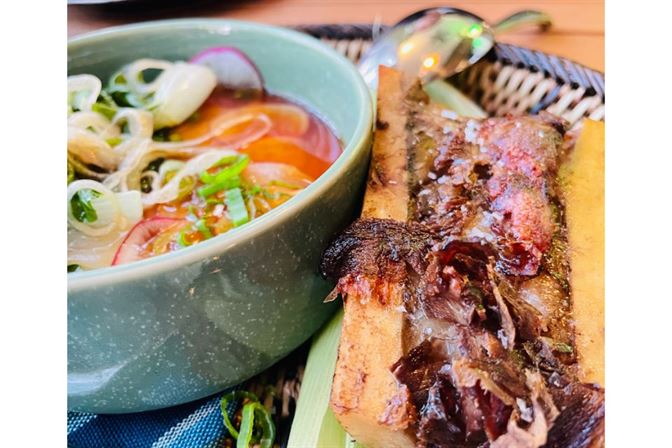 Bone Marrow, Corn Custard, Beef Coin
You know, I didn't get the corn custard. In fact, I couldn't taste much corn. I found it more like Chawanmushi. It was really good with the veggies on top when mixed, but it sort of didn't get me with the bone marrow. I think I would prefer that delicious unctuous bone marrow x 3 or 4 just with some plain old sea salt. That was cracking.
@ $16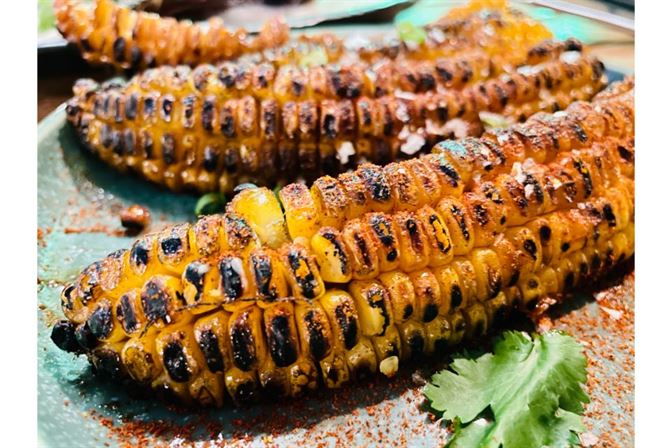 Duck Fat BBQ Sweetcorn
Another absolute cracker of dish from Chef Kurt. Holy cow (literally). 3 things I absolutely love are all added together. Goodness me. I have to type it out again. DUCK FAT. BBQ. SWEETCORN. Oh yeah, with a little sea salt too. BOOMSKI!!!
@ $8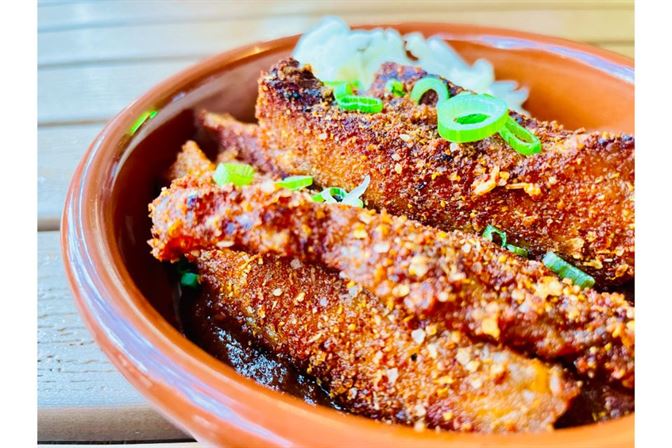 Pork Cheek Chicharon, Paprika Powder, Plum Ketchup
Two orders of this were consumed. The very best pork jowl. It's so tender and seasoned to perfection with the spices. Then you get that little pop of the paprika dusting, and the plum sauce is absolutely KILLER with it. One of my favourite dishes of the night. This ROCKS.
@ $12
Octopus, White Beans, Crackers
Yep, this wolfed down by Wifey and BeBe. Gone in the blink of an octopus. Super-soft, nicely salty, beautiful plating.
@ $18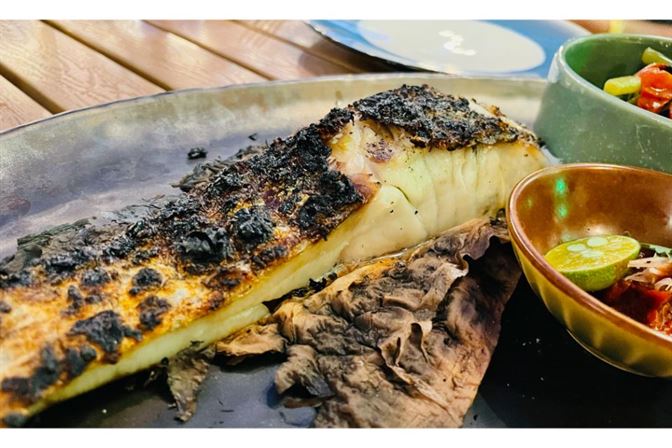 Barramundi, Sweet Potato Leaves, Fish Bagoong Dressing
OK, this was the girl's absolute favourite. They both said they'd order this every time they come back to Kubo. Unbelievably good fish. Look at that monster slab. It flaked in huge pieces, and you could see just how moist it was, but then that charring from the Woodfired oven is just wow. Damn, I hate myself again for not liking fish. How good does that look? WINNER!!!
@ $38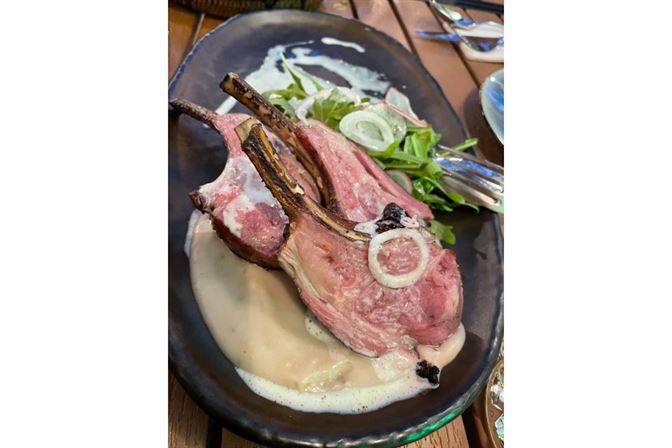 Lamb Neck (replaced today with Lamb Chop), Coconut, Green Chillies, Watercress
How if my brother looked at this he'd run to the hills because; "it's not cooked properly". Yes, he is from the well-done brigade, boo. They say a picture paints 1,000 words, but it doesn't in this case. What you missing is the smoking that this lamb has had. It is umami and a half. Super-smokey, but still so very lamby, and so tender you really didn't need to chew. This was just fantastic. That smoking is killer for this dish. Just a truly wonderful lamb dish, and some punch if you want it from the green chillies. Quality!!!
@ $52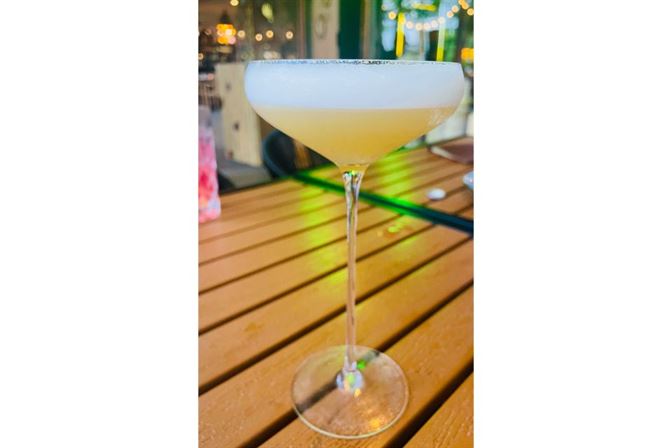 Apple Pie Mocktail
I had one little sip of this and it reminded me of Christmas, and mulled wine. Crazy good mocktail. 
@ $14
And now it is dessert time at Kubo Kitchen
I didn't take a picture of Jude's. But I have to call out this was double-weird. Jude didn't eat it. I need to ask Chef what the green stuff was on top of the ice cream because that was weird in a really weird way. Smoked Yoghurt Ice-Cream, Granola, Apple, and some green stuff…
@ #12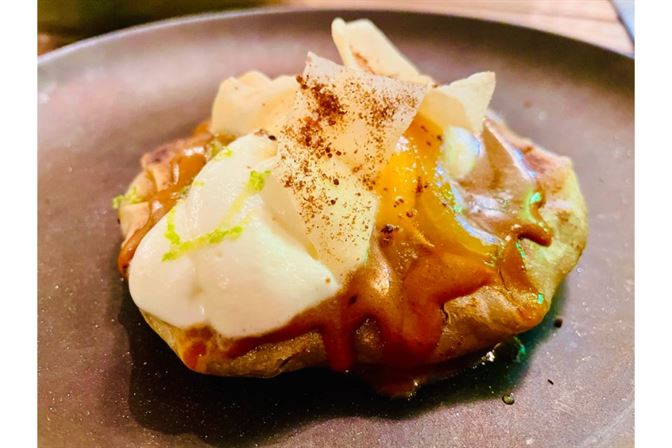 Turon, Roasted Banana, Jackfruit Jam, Coconut Butterscotch
Wifey wasn't too sure about this one either. She's a picky one today, that's for certain. That's Filipina food critics for you. She said you couldn't really taste the banana or Jackfruit, and it was missing the crunch. She admittedly stated she is a Turon connoisseur and sets the bar HIGH.
@ $12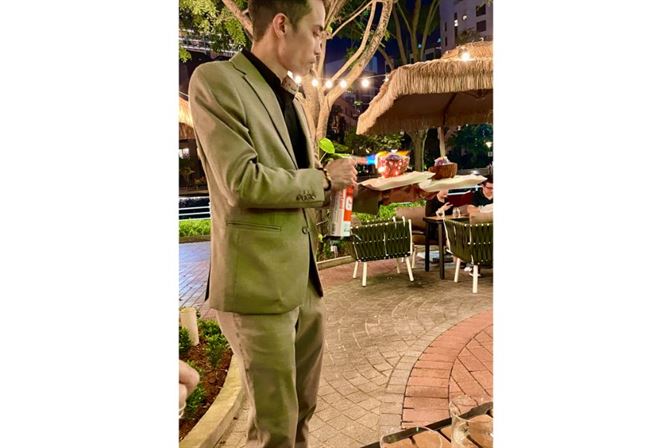 I love some food theatre and how about this. Flaming your dessert table-side. Yeap, that's a winner in my book. Toasting that coconut and charring that meringue a little.
Halo-Halo, Purple Yam Sorbetes, Coconut, Meringue
This was just divine. I tried a little of Strawberry Blonde's and yep it's up there. Just a perfect dessert and plating to die for. Seriously good dessert.
@ $12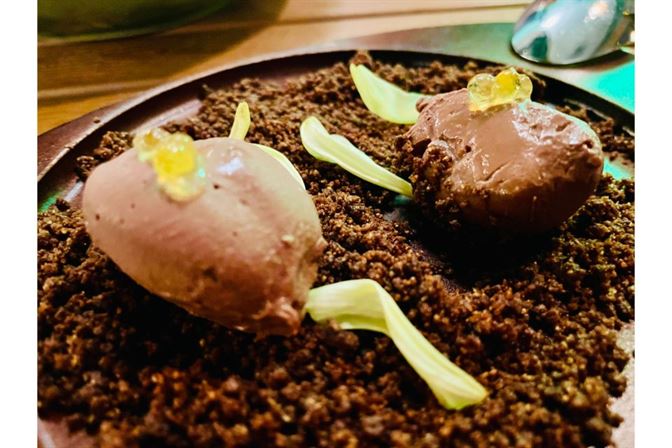 Smoked Davao 70% Chocolate Ganache, Milo, Olive Oil Caviar
Yep, me last. I am a sucker for high coca content chocolate and simply love sea salt and olive oil with that. Hey presto here that is, also on a 'bed' of mashed crunch Milo. Decadent? Yep surely was. But quite small, so not sickly. A beauty.
@ $8
The Embassy of the Philippines, Singapore, leant in to support this new Filipino restaurant Singapore. Kubo Woodfired Restaurant
Visiting the restaurant were the Philippines Cultural Officer Ms. Rosellie L. Bantay, Third Secretary and Vice Consul Joy Anne B. Lai, First Secretary and Consul Joyleen E. Santos, Political and Public Diplomacy Assistant Ms. Ivanah Karla F. Vicencio-Luz, and Third Secretary and Vice Consul Renee Gaylee M. Chua.
Now that is not a bad turnout, is it? Chef Kurt's wife, Ms. Sheine Ebora-Sombero, hosted the Embassy officials back in early August.
Let's check out some shots of the interior of Kubo Woodfired Kitchen, literally the kitchen...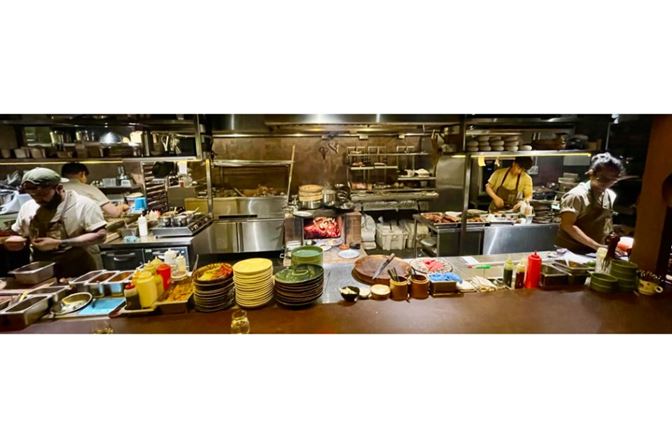 The name, Kubo Woodfired Kitchen is not a throw away. EVERYTHING is cooked over wood, or smoked by the wood. There is literally no gas in the kictchen. Zoom in on this photo above and you'll see what I mean.
I loved the fact that Chef Sombero hates sous vide, I could have kissed him. It's all low and slow, reverse searing and smoking. The Gaucho grills allow indirect heat and direct heat. Again, I am officially in love.
The fire pit has a tube behind it that 'feeds' the silver cabinet to its right. That is the smoker. That is where a lot of the magic happens and that umami flavor gets slapped on as a hallmark of the food here.
I want to work in this kitchen. One day. Just one day. But, believe me, it is HOT HOT HOT in here. Standing next to the Chef for a fleeting moment to get a photo I think I lost 4Kg. Another great reason to work here.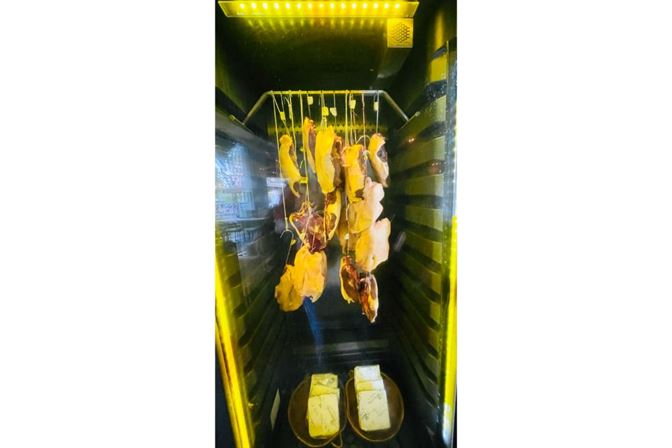 2 dry-agers as you walk in. Like an idiot, I only took a photo of one. Duh. The duck is in here, as you can see. In the other were the OP Ribs which I have to try one day at Kubo Kitchen.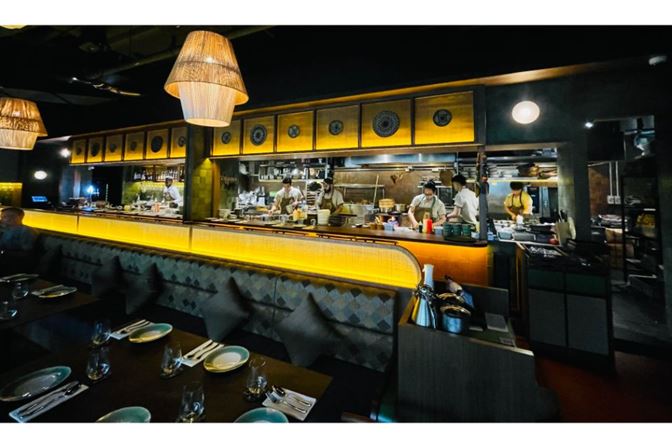 Check out that uber-cool decor. It's special in here.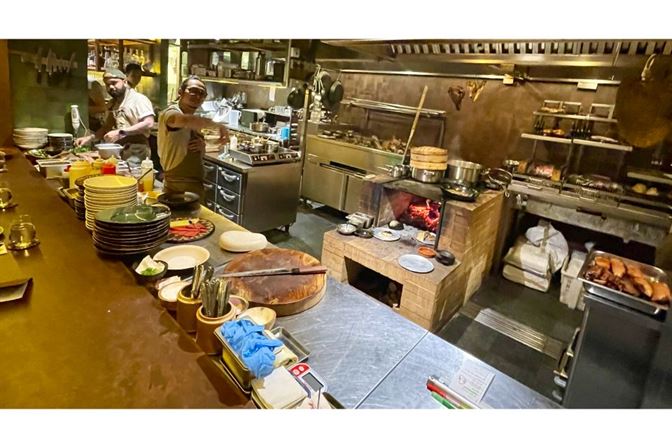 I ask Chef Kurt to get in the picture and he said: "Only if you come round…" I nearly lept over the countertop. Any chance to meet the main man and to experience the kitchen closer up. it is just bonkers in there. The heat from the fire is just incredible.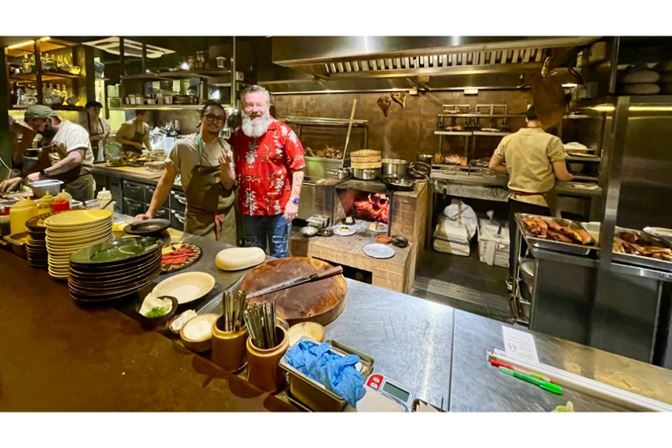 Like a kid in a candy store. A big fat beardy kid that is. Big time. As we were chatting he said two things to me that blew me away;
I joked about working there and he said I am hiring right now.
I talked about the lamb cooking method and he said it was sous vides. My stomach turned and I felt nauseous. But, then he joked again. Can you see sous vides anywhere? I was right, the lamb was slow-smoked. He hates sous vides.
I nearly got on one knee to propose, right then and there.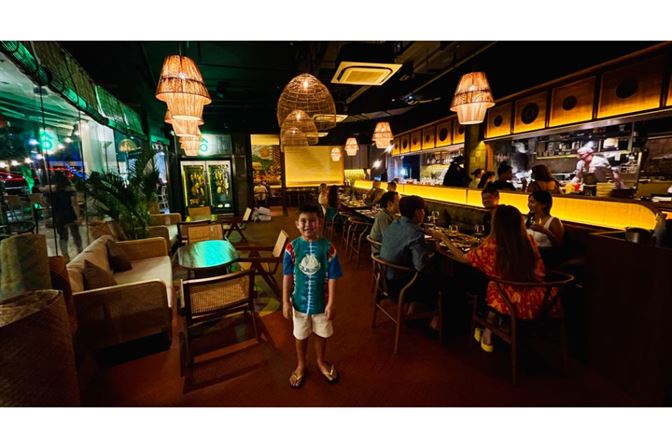 It is just such a cool space. The vibe is awesome. The aromas are to die for. You can see all the action. I am 1000% coming back here with my BFF Jude Jude for a 'boy's only lunch'. 
Our conclusions of Kubo Woodfired Kitchen Review (2022)
Prepare yourself to walk away smelling like you've visited a Korean BBQ joint. But once you read this Kubo Woodfired Kitchen Review (2022) you won't care I am certain, because you'll be desperate to try that food.
The food was exquisite and so unique. Chef Sumbero teases you with Filipina originals and then sends you off somewhere you didn't know you were going to, with textures and flavours off the usual Filipina beaten path. Come on, foie gras in a Sisig is just insane, but it works!!! It's sort of Kubo modern cum Kubo style restaurant, with Chef Kurt Sombero's flair. Genius.
The decor and vibe just pop. The crew is super-attentive and knows their menu inside and out. The price is not cheap, but it is worth every single cent you'll spend. It is just quality, and I loved it.
Sadly a couple of the desserts for us were a bit of a letdown. Jude Jude's smoked yogurt ice cream I didn't even get a photo of. It was just rather strange. There was this green soft fondant-like squirt on top that had just a funky taste, almost a little bile-like. Sorry Chef, it's true.
Overall we absolutely loved it here. Quality food. Great staff. Amazing location. And breath-taking kitchen; both to look at and also because it's so hot in there, literally taking your breath away. The smoking of the dishes is quality and unique for Singapore I'd say. Don't forget there is no gas, it's all Woodfired in the oven, Gaucho grill, and smoker. We'll be back 1000%, especially when those lechons start turning.
In closing, it's funny how things happen. Lois, my colleague, and recommender of Kubo Woodfired Kitchen happened to pop in the same day after we had left. I think we're becoming one big happy Filipina family now. Well, Benetton family with Filipina, Singaporean, English and now French too. AWESOME!!!
We are truly living the Kubo Woodfired Kitchen dream; "Kubô's aim is to make their kababayans in Singapore proud and to promote Filipino food, culture, and heritage to Filipinos and foreigners alike."
We will be back again and again and again. Of that, there is no doubt. And that next session will be when that whole pig is on and Chef Sombero is chopping up Lechon. Be seeing you then Chef!!!
Kubo Woodfired Kitchen gets a massive thumbs up from ISLFEARECIPE and family Kennett. It's a die-die must-try!!!
#BeProudChefSombero 
What are the opening times of Kubo Woodfired Kitchen?
| | |
| --- | --- |
| Sunday | 12–3pm, 5:30–10pm |
| Monday | Closed |
| Tuesday | Closed |
| Wednesday | 5:30–10pm |
| Thursday | 5:30–10pm |
| Friday | 5:30–10pm |
| Saturday | 12–3pm, 5:30–10pm |
What are the contact details of Kubo Woodfired Kitchen and how to book and make a reservation?
Phone: 9645 8436
Reservation: quandoo.sg
https://www.kubo.com.sg/
What's the address of Kubo Woodfired Kitchen?
80 Mohamed Sultan Rd, #01-12 The Pier at Robertson, Singapore 239013
Where else can you find more exceptional filipino restaurant in Singapore?
Connect with Us on Social Media