The hotpot that will make you feel very special is called Haidilao Hotpot and Steamboat.
HaiDiLao Hotpot is a restaurant franchise called Haidilao that has gained worldwide recognition for its top-notch service and mouthwatering fare. It's actually become so well-known that people refer to it as "the hotpot that will make you feel like a VIP."
Why is Haidilao so unique? First off, the service is excellent. Employees are always willing to go above and above to ensure that you have a wonderful experience since they are trained to be attentive and friendly. For instance, they can assist you in selecting the proper ingredients, cooking your meal to perfection, and even massaging your feet afterward.
However, both the service and the cuisine are excellent. You can make your own unique dish at Haidilao Hotpot by choosing from a large selection of hotpot broths and components. Additionally, the cuisine is always of the highest quality.
Haidilao Hotpot is the place to go if you want a hotpot and Stameboat experience that is both delectable and opulent. So why are you still waiting? Make a reservation right away!
Hai Di Lao is a chain of hotpot restaurants renowned for its first-rate service and delectable fare. For a special event or a night out with friends, it's a terrific spot to visit. Today we went on Amy's recommendation, and I am so very glad we listened to her. What an amazing dinner this was today.
What does HaiDiLao Hotpot have to say about itself?
I love the fact that the HaiDiLao Hotpot logo is Hi, and the i of Hi is a chilli, just like ISLIFEARECIPE.net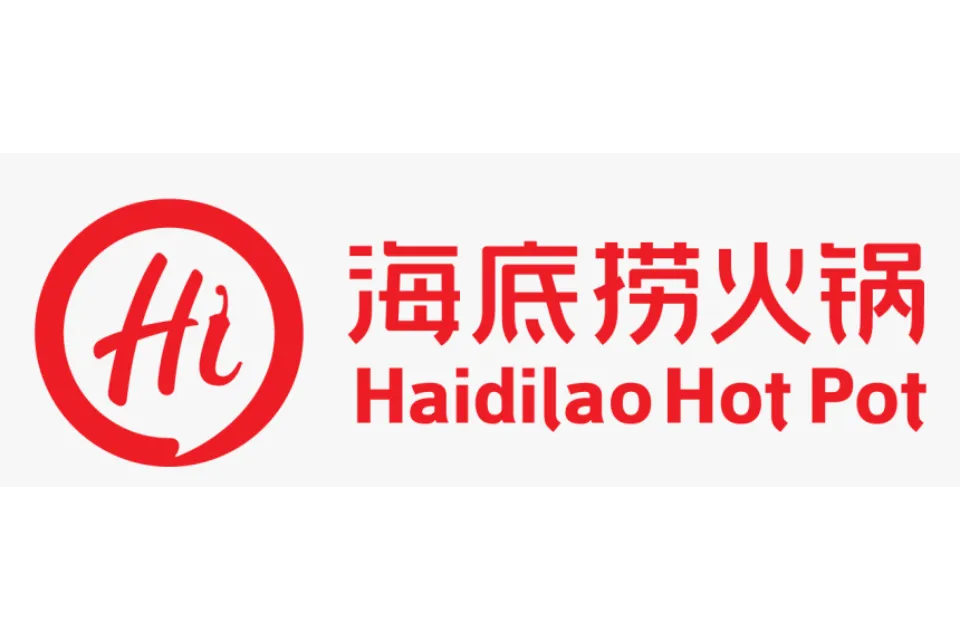 Hai Di Lao Hotpot Singapore price
The Hai Di Lao Hotpot Singapore price is kind of down to you right, as you choose the components at Hai Di Lao Hotpot, that then combine to make your overall bill. The lady serving us did gawp at the total bill when we presented it. Hey, we had Wagyu galore. That's why our Hai Di Lao Hotpot Singapore price was above $300. We caused it, we ate it, we loved it.
On average this should set you back less than $200 for a family of 4-5, and that is for a mountain of food. Believe me, you will not be leaving Ha Di Lao Hotpot hungry.
Haidilao is a chain of hot pot restaurants that was founded in Jianyang, Sichuan, China in 1994. It is the largest hot pot chain in China and has expanded its presence overseas. The restaurants are known for their high-quality ingredients, excellent service, and interactive dining experience. Haidilao Hotpot offers a wide variety of hot pot broths, fresh ingredients, and dipping sauces, allowing customers to customize their dining experience.
The popularity of Haidilao can be attributed to several factors. Firstly, the brand focuses on providing exceptional customer service, offering services like complimentary snacks, hand massages, even manicures at the table, and entertainment options for waiting customers. Secondly, the quality of their ingredients is highly regarded, with a focus on fresh and premium ingredients. Additionally, Haidilao restaurants often feature a lively and vibrant atmosphere, making dining there a fun and enjoyable experience – check out the KungFu Noodles…
Haidilao has gained international recognition and has expanded its presence to various countries, including Singapore. In Singapore, Haidilao has multiple locations, offering both dine-in and takeaway options. The brand has received positive reviews from customers and continues to attract a large following.
Hai Di Lao Hotpot Menu for 2023
HaiDiLao Hotpot Signature Soup base-
Tomato Soup Base
Selected tomatoes that have enjoyed abundant sunshine are made into sauce. The sauce is then fried to make the tomato soup base. It is recommended with fresh fish. It is non-spicy.
HaiDiLao Hotpot Signature Soup base-
Classic Spicy Soup Base
This soup base is made by boiling high-quality beef tallow, green Sichuan pepper, red Sichuan pepper, and a variety of peppers. It has a rich taste with red color and becomes more fragrant while boiling. Serve with crushed garlic and sesame oil dip, that is the way to eat!
This is what we chose today. Man alive this will burn you a new one the next day. So very spicy, but man alive was this just so good and super-addictive. A stunner. It is up there big time on the spicy scale, and you can choose what level of spicy you want.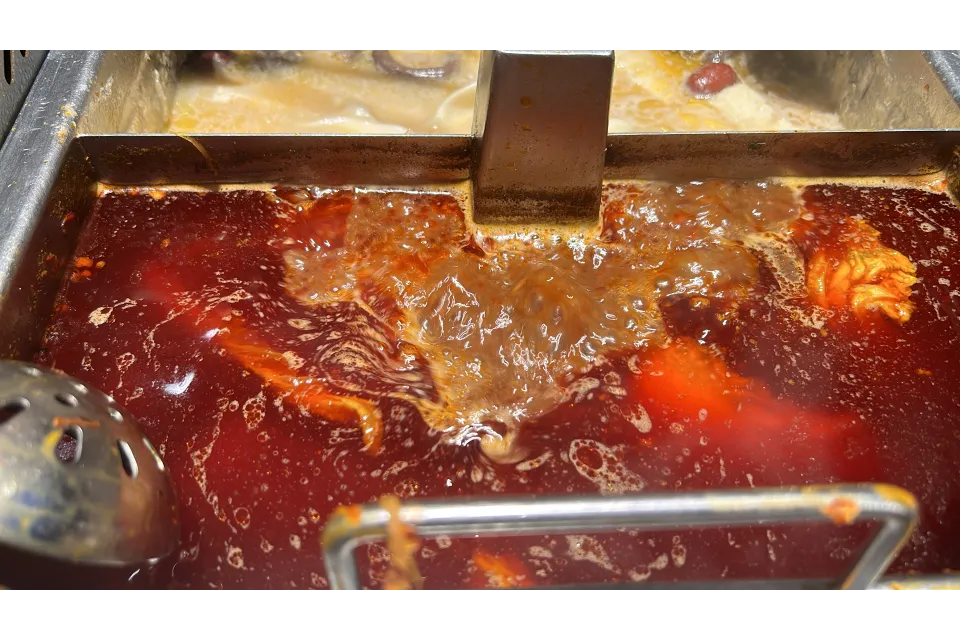 It looks like boiling lava, doesn't it? Check out the amount of chili and Secuan pepper in one little spoonful of HaiDiLao Hotpot soup. Ouchy!!! Let's get the loo rolls in the fridge, please!!!
Signature Soup base-Three Delicacies Soup Base
Modern craft is adopted to extract meat from the concentrated bone soup. Different condiments can be matched according to your own preference. It tastes better with sesame sauce. It is recommended for boiling seafood and vegetables. It is non-spicy.
Signature Soup base-
Mushroom Soup Base
The soup base tastes refreshing, and the mushroom is rich in flavor. It is recommended for boiling mushrooms. It is non-spicy.
Signature Soup base-
Sichuan Spicy Hot Pot
Selected Sichuan pepper, pepper, and spices raw materials are served to make a real Sichuan hot pot with the process of traditional watercress fermentation. It is featured by its bright red color soup base with a spicy and rich flavour. It is recommended for boiling crispy and chewy animal ingredients. Believe me, this is a spicy soup base. Caution.
We did a split decision and had the Three Delicacies Soup Base and the super-spicy Classic Spicy Soup Base. Come on, anything with Beef Tallow has me at hello every time!!! 
HaiDiLao Hotpot Special Sauces
The recommendation from HaiDiLao Hotpot is this HaiDiLao-Styled Dipping Sauce:
2 spoons of your chosen HaiDiLao Hotpot Soup, and then add:
1 spoon each of:
Oil,
Crisp Soybean,
Spicy Roast Beef,
Mashed Garlic,
Crushed Peanut,
Chopped Celery,
Coriander, and
Chive.

BOOMSKI!!!
HaiDiLao Hotpot Special Sauces photo courtesy of haidilao.com
KungFu Noodles at HaiDiLao Hotpot
Make sure you order the Kung Fu Noodles when you visit HaiDiLao Hotpot, and also ask for the table-side 'show'. It takes the Hai Di Lao Hotpot crew up to three months to learn how to do this.
Photo courtesy of Haidilao.com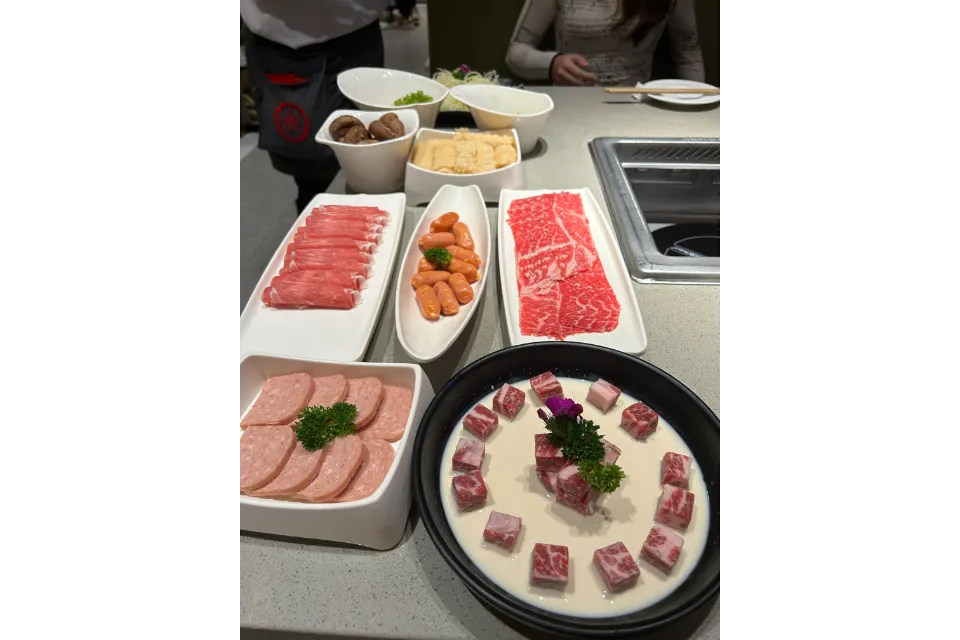 A veritable HaiDiLao Hotpot smorgasbord. Wagyu Cubes in Milk, Spam, Deep-Fried Tofu Skins, Wagyu, Cheese Sausages, Asparagus Lettuce, Shiitake Mushrooms (boy did these soak up that spicy soup = caution), Quail Eggs, Exquisite Fatty Beef Slice, Chinese Cabbage, and much more…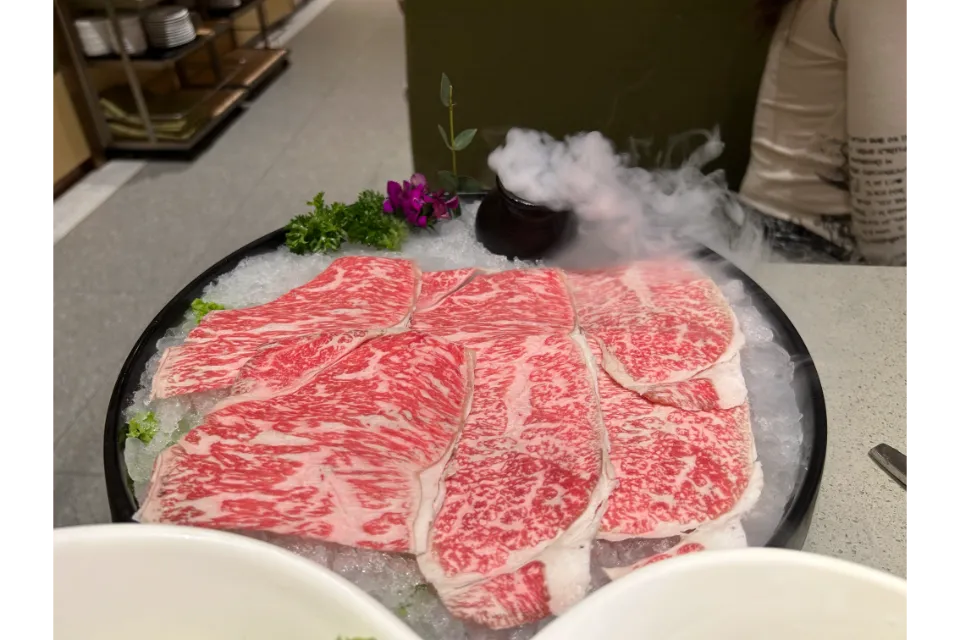 I simply could not refuse the HaiDiLao Hotpot Wagyu. This took like 30 seconds to cook in that super-spice beef tallow soup base. Incredible beef. Wow, that was so very good.
Hai Di Lao Hotpot Singapore reservation
Contact details and address for HaiDiLai Hotpot Bugis+
Address: 201 Victoria Street, #04-10 Bugis+
Telephone: 6908 6166
What are the opening hours of HaiDiLao Hotpot at Bugis+
Sunday 10:30 am–6 am
Monday 10:30 am–6 am
Tuesday 10:30 am–6 am
Wednesday 10:30 am–6 am
Thursday 10:30 am–6 am
Friday 10:30 am–6 am
Saturday 10:30 am–6 am
Read on for more HotPot Reviews from ISLIFEARECIPE.net
What is the origin of HotPot?
Hotpot, commonly referred to as steamboat or soup cuisine, has its roots in prehistoric China. A pot of soup stock is put on a heat source in the middle of the dining table for the traditional Chinese dish known as hot pot, allowing the soup to simmer. Then, to simmer and flavor the soup, diners add a variety of Chinese delicacies and seasonings to the pot.
Hotpot has a long history that may be traced back to a variety of cultural influences. Hotpot has a rich history that extends back to Kublai Khan's horsemen, according to an article on Tatler Asia. They are credited with creating the idea of wearing helmets to cook food while engaged in combat. This method of cooking developed over time and spread to several parts of China, each with its own modifications and traditions.
Beijing or Northern-type hotpot is a well-known hotpot style. This variation emphasizes the quality of the ingredients above the soup liquid and is prepared in copper Mongolian pots. The key component in this kind of hotpot is thinly sliced mutton. It is distinguished by its ease, freshness, and mild flavor.
In the current era, hotpot has experienced further change as various nations and cultures have adopted their own variations of this shared dining experience. Hotpot is now consumed all over the world, with each location adopting its own special ingredients and cooking techniques.
In conclusion, hotpot has a long and varied history that dates back to ancient China. It has changed over many years, influenced by various Chinese cultures and geographical areas. One of the popular variants, the Beijing or Northern-style hotpot, focuses on premium ingredients and a mild flavor.