MBS Sky High Gourmet Fiesta w Obaachan
There I was getting my new tattoo done thinking about what could we do for a special lunch event for Obaachan when she arrives in a week or so. I scoured the InterWeb whilst I still had both hands available and spotted the event. OMG. This was it. This was the ideal foodie event I was hunting for. This was meant to be. This was a blessed Google search. Our great mate Chef Drew was on the Chef list too. Plus one of our hawker favourites MeatSmith and Chef Pynt of Burnt Ends. I mean come on. This is a utopian list of goodies for any foodie. This will become our MBS Sky High Gourmet Fiesta w Obaachan.
I then clicked on the link to see what the scoop was for tickets. They are free. Free. No way. It transpires, Yes way. I then try, now with one arm as Derrick has started etching my arm, to book the tickets. Damn, you need to enter individuals details. Plus, you can only book 4 tickets per person, so I need Mary to book some too. Damn! OK, I outsourced it and had Mary book 4 and #1 book the other 3 needed. I went back into the site that evening to check a few things like dress code etc. and the event was closed out. All tickets were GONE!!! WOW, so lucky to be having my new tattoo that day or Sky High Gourmet Fiesta w Obaachan may never have happened.
I was getting excited so I pinged Chef Drew and he leaked that his two dishes were XO Prawns and a Pastrami-ish Wagyu Bolar Blade with Bone Marrow Butter & Pickled Chili. Immediate delight!!!
Also, he shared the way it works on the day. It was free entry to the top of Marina Bay Sands at Ce La Vi. Watch the video. We felt like VIPs arriving, getting our little yellow armbands on the red carpet. Then you buy $20 vouchers which got you one plate of food. Not bad right? Having got my bill afterward the hosts clearly made their $$$ on the drinks. I feel like I should own a part share in Stella Artois right now. But, for this experience, it was worth every single cent. I have built up enough Brownie Points for a year today, haha.
Obaachan sent me the following text message when we got her home to her hotel; "Thank you so much for everything. I am back in my room and got relaxed. I cannot remember what I have eaten and drank today. Thank you for such a gorgeous gourmet experience, which will be memorable, indeed!" WINNER!!! Thanks Chefs!!!
We walked away from the event 4 hours later buzzing. Literally buzzing. It was THE very best gastronomic event ever.
Venue – Ce La Vi, top of MBS
Food – TOP Global Chefs putting out some incredible food offerings
Entertainment – views and a breeze to die for with Chillout sounds wafting around us from the in-house DJ
Family – who better to share this experience with than my family
Let's have a look at Sky High Gourmet Fiesta w Obaachan, shall we?
CLICK HERE to watch a video of our journey to, arrival at and walk around
CLICK HERE to watch a video of the food, food and more food
Obaachan and I were quite surprised by the strong Japanese influence at the event. She felt very at home, and impressed, and was chatting about how she uses these ingredients at home. I totally agree. A couple of big stand-outs for me;
Beef Short Rib Pastrami – with Pickled Red Cabbage & Black Pepper Sauce
Lamb Ribs – with Barberry Glaze & Mint
Pork Jowl – Banh Mi Bao
Maitake – Egg & Black Truffle Congee (Japanese mushroom)
I was literally in the clouds. Clouds at the top of MBS, and foodie clouds because of the above. Talk about spoilt for choice. Talk about a Smorgasbord of off-the-charts amazing food to try from. We were all in a daze. What to try first? I think we ended up just getting one of everything, and in some cases two. We grazed like Kings, Queens, Princes, and Princesses. Truly, can food experiences get much better? I challenge you. We were literally in foodies heaven for Sky High Gourmet Fiesta w Obaachan. We were chattering like kids in a sweet shop every time a new dish fell on the table. Even being served on re-cyclable plates with wooden cutlery the mystique and allure of the food were still there. Tough to plate a masterpiece on a small round plate, but the Chefs and crew surely pulled it off. Let's have a wee look.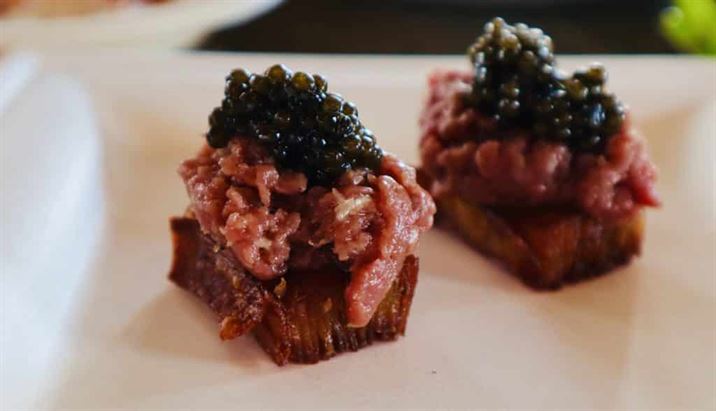 And that was that. It was 1600 and MBS Sky High Gourmet Fiesta w Obaachan was over. We said goodbye to our mates, and then like Cinderella, we had to leave when the clocks chimed 1600. We left no slipper, but there surely was a sleeper or three in the taxi on the way home. We didn't turn into mice, but we surely changed into some looser clothing. I can't thank the Chef's enough for the amazing, ney truly amazing experience that family Kennett had today. You had United Colours of Bennetton to cope with – Japanese, English, Filipina, and hybrids of all three. Not one of us walked away with a single moan or complaint. In fact, we walked away stating everything was 10/10. Incredible lunch. Truly up there with the very best food experiences, I have ever had in my 50+ years. What a WOW moment (which includes the bill haha). Sorry if you did not know of this event, or could not go. Boy did you miss out if you are a foodie and did not attend, but hopefully, the blog allows you to – ENJOY!!! (a little).