An East meets West Review of two of Singapore's finest Hawker Centre Dim Sum offerings
This is an East meets West hawker review in Singapore for Two of Singapore's finest Hawker Centre Dim Sum offerings – East meets West, as in, the East and the West of Red Dot. I want to give you a great example of just how good the food can be in your local neighbourhood hawker no matter where that is in Singapore. These places become your local, your foodcourt, your food centre and today I am comparing the opposite ends of the island for two Dim Sum stalls – it's a test environment after all and we need a constant. The constant is dim sum for today.
Two of Singapore's finest Hawker Centre Dim Sum offerings – East meets West
Representing the West is 5-Star Dim Sum – Mei Ling Street Hawker Centre
Both these stalls for these Two of Singapore's finest Hawker Centre Dim Sum offerings – East meets West have an allure for differing reasons.
Five Star Hong Kong Dim Sum – Mei Ling Street
"Five Star Culinary Skill. Five Star Food Quality. Affordable Prices."
How could you not want to try and visit the 5-Star Dim Sum – Mei Ling Street that has a Chef who learnt his craft cooking dim sum in renowned restaurants including Jiang-Nan Chun at Four Seasons Hotel and Shang Palace Restaurant at Shangri-La Hotel. Chef Yiu Wah Tai started the Hong Kong-style dim sum stall having over 30 years of experience in preparing dim sum. They now have five outlets to visit where you can try their handmade Dim Sum crafted by Master Yiu. Even his name, Master Yiu, has an allure, and of course, mentioning 5* gives it that mysterious Michelin flavour to boot.
People consistently travel to explore hawkers as well as dine at their favourite haunts, just as we did this day with a \$50 Grab fare each way to indulge in this food offering. I feel like I needed to take a passport due to the distance from our house. Would it be worth it? We shall see… When you arrive it really is up with one of the most unassuming hawkers I have ever had the pleasure to visit. Is there really a 5*, Michelin-grade hawker stall in here?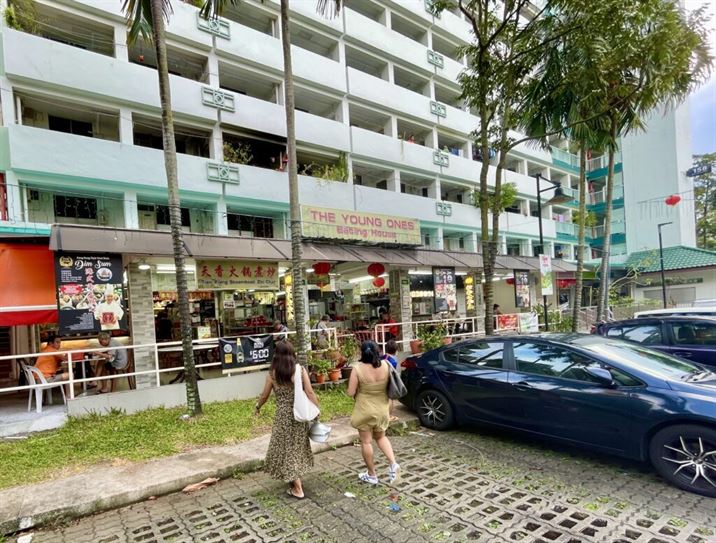 You may feel a little sorry for the other stalls at this tiny little hawker centre because most of the eyeballs and footfall are going to the 5-Star Dim Sum, but alternatively, you could view it as a benefit to have that footfall coming to the centre from across the island. Footfall that perhaps you would not get ordinarily as a stand-alone purveyor, which was something that became even more necessary during Covid with limited seating allowed for diners. We have all witnessed the death of many a hawker stall during Covid.
Let's have a look at their food… One thing to call out is that it's so very affordable when you consider you're paying for 30 years of someone's cooking experience on those plates. Seriously, just check out the pricing and options on the menu;
Five Star Hong Kong Dim Sum – Menu 2022
Five Star Hong Kong Dim Sum – food in 2022 that we ate...
Char Siew Cheong Fan @ \$4 – yep \$4 for the lightest bouncy noodles covering the incredibly savoury char siew, and then drizzled in this slightly sweet and slightly salty liquor. It's insanely good. And there's more to come with different fillings for this favourite in all dim sum restaurants.
Char Siew Roasted Bun @ $2 a pc – we really are doubling down on the char siew aren't we? Imagine a freshly fried ring donut that you then fill with a slathering of sweet, salty, and savoury pork meat and gravy. Can you imagine it? Well don't think too hard, just get in a taxi over here. Wowser. These are crackers and a die die must try when you come here.
Chicken Feet AKA Pheonix Leg on menu @ $3 – not a favourite of mine because you literally such off the gelatinous goo from the bones of the chicken feet. I am not a lover of that fiddly eating, and rather unglamorous bone spitting afterward. But, it does taste better than any KFC you've ever eaten.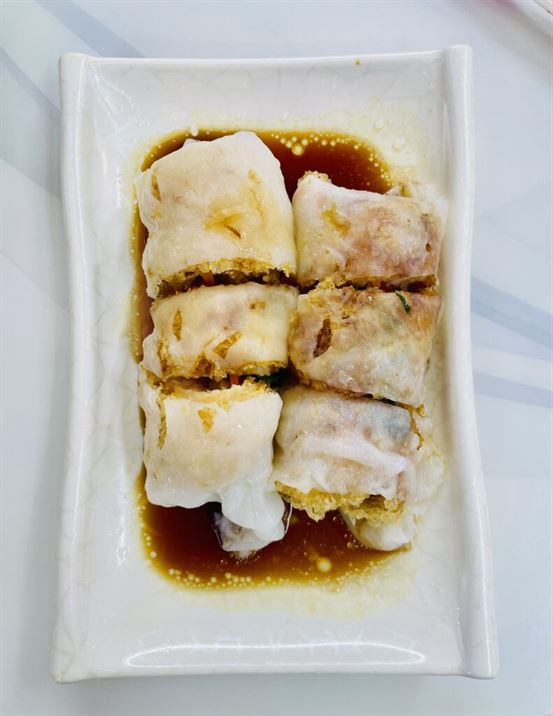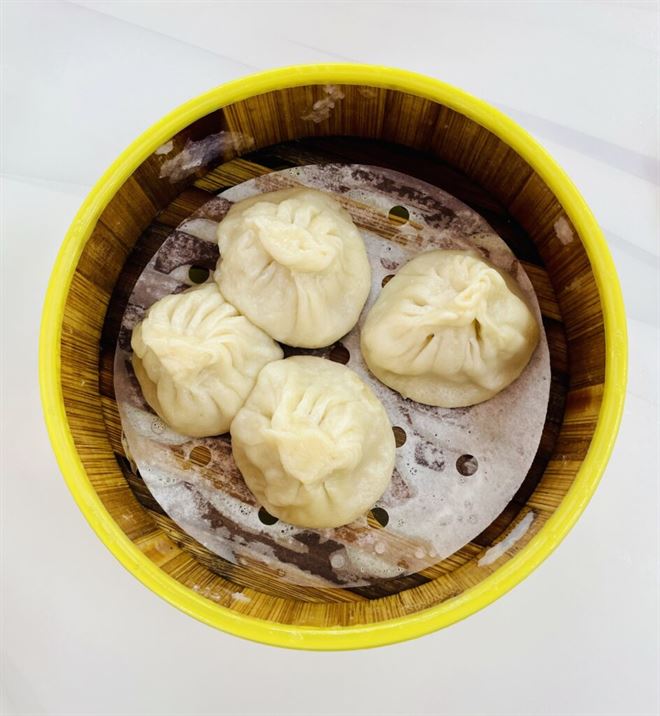 Fresh Prawn Cheong Fan @ $4 – one for the girls in my family as they are the prawn lovers. Yep, this got a massive thumbs up, similar to how the char siew version did from the boys. Superbly fresh and again pillowy soft noodles that just make you go oooooo when you bite on them.
Xiao Long Bao – that I cannot now even find on their menu and give you a price. You know, these were good, not incredible, and not really 5* in my humble opinion. We're so spoilt with Din Tai Fung and its Michelin-rated Xiao Long Bao, that it's so hard to compare sometime and give a positive thumbs up.
Neptune Hong Kong Tim Sum – Marine Parade Hawker Centre
In comparison to the allure of 5* and the word Michelin, and this is comparison made with absolute intent, is a 3 generation of ladies stall in one of our locals in the East Coast. In here you will frequently have the daughter, the mum and the grandmother all slaving away in between the bamboo steamers with frequent jets of steam squirting out as they serve up to the long queue of customers eagerly waiting their turn. This is classic hawker style with you standing in line an looking up at the billboard menu and making those ever so important choices before you get to the front of the queue.
Now that is the allure. Look at that picture of the stacks of bamboo steamers, all with lids on keeping little secrets of what tasty goodies are inside away from prying eyes until you make your selection and get that tray handed over. It's like Christmas time and a savoury version of an advent calendar that I always remember as a kid desperate to open that little door and see what I got inside.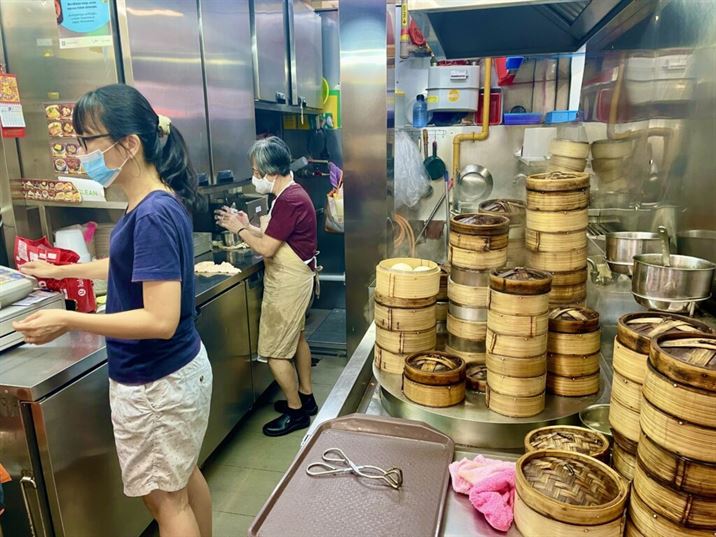 You'll find this stall next door to Parkway Parade shopping centre in the monster hawker centre and wet market. This hawker centre been a favourite low-price quality food offering of ours since moving to Singapore some 15 years ago now, with some cracking stalls offering up a wide-variety of offerings including one of our absolute favourite roast meat stalls. But, recently we found this tiny little dim sum stall, by chance as my son Jude and I were debating what to eat this day. It was he that espied this stall and the steaming bamboo containers. "I want dim sum', he chimed and I totally concurred. Always look to where the queues are, because the signage sometimes leaves a lot to the attraction.
Neptune Hong Kong Tim Sum Menu - well, it's a signboard as there is no Menu per se

Neptune Hong Kong Tim Sum have a look at this, talk about unassuming but wonderful food
Let's check the food at Neptune Hong Kong Tim Sum
I only have one picture from the dining experience at Neptune Tim Sum of the 4 dishes we ordered all on the serving tray. What a delightful smorgasbord this is and hitting all 3 dining senses so perfectly. Beautiful looking so hitting you squarely between the eyes, wafting savoury aromas all around you so smashing those smell senses and then kapow the taste. Nothing so 'in-your-face' as it is more of a muddle of the complexity of flavours that meanders around in your mouth. You seriously are in for a treat here.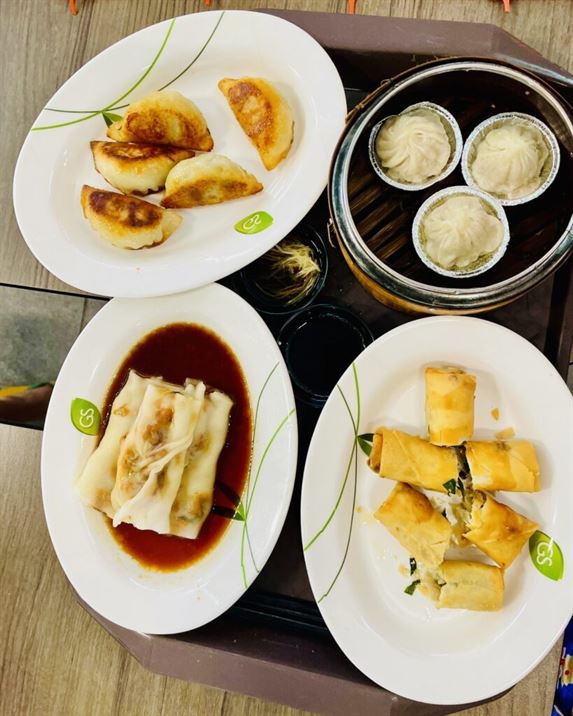 OK on this little serving tray you have the following delicacies.
Shanghai Fried Dumplings @ $4.80

– these are some of the very best things to ever cross these lips. Stunning dim sum, or tim sum. For these alone, I will keep coming back to see the three ladies. This is Michelin grade in a hawker stall without a doubt. You get a crunch of the fried skin, then the chewy of the inside, and then the whallop of the ever so fragrant and savoury interior. Best fried dumplings I have ever had I reckon.
Now to the saddest thing of all time. I hear from the daughter during my second visit here, that her Mum or Nan has decided maybe not to have these on the menu anymore. I feel the need to engage my local MP and create a petition, just do something to get these added back. I feel like there is a void in my life now.
Char Siew Chee Cheong Fun @ $3.80

– yes, that very same dish we experienced and ate at Five Star Hong Kong. I'm going to do it. I'm giving the best to Neptune. The noodle is like melt-in-your-mouth pillowy soft, slathered in liquor to die for (I think I'd bathe in it actually), and then the salty savoury hit of the char siew. It is just heavenly hawker food and deserved 5* in its own right. Amazing food from such a tiny little stall, and 20c less than its counterpart over West.

Spring Roll @ \$4

– the one I let go due to the massive amount of fish and/or prawn in there. Wow, like super fishy. Jude and I passed this one on to Mum. No comment sorry!!! Spring roll, out!!!
Sometimes in Singaporean hawkers and restaurants, I do get a little disillusioned and annoyed because they seem to think everyone is a fish-lover and piscatorial ambassador. Far from it, and Jude and I are two advocates of not being piscatorial biased as we hate the stuff. When it says pork and chive dumpling why does it come with prawn in it? When it says it is chicken noodles why is there a load of cockles at the bottom of the bowl? And the funniest yet at a VERY large chain of Singaporean seafood restaurants and their 'special' dish of 'Golden Phoenix Chicken. Guess what… yep, it's actually prawn, and how disgruntled were they when I argued to lose and it and not charge me.
Xiao Long Bao @ $4

– very nicely done, especially with the vinegar and ginger dip, and even better with the special gravy sauce they have bubbling away in a vat because that stuff is nectar no matter what you're dipping it in. That's some WOW sauce right there, believe me and it elevated these OK Xiao Long Bao to something rather special as a dining experience.
My conclusions and who is the winner of Two of Singapore's finest Hawker Centre Dim Sum offerings – East meets West?
Hey, there is no winner. They each have their own nuance and strengths but being an Eastsider I have to say Neptune has the edge. That 3-generation lady crew is smashing it out of the park. If they brought the Shanghai Fried Dumplings back on the menu it would be a no-brainer. 1000% they get my vote just for those things of beauty that everyone should have the good fortune to try one day.
But, as you would do with any fine dining restaurant recommendation, you would very likely easily travel a distance to experience that new dining adventure. It is, and should be, no different with hawkers, or so is my ethos and I implore and encourage all in Singapore to follow the same mantra, and that includes my Angmoh brethren and sisters. Get out there and explore. What you can't 'see' so readily are reviews of these places like you would a 5* fine dining restaurant in the city and that is why I write these blogs and reviews to share with you my experiences as an encouragement.
You can't see the queues remotely at Mei Ling Street to prove this place is worth a long trip and may have never been to Marine Parade Hawker Centre, so you have to rely on others to share the why and where. And I truly hope that this little blog review of two of Singapore's finest Hawker Centre Dim Sum offerings – East meets West was of interest and value to you, but more importantly, gets the phone out of your hand and stops the next Grab home-delivery and makes you explore this amazing country island that we live and dine on. Support your locals, eat at the hawker, take the blinkers off and for this review get some Michelin-grade dim sum down your throat.
ENJOY!!!
Before we go let's have some more ISLFEARECIPE hawker reviews from our little Red Dot of Singapore
Address &Telephone Number
5-Star Hong Kong-Style Dim Sum
Address: 158 Mei Ling Street, #01-74, Singapore 140158
Opening Hours: 7am to 9pm daily
eMail: adamataquilyne@gmail.com
Facebook: https://www.facebook.com/5stardimsum/
Connect with Us on Social Media