Duck Tours Singapore First Impression
For fourteen years I have lived in Singapore and I have never got the chance to get my wings wet on Duck Tours Singapore.
Mary was working yet again so I was thinking of something to entertain the kids this weekend, and this lightbulb moment popped in. And, I have to say I think we ALL thoroughly enjoyed it.
You start at Suntec and whizz round the Flier/F1 pits to enter the water opposite our old home of Costa Rhu. Then a spin around to look at a few things from the waterways of Singapore before going back on land and back to base.
About an hour for the total trip.
I'd have this as a must-do on our little Red Dot, especially now with 18-months plus of being stuck on here. Give the Duck Tours a go especially if you have kids, it is great fun and hey you might even learn a few things about our fair city…
Klook Duck Tours Singapore Promotions

Anyone can book Duck Tours Singapore but why go direct when you can book via Klook at save up to 10%
The Original DUCK Tours Singapore
The best sightseeing tour on land and sea!
Discover Singapore in 30 minutes on land and 30 minutes on sea
Get up close to iconic landmarks of Singapore from the Marina Bay
Enjoy a unique tour experience on a remodeled amphibious war craft
Get up close to Singapore's famous skyline, historical landmarks, and gorgeous bay view
The Original DUCK Tours won the Tourism Awards Singapore and is in the Top 10 Best Family Experiences
[IMPORTANT NOTE] Please check in for your tour at least 30 minutes before your scheduled departure time
Please write in to sales@ducktours.com.sg for any rescheduling and amendments in tour date
Duck Tours Singapore with Seafood Lunch or Dinner - Offer by Klook
This Duck Tour plus Dinner takes 3 hrs and 30 mins.
Groups of 6 to 20 people.
Food is Chinese style Seafood with the very popular Singapore Chili Crab
Price of the Duck Tour plus Lunch or Dinner is SG$170
What You Can Anticipate From Your Experience With The Original DUCK tours Singapore
There are a few variations on the theme of amphibious excursions. The Original DUCK Tours in Suntec City was selected as the winner of an attraction award given by the Singapore Tourism Board. The Original DUCK Tours was the first company of its kind in the nation. They have carried one million customers and have maintained a flawless safety record for the last 15 years. There is nothing else that even comes close! This exciting excursion lasts for one hour and begins with a sightseeing tour of the historic Civic District.
After that the amphibious vehicle splashes into the water and you then take a short cruise around the lovely waterfront area taking in the views of Marina Bay Sands from a vantage point you have never experienced before.
Which Duck Tour is the best in Singapore?
Amphibious trips aren't all created equal. In recognition of its contributions to the tourism industry, Singapore Tourism has awarded the Original DUCK Tours @ Suntec City with a Tourism Award of Excellence. The Original DUCK Tours At Suntec City is the first of its kind in Singapore, with an amazing 18-year spotless safety record and 1 million passengers.
Where was the first Duck Tour?
Mel Flath and Bob Unger founded Wisconsin Dells, Wisconsin's first Duck Tour firm in 1946 the Original Wisconsin Ducks is still in business.
How long is the Duck Tour in Singapore?
60 Minutes
Take a tour of Singapore's city and harbor on the one and only crazy DUCK Tour. It's more than a tour; it's a 60-minute journey into the past, present, and, maybe, the future.
What is the price of the Duck Tours Singapore?
Why is it called Duck Tours?
Named from military equipment code, the acronym DUKW was coined. In addition to the model year (1942), the letter D signified the vehicle's amphibious nature; the letter K marked its front-wheel drive capabilities; the letter W identified its rear-wheel drive. It's hardly surprising that they were simply dubbed Ducks.
Do Duck Tours go in water?
Yes is the simple answer, they take to water like a Duck!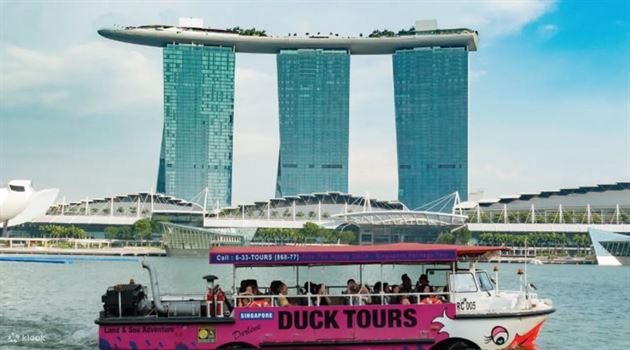 Duck Tours Silver Operating Hours
Monday 9am–6pm
Tuesday 9am–6pm
Wednesday Closed
Thursday 9am–6pm
Friday 9am–6pm
Saturday 9am–6pm
Sunday 9am–6pm
Duck Tours Singapore Address &Telephone Number