Liverpool FC Takes Over Singapore: A Festival of Football Extravaganza! But where to eat…?
Liverpool FC is coming to Singapore. Calling all football fanatics and die-hard Liverpool FC supporters! Brace yourselves for an exhilarating event that will have you cheering and chanting at the top of your lungs. Picture this: the mighty Liverpool, alongside other top European clubs, Tottenham, Leicester City, Bayern Munich, descending upon Singapore for the first-ever Singapore Festival of Football. Oh, you bet it's going to be a football fiesta like no other!

Remember the last time Liverpool FC graced the shores of Singapore in 2022? They scored a stunning victory against Crystal Palace in front of 50,000 roaring fans. And now, they're back for an encore! Liverpool FC must have left an impression because, well, who can resist their irresistible charm and dazzling football skills?
Ah, we can already hear the echoes of "You'll Never Walk Alone" reverberating through the streets of Singapore! But where to eat? Perhaps the song should be "You'll Never Eat Alone".
---
About Singapore Festival of Football: Driven by CDG Zig
Liverpool FC Singapore fans can look forward to a week of thrilling action as the Republic will host the inaugural Singapore Festival of Football Driven by CDG Zig from 25 July to 2 August. English clubs Liverpool FC, Tottenham Hotspur, and Leicester City FC will be joined by Bundesliga powerhouses FC Bayern Munich and Singapore Premier League side Lion City Sailors at the National Stadium for 3 action-packed matches.
Opening the week long festival is Tottenham Hotspur playing against the top Singapore club Lion City Sailors in the Tiger Cup on 26 July at 7.30 pm. Liverpool FC, who are returning to Singapore for a second straight year, will first defend their Standard Chartered Singapore Trophy against Leicester City FC on 30 July at 5:00 pm, before a blockbuster clash against FC Bayern Munich on 2 August at 7.30 pm for the Singapore Trophy, presented by Audi and Standard Chartered.
Tottenham Hotspur and Liverpool FC will also hold open training sessions on 25 July and 29 July respectively. All matches and open training sessions will take place at the 55,000-seat National Stadium. The public will also get various opportunities to catch a glimpse of their favourite footballers and win Liverpool merchandise.
---
Time-table of Singapore Festival of Football and Liverpool FC games
Tottenham Hotspur FC Open Training Session Tue 25 Jul 2023 6:00 pm
Tottenham FC v Lion City Sailors FC Wed 26 Jul 2023 7:30 pm
Liverpool FC Open Training Session Sat 29 Jul 2023 8:30 pm
Liverpool FC v Leicester City Sun 30 Jul 2023 5:00 pm
Liverpool FC v FC Bayern Munich Wed 2 Aug 2023 7:30 pm
Singapore Festival of Football Driven by CDG Zig, is sponsored by TEG Sport. Along with watching top-tier sporting events, viewers of all ages can fully immerse themselves in the festival atmosphere at the Football Interactive Fanzone in OCBC Square, which offers a variety of kid-friendly entertainment options and dining choices every day of the week.
The Singapore Sports Hub evolves as a destination for food lovers as well as a center for sports and events as Singapore upholds its status as a thriving and diversified city. Liverpool FC fans can indulge in an explosion of sensations that excite the palate thanks to the variety of dining options offered at the Asian Food Street, the Kallang Wave Mall, during Singapore's Festival of Football. This article will examine the mouthwatering food options available at the Singapore Sports Hub to make sure guests have a pleasurable time both on and off the field.
Where to eat at Singapore's Festival of Football?
---
Kallang Wave Mall: A Food Haven for Liverpool FC fans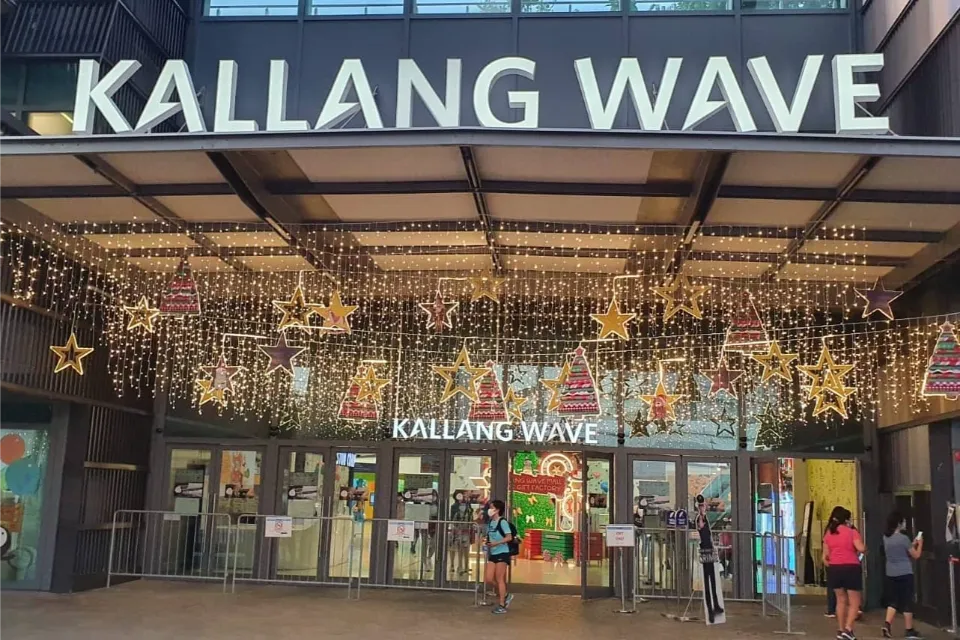 The Kallang Wave Mall, situated within the Singapore Sports Hub, caters to sports enthusiasts, families, and visitors alike. It boasts an impressive selection of restaurants, food outlets, and cafés, offering a diverse range of cuisines that cater to every palate. From local delights to international favorites, the mall ensures that visitors have an array of options to choose from.
Thai Village Restaurant: A Culinary Gem at #01-02/03
Established in 1991, Thai Village Restaurant has become a benchmark for exquisite Chinese Thai-Teochew cuisine in the region. It's renowned for its signature dish, the Braised Superior Shark's Fin soup, which is served at all Thai Village restaurants. The restaurant continues to impress with its use of the finest ingredients, delicate flavours, and outstanding service, making it a must-visit for food connoisseurs.
Pastamania: Italian Comfort Food at #01-21
For those craving Italian flavours, Pastamania offers a delightful experience. Situated at Kallang Wave Mall, Pastamania provides a wide selection of pasta dishes, pizzas, and more. It's an excellent spot for families and friends to enjoy a comforting meal in a welcoming ambiance.
Al Capone at #01-15
Al Capone's Sports Bar + Dining serves a delectable selection of Italian cuisine. From pasta to pizzas and mains, Al Capone is a great dining place for casual lunch and dinner with family and friends.
Aston's Specialities at #02-04
Astons Specialties had its humble beginnings in a coffee shop along East Coast Road. Before long, it gathered a loyal following (and a fair share of media interest) for its tasty fare, reasonable prices, and sincere service. Listening to customer's feedback, Astons Specialities shifted a few doors down and into its own shop-front, so that customers could dine in a more spacious and comfortable environment.
Ayam Penyet President at #01-23
Ayam Penyet President is a chain of casual dining restaurants in Singapore that serves authentic Indonesian cuisine. The restaurant was founded in 2009 by an Indonesian, and it strives to bring the flavours of Indonesia to Singapore.
The signature dish of Ayam Penyet President is, of course, ayam penyet. This dish consists of fried chicken that is pounded until it is crispy, then served with a dipping sauce made from chili peppers, shrimp paste, and lime juice. Other popular dishes at Ayam Penyet President include nasi goreng (fried rice), mie goreng (fried noodles), and sate (grilled skewers).
Bar Soccer at #01-13
Bar Soccer is a sports bistro and they have a pool ball concept. Your ultimate place for beer, pool ball, live matches, and chill hangouts where their customers will be kicking soccer balls on a giant pool table without the need of a cue stick. They will provide screening of soccer matches at the premises and have regular promotions. A good alternative to the minimum $99 a ticket for the stadium.
Encik Tan at #01-32
Encik Tan opened its first outlet in Singapore at Kallang Wave Mall. It is a food establishment with halal certification from MUIS and serves popular local food like (amongst many others) oyster omelette, fried carrot cake, wanton noodles. At Encik Tan, you can get decent hawker fare (with halal certification from MUIS) with nostalgic flavour and taste in an air-conditioned setting at a reasonable price.
Gourmet Pizza To Go at #01-43
Gourmet Pizza To Go is Halal-certified and serves a wide variety of pizzas and quick bites
Joe and Dough at #01-42
Founded in 2009, Joe & Dough is a homegrown brand with a simple dream to make good specialty coffee and handcrafted bakes accessible to everyone. From hearty all-day brunch, wholesome sandwiches to home-style cakes and pastries, Joe & Dough pride themselves on serving only what they are genuinely proud of.
KEI KAISENDON at #01-46
Kei Kaisendon serve delicious rice bowls topped with fresh sashimi and their ingredients are imported daily from Japan. Every dish is specially designed with the right blend of fish, toppings, and seasonings to give their customers a unique dining experience. Many of their dishes are self-created and occasionally there will be limited-time dishes with seasonal fish and other seafood. Fronting their table of kaisendon dishes is their Signature Kaisedon, topped with a variety of fresh sashimi to indulge the palette.
Old Street, Bak Kut Teh, You Tiao, Soya Milk at #01-22
Founded in 2010, Old Street Bak Kut Teh prides itself to be the local specialist in the well-loved traditional herbal pork ribs soup. Its unique East meets West approach, with its own special creation like the Old Street Dry Bak Kut Teh, freshly made You Tiao, modular extendable table with induction cooktop, and iPad ordering, not only differentiated itself from competition but also offer consumers a taste and dining experience like never before.
Popeyes Louisiana Kitchen #02-02
Popeyes Louisiana Kitchen is an American multinational chain of fried chicken fast food restaurants founded in 1972 in New Orleans, Louisiana.
Poulet #01-17
Poulet is a modern French-themed bistro offering affordable French classics to the mass public since 2012. The French Roast Chicken maestro serves freshly roasted chicken that are brined overnight using an in-house secret recipe. The Poulet Roti is complemented with signature sauces: delicious homemade Mushroom Cream Sauce, Diane Sauce, Cranberry Sauce, and Black Pepper Sauce. They create a perfect symphony to the signature dish.
Rocking Rickshaw #01-12
Rocking Rickshaw is a Bollywood-themed lifestyle concept restaurant serving unique and contemporary Indian fusion cuisine with a wide selection of drinks and cocktails. Diners can enjoy the live band playing popular Hindi rock music daily in the evenings.
Sanook Kitchen at #01-16
Come to Sanook Kitchen and savour a wide variety of authentic Thai food classics ranging from appetisers, soup, curries to seafood and more at wallet-friendly prices!
Seoul Yummy Chego at #01-47
Chego – 최고 (Korean): A variation on the Korean term meaning "The Best, The Pinnacle, Excellent." We believe that food brings you life's simplest form of joy. At Seoul Yummy Chego (최고), we focus on featuring the best Korean food from Seoul Yummy. ​
Suki Ya at #01-35
Suki-Ya – This "House of Hot Pot" is designed to offer heart-warming dining experiences at equally affordable prices. Diners enjoy unlimited, top-quality chilled beef and pork in paper-thin slices and farmed chicken that are oh-so-delicious in their own right. Another highlight of Suki-Ya is its vegetable bar featuring a wide variety of fresh vegetables to round up the meal with a healthy touch. Along with sumptuous soups and broths, dining at Suki-Ya is bound to perk up everyone's taste buds.
Typhoon Cafe: Taste of Taiwan #01-35
Typhoon Café – Typhoon Cafe brings the "Taste of Taiwan" to the heart of Singapore. A concept that unifies Taiwan's unparalleled flavours, obsession for artisan fruit teas, and larger-than-life desserts set in cafe-style comfort. Typhoon Cafe is designed to simulate a hole-in-the-wall cafe along Taiwan's quaint Fujian Cafe Street, the casual unpretentious restaurant is perfect for any time of the day from quick lunches for student/professionals to afternoon high teas and even after work casual dinner with family.
Yarana at #01-04
Yaara's (friends) become your second family, and so will YARANA. Nostalgia and happy vibes packed in a restaurant, a place where Friends can make memories or reminisce about them! The perfect place for those reunions and catch-ups, for getting the family together, for celebrating with #friendslikefamily.
Yew Kee Specialties at #02-12
Yew Kee Duck Rice uses the traditional Teochew method of braised duck cooking and more than 10 different types of herbs, spices, and ingredients for its braised sauce. The brand's specialty chili is a must-try that complements every dish on the menu.
极鲜 Seafood & HK Dim Sum Express at #02-15
极鲜 Seafood & HK Dim Sum Express by 一品鲜 (Yi Pin Xian) is a live seafood and Hong Kong dim sum restaurant providing delicacies at reasonable prices. They aim to provide customers with a homely feel.
Yunomori Onsen Cafe#02-17
Yunomori Onsen Cafe provides anything from snacks to full, hearty meals, and even a refreshing beer after a hot onsen. It's ideal for those who are looking for Japanese food, even at the wee hours.
---
Asian Food Street: A Cultural Culinary Journey
The Asian Food Street, located within the Singapore Sports Hub, celebrates the rich diversity of Asian cuisine. During special occasions like having Liverpool FC at the Singapore Festival of Football, this food haven becomes even more vibrant, offering visitors a chance to indulge in a multitude of choices.
Stadium Top: A Unique Singaporean Cocktail
For adults, Asian Food Street serves uniquely Singaporean cocktail and mocktail concoctions, featuring local flavours that evoke nostalgia. The exclusive Stadium Top cocktail, designed solely for Singapore Sports Hub, is a refreshing blend reminiscent of a shandy, perfect for the sunny island's climate. Teetotallers or the little ones can enjoy a non-alcoholic version with club soda, equally revitalizing.
---
Conclusion
The Singapore Sports Hub goes beyond being a mere sports arena; it embraces the essence of a cultural melting pot with its vast array of delectable cuisines. From Thai delicacies to Italian comfort food and unique Singaporean cocktails, the culinary offerings at Kallang Wave Mall and Asian Food Street cater to diverse tastes. Additionally, during festive celebrations like the Singapore Festival of Football, the Hub becomes a hub of food and culture.
So, if you visit the Singapore Sports Hub to watch Liverpool FC, be sure to treat yourself to a gastronomic journey that complements the thrilling sporting event. Get your Liverpool FC shirt on, and cheer on the reds over some delicious food.
---
People Also Asked: FAQs about food for Liverpool FC and Singapore Festival of Football
Is there any parking available at Kallang Wave Mall? Yes, visitors can enjoy 2 hours of complimentary weekday parking with a minimum spend of $50 between 11 am and 4 pm, Mondays to Fridays.
What are the operating hours of Kallang Wave Mall? Kallang Wave Mall is open from Monday to Sunday, 10 AM to 10 PM.
What is the signature dish at Thai Village Restaurant? The Braised Superior Shark's Fin soup is the signature dish at Thai Village Restaurant, served at all their locations.
Where can I find Italian comfort food at Singapore Sports Hub? You can enjoy Italian comfort food at Pastamania, located at Kallang Wave Mall.
What is the Stadium Top cocktail? The Stadium Top cocktail is a special-edition cocktail designed exclusively for Singapore Sports Hub, featuring local flavours and served only during food festivals.
When is Liverpool FC playing in Singapore? Singapore's Festival of Football runs from 25 July to 2 August.
---
What's the Address of Singapore Sports Hub, where Liverpool FC is playing?