A Must try Restaurant is Kota88 @ Siglap
Why have we never been to Kota88 @ Siglap? It's been here a good few months now. Maybe it's because it sits next to what was Blooies that was not a favourite of ours. What was Blooies is now a fish restaurant so perhaps that is another reason? But tonight we went and now we all regret not having gone before. This place absolutely cracking, as in seriously good food and atmosphere. Believe me, guys this place gets mobbed. It was rammed last night. Huge family tables, as we did with 8 of us. This is family food fun and a new one on the Kennett family list of must go back for more. Oh yeah, and it's 5 minutes walk from home. Big advantage.
What is Kota88? Well, according to the menu it is a word derived from the Indonesian word for city. But also in Indonesian slang, it is used to describe Chinatown in Jakarta. Maybe a city in the city? And Chinatown was the closest in the city to the seaport where all the trading took place. I am liking this. This is hybrid food in the making. Peranakan mixture-esque. But they call it Masakan Tionghoa Indonesia, Chinese Indonesian Cuisine. This is a mix of Chinese dishes with local Indonesian culinary styling. Kota 88 get their inspiration from that heritage of Chinese immigrants in Jakarta.
Now I will say it might be worth booking. We didn't and were lucky to grab a table for 8. After about 20 minutes it was jammed with every table being taken. Give them a tinkle and a visit. Let's be having it @ 907 East Coast Road here comes Kota88 @ Siglap. Bell them on: +65 6242 2645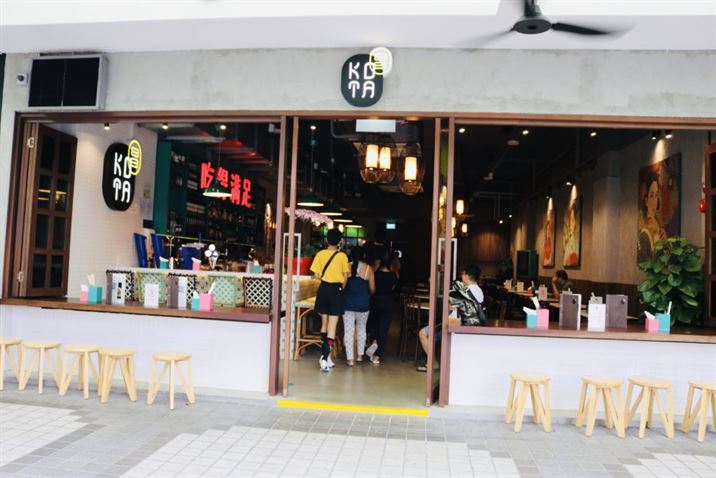 So that was that. Our first experience of Kota88 @ Siglap was superb. Again I really cannot work out why we have not been before, but I made a bunch of excuses for that above. Excuses that are now inexcusable funnily enough. It was a fantastic dinner with family Kennett. A testing audience too with a mixed cultural bag of English, Japanese and Philippines. And they came out strong with regards to the feedback on the food. We'll be back that is for certain. You should go. Get there and you will – ENJOY!!!
About Kota88 Restaurant
The Origins of their Cuisine
Since 1740, the Chinese have played an important role in the economic development of Indonesia's peninsula, serving as merchants, craftsmen, and traders. Since its inception till the current day, Chinese cuisine has been affected by Indonesian culture, with the sauces and spices used in the recipes being changed as a result. This is owing to the great range of traditional Indonesian ingredients available, as well as their transition to a more recognizable flavor — which the Chinese had acquired through time.
This hybrid cuisine was created as a result of the Indonesian influence on the meals, which included the inclusion of local ingredients such as kecap manis (Indonesian sweet sauce), palm sugar, peanut sauce, chile, and santan (coconut milk), resulting in a modified version of the dishes. Among the modifications were foods derived from traditional Chinese cuisine, such as Hokkien, Hakka, and Teochew cuisines, while others were inspired by Indonesian and Dutch dishes from the region (during the colonialism).
As a result, the roots of Chinese Indonesian cuisine can be traced back over 200 years, during which time our recipes have come to represent the amalgamation of Chinese immigrants and the local population. We are really pleased to be able to offer our original delicacy with you here at Kota88 Restaurant in Singapore.
Kota88 – Masakan Tionghoa Indonesia
At the Kota88 Restaurant, they specialize in Masakan Tionghoa Indonesia (Chinese Indonesian Cuisine), which is a fusion of traditional Chinese cuisine with regional Indonesian culinary features. This traditional cooking method originated with Chinese immigrants who arrived in Indonesia many years ago and has since evolved into a representation of our culture, which serves as the inspiration for our restaurant's menu. They are happy to bring our delicious tradition to Singapore and to open the Kota88 Restaurant at 907 East Coast Road, which is located in Glodok, Jakarta's Chinatown.
Get a taste of their culinary creations.
Generally speaking, this type of cooking is comparable to Chinese cuisine, but it has been changed by the addition of chilli, coconut milk, and traditional Indonesian spices and seasonings. The flavors of the cuisine are often sweeter than the flavors of the original Chinese recipe.
They provide a trademark dish named 'Nasi Campur Babi', which is included on our menu. It is a Chinese Indonesian variation of a combination pork rice plate that has been combined to a deliciously edible consistency. It comprises of Char Siew, Roast Pork, Sweet Pork Satay, Braised Pig Ear, Siomay, Soy Egg, Ngo Hiang, and Side Clear Soup. PlusChar Siew which is a kind of charcuterie.
Our Contacts
Location: 907 East Coast Road #01-02, Singapore 459107
Phone: +65 6242 2645
E-mail: hello@kota88restaurant.com
Opening Hours:
Weekday: 11am — 3pm & 6pm — 10pm
(last order 9pm)
Weekend & PH: 11am — 10pm (last order 9pm)
Connect with Us on Social Media
(Visited 446 times, 1 visits today)