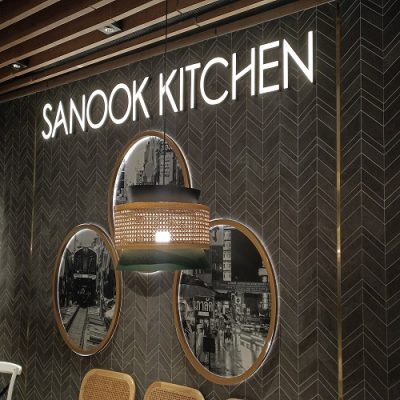 Come to Sanook Kitchen Jewel and savour a wide variety of authentic Thai food classics ranging from appetisers, soup, curries to seafood and more at wallet-friendly prices!
Is Sanook Kitchen Halal? Yes!
Sanook Kitchen at Jewel offers a wide variety of authentic Halal Thai food, ranging from appetisers, soup, curries, seafood, and more. The menu features dishes like edamame, steamed young soybeans seasoned with sea salt, fried tofu with sweet chili sauce and crushed peanut, and pastry puffs. One of the highlights of Sanook Kitchen is the range of rice dishes such as pineapple fried rice with prawn, chicken black olive fried rice, tom yum sea food rice, and honey chicken rice.
The restaurant also offers a great Thai ambiance and atmosphere, making it a great place to dine with friends and family. The dishes are expertly prepared with an emphasis on the unique flavours of each ingredients. Diners can enjoy the different food offerings that are guaranteed to take them on a gastronomic journey.
Sanook Kitchen is a great place to experience the best of Halal Thai food.
Sanook Kitchen Jewel Address & Telephone
Address: Singapore Changi Airport, 78 Airport Blvd., #03-223 224 Jewel, 819666
Telephone: +65 6242 0722