Pulau Ubin Restaurant – Season Live Seafood
Best Pulau Ubin restaurant has to be Pulau Ubin @ Season Live Seafood, you must come here to eat somewhere different even for just one day.
Mum and I did this this day, along with Mary and Jude. $2.20 each way on the bum boat, and 15 minutes later you feel like you have gone back in time and are in another country. It was superb. Mum loved it, and we loved it. It sure had been a while Pulau Ubin, but I tell you what it won't be as long next time.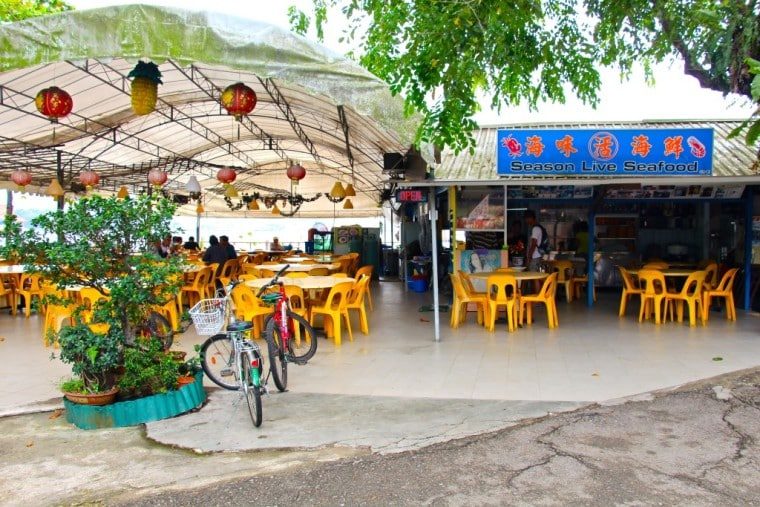 Daddy-Pedia time;
The name Pulau Ubin is translated from Malay and means "Granite Island", which kind of explains the many abandoned granite quarries on the island. Pulau means "island", and Ubin is said to be a Javanese word for "squared stone". To the Malays, the island is known as Pulau Batu Ubin, or "Granite Stone Island". The rocks on the island were used to make floor tiles in the past. Those tiles were called Jubin. Lazy humans shortened that to Ubin, hey presto. But were here to eat not to cut stone – this is Pulau Ubin @ Season Live Seafood.
I love the legend, in that the island was formed when three animals from Singapore, a frog, a pig and an elephant, created a challenge. A challenge to a race each other to the shores of Johor. The animals that failed would turn to stone. All three did not make it so by default all turned to stone. The elephant and pig together turned into Pulau Ubin, and the frog became Pulau Sekudu or Frog Island. How about that? Did you know the story?
Well on this trip I returned looking like an elephant, after eating and drinking like a pig, and burped all the way home like a flipping frog – so perhaps the legend is true. Luckily I survived the turning to stone. But I did sleep like a log afterwards.
Get yourself to Season Live Seafood Restaurant the best Pulau Ubin Restaurant there is. $4.40 each to get there and back. Cheap food and drink. Great views. Great food – truly great. Its fresh, cooked on the moment. You relax, you just can't help but to. You people watch. You have silence, but it certainly not uncomfortable silence. So if you do want to escape the city, and the prices of the city, and if you want to see what Singapore was like back in the day, if you want to chill and have a few beers over great great food. You now know where to come my friends, that would be Pulau Ubin @ Season Live Seafood!
Connect with Us on Social Media