Garlic Butter Sourdough 'w' 2 Cheese & Bacon
I tell you are those lucky kids or what? No cereal in a bowl here, nit they get gourmet open sandwiches for brekkie. Today the recipe and ideas came from some purchases I made on Friday at Baker's Well @ Katong. Amazing bread, pastries, cakes and even garlic butter. Yeap I was like a kid in a candy store and walked out with a huge baggie and this was my inspiration for Garlic Butter Sourdough 'w' 2 Cheese & Bacon
this fine morning.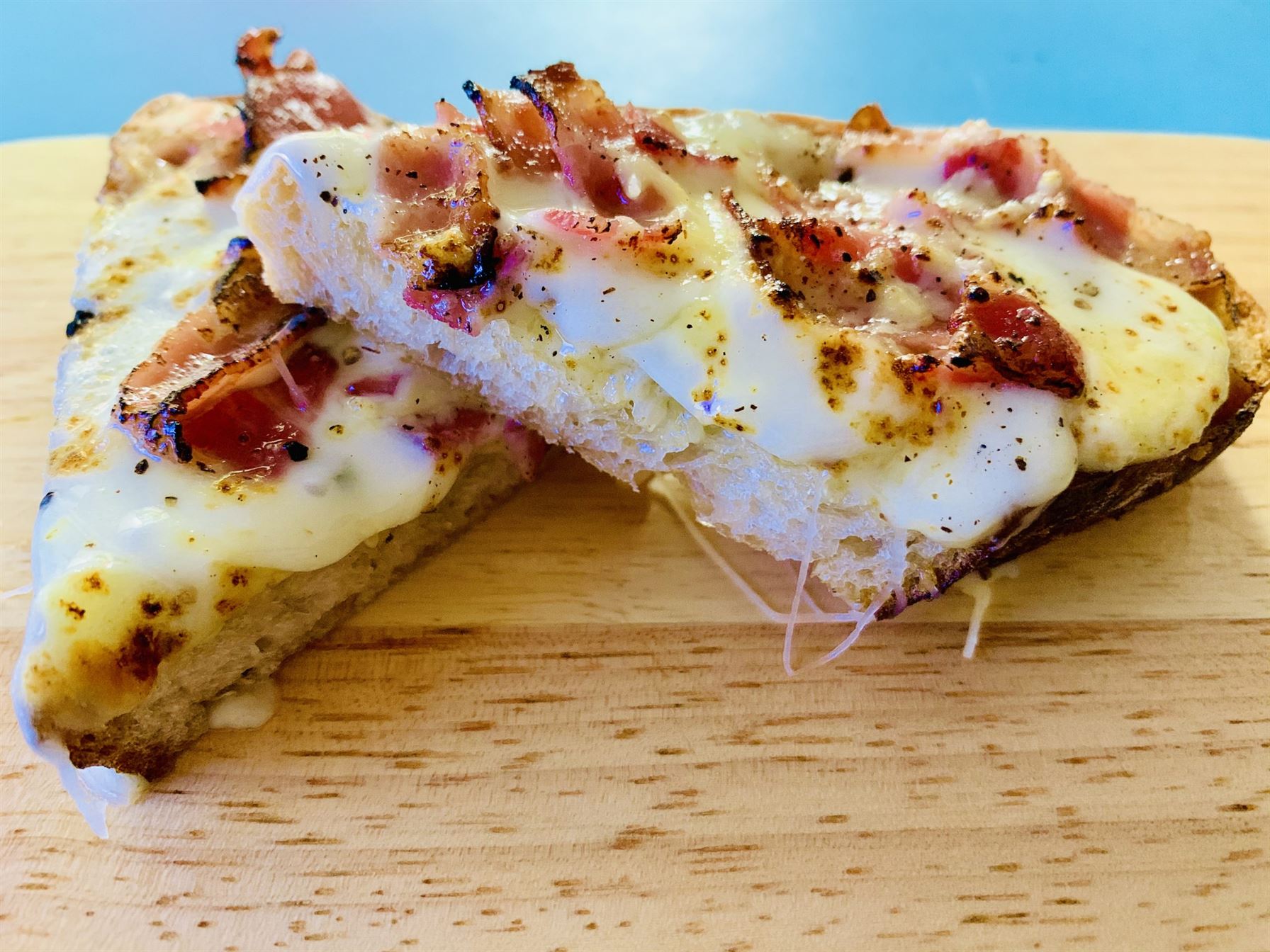 Go see the ladies at 35 East Coast Road.
Ring them at 6348 6864.
Or go place your orders online for delivery at https://www.bakerswell.com/
All #BillWallaceFriendly again today to folks as all ingredients were from the fridge.
You will need;
2x middle slices (biggest) of beautiful sourdough from Baker's Well;
1x tub of Baker's Well garlic butter;
2x rashers of streaky bacon;
4″ knob of Mozzarella cheese;
Some grated Parmesan cheese;
Cracked black pepper.
This is so very easy – just follow the steps;
Put some silver foil in a baking tray and get the bacon rashers in the oven at 200 degrees until cooked through;
In parallel toast the sourdough slices until lightly browned and warm enough to melt the butter;
Cube up the Mozzarella and sprinkle that all over the toasted sourdough;
When your bacon is done out she comes from the oven (leave the bacon fat on the silver foil and the oven on);
Cut that into little bite-sized pieces and sprinkle all over the Mozzarella;
Sprinkle some grated Parmesan on next and then slam this back in the oven on top of that bacon fat;
You now want to bake until the cheeses have melted and started to brown;
Out with the slices from the oven, sprinkle a little cracked black pepper, cut in half and plate on your platter to serve.
I think that is a cracker of an open-sandwich. I'd order that for sure. Lovely produce from Baker's Well gave me the ideas, so thank you to the lovely ladies I met on Friday. The kids also thank you for a lovely brekkie haha. This was Garlic Butter Sourdough 'w' 2 Cheese & Bacon. It's a belter. Give it a go – ENJOY!!!
(Visited 93 times, 1 visits today)