Khao Thai Food @ BedokMarket Place
Not often do I write a blog restaurant review for one dish, in fact hardly ever. But, today I am. This one-dish had me drifting to beaches in Thailand, a cold Singha in my hand, warm breezes wafting my face, toes in the sand, reggae music filling the air and aromas of coconut, lemongrass, fish sauce, galangal, lime leaves, and chilli drifting about on those warm sea breezes. I was in Thai heaven, just for that moment. That first spoonful. It took me away from Singapore and Covid-19. I was sat in Thailand, and this one little dish took me there. It warrants a call out just for that. This place shines…
Khao Thai Food @ BedokMarket Place
This dish is one of my all-time favourites in Thailand. Probably this and Laab Gai will be my "I have to test" at any new Thai restaurant we visit. I have even written about the different variants of the very same dish eaten within Thailand, be that North or South or sometimes even on either side of the same road.
It's one of those dishes that you have a basic ingredient list, but how much of this and that, and a secret drop of x,y,z and it becomes your own. But still with that almost 'welcome home' taste ringing through that any comfort food brings you. This was Thai #Umami on steroids. Amazing.
But, what is this amazing dish that so impacted me today? It's just a bloody soup, after all. It is simply known as…
Tom Kha Kai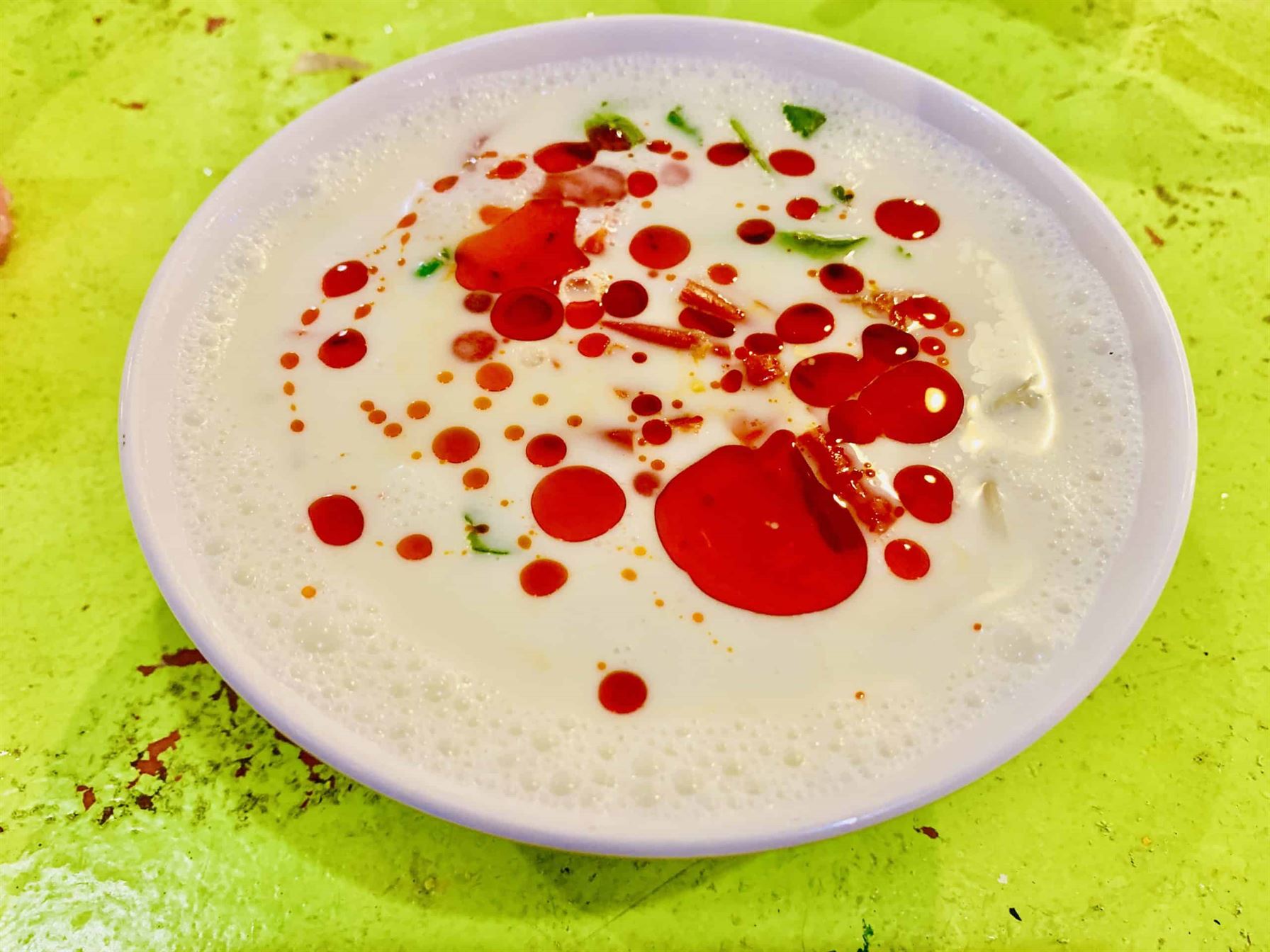 I have written about BedokMarket Place before, so this should need no introduction. But I have never ordered from this stall. The concept is #ModSin at BedokMarket Place, modernizing the hawker experience and making it 'funky. But what I found from these guys is that they're going authentic Thai. No tourism, Ang Mo, Western corners being cut here, folks. My second bowl of this (yes I ordered a second bowl, as it is just sooo good) they upped the ante with the chilli paid and chilli oil as you will see from the photo. One spoon of that to your cat would burn it a new arsehole. It's spicy, as I found out later haha.
But the flavours. The complexity of the flavours in this one little bowl. The super-fresh vegetables and herbs shine out once you clear a little of the milky-white soup. Reds, greens, yellows popping colour everywhere. And the aromas, my god, the aromas as I sit here in a Singapore hawker. Just WOW. Then the flavours. Again, pop, pop, pop, pop… You can literally taste every single distinct flavour in here, and that is a skill.
If you like authentic Thai, you have to pop and see Khao Thai Food at 348 Bedok Rd, The Bedokmarket Place Singapore, 469560.
To Khao Thai Food I say; "Kapunkap for allowing me to experience your craft. It was exceptional."
Let's have a wee and VERY humble description from them;
"Bringing honest and authentic Thai fare to our discerning and loyal diners."
I could not agree with you more Khao Thai crew. We had three excellent dishes from you this evening. But I am calling out just mine. We will be back for more, that is a certainty. It was just superb Thai food that had me floating off to other countries and beaches and memories of holidays and food adventures of old. Thank you for that in these shitty Covid times of no travel. This was travelling in a bowl and I cannot thank Khao Thai Food @ BedokMarket Place enough for that experience. Get down here. It's first to come first sat as it is a hawker with shared seating and self-serve.
ENJOY!!!
Follow Us on Social Media for More Updates