Incredible Whale Shark watching, snorkeling and diving in Lila, Bohol, the Philippines
Whale Shark experience Bohol is an exciting and unique experience that offers a glimpse into the world of these magnificent creatures. I will actually add that this, for me, was bucket-list stuff. Since being a very young kid I have watched countless National History shows, including many on whales and sharks, including Whale Sharks.
So, to have this chance to do Whale Shark snorkelling in Bohol was truly bucket-list ticking. The funny thing is that I am so fortunate to have had a house in Bohol for the past 5 years, and have been visiting Bohol for some 14 years now, but never knew you could do Whale Shark swimming and snorkelling in Bohol. I always thought you had to do Whale Shark swimming in Oslob, Cebu.
But, no!!! This is literally about a 30-45 minutes drive from my house on Panglao, to Lila Whale Shark. So, if you are staying in one of the amazing resorts or hotels in Panglao, this incredible adventure is less than an hour away.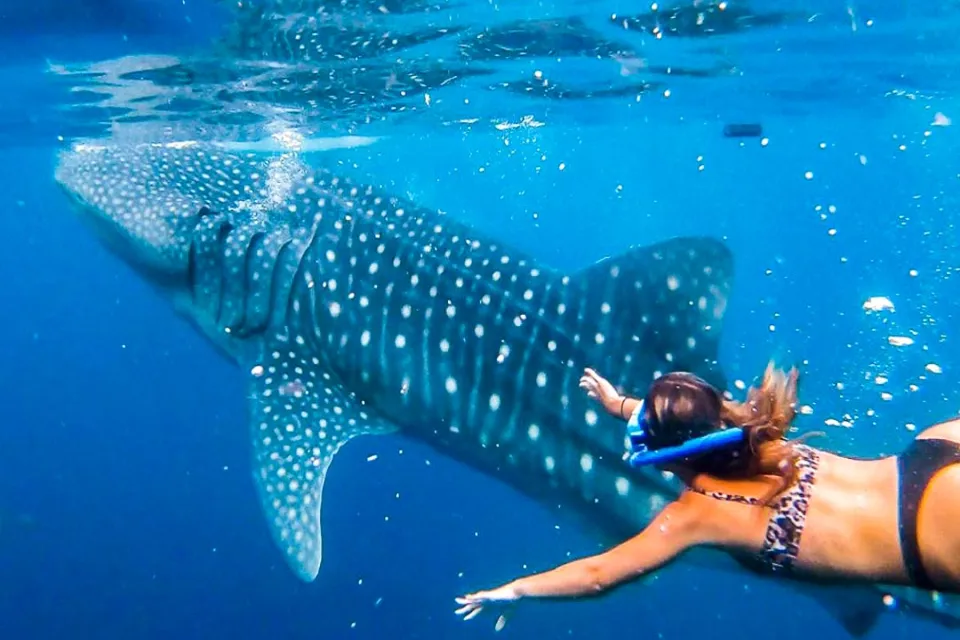 Found in tropical and warm temperate waters around the globe, Whale Sharks are the largest fish in the sea, reaching lengths of up to 40 feet and weighing as much as 20 tons. Despite their size, they are gentle giants and pose no threat to humans. In fact, they are often referred to as "gentle giants" due to their docile nature and willingness to interact with people.
The Whale Sharks are actually very curious and inquisitive and will give you a nudge or a brush purely from curiosity. In our experience, one tourist complained to the tour guide that he had to kick the Whale Shark because it got too close to the 4m suggested distance. I could slap people like this.
It's a wild animal you fool. Can they read our signs, and adopt that behaviour of 4m separation? Seriously you stupid person. So, just to advise again, these creatures are curious and like to come to say hello and have a look.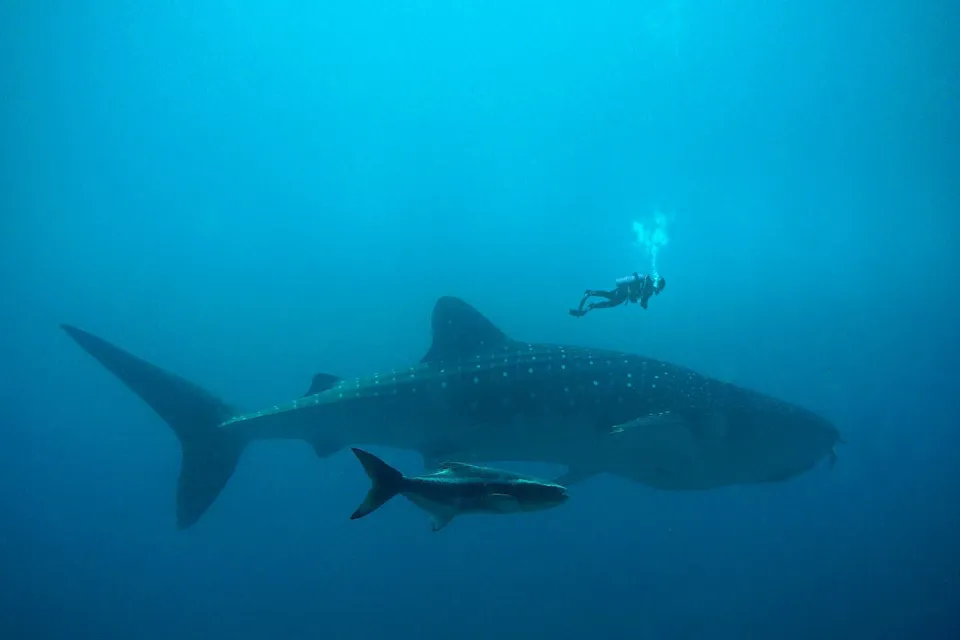 One of the best places to go whale shark watching is in the Philippines, where the waters are warm and clear, making it easy to spot these giant fish. In Lila, Bohol, they're pretty much able to be seen and swam with all year round, it's only a cloudy or rainy day that could ruin your experience.
On our day we were so lucky, with the weather Gods shining down on us, literally. 7 am we were there and the skies were crystal clear like the waters, with no clouds and just sunshine. You have to go super early as Whale Sharks only surface and feed early before the sun hits peak time. These beautiful creatures can get sunburnt.
I personally noticed just how tiny the Whale Shark's eyes are in comparison to the body, and the placement is on either side of their rather massive-wide head. So, when they 'bump' you it is an accident, not a sign of aggression. I had two behemoth Whale Sharks physically 'interact' with me as I swam with them and it was a wonderful moment. Despite the scale of them, there was no fear, just awe, and breathtaking amazement, despite the playful slap with its tail as it went past me. 
How to do Whale Shark snorkelling & diving in Bohol?
There are several tour operators that offer guided whale shark watching tours in Bohol, which typically involve snorkelling and/or diving in the open ocean to get up close and personal with the Whale Sharks. We chose Taug Whale Shark watching and snorkelling (you can find them on Facebook) which operates from Lila, which is about 45 minute drive from Tagbilaran, the capital city of Bohol.
We chose the snorkelling only option as I had all my kids, that includes some non-swimmers. So the option of having life-jackets to float about with the Whale Sharks became massively attractive for my family unit. I was still able to take some incredible GoPro footage with just a snorkel and mask, but with hindsight, I should have also got a set of fins. Watch the video to see some Taiwanese tourists from our boat free-diving with the Whale Sharks. Yes, fins would have made a major difference.
You can also choose an official tour operator like Kayak or Klook. The Whale Shark experience will likely be a 2-3 hour section of a larger day trip, maybe incorporating other Bohol attractions such as Chocolate Hills, Tarsier experience, Blood Compact, visiting some of the massive arrays of waterfalls, white sandy beaches, sandbars and so on.
What's the cost of the Whale Shark watching and snorkelling?
Taug Whale Shark watching and snorkeling charging schema;
Peso 1,000 for tourists
Peso 750 for local Filipinos
The price includes a guide, the boat to the Whale Sharks, life jackets, snorkels, and masks.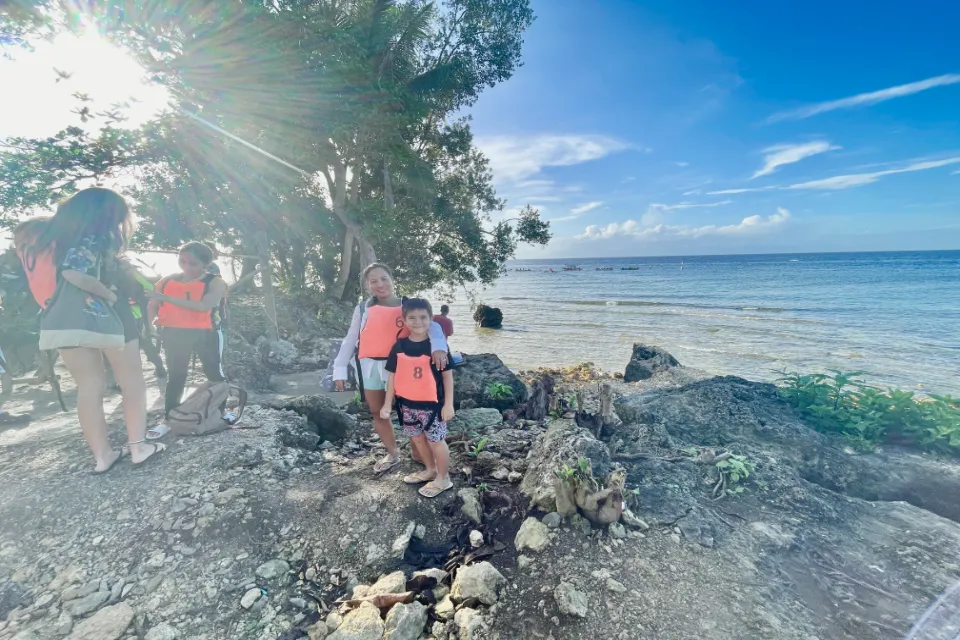 A few things to note;
There are stalls nearby to rent fins if you so desire.
You are allowed to take your own equipment – I'd suggest that for any children in your party, as the boat we were on had limited kid's gear.
I highly recommend buying or renting a GoPro, or another underwater camera. Check my YouTube, I need to say no more.
Do not put on sunscreen as it impacts the Whale Shark's feeding ability.
It is mandatory to wear life jackets until you reach the Whale Sharks
If you are interested in Whale Shark watching, it is important to book a tour with a reputable operator that follows best practices for interacting with the sharks. This includes respecting the sharks' space and avoiding any behaviours that could harm or stress them. It is also important to follow all safety guidelines and listen to the instructions of the tour guides.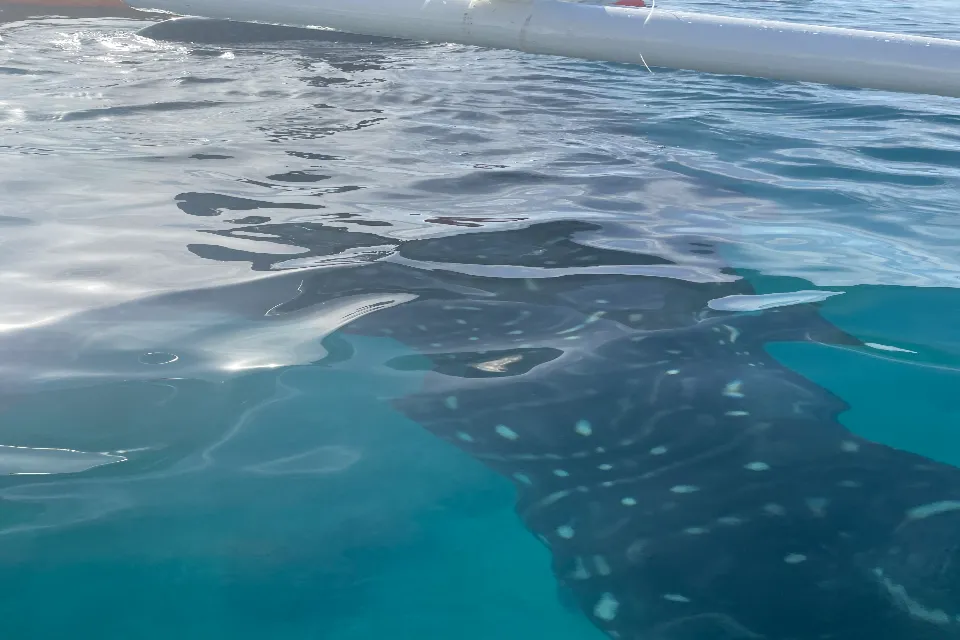 Where is Lila, Bohol, the Philippines?
Lila is a municipality located in the province of Bohol. It is located in the Eastern part of the province, about 45 minutes from the capital city, Tagbilaran, and is home to a population of around 18,000 people.
Lila is known for its beautiful beaches and crystal clear waters, which make it a popular destination for tourists. The municipality is home to several beaches, including Tawala Beach and Bool Beach, which are known for their white sand, calm waters, and nearby drop-offs ideal for snorkelling and diving.
In addition to its beaches, Lila is also home to several historical and cultural attractions. The municipality is home to the centuries-old Church of St. Francis of Assisi, which was built in the 1800s and is a popular destination for tourists. Lila is also home to the Lila Municipal Museum, which features a collection of artifacts and displays that showcase the history and culture of the municipality.
Lila is a great destination for those looking to relax and unwind, with its beautiful beaches and peaceful atmosphere. It is a perfect place to escape the hustle and bustle of city life and enjoy the natural beauty of the Philippines.
Plus, of course, it's where those Whale Sharks are so close to shore, pretty much 365 days of the year. Yes, the Whale Sharks are this close to shore in Lila. There is a big drop off, right about where finger is pointing, making it 15-20m deep, and deep enough for these huge creatures.
Our conclusions of Whale Shark watching and snorkelling in Bohol
Overall, whale shark watching and snorkelling is a thrilling and educational experience that offers a unique opportunity to get up close and personal with these amazing creatures. If you have the chance to go, don't miss out on this once-in-a-lifetime opportunity. You'll kick yourself if you have that "I wish I had done it moment…"
In addition to Whale Sharks, Bohol is also home to a variety of other marine life, including dolphins, sea turtles, and colourful coral reefs. I can vouch for this personally as I have seen them all during my travels to Bohol.
This was on my bucket list, and should also be on yours. It's a game-changer. You'll be talking about it for months afterwards. Do it!!!
There are many accommodation options to choose from in Bohol, ranging from luxury resorts to budget-friendly guesthouses. Also, many new hotels are in the construction phase due for completion in 2023/24, and also new condominium units are about to start. This will open up many new offerings for where to stay in Bohol. So let's just say this list is surely going to be fluid and we'll try to keep this up to date frequently for you.
Here are some popular options for where to stay in Bohol:
Luxury Beachfront Resorts on Panglao:
If you're looking for a high-end accommodation experience located right on the beach, there are several luxury resorts to choose from in Bohol. These resorts often feature top-notch amenities such as swimming pools, spas, and fine-dining restaurants. Here are the Top 3 hotels on Panglao;
South Palms Resort Panglao
Budget-friendly Hotels in Bohol:
For those on a budget, there are many other Hotels to choose from in Bohol. These accommodations are often more affordable than hotels and offer basic amenities such as private rooms and shared bathrooms. They will also be the only options available as you move further away from Tagbilaran and Panglao to more rural areas of Bohol. Here are the Top 5 budget hotels in Bohol;
Bohol Tropics:
Re-vamped and re-opened December 2022, new pools, great food in the re-vamped restaurant, very close to Tagbilaran Port Terminal, 30 minutes to Panglao beaches.
Tagbilaran City location, modern, rooftop bar, no pool, good food, close to Island City Mall, 30 minutes to Panglao beaches.
Ocean Suites Boutique Hotel
Just outside Tagbilaran City, located next to the Blood Compact memorial, modern rooms, great food, and incredible views over the sea from the decking area with the swimming pool.
J&R Residence Beach Resort
Is located in Anda, about 2 hours drive from Tagbilaran City. A favourite location for visiting Anda's white sandy beaches, it is modern and has good food, but remote. I'd highly recommend having a self-drive car or scooter
Anda White Beach Resort
Is located in Anda, about 2 hours drive from Tagbilaran City. Another favourite location for visiting Anda's white sandy beaches is modern and has good food, but it is remote. I'd highly recommend having a self-drive car or scooter.
Vacation rentals in Bohol;
Another option for accommodation in Bohol is to rent a vacation home or apartment, and offerings such as Air BnB are rife. This can be a great option for families or groups of friends traveling together avoiding the cost of multiple hotel rooms, it allows for more privacy, the convenience of having a kitchen, and using the house as a base to explore from.
Many will give you access to a private car and/or scooter hire, with the manager or manageress' acting like local 'fixers' for you.
Whatever your chosen option, most of the Beachfront Resorts will allow you to use some of their facilities, and beachfront it you dine and drink at their establishment. So, no matter what your budget or preferences are, there is an accommodation option in Bohol that will suit your needs and still access luxury if you so desire.
This gives you in-depth reviews and pictures of the incredible food on offer. The top 10 places to eat in Bohol can all be reached using local transport of tricycles and should cost no more than 50-100 Peso per person. So many new restaurants are opening in Bohol, that it is indeed difficult to keep an up-to-date list.
So, let's just say this list is surely going to be fluid and we'll try to keep this up to date frequently for you. For example, during our trip this Christmas 2022, we found wonderful new restaurants that we have yet had the chance to write up that will replace some here, or maybe even make it the top 13 places to eat in Bohol. Those would include Mist, Molly on Panglao, and Causeway Food Hub in Dauis.
Here are our current top 10 places to eat in Bohol;
Smoque Bistro & Bar – Cpg east avenue, bool district along ACE MEDICAL bldg, 6300 Dauis. Modern spins on Filipino dishes, inter-mingled with Japanese Wagyu, incredible sharing platters, and even a vast array of cakes.
Payag – 0023 S. Matig-a Street, 6300 Tagbilaran City. As local as it gets. This is the 1st branch of Payag, offering wonderful local Filipino cuisine such as Chicken Inasal, Chicharon Bulaklak, and so on at super-affordable prices.
Gerarda's Family Restaurant – 30 JS Torralba St. 6300 Tagbilaran City. Another family favourite of ours, and again offering up some of the best local Filipino food on Singapore. The sweetcorn soup is a must, as is the Beef Tapa, Kinilaw and so much more.
The Hideout – Bellychon – Mansasa-Dampas Road, 6300 Tagbilaran City. The 1st mover to create a new style of dining on Bohol, akin to Singaporean hawker but with live music. You sit in communal seating area with access to some 15 individual hawker stalls offering a superb choice of local Filipino food, and some international offerings. A must-try is the BellyChon.
Bellevue Beach Resort – Doljo, 6340 Panglao, Bohol. One of our favourite locations for staycation in Bohol, but also eating. Superb Western, Japanese and local cuisine on offer. I'll pick out the incredible Sizzling Sisig, and the Tuna Tataki.
Saffron Restaurant, @ Amorita Resort – 1 Ester A. Lim Drive Baragay Tawala, 6340 Panglao, Bohol. A frequent changing menu here, but one absolute must-try is their Mushroom Bisque, it's a wow.
Lantaw Native Restaurant – P Inting Avenue corner Mansasa-Dampas Road, 6300 Tagbilaran City. It's local local again with a monster menu offering up pretty uch every Filipino food you could think of. Great value, and lovely views over the bay and Panglao Island, including cracking sunsets. Must-try the Chorizo with native sauce, one of my absolute favourites.
Henann Resort – Alona Beach Road, 6340 Panglao, Bohol. Another family favourite Bohol staycation hotel and resort, and superb food. You simply must try the Sisig Purses, and Air-dried Beef at the beach/pool-bar. I kid you not, off-the-charts good.
Fiesta Bol-Anon – Upper Ground Floor, Galleria Luisa, Galleres St. Tagbilaran City, Bohol, 6300 Tagbilaran City. It's local, it's in the city, it's so very cheap, but… Some of the very best Sizzling Sisig, and Sizzling Gambas.
The Original AA BBQ – Panglao Island Circumferential Rd, Poblacion, Dauis, Bohol. A local to our house, like 10 minutes down the road. Local Filipino cuisine is everything there, so very cheap, and so very good. A unique Native sauce including Filipino local tomatoes, superb Kinilaw, a cracking Sisig, and Tortang Talong to die for.
There are two main ways to travel to Bohol, a province located in the Central Visayas region of the Philippines. The most common way to reach Bohol is by air, with several airlines offering flights to the new Panglao International Airport, which is located on Panglao Island, just off the coast of Bohol. From the airport, it's easy to catch a taxi, tri-cycle (local version of tuk tuk) or hire a private car/van to take you to your hotel or other destination on the island.
There are some direct flights from certain countries, but most will likely bounce through Manila, the capital city of the Philippines.
It's also possible to travel to Bohol by boat, with several ferry companies offering regular service from Cebu City to Tagbilaran, the capital city of Bohol. You'll need to get yourself to Port #1 at Cebu. You can pay there, or the safest is to pre-book which you can do at most shopping malls in Cebu.
The ferry ride takes around 2 hours and offers a scenic and convenient way to reach the island. If you're tall I would recommend you splash out and upgrade to Business Class. Business class will cost you about Peso 1,000 per adult. Bring a jacket, as they have the aircon set to freezing.