ChillaxBBQ Stay@Home Recipes #41 – Jude Jude's Breakfast Nest
A very quick, but fun one from this weekend. A quick breakfast recipe for the kids that should get them eating it all up. It's all in the presentation. This is ChillaxBBQ Stay@Home Recipes #41 – Jude Jude's Breakfast Nest. Yes, I did say nest. Kind of cute right? It really is the easiest thing to do, but I hope because of the fun element of it your kids should consume every single last little bit of it. You could even suggest that they help you make it and create their very own brekkie? Just a thought for any of those with 'picky' food eating kids.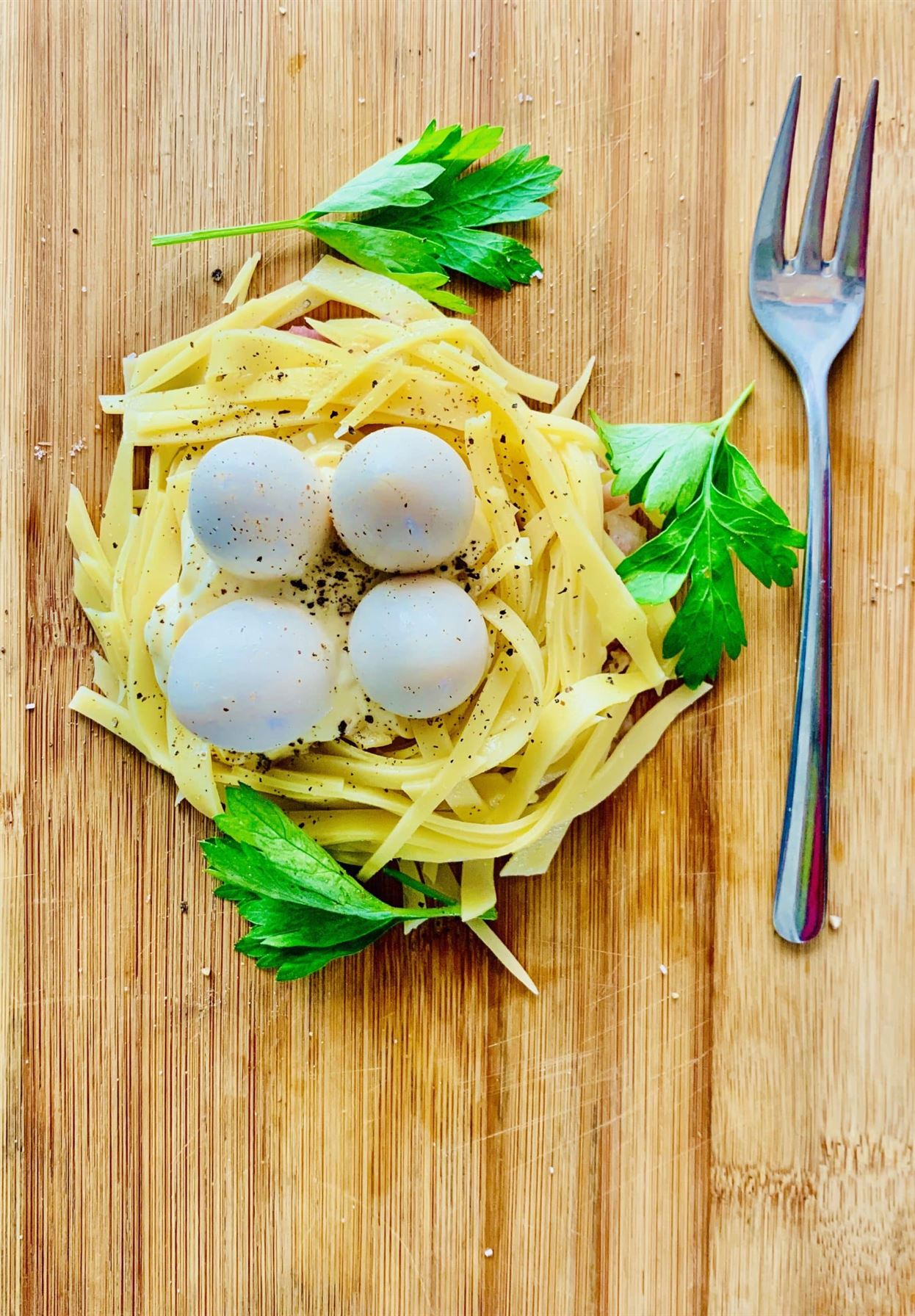 This was a single breakfast platter for Jude Jude – and no need for ingredients just follow the steps;
Fry off two lengths of streaky bacon until crispy, and cut to thin strips;
Boil a few strands of Spaghetti in some saltwater until soft (I had actually run out of spaghetti so used lasagna sheets and cut to strips);
Boil up 4 Quail's eggs in some beef stick until hard-boiled;
On your serving platter;

Lay down the cut-up bacon strips as a base;
Arrange your spaghetti in a circle on top of the bacon to make the nest (like the picture) – leave an indent in the middle;
Squirt some mayo into the middle of the spaghetti 'nest' – it's flavourful food glue basically;
Arrange your 4 little eggs in the mayo;
Sprinkle with some cracked black pepper;
Lay some Parsley leaves around to look like it is in a tree; and
Serve it up.
ChillaxBBQ Stay@Home Recipes #41 – Jude Jude's Breakfast Nest really is just so very simple but so very effective at the same time. I think it looks bloody brilliant even if I say so myself. A quick cheat is to buy already hard-boiled Quail's eggs in saltwater that you just need to heat in the beef stock. Much faster to the plating too. As I said, get the kids making this with you. How could they resist eating their own breakfast nest if they have a hand in making it? Over to you Mum and Dad, hoping your kids do actually – ENJOY!!!
Is Life a Recipe YouTube Channel