2-way Black Truffle Tartufata
This is an 'assembly' not really a recipe and also so very, very simple. So I thought I would lump two together for this. Two-in-one as it were. I purchased a little jar of Black Truffle Tartufata, which is a rather delicious pesto with truffle, not basil and pine nuts etc. It is floral, pungent, exotic and quite unctuous so not a lot is needed to create a big impact. So have a look at these. 2-way Black Truffle Tartufata.
#1 Black Truffle Breakfast Bagel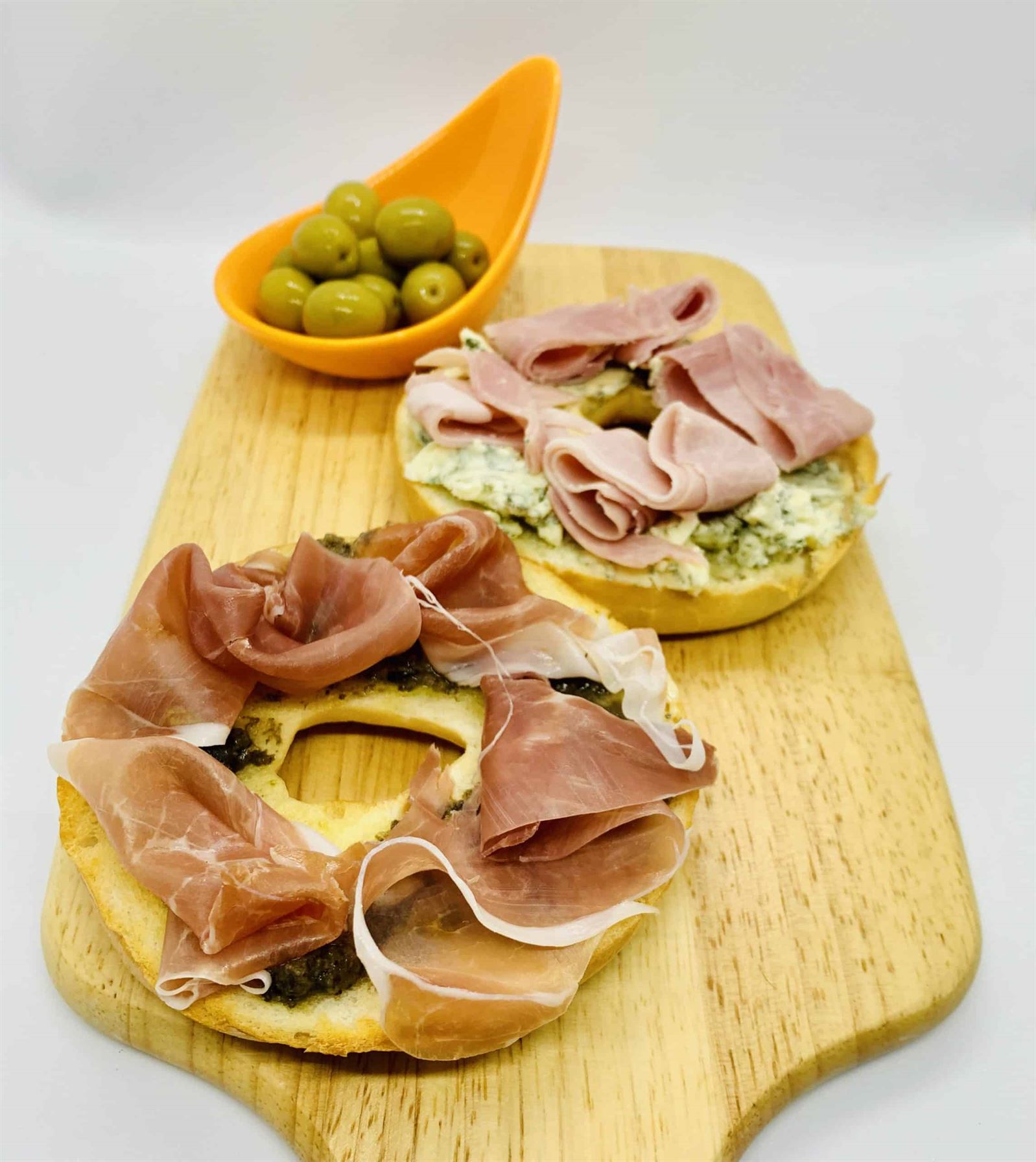 No need for a recipe as I mentioned before. This is just an assembly. Cut a fresh bagel in half and toast it. Get some of your very best salted butter on that. Spread a thin layer of the Tartufata on next and then add some Jamon or ham on top. EAT!!! That's it. Off-the-charts superb brekkie bagel that took all of 5 minutes to make. Believe me folks, OFF-THE-CHARTS good!!! MAKE IT!!!
#2 Black Truffle & Bacon Frittata
Again there is no need for a recipe as it is just too easy. But holy shit this was good. Eggs and Black Truffle are just amazing bedfellows in the food world. Something you simply must try if you have not already. And this recipe is a great starter for 10 on that journey and really is a piece of piss to do. Tastes incredible and looks awesome when plated.
Fry off some streaky bacon in a pan. No need for any oil as the fat in the bacon will suffice;
I crisped it a little and then cut it into bite-sized pieces;
In a bowl;

2Tbsp of Tartufata,
a good shaving of fresh parmesan,
a 2″ knob of salted butter; and
a good sprinkle of sea salt & cracked black pepper,

Mix all that together and then throw in the pan on top of the cut-up bacon;
Pop the pan in a pre-heated oven to 200 degrees and cook until the egg is browning and the cheese has melted;
Serve it up.
How about that? How quick was that for two recipes? 2-way Black Truffle Tartufata even impressed me. We all LOVED these dishes. 2 breakfast dishes that are very different, that take no time at all to make but punch above their weight in the flavour category. Get some Tartufata folks. It is a bloody winner. Try these two above. So bloody easy, so bloody delicious – ENJOY!!!