Golden Beach Seafood Paradise Siglap Review (2023)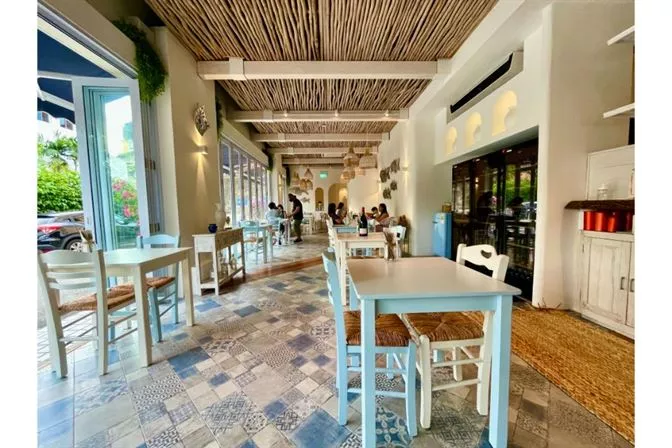 Blu Kouzina Siglap Map – Map of Singapore
We have lived in Siglap for 7 years now. This restaurant has been here for two years since the demise of Blooies. We even had this recommended to us but our mate Dave Lim from Empress Place. But, we have never been to this day today. Why? I don't know. Perhaps the strong reference to seafood and that 'excluding' choices for Jude Jude and me? Maybe. But today, stuck for where to eat for dinner, we chose here. Something different, but on the doorstep.
And family Kennett was absolutely delighted we did come here this day. It's absolutely really good food and a big variety of non-piscatorial too. Golden Beach Seafood Paradise @ Siglap.
They deliver too and are doing some pretty amazing specials on crab at the moment – I reckon that's for Wifey & #1 for next time. Give them a visit and say hello to the owner-manager, John Toi and his really great staff. I love it when you walk in and go past the open hatch of the kitchen and hear that jet fighter engine noise of the open wok cooking going on. Yeah, baby, this is going to be good.
You can find and/or can reach them as below – and of course, they are doing delivery too;
907, East Coast Road 459107
+65 6542 7720
contact@goldenbeachseafood.com
What do Golden Beach Seafood say about themselves; "Our Master Chef can satisfy any hungry food lovers with his extraordinary culinary skills. He is able to whip out any food ideas you have in mind. Our Signature Dishes: Peking duck, Black Pepper Crab, Chilli Crab, Salted Egg with Butter Cream Crab, Bamboo Clams, Home-made Spinach Beancurd with Mince Pork, Patin Fish in Nonya Style…" I like Golden Beach Seafood!!!
And as Uncle Roger says get your MSG face on. "Rub MSG on baby, make baby better, make baby more smart!"
Golden Beach Seafood Paradise Siglap Review 2023
What did we eat today at Golden Beach Seafood…?
It really was a lovely meal at Golden Beach Seafood Paradise @ Siglap. We'll absolutely be going back. I know Wifey & #1 want to get stuck into the crab, and Strawberry Blonde 1000% wants those Salted Egg Prawns again.
Plus Wifey loved the small bottles of clean-skin wine concept. That's a first for me outside of Australia to see clean-skin wine. So John thanks to you and the staff for a lovely evening of grazing. Be seeing you soon fella. East-coasters, Siglappers get your game face on and pop in for a really nice grazing experience here!
ENJOY!!!

If you enjoyed this Blog Post and want to keep up with the channel be sure to Like and Subscribe to Is Life a Recipe below for more updates!