Smoked Salmon 'w' Charred Lettuce Salad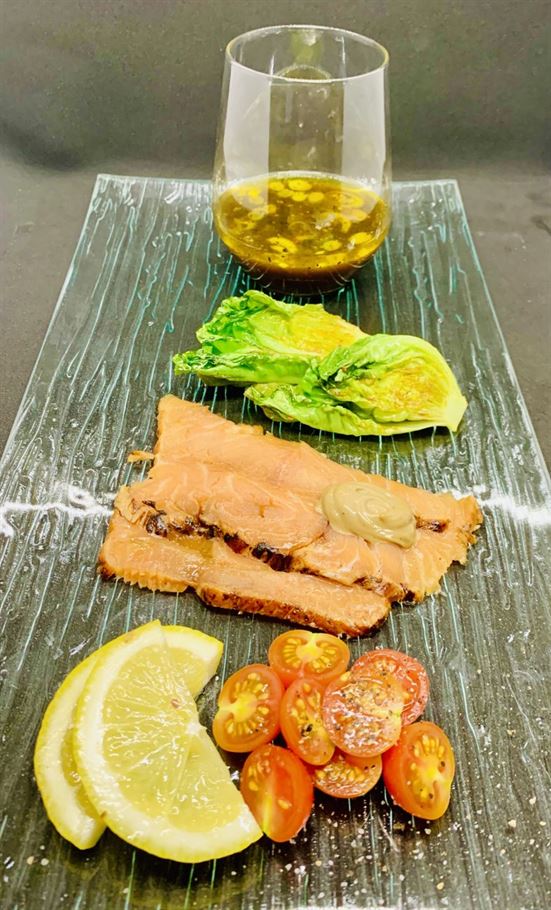 Smoked Salmon 'w' Charred Lettuce Salad
Here is dinner for Wifey this very same day. I was under strict instructions to use stuff in the fridge nearing expiry. No rice or noodles. Salad, please. Wow, that narrows it down. But it definitely foes make it #BillWallaceFriendly. So dinner became a 'what's in the fridge' creation and I am super pleased with it. I think it looks all sophisticated-like. Eye-catching. Interactive. And, by all accounts, pretty damned tasty. Well, Wifey ate it all.
Smoked Salmon 'w' Charred Lettuce Salad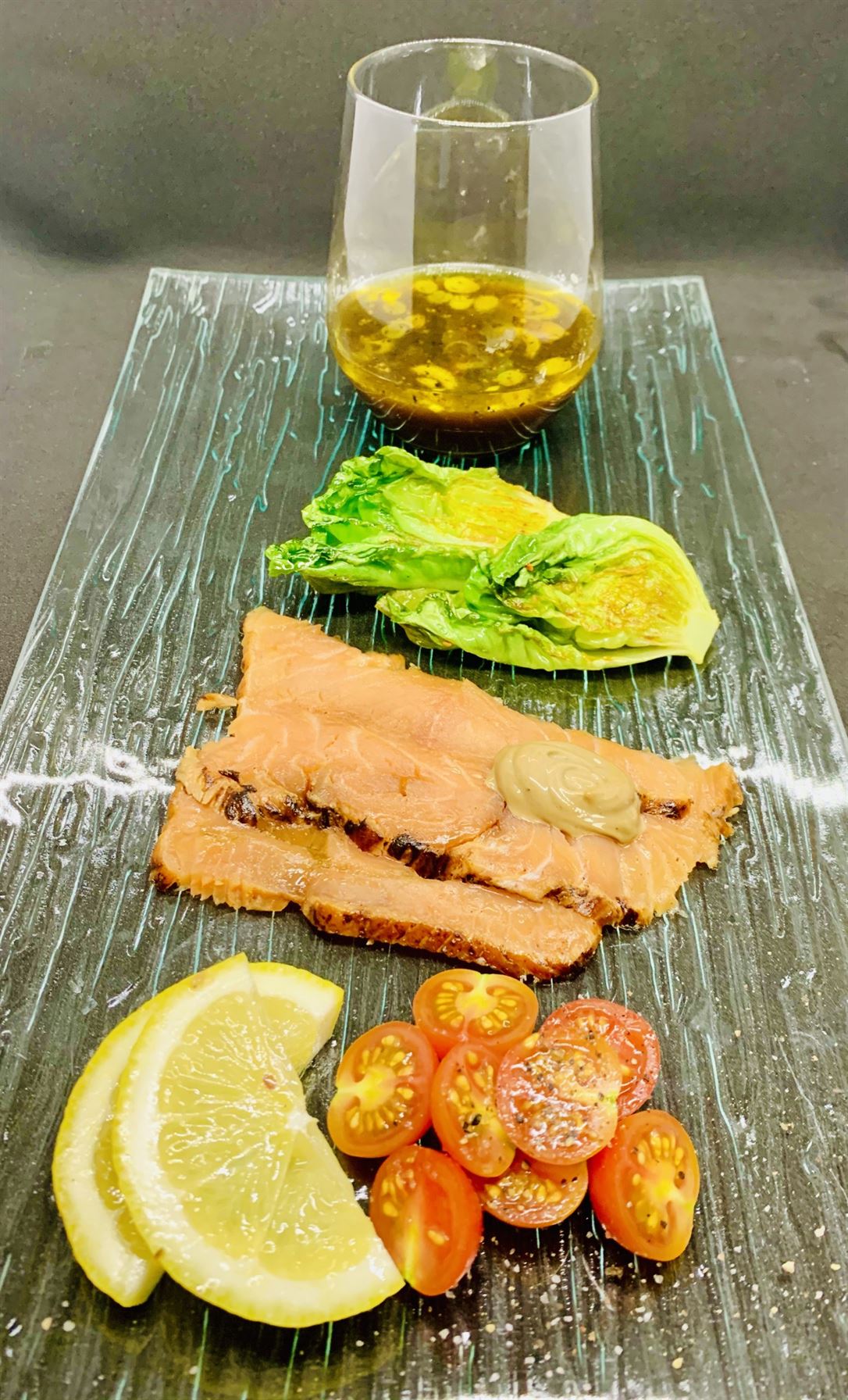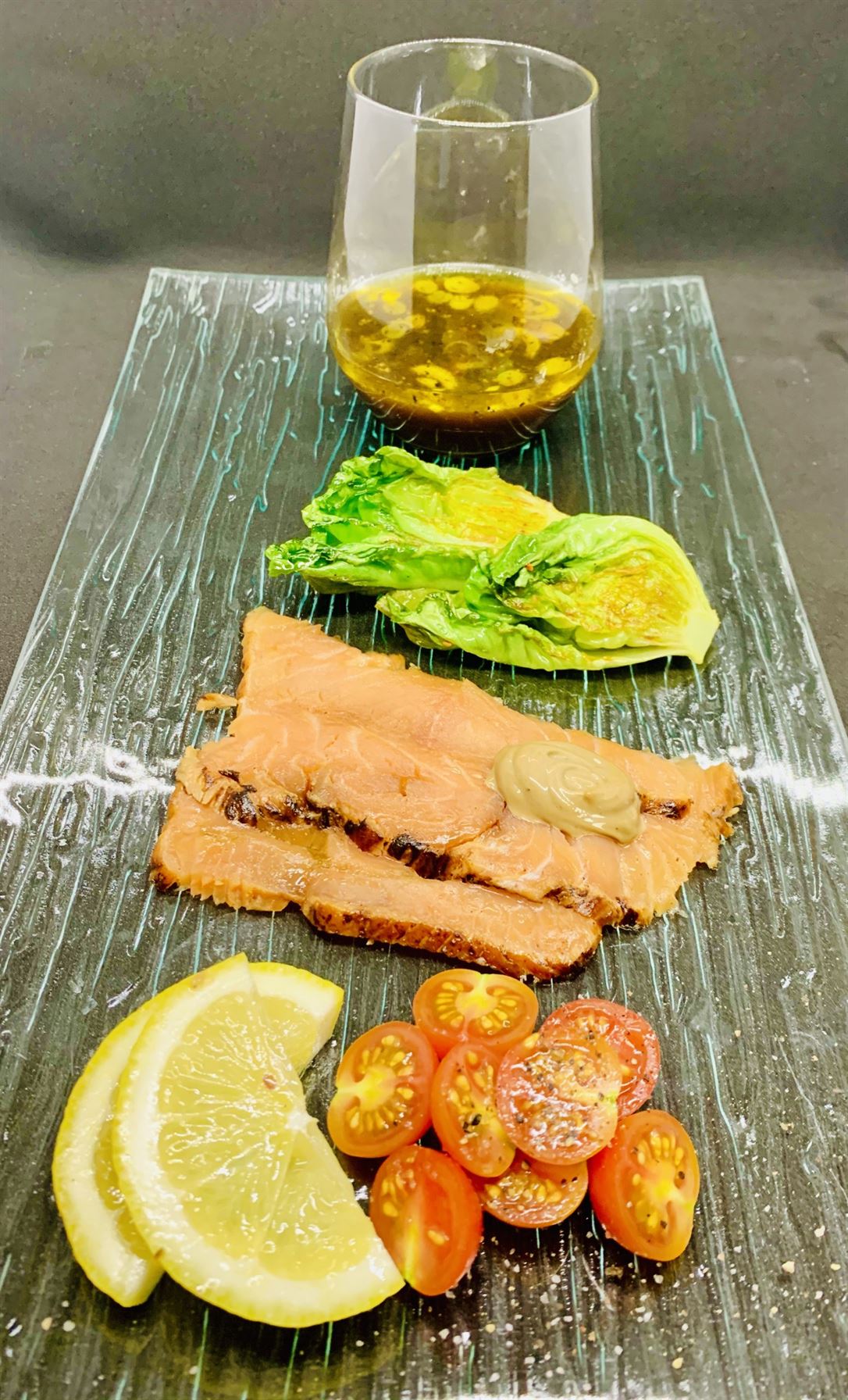 Dinner for one here;
1x small baby lettuce;
2x slices of your best smoked Salmon – this was Norwegian that I picked up from the local supermarket;
1x slice lemon;
3 or so cherry tomatoes;
1″ knob of butter;
Black garlic emulsion (you know where I got mine, you can get this at the supermarket);
Sea salt & cracked black pepper.
Dressing for the salad;
1x Tbsp of;

Virgin olive oil;
Apple cider vinegar;
Balsamic vinegar;

1x Tsp finely sliced Spring onion; and
Sea salt & cracked black pepper.
Are ye ready for;
Smoked Salmon 'w' Charred Lettuce Salad
Mix the dressing in a glass saving the sea salt & cracked black pepper until the end;
Use that to season to your taste buds, and pop on your serving plate, like in the picture;
Lay a couple of slices of the smoked salmon down and dollop a little of the black garlic emulsion on top;
Cut the slice of lemon in half & arrange nicely;
Chop the cherry tomatoes in half and season with a little sea salt & cracked black pepper;
Cut the little lettuce carefully in half leaving a little of the stalk so all the leaves do not fall off;
Heat a pan and drop in the butter and then brown the lettuce halves in the hot butter on the cut side only;
Plate those like the picture; and
Serve her up.
It is just so very simple. It looks lovely I think. The flavours all work so very well in contrast to each other and you have some wicked textures going on here too. Smoked Salmon 'w' Charred Lettuce Salad was highly regarded by Wifey. Might mean I get a happy ending for dinner and I don't mean dessert haha. Give it a go. Why not? It's more painting a picture than cooking. But it looks all restaurant-like and all that – ENJOY!!!
(Visited 32 times, 1 visits today)