Experience the Authentic Spanish Asador in the East Coast of Singapore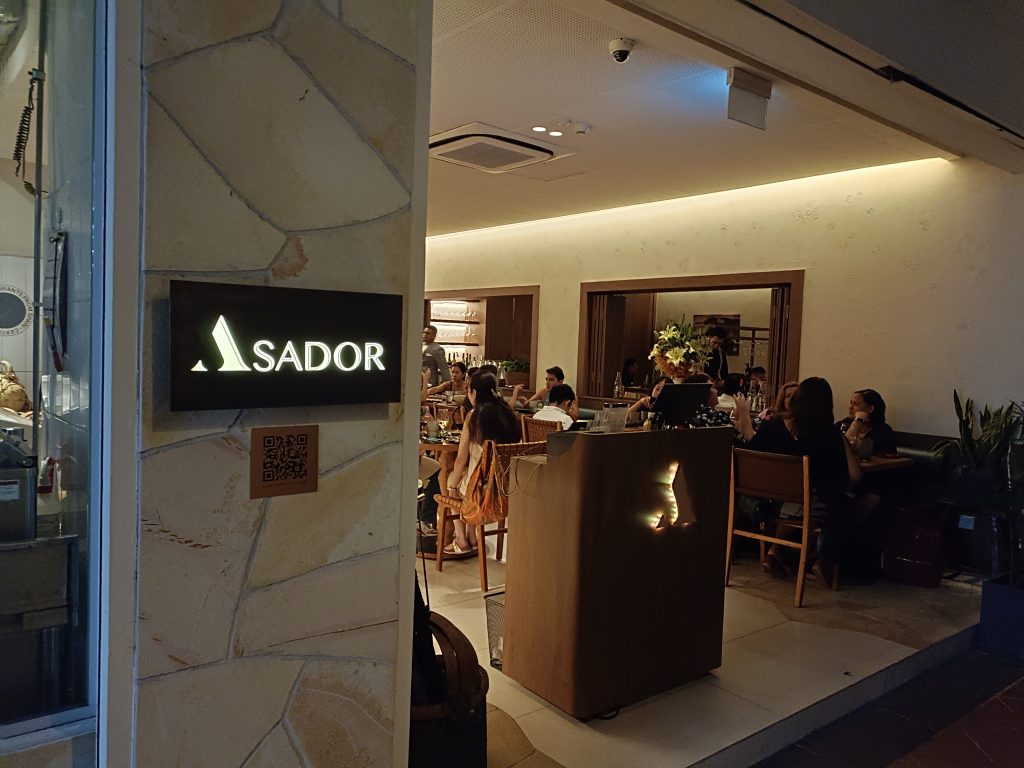 Is Life a Recipe readers are no strangers to Asador Singapore as Brian is almost part of the furniture there, here is his previous post Asador Singapore l Restaurant Review, Brian was even invited recently to their 2 year anniversary! So with much intrigued having never been I invited the wife on a long overdue date night!
Table of Contents
So what is Asador Singapore all about?
A Culinary Legacy in the Making
Embrace the authentic flavours of Spain right here in Singapore. Delve into a culinary journey like no other, as we transport you to a realm of rich flavours and mouth-watering aromas.
Stepping into the Asador premises, one can't help but feel the connection to its sister establishment, the well-regarded Next Door Spanish Cafe situated along East Coast Road. The success and culinary heritage of this sibling eatery has been a beacon for Asador, guiding it to maintain and further elevate the standards of authentic Spanish cuisine in Singapore.
Asador Singapore beefing up Joo Chiat's restaurant scene
Explore a culinary gem nestled in the vibrant Joo Chiat neighbourhood of Singapore. Asador, with its enticing Spanish offerings, stands as a testament to the global gastronomic revolution that's taking place in this historically rich locale. The rising number of food establishments in Joo Chiat has made it a hotspot for food enthusiasts and Asador proudly contributes to this thriving gastronomic scene.
Asador: The Spanish Restaurant that gets better with age!
With an influx of food establishments in Joo Chiat, it can be challenging to pick the perfect spot for your culinary adventures. Amidst the vibrant food scene, Asador Singapore stands tall, highly recommended for anyone seeking a unique gastronomic experience. Its Spanish fare not only promises authenticity, but also an opportunity to immerse in a dining experience that captures the soul of Spain.
Tradition Meets Innovation: Wood-Fire Cooking at its Best
At the heart of our operation lies a traditional Spanish Castilian Oven and a Basque Parilla Grill. These are not just cooking apparatus, they are the living, breathing soul of our establishment. Unlike standard grills and woodfired ovens, these authentic Spanish marvels infuse each dish with a unique smoky flavour. Each ember that crackles within the oven or on the grill, sparks an explosion of flavour, permeating every morsel with the essence of pure Spanish cuisine.
Perfect Embers, Perfect Cuisine
Crafting the perfect ember is a labour of love and precision. It requires dedication, time, and an unwavering focus. Just as the ember is the heart of our cuisine, so too is the attention to detail at the core of their service.
The Elixir of Spain: Light-Bodied Red Wine from Madrid
The carefully curated wine list features a stellar selection of Spanish wines. One of the wines listed highlights is a light-bodied red wine from Madrid, made with 100% Grenache grapes. Each sip promises a melody of flavours, featuring notes of plum, cranberry, and a hint of cinnamon. It is an exquisite companion to our cold cuts and paellas, balancing the richness of the dishes with its refreshing acidity.
From Spain, With Love: The Story of Asador Singapore
Asador is not just a restaurant, it's an experience, an emotion. It's the sense of being welcomed into a warm Spanish home, where the aroma of cooking fills the air, and every bite tells a story of a centuries-old culinary tradition. With Asador, you're not just a customer, you're family. You get to experience the tradition, to taste the flavours of Spain, to feel the warmth of its people, right here in Singapore.
When I mentioned to the Maître d' that I worked with Brian on the blog he said "Then you are family!" So it's true! We are Family!
So what did we eat and Drink on our cheeky Date Night?
Brian is known for not liking Fish or Seafood generally but does accept the odd oyster just not in Oyster Omelettes so we really wanted to tuck into some fish dishes that night, so the starters was the best way to go as we wanted meats for mains!
Starters
We took one each of the Anchoas (anchovies on toast) and gobbled them both down as quickly as they arrived, this was in most part due to them being delicious but also that our reservation was at 8.30 and both of us hungry! This was delectable despite demolishing it in under a minute!
Anchoas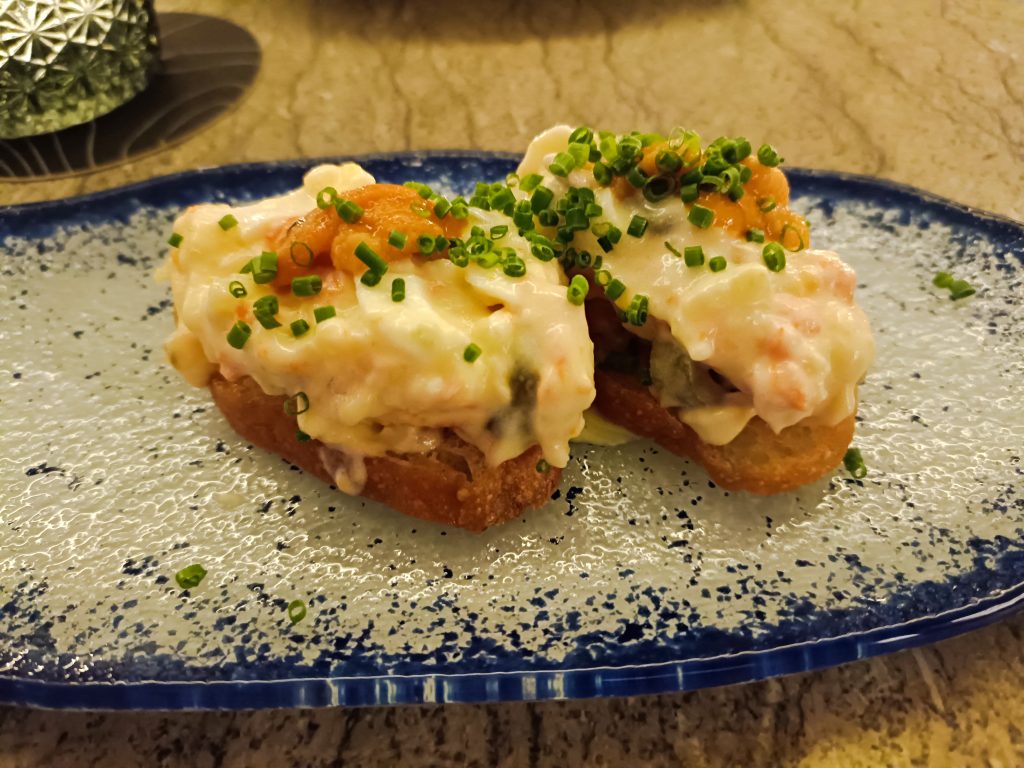 Santoña´s premium 00 anchovies on toast (2 pieces)
$10
There was some confusion over the 2nd starter order but we managed to get them to understand we did not want to order one set of each but one set with one different style. I had the Oyster Tempura & tartar sauce, the wife opted for the Passionfruit & smoked jalapeno oil. My Oyster was cooked through, lightly seasoned and crispy to bite! Should have opted for one set each! Dang that was good! No complaints from the boss who took the fresh Japanese Oyster!
Ostra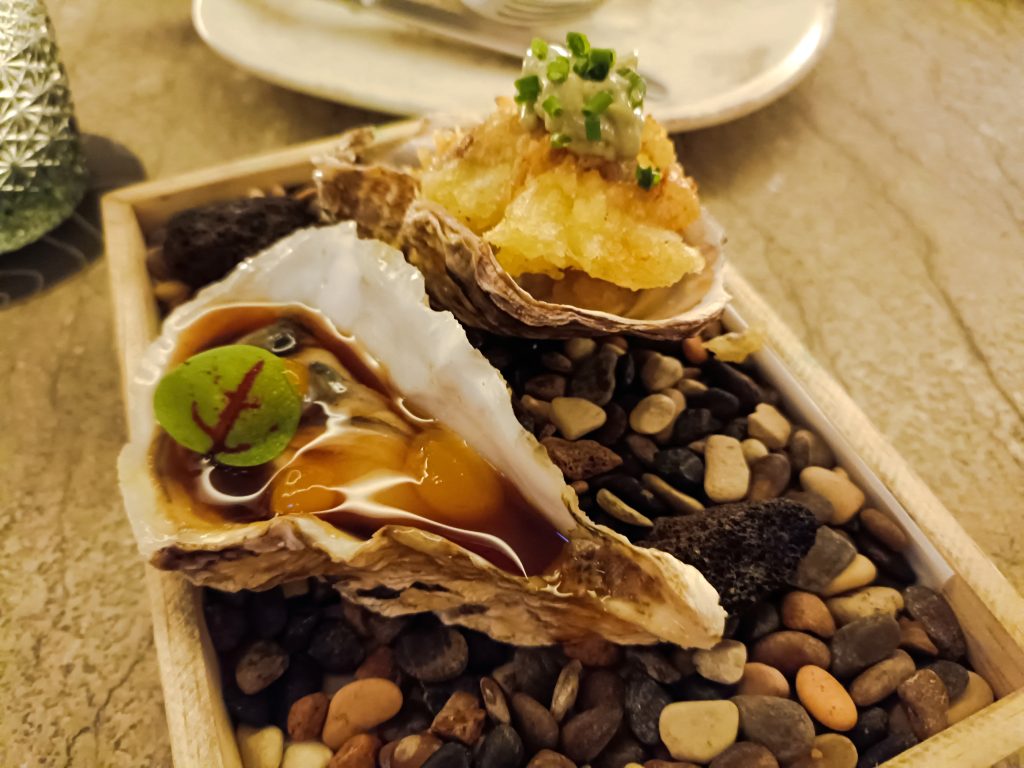 Japanese oyster with a choice of:
– Passionfruit & smoked jalapeno oil
-Tempura & tartar sauce
$10/pc
Main Course
We opted for the special, seasonal Australian T-Bone Steak which took some time to come out but was were forewarned so not an issue, good things come to those who wait! And boy was it good!
Well seasons and medium rare doneness as ordered, cooked through to perfection! We were given sea salt on the side but frankly it did not need it, I added salt to mine as I really like sea salt on my steak.
Australian T-Bone Steak over 1kg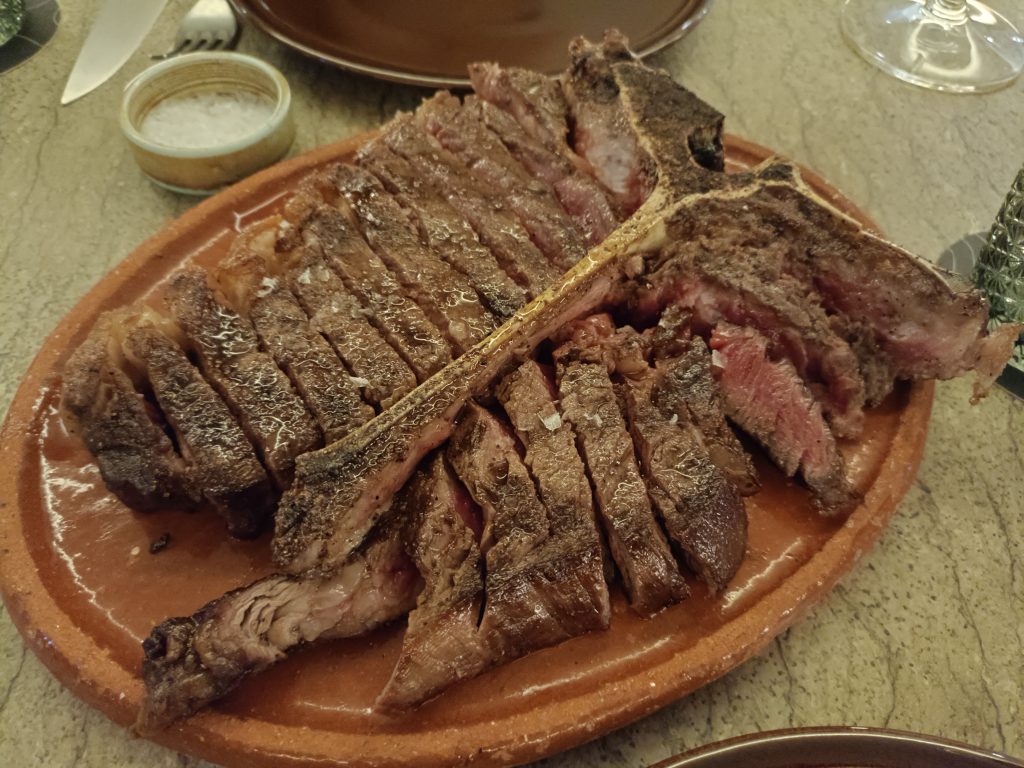 $135
Sides
Piquillo peppers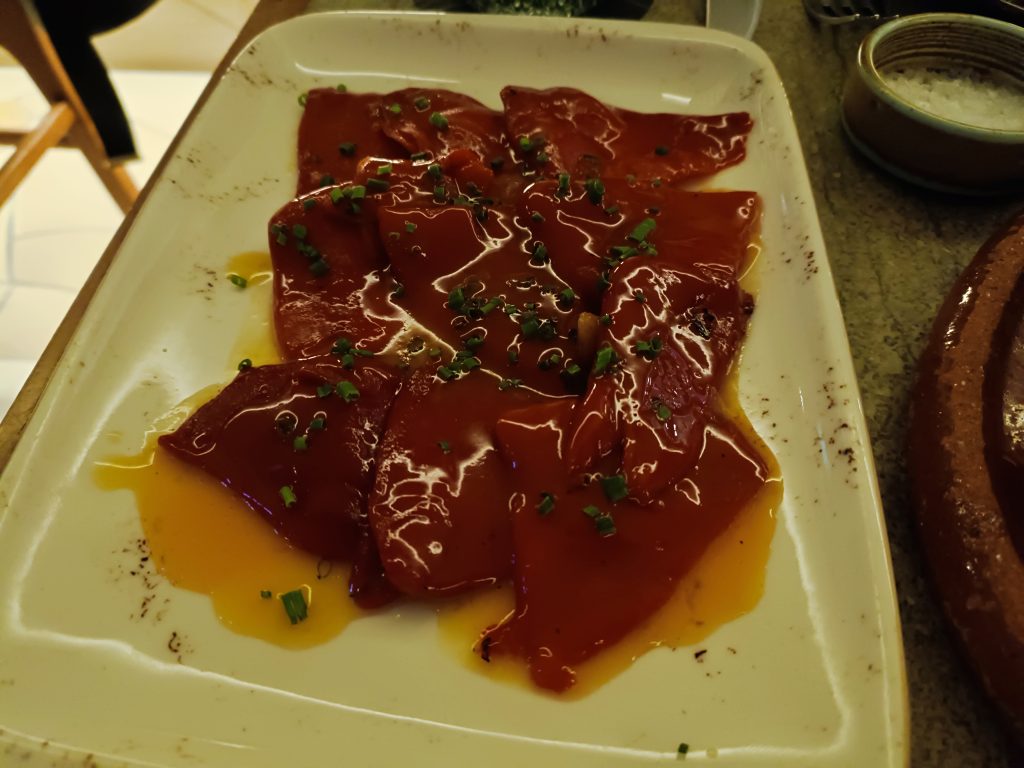 Spanish red peppers with pil-pil
$14
The peppers are not spicy but succulent to the taste, highly recommend this side dish to compliment any meat order.
Smoked mash Bintje potato with smoked butter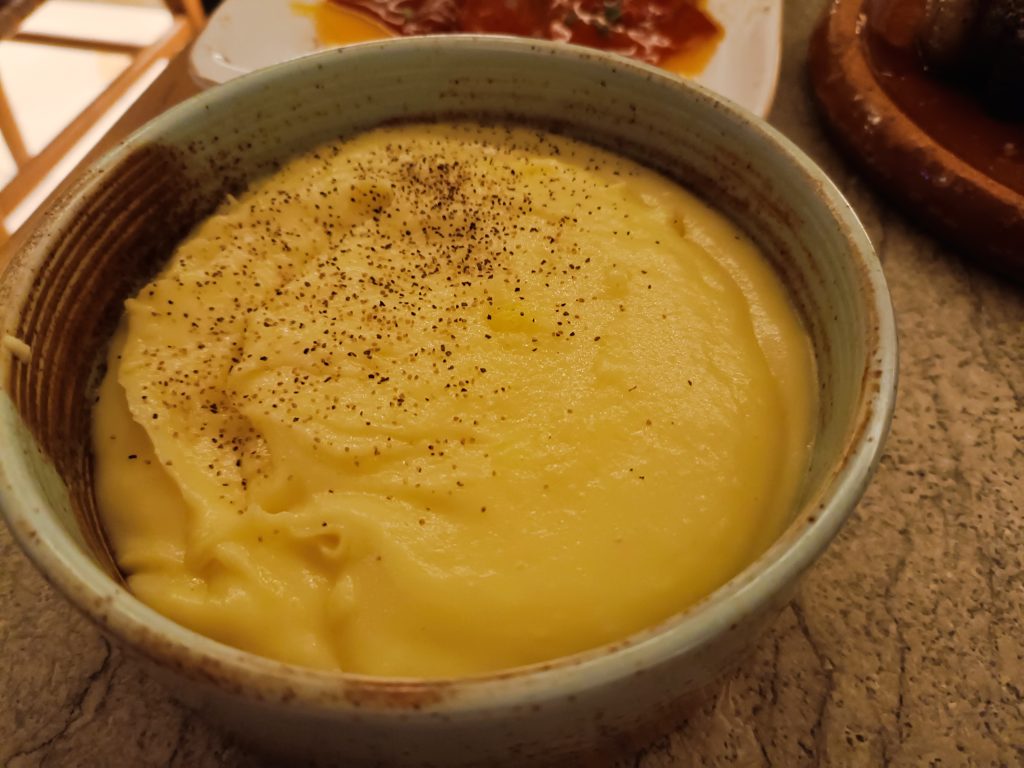 $14
I practically at 75% or more of this yummy buttery and smokey mash! It combined so many of my go to flavours that I added a dollop to every bite of my Australian T-Bone Steak!
Dessert
Tarta de Queso 'La Viña'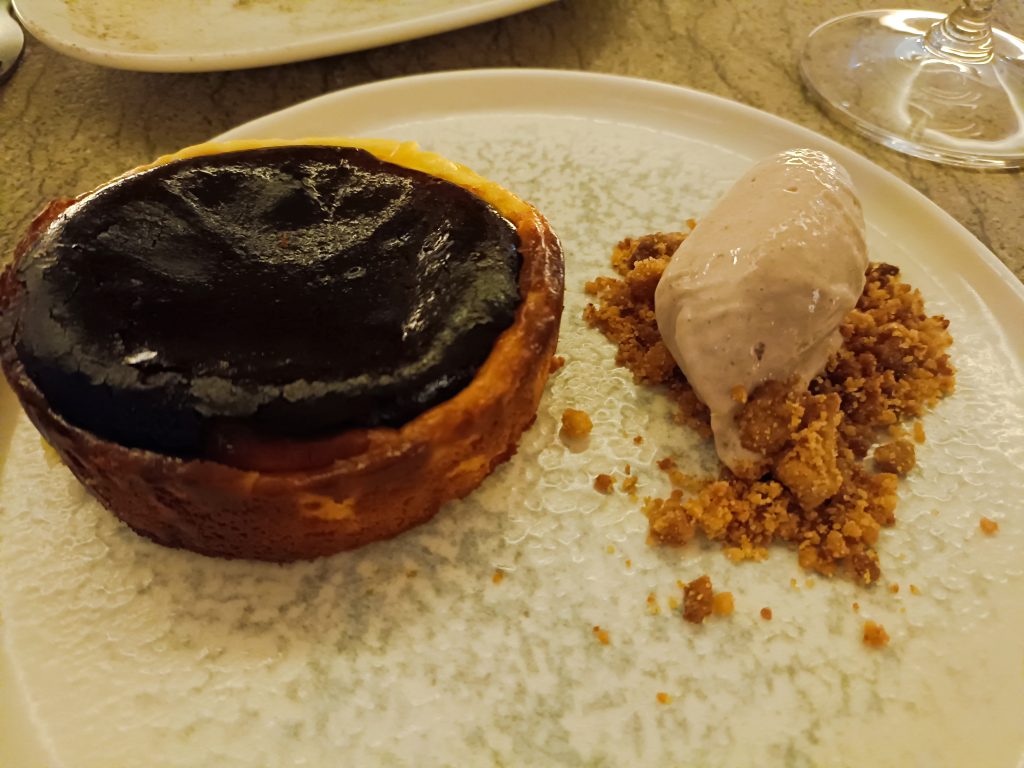 Tribute to the original Basque cheesecake
By the time we got to dessert we were stuffed, so we ate out of greed because greed is good!
$16
What wine did we drink?
Bodegas Roda Sela 2019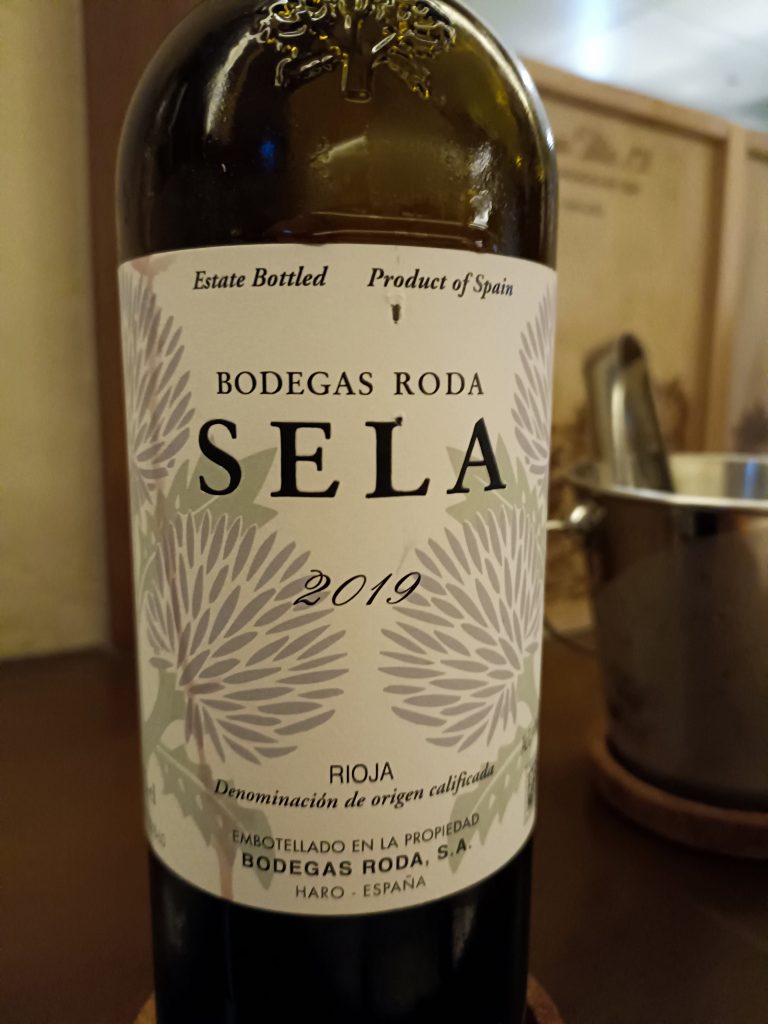 $95
Bodegas Roda Sela is an impressive wine that exudes strength and youthfulness. It has a myriad of stories to share, yet it speaks with a fresh and vibrant voice of the youth. Crafted from sustainable vineyards, this wine is ready to be enjoyed as soon as it hits the market, boasting a shorter aging period compared to its older counterparts while retaining excellent aging potential in the bottle. It offers a delightful experience for young wine enthusiasts, with its pleasurable and refreshing qualities. Bodegas Roda Sela effortlessly complements various food pairings, making it an ideal recommendation by the Maître d'.
Last order for Food!
The food orders came to a close at 10pm or there abouts and I suggested hitting another bar, the wife said let's just stay here for another drink (or two I thought). The staff suggested they will see if there was space at the bar! The Bar? What bar, Brian as never mentioned there being a bar here to me nor in the blog. Enter the world of 60ml!
60ml by Asador: A Speakeasy in the Joo Chiat Neighbourhood
Within the bustling neighbourhood of Joo Chiat lies an enigmatic treasure, a secret bar aptly named 60ml by Asador. Nestled behind an unassuming vintage mirror within the premises of Asador Singapore, this bar offers an intoxicating blend of classic charm and contemporary elegance.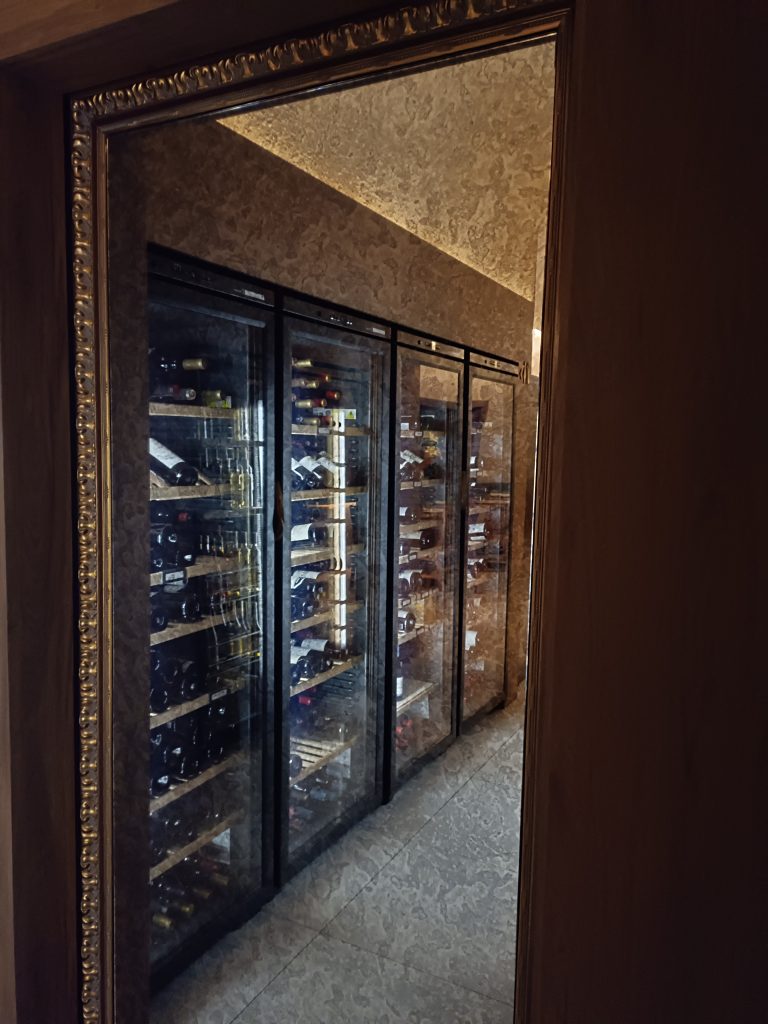 60ml the Decor
Adding another layer to its intrigue, 60ml by Asador was thoughtfully designed and built by Homeworks who have also done spaces for places like Tipsy Flamingo, Pigsfly Kitchen, Kubo, and Papi's Taco to name a few. The essence of the bar encapsulates their design sensibilities, blending seamlessly with the warmth and character of Asador Singapore. It stands as a testament to their capability to create spaces that enchant and inspire.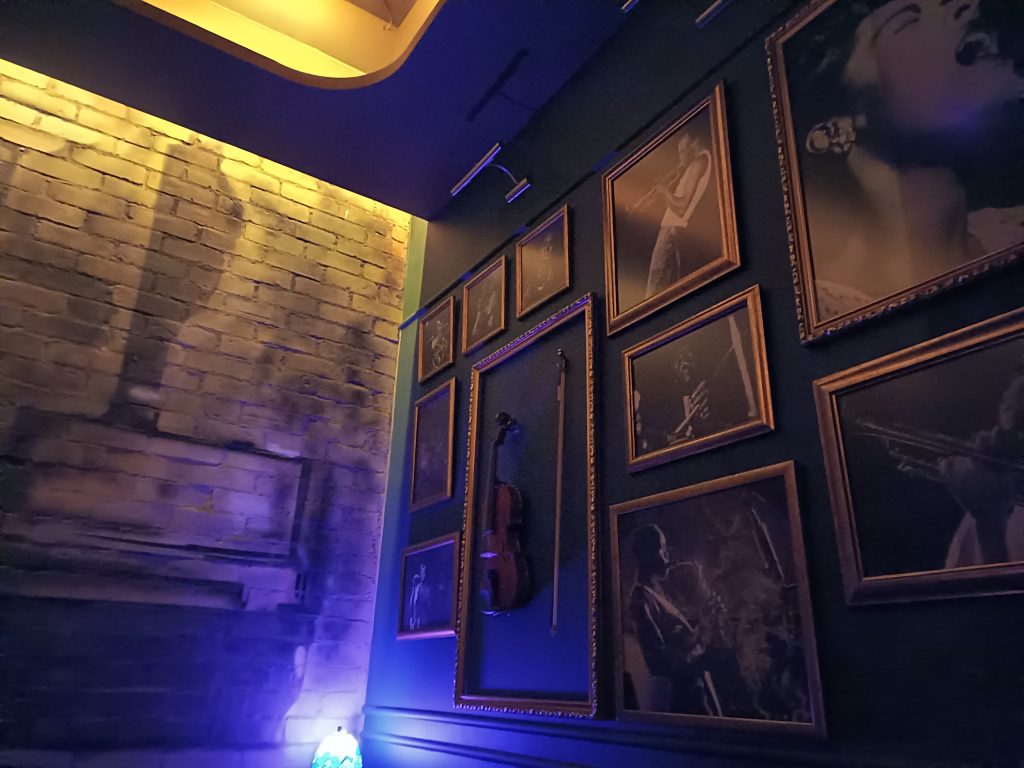 The Spirit of 60ml
What makes 60ml truly unique is its signature style. Each cocktail on the menu boldly contains 60ml of spirit, surpassing the standard 45ml, thus offering patrons an elevated drinking experience. This bar isn't just about a drink; it's about the experience, the thrill of being in on the secret, the sheer delight of discovering something wonderfully unique.
Navigating through the space of Asador Singapore, the scent of dishes prepared on a Basque-style parilla grill fills the air. Rich flavours imparted by various types of wood used in the cooking process tantalize the senses, leading you towards a hidden alcove. Here, the vintage-looking mirror on the wall serves as a portal, behind which the jazzy bar 60ml reveals itself.
What Cocktails did we consume?
For the first round I opted for the Spicy Margherita and my wife the Melon Sangria.
Spicy Margherita
Jalapeño-Infused
Código 1530 Blanco
Código Agave Néctar
Fresh Lime Juice
$25
Melon Sangria
Honeydew & Citrus
Macerated Tempranillo
$25
Seconds out round two
That Spicy Margherita was so good I had a 2nd! My wife opted for some bubbles to finish the night and they suggested a Cava. When she tried it she felt it flat, so we called over the bar tender and he explained that this was a newly opened bottle and it was the effect of the dishwashing machine which uses osmosis to clean the glasses and for some reason that kicks out the bubbles (sounded plausible), they kindly replaced the drink with a bespoke cocktail but who knows which ingredients they used as we were two sheets to the wind at this point!
Have already introduced to team over at Tequila Stop to do a tasting and potentially a Masterclass here as such a good venue to do something like this with food pairings!
Remember readers of Is Life a Recipe get 10% off when purchasing from them by using the code ISLIFEARECIPE10.
60ml the Conclusion
We enjoyed this little secluded spot hidden away at the back on Asador and it will soon become one of our favourite drinking holes for sure!
Fadly Sujeto the Bar Manager is an extremely jolly and amiable guy, so when you head to 60ml by Asador be sure to say hi and mention Is Life a Recipe!
Step into the world of 60ml, and let your senses be captivated by the allure of a hidden bar that's as intriguing as its cocktails are intoxicating.
Your incredible date night awaits…