HydroDash Sentosa 2023 - Excellent Family Fun in Singapore
HydroDash Sentosa: A Fun and Thrilling Water Adventure
It is highly recommended that you pay HydroDash Sentosa a visit if you are looking for a water attraction that is both fun and thrilling. This inflatable water park, which can be found on the sunny island of Sentosa in Singapore, provides an experience that is one of a kind and exhilarating for people of all ages, including children.
The park includes a number of different challenges and obstacles that are intended to test your agility, balance, and endurance. At HydroDash Sentosa, guests will find a wide variety of activities to engage in, including climbing walls, balance beams, trampolines, and slides.
The enormous slide is consistently ranked as one of the most popular attractions at the park. Because of its imposing height of 5.5 meters, it is not something that should be attempted by those who are easily intimidated. If, on the other hand, you are courageous enough to take the plunge, you will be rewarded with an exhilarating ride down the steep slope and into the cool water below.
The obstacle course is yet another thrilling aspect of the HydroDash Sentosa experience. It's a challenging and fun-filled experience that requires both physical and mental stamina, and it consists of a succession of interconnected inflatables so you can move from one to the next. You'll have to crawl, climb, and jump your way through a variety of obstacles while simultaneously attempting to keep your footing on the unstable and unpredictably moving surface of the inflatables.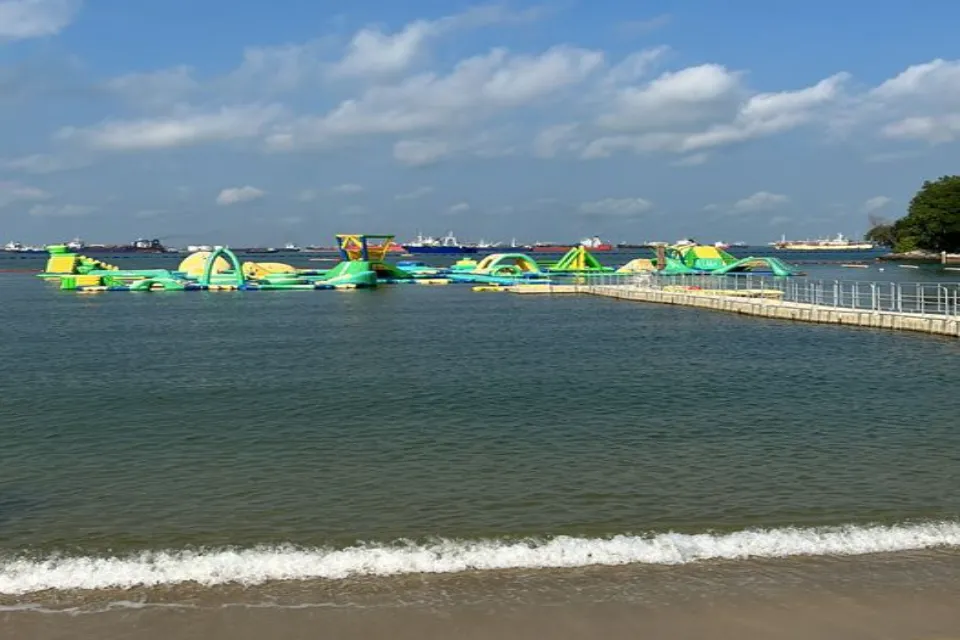 There is no need to worry if you are not the most athletic person out there because HydroDash Sentosa is appropriate for all skill levels, and the park's friendly and experienced staff are always available to provide guidance and assistance.
In addition to the exhilarating water activities, HydroDash Sentosa provides guests with an atmosphere that is both peaceful and picturesque. At Palawan Beach, guests have the opportunity to take in the breathtaking scenery of the South China Sea while also basking in the sun on the soft sands of the beach.
At HydroDash Sentosa, they put a strong emphasis on safety above all else. The park provides safety equipment such as life jackets, and prior to entering the water, each visitor is expected to attend a safety briefing that the park offers. In addition, there are lifeguards posted at various locations throughout the park to watch out for the well-being of its guests.
In conclusion, HydroDash Sentosa is an attraction that should not be missed by anyone who is looking for a thrilling and exciting experience in the water. It is the ideal place to take a break from the sweltering heat and enjoy some time outside due to the exciting obstacles and challenges it offers, as well as its breathtaking location and dedication to safety. Gather up your nearest and dearest, and make the journey to HydroDash Sentosa for an experience you won't soon forget!
What does HydroDash Sentosa have to say about themselves?
How much are HydroDash tickets?
2-hour pass

7+ years old; $36
5-6 years old $26

1-hour pass

7+ years old; $13
5-6 years old; $18
Where is HydroDash Sentosa?
What are the HydroDash opening hours?
Saturday10 am–7 pm
Sunday10 am–6 pm
Monday11 am–6 pm
Tuesday11 am–6 pm
Wednesday11 am–6 pm
Thursday11 am–6 pm
Friday11 am–6 pm
What are the contact details for HydroDash Singapore?
eMail; hydrodash@palawan.com.sg
Telephone; +65 97837549
How to get to HydroDash Singapore?
By Sentosa Express : Alight at Beach Station and take the Beach Shuttle
By Public Bus : Board Bus 123 and alight at Beach Station and take the Beach Shuttle
By Beach Shuttle : Alight at Palawan Beach
Nearest Car Park: Sentosa Beach Car Park
Why Sentosa Island Singapore?
Sentosa Singapore: The Ultimate Island Getaway
Sentosa Singapore is the place to go if you want to get away from the hustle and commotion of the city and relax in a tropical paradise. This island paradise is found just off the shore of Singapore's Southernmost tip, and it features a wide variety of attractions and activities that are suitable for visitors of all ages.
The Universal Studios Singapore theme park is consistently ranked as one of the most visited destinations in Sentosa. Any person who enjoys going to amusement parks should make it a point to go there because it has some of the most exciting rides, live shows, and interactive experiences. At Universal Studios Singapore, there is something for everyone to enjoy, from the heart-pounding roller coasters to the activities that are suitable for the whole family.
Sentosa provides a lot of different choices for people who are passionate about the beach. Tanjong Beach is a more tranquil alternative for those who are looking for a more laid-back atmosphere, whereas Siloso Beach is the best choice for people who want to bask in the sun and play in the sand. On the other hand, due to its calm waters and abundance of activities that are suitable for children, Palawan Beach is an excellent choice for families with younger children.
Sentosa is a wonderful place to visit if you're searching for something a little more thrilling to do. The island is home to Mega Adventure Park, which includes a gigantic swing, a zip line, and an obstacle course. HydroDash Sentosa is an inflatable water park that provides a fun and challenging experience for people of all ages. It is ideal for those who enjoy participating in water sports.
In addition, Sentosa possesses a significant cultural background that is well worth investigating. The Sentosa Merlion, a towering statue that symbolizes Singapore's history and culture, is located on the island that bears its name. In addition, guests have the opportunity to experience the Fort Siloso Museum, which is dedicated to presenting Singapore's military history.
Sentosa is a great place to visit if you enjoy trying new cuisines, as the island features a diverse selection of restaurants that cater to visitors of all incomes and preferences. Sentosa is home to a wide variety of dining options, ranging from casual food booths to upscale restaurants, making it suitable for visitors with a variety of tastes.
In conclusion, Sentosa Singapore is the perfect island retreat because it has something to offer visitors of all ages and interests. Sentosa has everything you could possibly want, whether you're searching for excitement, relaxation, or cultural experiences. It should come as no surprise that Sentosa, which is located in Singapore, is the most popular place for tourists to go there because of its breathtaking beaches, exciting attractions, and delectable cuisine. Why not make Sentosa the destination for your next vacation or Singapore staycation and take advantage of everything that this tropical sanctuary has to offer?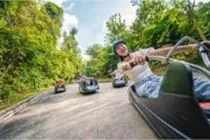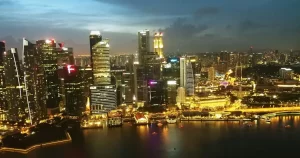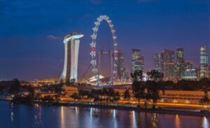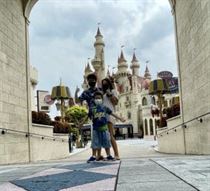 There is so much more excitement to enjoy on Sentosa with all the other things they have on offer, such as;
Adventure Cove Waterpark – CLICK HERE for our blog review
Dolphin Island 
iFLY Singapore
Madame Tussauds Singapore
Mega Adventure Park
S.E.A Aquarium – CLICK HERE for our blog review
Universal Studios Singapore – CLICK HERE for our blog review.
Book Via Klook Singapore to get MASSIVE DISCOUNTS...