Yum Cha @ Chinatown for Boxing Day Lunch
Because of where we were staying we were literally like 10 minutes walk to central Chinatown and we took every advantage of that. Today was no exception. The kids were booked into do some VR gaming thing so we needed to be in the mix there and also to have somewhere for Wifey and I to grab a cold beverage and chat whilst they were doing that. We have not been to this place for something like 8-10 years and so it was time. Today we revisited an old favourite from back in the day when Naoko was still here with us. And it was just as good as I remembered it to be.
Yum Cha @ Chinatown for Boxing Day Lunch
As I always like to do, let's hear from them first;
"Yum Cha Restaurant first opened its doors in the heart of Chinatown. Yum Cha first started out in 2000 near Temple Street, Chinatown, with the aim of bringing back the dim sum tea house concept in a shophouse setting, with marble tables and wooden chairs for a nostalgic feel. Away from the hustle and bustle of city life, Yum Cha Restaurants offer a unique dim sum dining experience – be it for lunch or dinner.
Famed for its large variety of dim sum, ranging from traditional recipes such as Fish Roe with Siew Mai and Xiao Long Bao, to some of our chef's modern creations, such as Mango Prawn Sesame Fritters and Squid Ink Dumplings. Yum Cha Restaurants have also extended their menu to include in favourite local items and seafood dishes, such as their Salted Egg Prawns and Roasted Peking Duck.
The usage of red colour and concrete walls help to keep the ambience contemporary and inviting. Customers can also enjoy traditional Hong Kong roast meats along with their dim sum. An embodiment of the very essence, taste and character, Yum Cha continues to be a popular icon in Singapore."
"bringing back the dim sum tea house concept in a shophouse setting" – I love wording like that. Protect the food heritage, especially now with that Unesco recognition. So, great job Yum Cha. 20 years on and you still knock it out of the park. Let's have a look.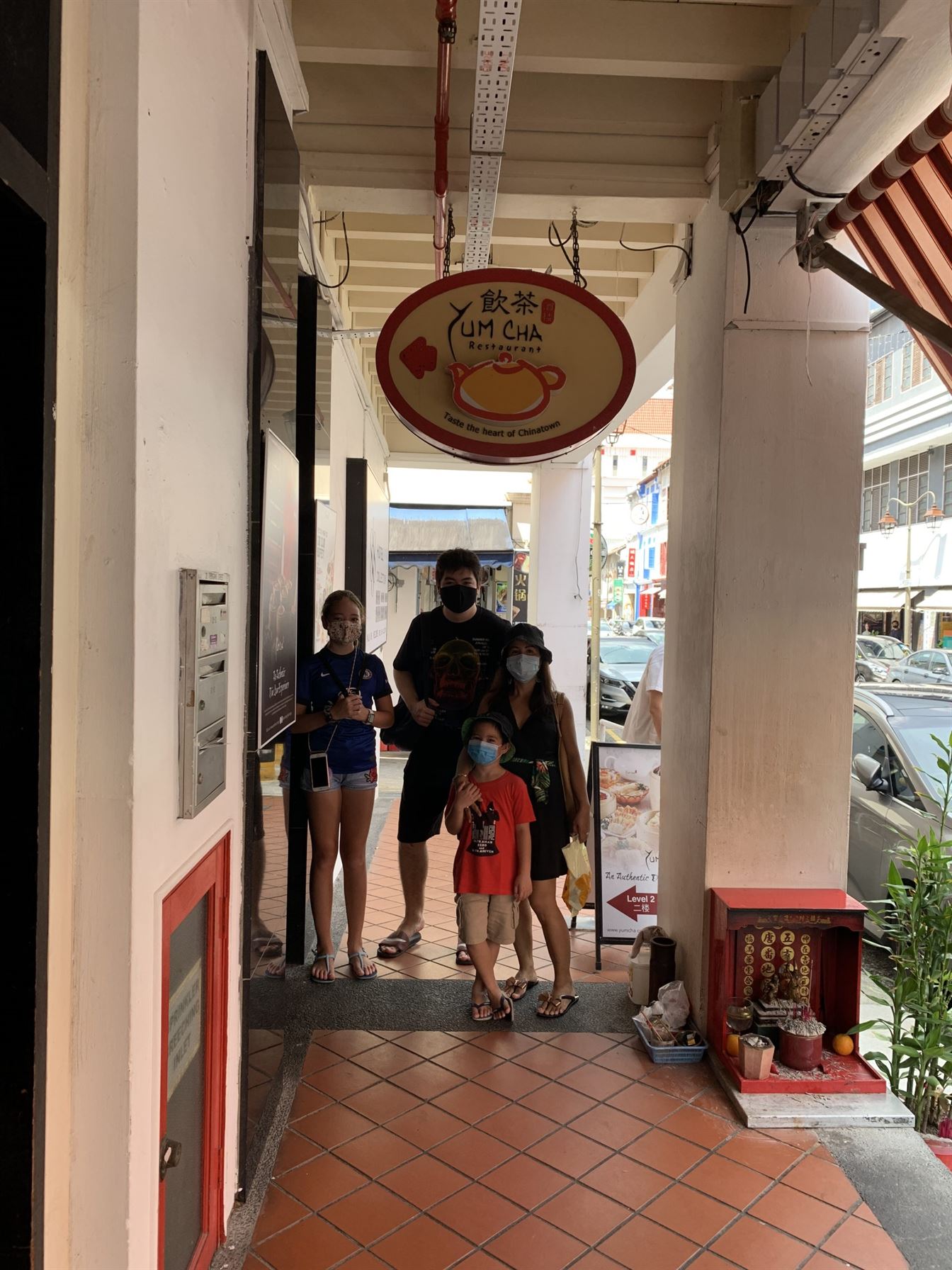 And now here comes the food. Chinese tapas if you will and a shit tonne of it. I tried to remember our old favourites from yesteryear and here we go.
Yum Cha @ Chinatown for Boxing Day Lunch
We also ordered the Sliced Fish Congee which Wifey had all to herself and said was a great choice. Jude Jude and I also ordered an amazing dessert, like a seriously good dessert. I would order this every day of the week that they simply call Chilled Mango Pudding. A stunner. The rest of the gang ordered the family favourite of Pomelo Sago in Mango Juice. Strawberry Blonde had two of these in fact. Sorry to Yum Cha, idiot me had clearly had a brain-fart and forgot to take some photos of these dishes. All were beautifully plated and were very delicious.
So there you go. Our 1st time back in something like 8-10 years and well worth it. A superb array of food and amazing variety. And all for an incredible price of $180 all in for all food and drinks. Just superb value for such a delicious spread. This was Yum Cha @ Chinatown for Boxing Day Lunch. Well worth a trip to the centre of Chinatown to visit them at 20 Trengganu Street (just off Temple Street) at #02-01 – ENJOY!!!
Connect with Us on Social Media
(Visited 151 times, 1 visits today)