Best Chinese Food on the East Coast of Singapore
When I first wrote this blog review about Yi Dian Xin Parkway, the place was a new restaurant in Parkway Parade. It was one of those: "Do we really want to eat in a shopping centre?" moments. But it was packed with our local mates all chomping away and that is a really good sign.
Let's have it then, and I tell you what I am so so glad we did, as this place is an absolute Rock Star of Chinese food and Dim Sum, perhaps some of the Best Dim Sum on the East Coast of Singapore? You'll have to come to validate that yourself.
It is off the charts good food at Parkway Parade and at incredibly reasonable $. We had a superb lunch this day at Yi Dian Xin Parkway Parade which is part of The International Treasures Group, which is up there with Michelin Star ratings for their other places up Orchard Road and the like. If you are an East Coaster you should make this your next lunch stop, because it really is just so very good!!!
Of course, you'll have to compare this to the likes of Din Tai Fung, which is also downstairs in Parkway Parade, also Michelin awarded, with multi-outlets, but also MONSTER queues. And also you'll need to compare to that other popular Chinese food and Dim Sum outlet-chain, Tim Ho Wan, that used to be at i12 in Katong. You make the choice, but what I liked about here was the variety and different menu options to Din Tai Fung and Tim Ho Wan. It is very different to their offerings.
Picture courtesy of Yi Dian Xin Instagram
In this Yi Dian Xin Parkway Parade Review, we will be giving you lots of information about this restaurant and its other outlets. Information such as;
The Yi Dian Xin Parkway menu
Other Yi Dian Xin outlets in Singapore
Yi Dian Xin Parkway opening hours
Imperial Treasure Yi Dian Xin delivery options
So read on, folks…
Let's get some of those Yi Dian Xin FAQ's answered by ISLIFEARECIPE-dia
The Yi Dian Xin Parkway menu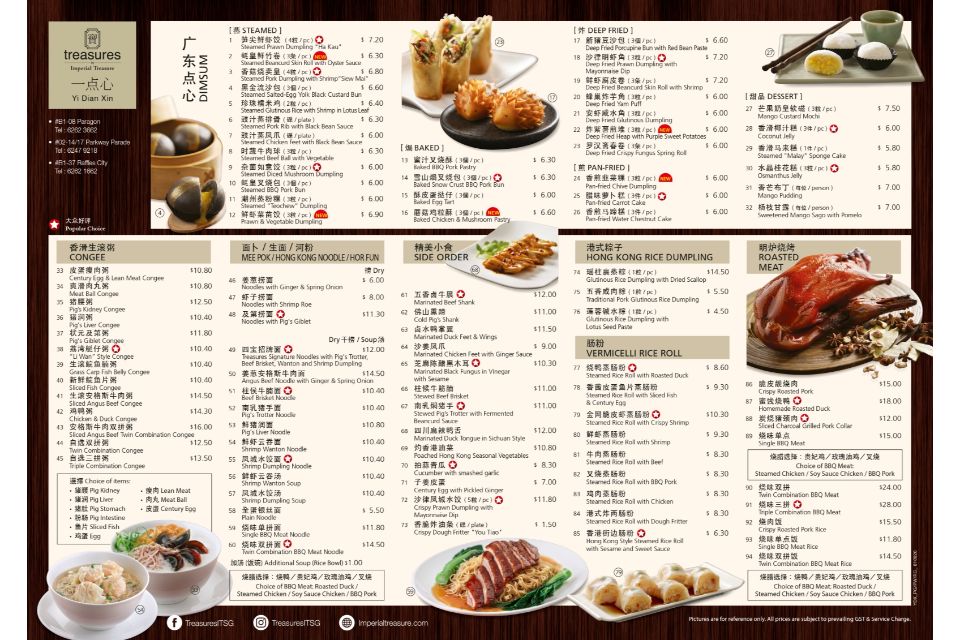 Let's hear from them and then we'll get to that splendid food
WOOF!!! Is all I have to say!!!
Up next is wifey's Congee with two Treasures; Sliced Fish & Century Egg Congee. OK, here she comes with her review. It was not a fancy dish, as it is just porridge with fish and egg, but it was addictive. It tasted so good. The fish was clearly very fresh, unlike the egg – both positives there then. The porridge was sticky, again in a good way. This is a drug. 
@ $10.40
This was another OMG moment in this restaurant. You have to try these, and please someone give this dish a Michelin Star. Char Siew buns? Nah not just any char siew buns, because these are called Baked Snow Crust BBQ Pork Buns. It's like a doughy bun, topped with crispy icing sugar, filled with savoury Char Siew. These are incredible buns,  simply THE BEST as you get a crunch, then gooey chewy and then a smash of savoury right between the eyes. A heavenly Dim Sum moment.
@ $6.30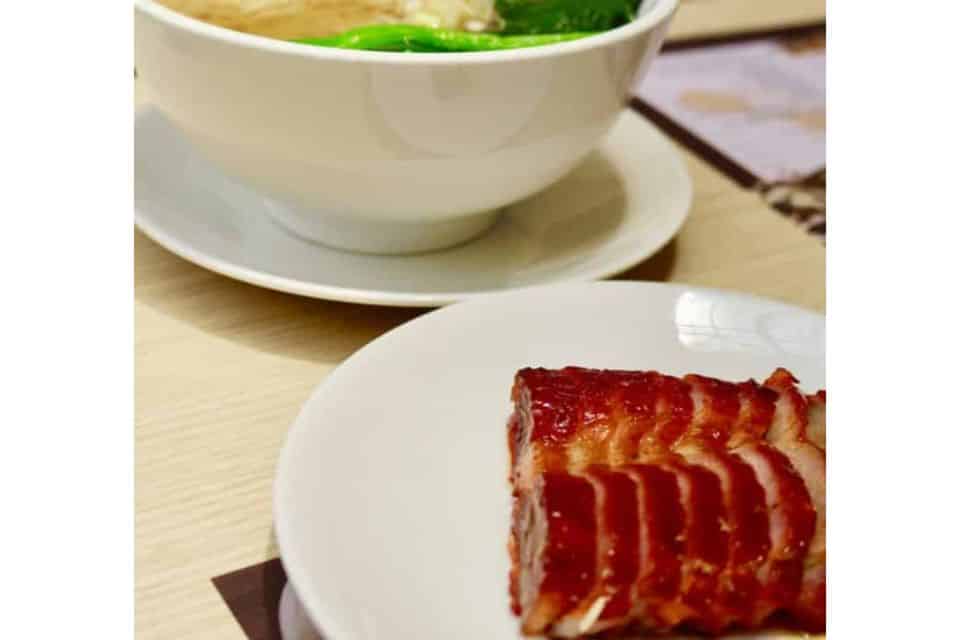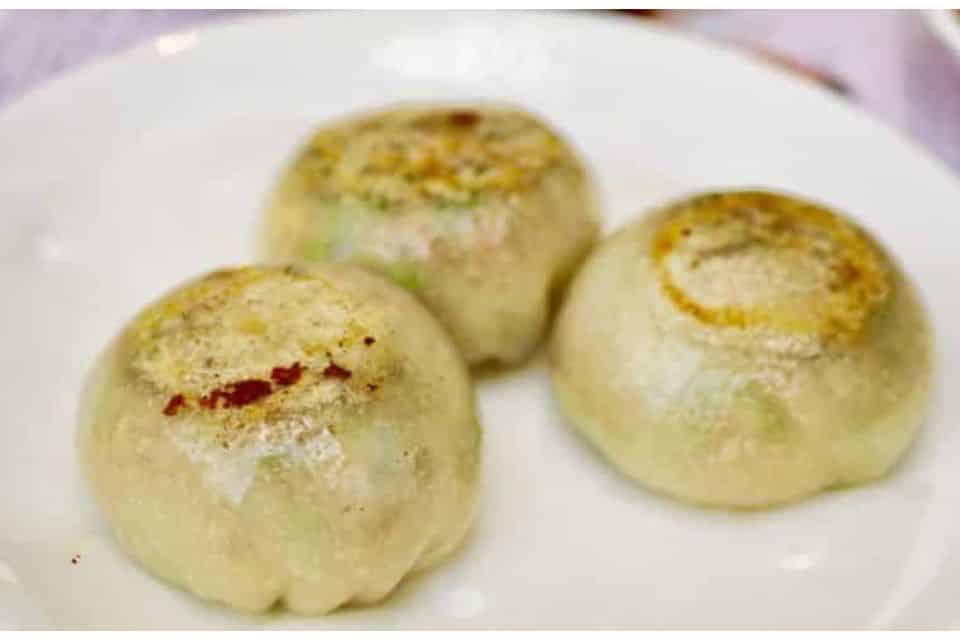 Single BBQ Meat Noodle for the kids – Amy has chicken with soy sauce, and Jude plumbs for this one the Char Siew. Both went for noodles with soup. It comes with quite a fishy broth, just to be aware. I think they both got into this one in a big way because there was absolutely nothing left on their plates or in their bowls.
@ $11.80
I ordered these – but deffo within was something a little fishy, so I outsourced them to my Mary. They looked stunning though, like the little Gyoza that my mother-in-law makes. Pan-fried dumplings. This version is Pan-Fried Chive Dumpling. Mary said this was really different from other dumplings, sticky crushed rice skin, salty on the interior, and she loved it.
@ $6.00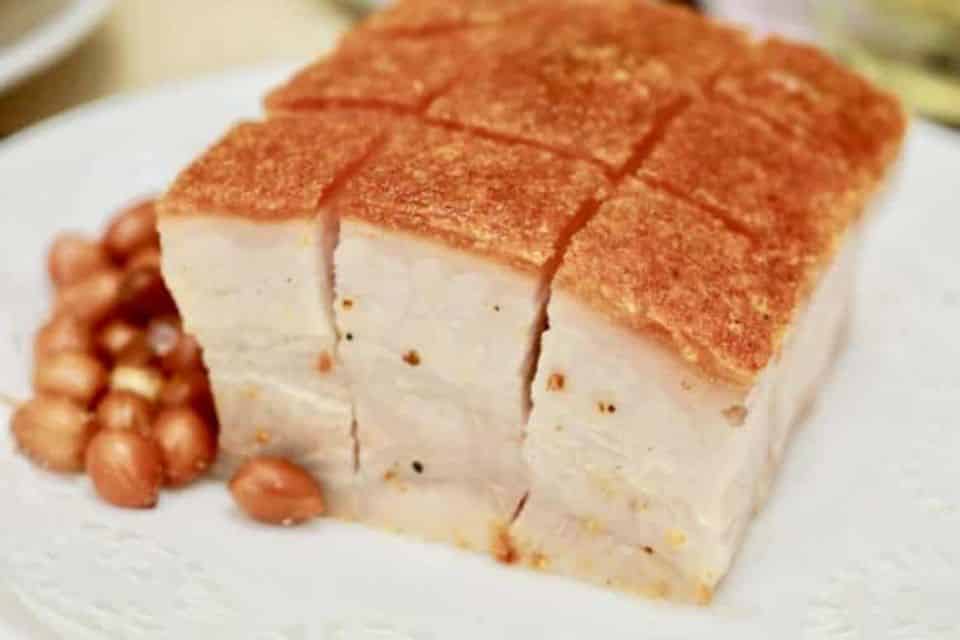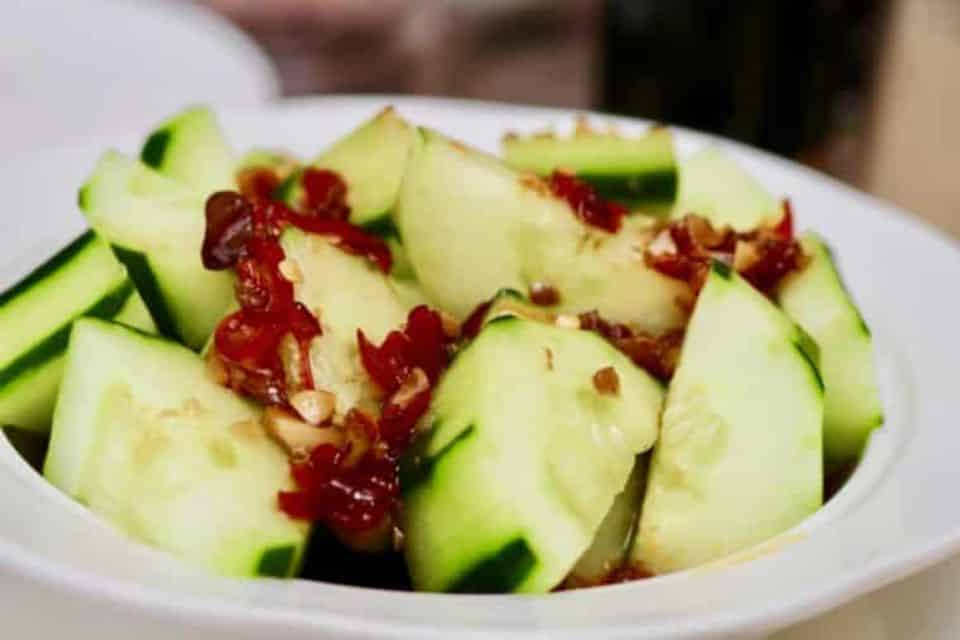 Yep, the Crispy Roasted Pork and English mustard is a cracker. Sorry though Yi Dian Xin Parkway, I still think ChillaxBBQ is best with our apple mustard puree, and balsamic reduction haha. Seriously though, this was so very very good. Loved it.
@ $15.00
As stupid as it may sound, this cucumber salad was just off the charts good. The sauce with this was insane, like absolutely insane. Crunchy cold cucumber, with this slightly spicy, sour liquor. It is called Smashed Cucumber With Garlic. Oh my goodness, the best salad dish EVER!!!
@ $8.30
One of their signature dishes and just how pretty does that look? Little black, charcoal buns full on oozing liquid gold salted egg yolk. Absolute stunners and a must-try if you come here. 
Steamed Salted Egg Yolk Black Custard Bun
@ $6.60
Maybe I was saving some of the best to last because this one is a major favourite for Wifey and me. It is sublime and likely the best vegetarian pancake roll you will ever eat.
Deep-Fried Crispy Fungus Spring Roll. We will always have two serves of this, one is just not enough.
@ $6.00
To compare Yi Dian Xin to other Chinese Dim Sum restaurants let's have a look at some other local reviews from ISLIFEARECIPE
Our conclusion on the dining today at Yin Dian Xin
So there you have it folks Yi Dian Xin Parkway. This is, in my humble opinion, a die die must try when yo visit Parkway Parade Shopping Centre. If you don't mind chowing down in a shopping centre, you simply must come to try. It is quality, with some of the best Chinese/Cantonese Dim Sum at such reasonable pricing.
You must try the;
Smashed Cucumber With Garlic

Steamed Salted Egg Yolk Black Custard Bun

Deep-Fried Crispy Fungus Spring Roll, and

Baked Snow Crust BBQ Pork Buns
It was just a superb lunch, and we all agreed this has become a new favourite restaurant for family Kennett and we will absolutely be a coming back. It is really so very good. I totally know you will absolutely love this place.
Follow us on Instagram & Facebook for more updates.
ENJOY!!!