Introducing Bar-A-Thym: An Exquisite Taste of France in the Heart of Singapore; 2023 Review
Welcome to Bar-a-Thym Singapore, or is it Bar a Thym Singapore, where French cuisine and contemporary dining converge. This little-known restaurant on Gemmill Street, off Club Street delivers an exceptional dining experience that will tantalize your taste buds and leave you wanting more. It is located right in the middle of Singapore, founded by the incredible Chef François Mermilliod. Here is the great man at work this night. This is our second Bar a Thym Review, and will include the Bar a Thym menu, and also lots of Bar-a-Thym photos.
Imagine mouth-watering foie gras that is ideal for indulging, juicy beef bourguignon that melts on your tongue, and luscious mussels presented in a flavourful broth. And that's just the beginning of the gourmet adventure at Bar-a-Thym by Francois Mermilliod has in store for you.
However, it goes beyond the food alone. You'll feel like you're in the streets of Paris thanks to the first-rate service and inviting ambiance. The enthusiastic crew will enlighten you as they guide you through the flavors and traditions of French cuisine with a contemporary touch.
Therefore, Bar-a-Thym is the place to go if you're looking for a distinctive and unforgettable dining experience that will whisk you away to Southern France. To learn more about the restaurant's distinctive dishes, creative takes on time-honored French meals, and comprehensive wine selection that will up the ante on your dining experience, keep reading.
Short answer: Bar-a-Thym is a French restaurant that is tucked away in the center of Singapore and offers excellent service, a pleasant ambiance, and creative takes on traditional French fare. Read on for more of our Bar a Thym Review.
Nestled in the bustling city of Singapore, Bar A Thym is a hidden gem for food lovers seeking an authentic taste of French cuisine. With an innovative approach to classic dishes and a charming atmosphere, the restaurant offers a unique dining experience.
Mussels that Live Up to the Hype
One of Bar A Thym's standout dishes is the signature mussel dish, which the restaurant often announces on a whim through their Instagram or Facebook blasts. We recommend reserving your seats in advance to taste the succulent mussels, which are served in a flavourful broth that will leave your taste buds dancing.
Exceptional Service and Atmosphere
In addition to the delectable food, Bar A Thym boasts exceptional service and a cozy atmosphere that transports diners to the heart of France. The restaurant's attentive staff are passionate about the food they serve, and they go above and beyond to ensure that every guest has an enjoyable dining experience.
Unique Takes on Classic French Dishes
While the mussels are a must-try, Bar A Thym's menu features a variety of other dishes that are just as impressive. From the juicy beef bourguignon to the creamy foie gras, each dish is thoughtfully prepared with a modern twist on traditional French recipes.
Wine Pairings to Elevate Your Dining Experience
What's a French meal without a good wine pairing? Bar A Thym offers an extensive wine list that perfectly complements the flavours of each dish. The restaurant's knowledgeable sommeliers are always on hand to recommend the perfect bottle to elevate your dining experience.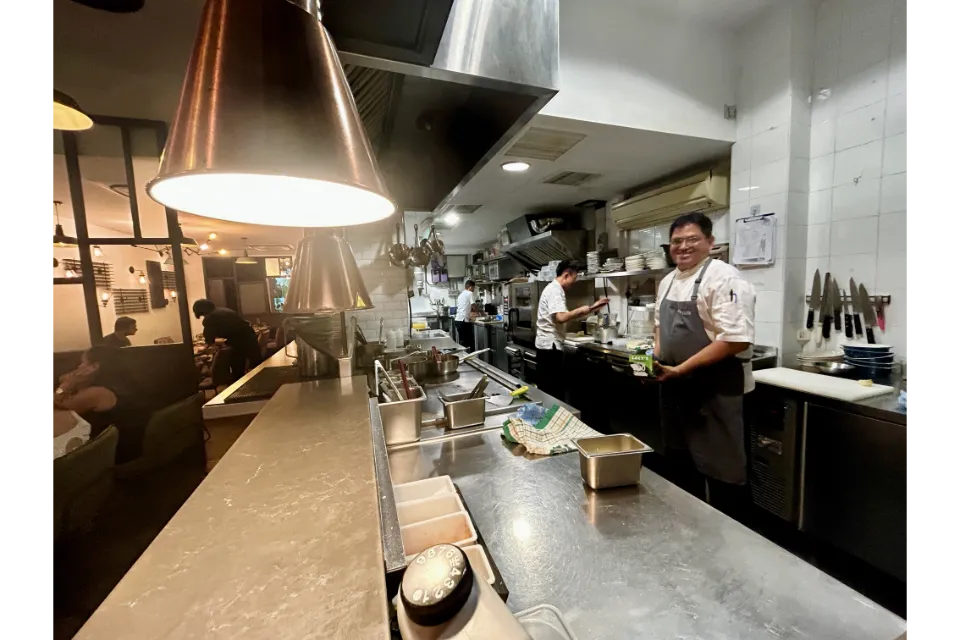 Conclusion
In conclusion, Bar A Thym is a must-visit restaurant for anyone looking for a taste of France in Singapore. With its exceptional service, charming atmosphere, and innovative approach to classic French dishes, it's no surprise that the restaurant has become a favourite among locals and tourists alike, hence this being our second Bar a Thym Review. We highly recommend making a reservation to indulge in their signature mussel dish and explore the rest of their delectable menu.
And don't forget to thank that hard working  crew in the kitchen. It's their labour, skill and creativity that is going to tantalize and amaze your sate buds when you done. I recommend the tables straight across from the kitchen. If you're a foodie you'll get this decision. There is nothing like watching the workings of a kitchen, and restaurant. It's a symphony.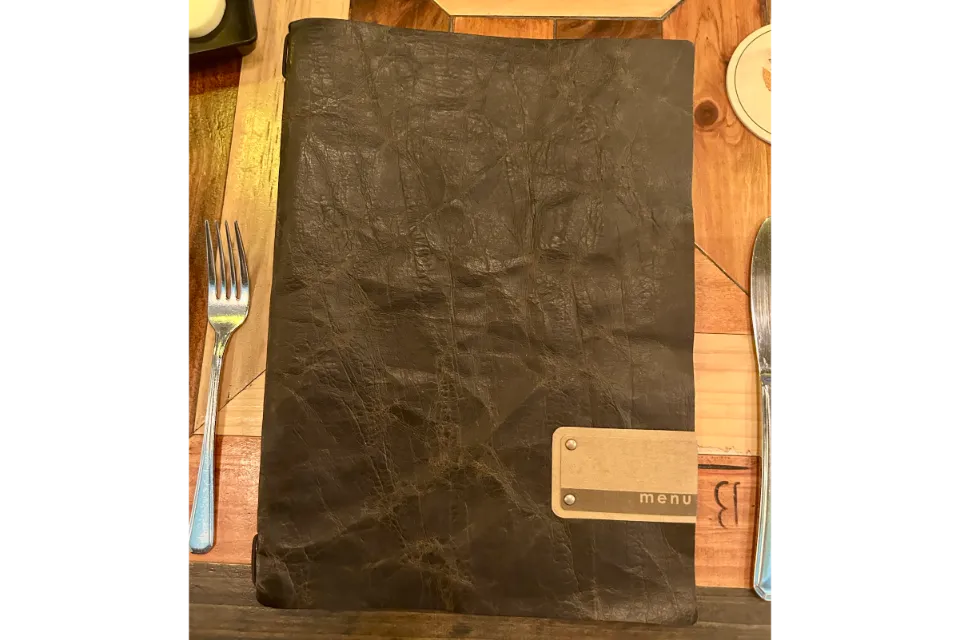 In fact there are two Bar a Thym Omakase Menu on offer;
Lunch Omakase
$88++ , $108++ , $128++
Dinner Omakase
$108++ , $128++ , $158++
Additional Wine Pairing from:
$68++ onwards with Lunch
$88++ onwards with Dinner
Here is what we dined on from the Bar-a-Thym Menu.
Here come a heap of Bar-a-Thym photos.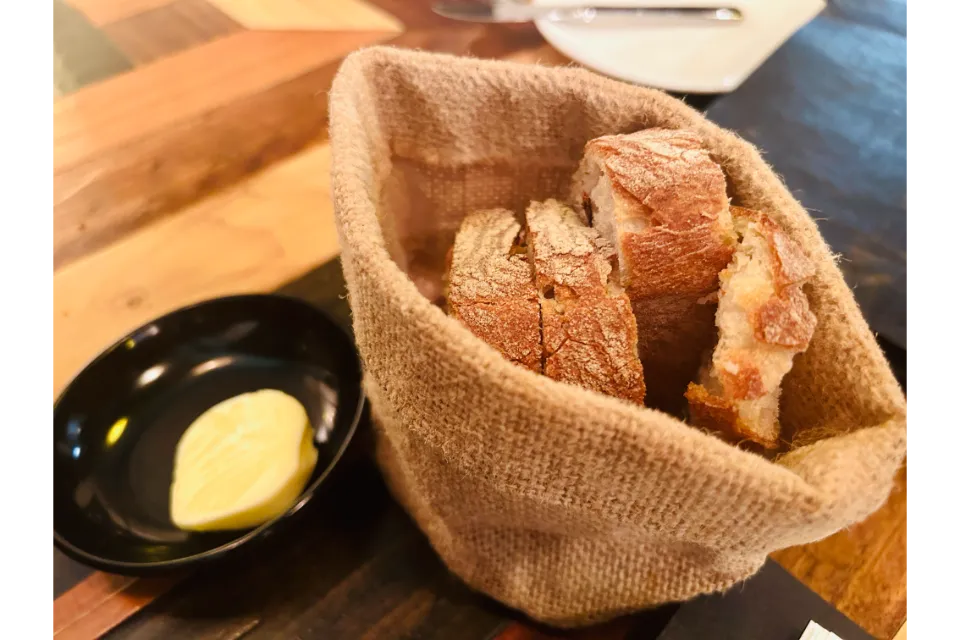 Basket of Heritage Bread
I know right. Hey, it's just bread. So what? Without a doubt, this is some of the finest bread I have eaten. The crunch on the crust was almost like bark. And then, with that butter. Incredibread. I think I ate this whole bag, I literally could not stop.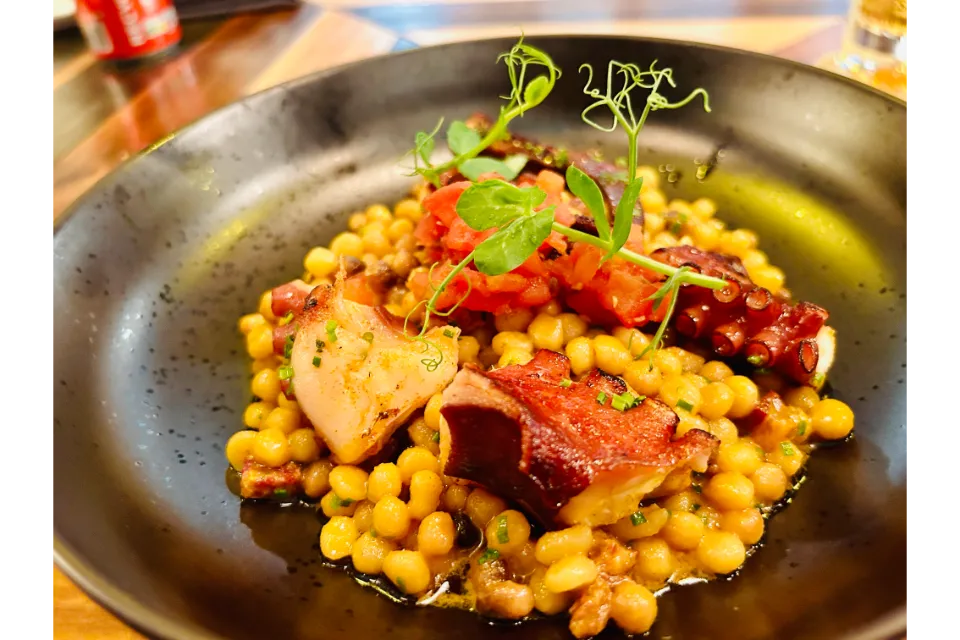 Fremantle Octopus à la Plancha Chorizo, Fregola Sarda Spicy Tomato Chutney
@ $38
Wifey is still giving the number one spot for the best octopus dish in Singapore to Spago at MBS. One little call out for this dish. The little round things are not chickpeas, as I thought. That is actually pasta.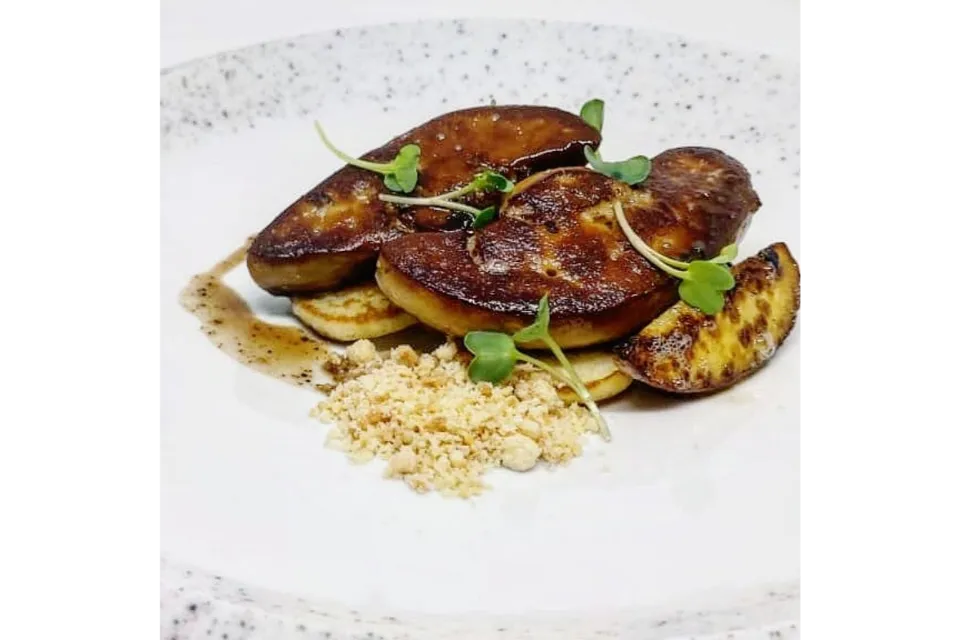 Pan Seared Foie Gras White Peach, Blinis
@ $42
Photo courtesy of Bar-a-Thym Facebook
Massively unctuous and super-creamy, with slightly sour charred peaches. We wolfed this down.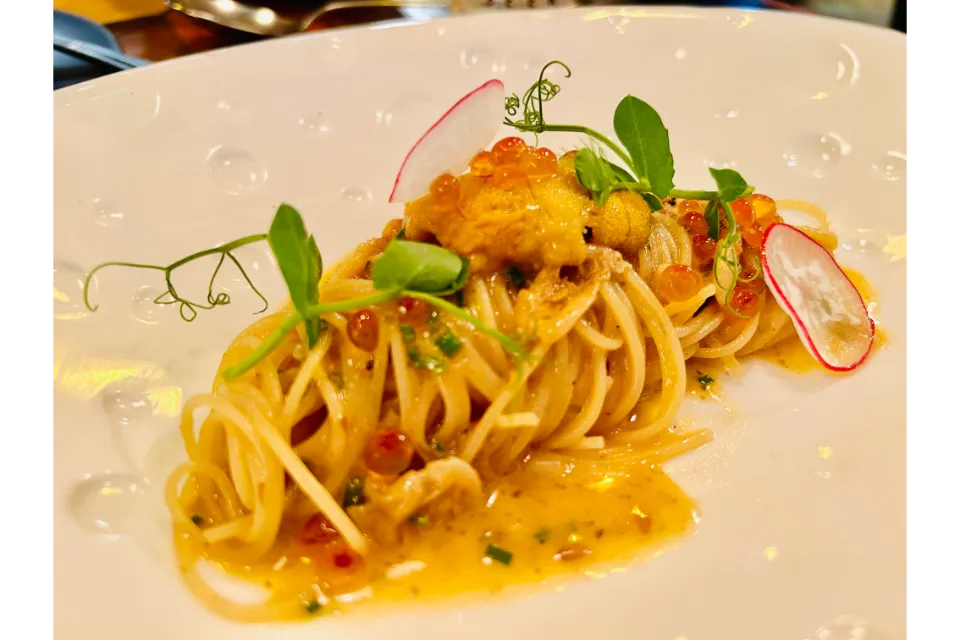 Fresh Uni, Angel Hair Sakura Ebi, Ikura
@ $48
Wifey was not sure of this dish, giving it an 'average' thumbs up. Looks beautiful, but has still given the hallowed winning spot for this style of the dish to The Winery Siglap.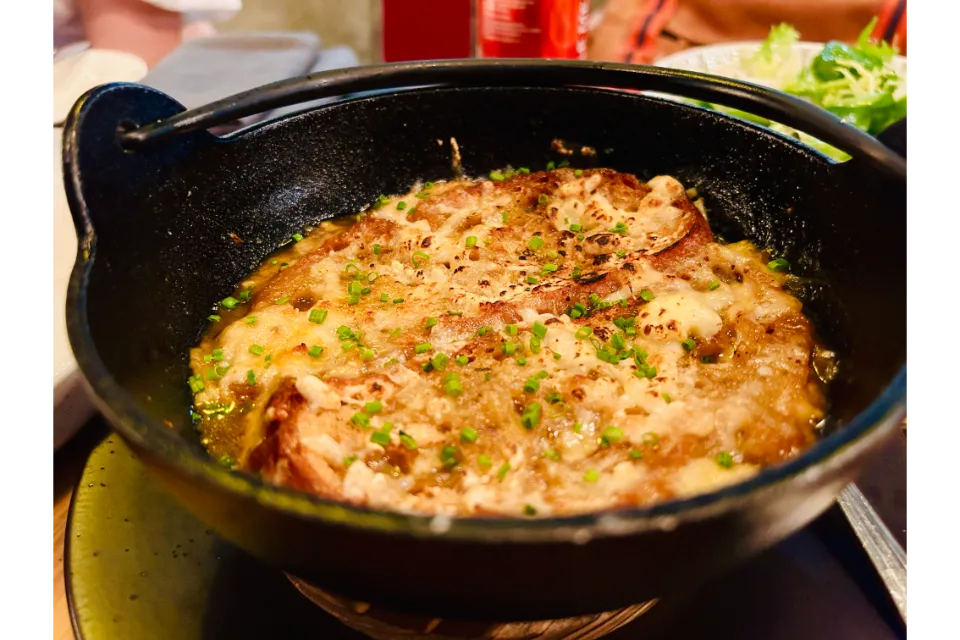 Gratinated French Onion Soup Cheese, Croutons
@ $18
Oh boy, another cracker. I have to assume this is oven-baked as the soup soaks into the bread, and forms a crust with the melted cheese. Insanely good soup. Super-sweet from the slow-cooked onions, but then a little sour in there (maybe a little Balsamic). It's an absolute cracker.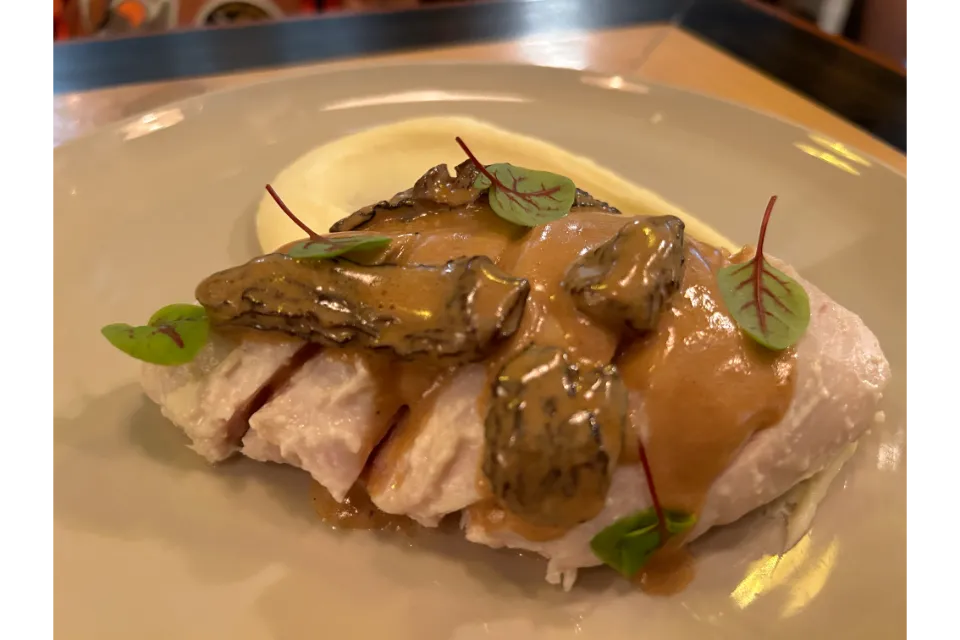 Organic Chicken Breast Morels, Vin d'Arbois Lemon Mash
@ $44
This is the dish that BLEW MY MIND. Have you EVER eaten a chicken breast that melts in your mouth? Personally, I have not, until now that is. The very best chicken dish ever to cross these beardy lips. It's like a cloud of chicken, with a super punchy sauce, the most incredible Morels, and then a zing of lemon mashed potatoes.  What a dish. A must-try. WOW!!! Great work Bar-a-Thym. (PS; I did ask Chef how they make it, and now I know… I might try my own version. Shhh it's a secret.)
Hand-Cut Steak Tartare
Kimchi, Dried Egg Yolk
Fries & Mesclun Salad
@ $46
Photo courtesy of Bar-a-Thym Facebook
Oh my golly gosh. What an incredible tartare this is. The Kimchi and shaved egg yolks send it off on another level. Savoury, sweet, sour, and a little spicy. An absolutely beautiful version, one of my all-time favourites of ever. Great job Bar-a-Thym.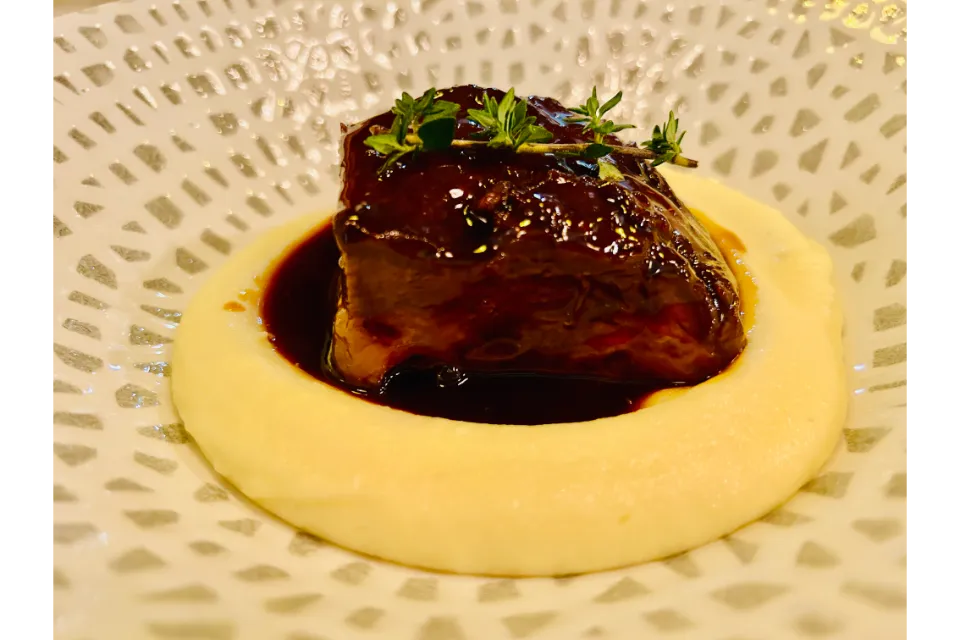 Braised Angus Beef Cheek
Mashed Potatoes
Red Wine Jus
@ $46
A dish to die for. The best of best Jus I have ever consumed. Touch-and-fall-apart beef cheeks, so unctuous, fatty and tender. Then the lightest, fluffiest, creamiest mashed potatoes. This was a WOW dish that we all got stuck into. Amazing!!!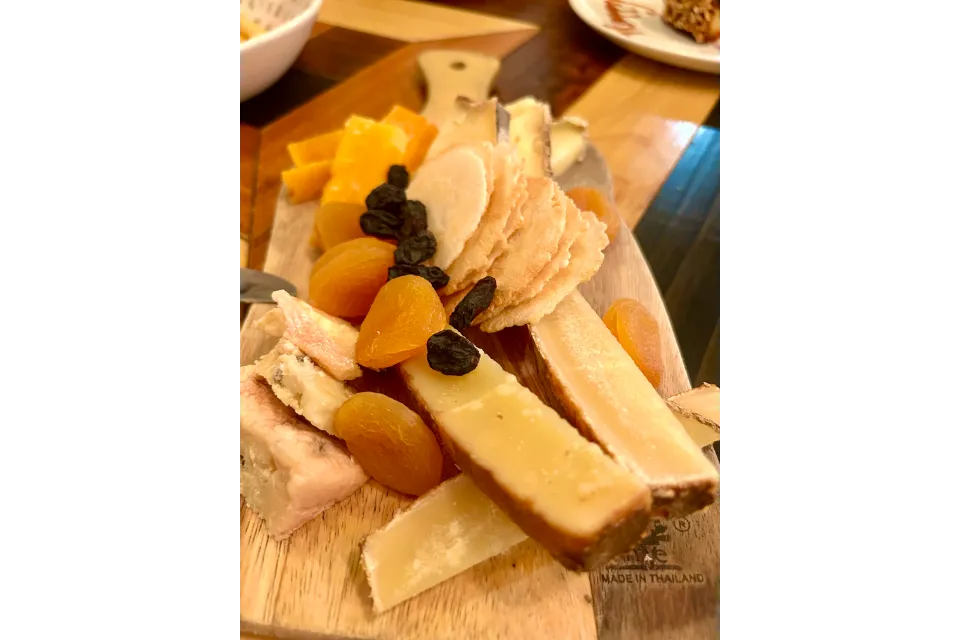 French Farmed Cheese Selection
From $32
I tell you there were some punchy cheeses in this mixed bag. Massively artisanal in look, taste and texture. We ordered a Kopke Tawny Port and a Kopke Colheita Port to wash these down. A match made in foodie heaven.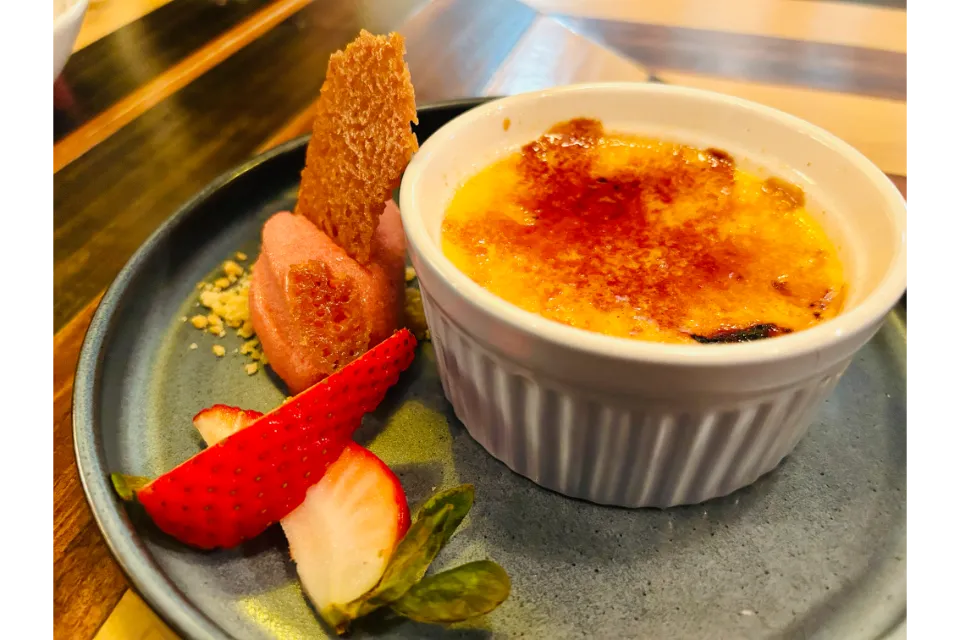 Bar a Thym Creme Brulee
@ $15
Not on the menu online, but this beauty surely was this night. Up there with the best, we have ever had at Chris Salans' in Bali.
Two dishes we did not purchase this day that I had to take a snap of and share were...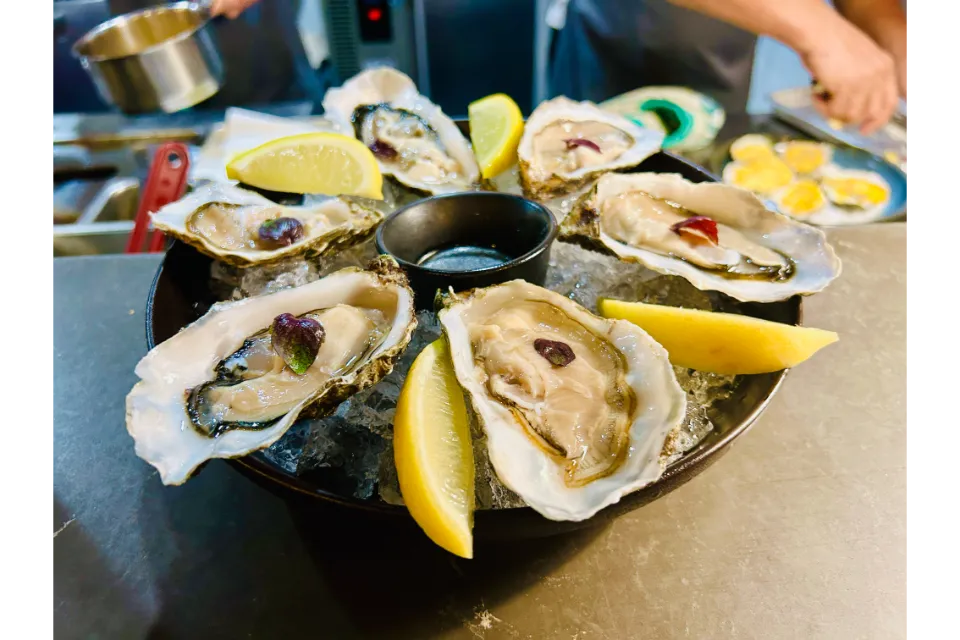 Naked and Baked OYSTERS. They look stunning, don't they?
I think these were both from the specials menu, but on the menu is this option to give you an idea of the price.
Half Dozen Freshly Shucked "Jérôme Miet"  Special Oysters N3 Mirin-Ginger Dressing
@ $42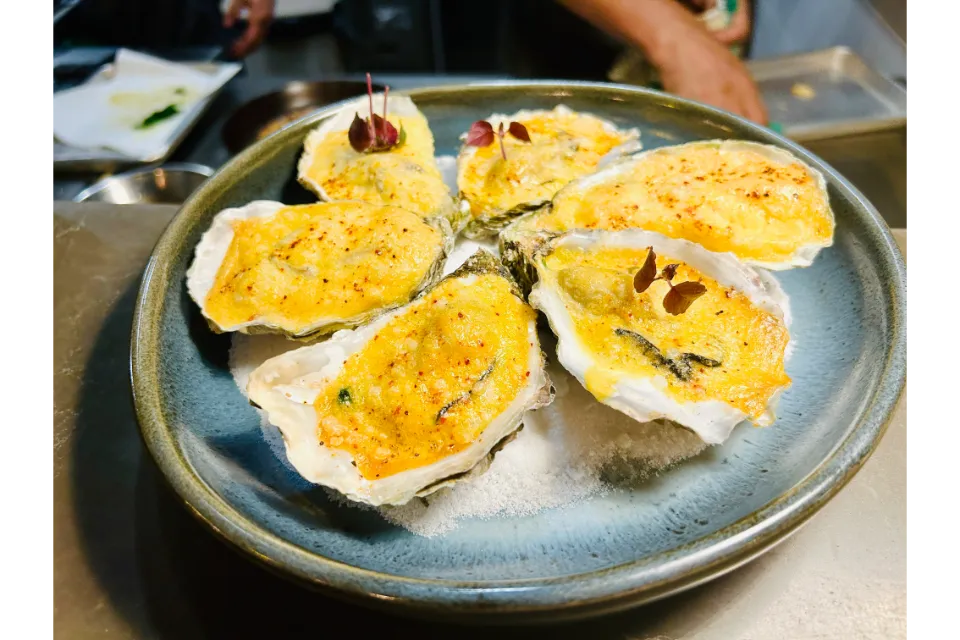 What does Bar a Thym have to say about itself?
Let's hear about the amazing Chef François Mermilliod
Watch this space for the next ISLIFEARECIPE.net review of Bar-a-Thyme's Whole Lamb BBQ
Only on special occasions does Chef open up the garden and get this bad boy on the BBQ pit. I hear the next special might be something for Mother's Day. If Chef is carving this beauty, I am on the way!!! My business partner, Spencer, already had that luxury at one of Chef's specials for Easter.
Picture courtesy of Bar-a-Thym Facebook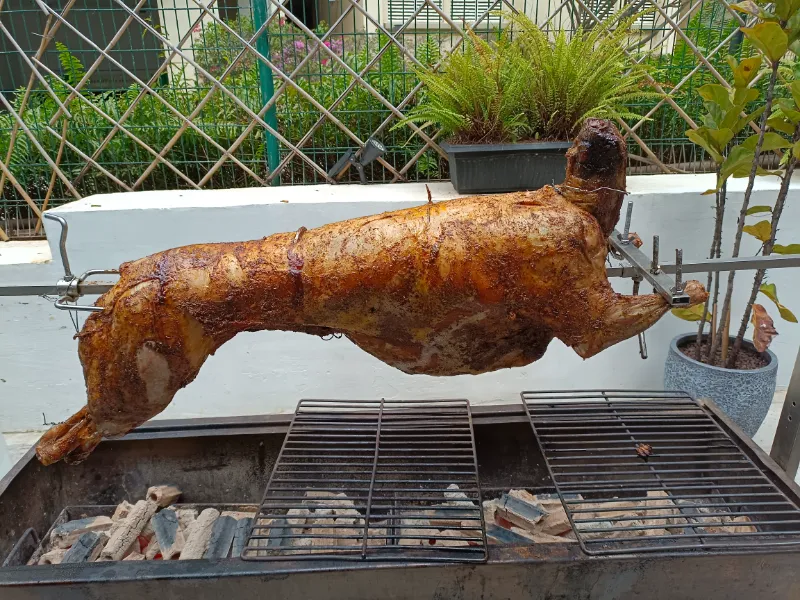 The Long History of French Cuisine and Bar-a-Thym
French cuisine has a long and varied history. Regional differences and cultural influences have shaped the distinctive flavours and cooking methods that we know and appreciate today. In this essay, we examine the intriguing development of French food from its modest beginnings to its current position as one of the most renowned cuisines in the world.
The Function of Herbs and Spices in French Cuisine
The use of herbs and spices to improve flavour is one of the distinctive aspects of French cuisine. Each ingredient, from flavourful thyme and rosemary to savoury garlic and onion, is essential to the overall flavour and scent of a dish in French cookery, as well as their culinary and health benefits. 
French Cuisine's Emphasis on Presentation
Presentation is equally as essential to taste in French cuisine. Making visually attractive dishes that are a feast for the eyes as well as the palate is part of the plating art. In this section, we talked about how French cuisine uses visual aesthetics, such as the use of colours, textures, and shapes, to produce beautiful dishes. 
French wine and French food pairing
Without a glass of wine that is precisely matched, no French meal is complete. French wine is recognized for its range and complexity, from clean whites to robust reds. The art of wine pairing and the best wine types to combine with various French cuisines are covered in this blog. The wonderful crew at Bar-a-Thym is on standby to assist with any pairing choices.
French cuisine's use of ethical and sustainable sourcing
Sustainable and ethical sourcing is becoming more and more popular in the food sector as people become more conscious of the effects that food production has on the environment and society. The Chef examined how ethical and sustainable sourcing affects his and French cuisine, including the use of organic and locally obtained foods, fair trade principles, and considerations for animal welfare. We also talked about how Bar-a-Thym Restaurant by Francois Mermilliod incorporates ethical and sustainable principles into its operations and cuisine.
In summary, French cuisine is a vibrant and constantly changing culinary heritage with a significant historical and cultural background. Each element of French cuisine contributes significantly to the creation of a memorable dining experience, from the use of herbs and spices to the art of plating and wine pairing. We can continue to appreciate and celebrate this cherished culinary history for years to come by embracing ethical and ecological practices and learning about the varied flavours and techniques of French cuisine.
We hope you enjoyed this Bar a Thym Review, and those Bar-a-Thym photos.
What are the contact details of, and how to make a Bar a Thym reservation
What are the opening hours of Bar-a-Thyme Singapore?
Monday – Wednesday 
Lunch: 11.30am – 3.00pm
(Last order for lunch – 2.30pm)
Dinner: 5.30pm – 12am
Last order for food – 10.30pm
Last order for drinks – 11.30pm      
Thursday – Saturday
11.30am – 12am
Last order for food – 10.30pm
Last order for drinks – 11.30pm
Bar-A-Thym Restaurant Address & Telephone Number
Address: 
18 Gemmill Lane, Singapore 069255