Tanyu Grilled Fish to open a new location on the first floor of Parkway Parade
Tanyu Grilled Fish is a popular restaurant known for its Chongqing-style grilled fish. Originating from China, Tanyu has expanded its presence to Singapore and offers a diverse menu of grilled fish with various flavours to choose from. The restaurant is part of Skyline Catering Pte Ltd and aims to provide customers with an authentic and flavourful dining experience.
It is now to open to a new location on the East Coast, on the first floor of Parkway Parade, towards the back where Harvey Norman used to be located – now a rather exciting food hub. Islifearecipe.net is giving you the scoop that you'll soon be able to dine at Tanyu Grilled Fish Parkway Parade.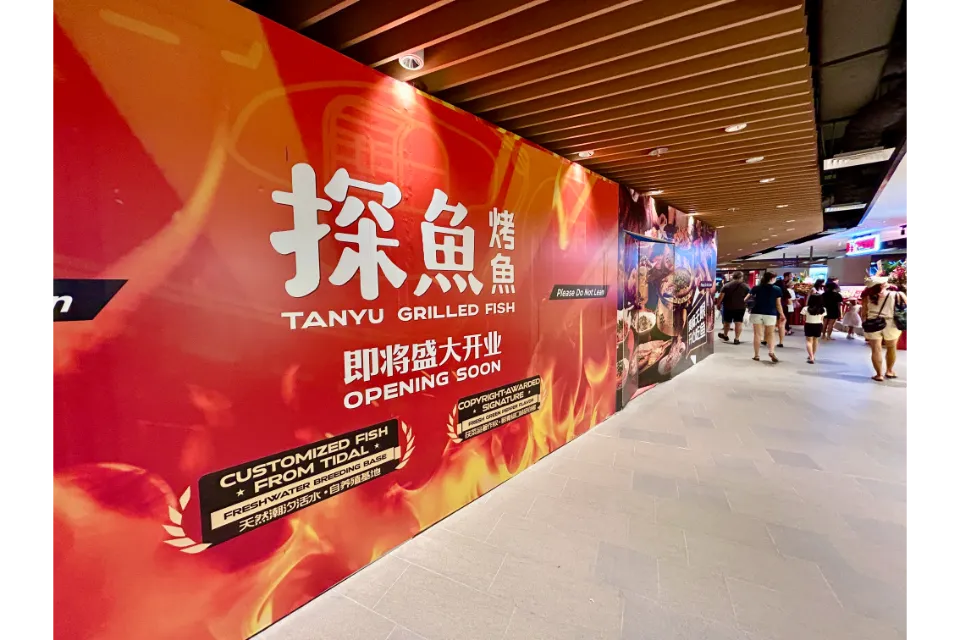 In Singapore, Tanyu Grilled Fish has several outlets, including this new one located at Parkway Parade. The Parkway Parade outlet will be found at 80 Marine Parade Road towards the back of the first floor, and it will offer the signature Chongqing Grilled Fish with Green Pepper, which is highly recommended for its delightful taste.
The restaurant's menu features a selection of fish types, including Limbo Fish, Qingjiang Fish, and Sea Bass, each available in different sizes and prices. Customers can choose their preferred fish and flavour to suit their taste preferences.
Tanyu Grilled Fish has garnered positive reviews from customers, with many praising the delicious and authentic taste of their grilled fish dishes. The restaurant's popularity has also led to its expansion in various cities in China and overseas locations, including Singapore.
---
---
Our conclusions of Tanyu Grilled Fish Restaurant
As we conclude our delightful review at TANYU Grilled Fish, we can't help but marvel at the fiery and numbing flavours they will be be bringing, that will end up leaving a lasting impression on our taste buds. This famous and highly popular grilled fish chain restaurant has made its mark with its authentic Chinese dishes and, of course, its signature Grilled Fish with Fresh Green Pepper.
The star of the menu, the Grilled Fish with Fresh Green Pepper, is sure to take you on a tantalizing ride of spice and flavours. Opting for the Limbo Fish, known for its tender and succulent meat, you'll venture into the realm of super spicy goodness. The fish will arrive adorned with an abundance of green chilies and peppercorns, creating an explosion of fiery spiciness that will be undeniably addictive (despite the 'pain'). Each bite will be a burst of flavours tantalizing your taste buds, leaving you craving for more.
There will also be the irresistible Golden Combination. Sliced potatoes, lotus root, enoki mushrooms, and savoury luncheon meat expertly paired with the spicy broth, creating a delightful mix of textures and flavours. The combination of tender fish, fiery broth, and diverse elements in the Golden Combination truly make this meal a memorable and satisfying culinary adventure.
To balance out the heat, why not enjoy the classic combination of Cucumber with Minced Garlic. The crisp and juicy cucumber will serve as a refreshing palate cleanser, providing a soothing contrast to the intense spiciness.
Beyond their signature Grilled Fish, we bet TANYU will surprise you with a wide selection of tantalizing dishes. From Grilled Tiger Prawns with their succulent meat to the creamy Grilled Eggplant infused with minced garlic, each dish is guranteed to leave a unique mark on your culinary journey.
Islifearecipe.net can't help but appreciate TANYU's dedication to quality ingredients and exceptional preparation. Their Grilled Fish with Sauerkraut, is soaked for 550 hours in an old altar pickled mustard greens from Yunnan, offered a new flavour spectrum of sourish-tangy combined with just the right amount of spice. The restaurant's commitment to creating an unforgettable dining experience is evident in every dish they serve. My Wifey is very excited for this Tanyu Grilled Fish Parkway Parade to open.
---
What is the address of Tanyu Grilled Fish Parkway Parade?
The unit number is #01-36 (get ready for their opening offers soon, watch this space!)
People also asked about Tanyu Grilled Fish
What are the signature dishes at TanYu Grilled Fish?
TanYu Grilled Fish offers a variety of signature dishes, with their most popular menu item being the Grilled Fish with Green Pepper (S$39.90) featuring the recommended Limbo Fish. The dish is known for its enticing smell of peppercorn, which adds a numbing effect to the mouth and balances out the salty gravy. Additionally, for those who prefer a non-spicy option, they can try the Grilled Fish with Soy Sauce (S$42.90) featuring the Qingjiang fish, offering a sweet and savoury flavour profile. Both dishes are prepared with fresh fish weighing a hefty 1.2kg each, ensuring a succulent and flavourful dining experience.
Can I customize the spiciness level of the grilled fish at TanYu?
Yes, at TanYu Grilled Fish, customers have the option to customize the spiciness level of their grilled fish. While most of the flavours on their menu are spicy, they do offer a Grilled Fish with Soy Sauce for those who prefer a non-spicy alternative. This allows diners to enjoy the dishes tailored to their taste preferences. Whether you're a fan of intense heat or prefer a milder flavour, TanYu caters to various spice preferences.
What other barbecued items are available at TanYu besides grilled fish?
In addition to its famous grilled fish menu, TanYu offers a selection of other delectable barbecued items. Some of these items include the Grilled Eggplant (S$3.50) seasoned with minced garlic and cumin, providing a soft and creamy texture with a slight crunch. Diners can also enjoy the Grilled Tiger Prawns (RM21.90) featuring juicy and succulent prawn meat. Moreover, the Golden Combination (S$10.90) is a popular side dish that includes enoki mushrooms, crab sticks, potatoes, and lotus roots, all cooked under the fish to absorb the flavourful gravy. These delightful options complement the grilled fish selection, making the dining experience at TanYu a memorable one.
How is the Grilled Fish with Green Pepper different from the Grilled Fish with Soy Sauce in terms of taste?
The Grilled Fish with Green Pepper (S$39.90) at TanYu is known for its spicy and numbing flavour profile. The fish is covered with green bell peppers and topped with peppercorns, providing a delightful and fiery sensation to the palate. On the other hand, the Grilled Fish with Soy Sauce (S$42.90) offers a contrasting sweet and savoury taste. The Qingjiang fish used in this dish is flavoured with soy sauce, giving it a distinct and enjoyable flavour. While the Green Pepper variant focuses on bold spiciness, the Soy Sauce variant caters to those who prefer milder flavours. Both options offer unique and delightful taste experiences for diners to savour.