Breaking news August 2022 is that 555 Villa Thai has closed its doors for the last time
Yes, folks, it is with a heavy heart that we announced yet another family favourite restaurant that has now fallen by the wayside. 555 Villa Thai is officially closed and will operate. no more. It was quirky and fun, and in a crazy location with some really good food.
She'll be missed, but we do hear a rumour that something will be opening in the same location. We'll keep our feelers out and hope to post on that soon.
They sure were quirky at Villa Thai, even spinning up their own version of The Rolling Stones logo for their Thai Bistro Bar.
555 Thai Villa Review 2022
555 Thai Villa, also known as 555 Villa Thai, is a cracking Thai Mookata restaurant down at Changi Airport. I kid you not it is literally overlooking one of the runways. You sit there and dine and through the fence watch all the planes landing and taking off right before your eyes. Being quirky they have even got a road sign up giving directions to Bangkok airport and pointing at Changi Airport. That is 555 Villa Thai for you, quirky, and this is out 555 Villa Thai Review in 2022 just for you.
When you arrive at 555 Villa Thai you see a big marquee-style tent and a huge car park. A lot of run-down old stuff like Vespas, Tuk-Tuks, and even a boat. In fact, it is generically run-down full stop. Part of the charm of 555 Mookata? Yes, it is. It does indeed remind you of being in Thailand actually. Well, it did me.
555 Villa Thai is located at 30 Cosford Road, which is never going to be a walk-in location for the restaurant and it is so so far away and in the middle of nowhere that I implore you to book ahead. You do not want to get out of a taxi at Mookata Changi and get rejected for a table. There is nothing else to do apart from plane spotting.
To make it even more quirky at 555 Villa Thai you need to understand the meaning of 555 in Thai. ห้า​ร้อย​ห้า​สิบ​ห้า. What does that mean? Writing 555 is the same as using hahaha or lol in your message. The word for 5 in Thai sounds like Ha. And there you have it. So are they saying this restaurant is LOL?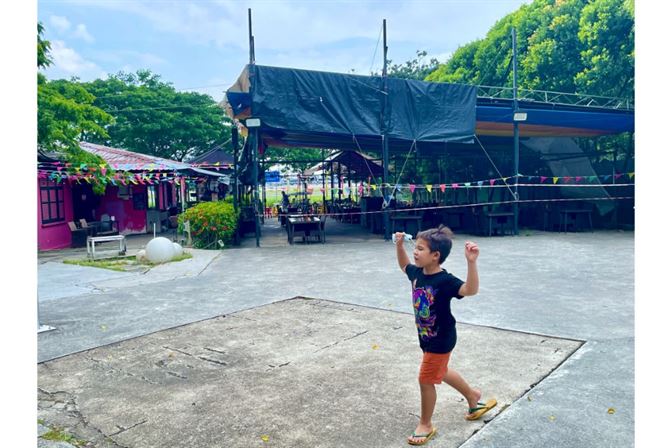 See what I mean? It really is a big car park at the airport with a huge marquee, tent thing. Quirky enough for you?
Before we dine we have to pass through this rather stringent security. He is one mean-looking security guard…
I love this. You stand here in 555 Thai Villa, in that car park with a big tent. You then see this sign directing you to  Bangkok Airport and right in front is our airport Changi. Classic. This really is a Mookata @ Changi.
Then I spotted these other signs and went down memory lane. I've been to a few places listed here. Some I will absolutely never go to again. I'm sure some of you reading this will know what I mean. Brilliant bit of memorabilia though haha.
The staff was aloof to start, akin to invisible, but got much better and attentive as the night wore on and food and drink started to flow. We were escorted and sitting under the stars and then they all disappeared. OK, admittedly we were about 5 minutes before opening time. But what else to do in the middle of nowhere?
We asked to be seated. When it started to rain we just moved on our own accord to another table as no one was to be seen to help us. We then got some orders in and luckily we did because cars by the dozen then descended on this car park restaurant that is Thai Villa 555.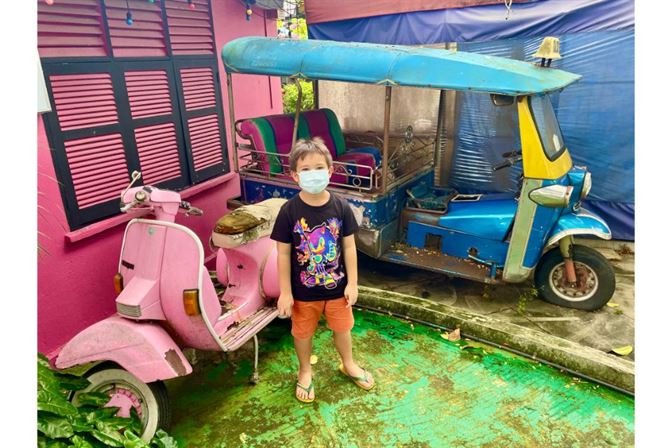 I think their transport home offering is in need of some TLC though. I am not sure I'd trust that Tuk-Tuk to take me home from 30 Cosford Road, and I think a load of 555 Mookata might be thrown up on route. But I'd kill to have that pink Vespa restored to all her glory. That's a beauty in the making. My mate Chester would love this (maybe not the colour).
Have a watch of our Singaporean food Vlog of our dining experience at 555 Villa Thai
Quite surprisingly, unlike most Thai Mookata restaurants the 555 Thai Menu is small. It is augmented by an al la carte and set menu option for the 555 Villa Thai Mookata, but the main al la carte is small. Less is more though as the food is genuinely excellent and authentic Mookata @ Changi.
Today we blended. Jude jude and I went overboard with the Mookata Thai BBQ (way too much ordered it has to be said) and the rest of the family went for al la carte options like Lemongrass Chicken, Blood Clams Salad, Deep-Fried Garlic Pork, and much more. It was superb food. Absolutely delicious and very authentic and you can't beat Mookata @ Changi because it is on coal not electric. The extra flavour you get from the smoke is all-consuming when you eat the food.
Let's hear what 555 Villa Thai has to say about themselves (it's sparse like the tent in the car park haha)...
Let's have a look at the food we consumed tonight from 555 Thai Menu
Blood Cockle Salad. Not a favourite raw dish and the girls immediately asked for it to be packed. They took it home, and they loved it cooked. I have to say though it looks beautiful plated. Good work 555 Mookata.
@ $15
Deep-Fried Garlic Pork. I got into some of this and it was a stunner. I'd compare this to pork and garlic jerky. Cold beer is a must to accompany this. "Another ice-cold Chang please my good man." ….. "Hello. Is there anyone there????"
@ $10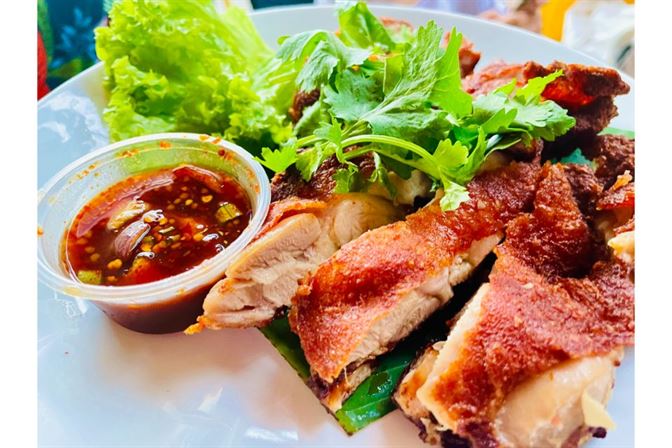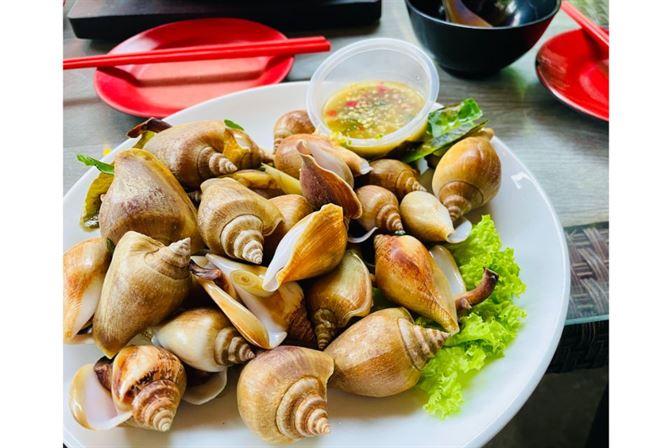 Lemongrass Chicken. My goodness what an absolutely cracking chicken dish. This is as moist as any chicken dish I have ever had with a super-crisp skin to absolutely rollover and die for. It was so very flavourful and just crisp and crunchy and beautifully moist. What a beauty and the dippy dip in the sauce. BOOM 555 Villa Thai!!!
@ $10
Boiled Gong Gong. This dish always reminds me of the film Aliens with Sigourney Weaver. I'd panic if a human-sized Gong Gong came at me. A small one is frightening enough, but the wife and BeBe loved them. Great work again 555 Thai.
@ $15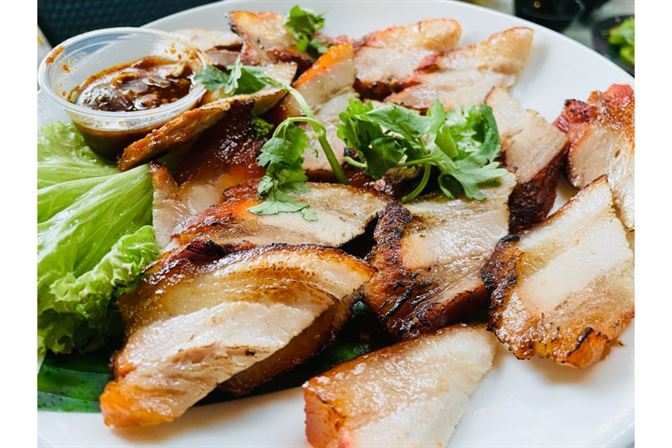 Pineapple Rice 'w' Pork Floss. Again, I tried this despite the impending onslaught of 555 Mookata. Absolutely delicious. Light and fluffy rice, with massive bursts of savoury, sweet and sour and then the salty of the floss. Be proud of this my friends at 555 Thai.
@ $8
Thai Grilled Pork. You may have seen us eating this at POD in Siglap and raving about it as a dish. 555 Villa Thai is getting the same kudos from us for their version. It's snappy pork, that I think might be pork jowl. I say snappy because it sort of snaps in your mouth when you bite. Still it is beautifully tender and a perfect bedfellow of the dipping sauce. This is a must-try dish when you visit 555 Thai.
@ $10
Chang Bucket – I find this super reasonable for 5 bottles. Icy cold Thai beer to wash the delicious food down. 
@ $40
Or if your glutton face kicks in how about ordering a keg instead. Just book your taxi return home for a lot later than you were thinking. I reckon F&B coma will kick in if you do this bad boy.
555 Villa Thai Mookata. We ordered something like 8 dishes, as you'll see from the photo on the left. We all dined on this, despite it being a Changi Mookata for two. What a bargain this was and super delicious too, with crazy good chilli dipping sauces as an accompaniment.
@ $71
And then it's all over at 555 Villa Thai. Night kicks in and lights kick on...
Our conclusions of 555 Thai Villa, 2022
What a cracking dinner we had today at 555 Villa Thai. Get yourself down to 30 Cosford Road if this is a Mookata Near Me option for you! Please ensure you book Thai Villa 555 because there is NOTHING nearby to allow you to walk in if you don't get a seat at Villa Thai, as in there is nothing. You'll see that when you come to visit.
In conclusion. We loved it at 555 Thai. It was busy and bustling. It reminded me of trips pre-Covid to Thailand. Having the airport right there sort of added to the drifting away on travel and food experiences. Next time we're coming for the weekend dinner though, as imagine all that with live music as well. That would just add to the experience of this place. It is indeed a wonderful and very reasonable location to top up on your Thai needs and is now a family Kennett favourite at 555 Villa Thai. We really hope you like our 555 Villa Thia Review, 2022.
Time for the usual ISLIFEARECIPE-dia about 555 Thai Villa
As you will see from the map it is a very lonely place until packed with punters, and that surely happened tonight. It was mobbed at 30 Cosford Rd, Singapore 499550.
Here are some other reviews and recipes of Thai food available to you on Red Dot from ISLIFEARECIPE
Connect with Us on Social Media