Tajima, Mash Whisky Bar & Suki-Ya KIN: A Unique Japanese Dining and Drinking Experience at The Jewel
Tajima, Mash Whisky Bar & Suki-Ya KIN, an extraordinary 3-in-1 Japanese dining and drinking destination located at The Jewel. Here, you will embark on an unforgettable culinary journey as we bring together the vibrant flavors of Japan, showcasing the diverse aspects of its food culture. From the traditional izakaya ambiance of Tajima, the exquisite whiskies at Mash Whisker Bar, to the delectable hot pot offerings of Suki-Ya KIN, you'll be captivated by our unique fusion of flavours, textures, and experiences.
Join them as they raise a glass and say "Kanpai!" in celebration of Japan's rich culinary heritage, and indulge in an authentic Japanese dining and drinking adventure that will leave you craving more.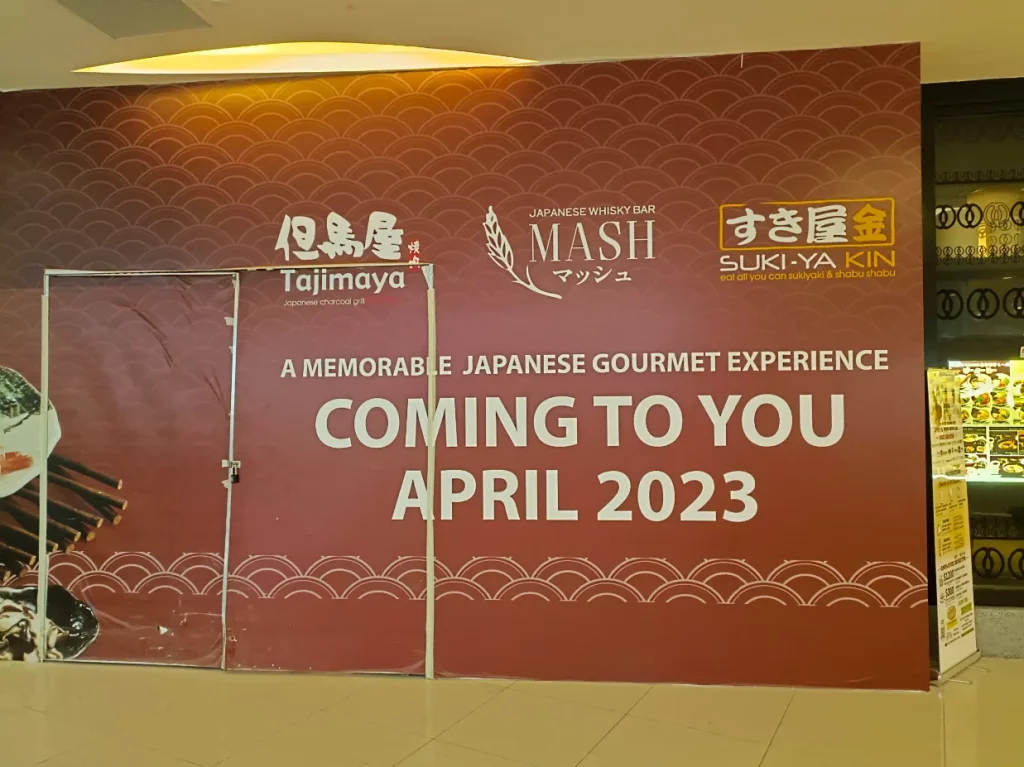 Tajima - Authentic Japanese Charcoal Grill
Tajimaya Yakiniku: The Ultimate Japanese Charcoal Grill Experience
Experience the true essence of Japanese charcoal grill dining at Tajimaya Yakiniku, a restaurant that prides itself on delivering authentic, high-quality Yakiniku to its patrons. With a focus on the finest ingredients, including premium Japanese Wagyu beef and Kurobuta pork, Tajimaya elevates your dining experience to new heights.
A Feast of Flavours: Tajimaya's Offerings
At Tajimaya the menu is a celebration of Japanese culinary tradition, with a special emphasis on Yakiniku, the art of grilling fresh, unmarinated meats over a charcoal grill. The restaurant's selection of premium ingredients includes:
Interactive Dining: Grill Your Way
Tajimaya Yakiniku's unique selling point is the interactive "hands-on cooking" experience it provides. Each table is equipped with its own charcoal grill, allowing diners to take control of their meal and grill their selections to perfection. This immersive, social experience encourages diners to bond over the delicious aromas and flavours of their dishes.
MASH Izakaya Whisky Bar: A Perfect Complement
Complement your meal at Tajimaya with a visit to MASH Izakaya Whisky Bar, where you can enjoy specially created appetizers and small bites exclusive to MASH. This versatile space is perfect for various occasions, from business meetings to casual dining and drinking.
Interactive Dining: Grill Your Way
Experience the Ultimate Hot Pot Dining at Suki-Ya Singapore
Welcome to Suki-Ya, the epitome of heart-warming hot pot dining experiences in Singapore, where you can enjoy top-quality meats and fresh vegetables at incredibly affordable prices. 
Their spacious and inviting restaurant offers a comfortable atmosphere for you to relax and savour mouth-watering dishes that will surely leave you wanting more.
Savour Unlimited, Top-Quality Meats
At Suki-Ya, their main attraction is the endless supply of premium chilled beef, pork, and farmed chicken. These paper-thin slices of meat are carefully selected for their excellent taste and texture. As you dip them into one of the delicious soup bases, the meats cook quickly, retaining their tenderness and succulent flavours.
Indulge in a Fresh Vegetable Bar
Complement your hot pot experience with their extensive vegetable bar, offering a wide array of fresh greens and herbs to enhance the flavours of your meal. From classic choices like lettuce, cabbage, and spinach to more exotic options like enoki mushrooms and shiitake, our vegetable bar caters to every palate.
Treat Yourself to a Variety of Delectable Soups
No hot pot meal would be complete without a flavourful soup to bring out the best in your meats and vegetables. At Suki-Ya, they offer an assortment of soup bases, from the traditional sukiyaki and shabu-shabu to our very own signature miso soup. Choose your favourite or mix and match to create a unique taste sensation.
Create Your Own Dipping Sauces
Elevate your hot pot dining experience by concocting your own dipping sauces from our wide selection of ingredients. Whether you prefer the rich and savoury taste of sesame sauce or the tangy kick of ponzu, their sauce station allows you to mix and match flavours to suit your personal preferences.
Embark on a memorable culinary journey at Suki-Ya Singapore, where they celebrate the art of hot pot dining with unlimited, top-quality meats, fresh vegetables, and mouth-watering soup bases. Our warm and welcoming atmosphere makes it the perfect place for families and friends to bond over delicious food and create lasting memories. Come and experience the ultimate hot pot dining at Suki-Ya when they  open up their latest outlet at The Jewel!