Get 10% off Tonito's with Chope
It's a catchy title, right? Tonito's @ Jewel – Lunch with Wifey. The new job is a LOT of night calls, pretty much every night of the week. So to have BCP invoked and enforced home-working 3 days a week is just awesome. So hence I am making a point of spending some lovely time with wifey for lunches because the nights are surely not happening.
So today we decided to jump a quick Grab and have a jaunt down to Jewel @ Changi again to one of our favourites. Tonito's @ Jewel – Lunch with Wifey. Wifey and I have been to a couple of their branches and they are all equally good. Check out the previous blogs if you want. They are all on here. So today was a quick break from the desk and to get some air as we were having some painting in the condo. I kid you not it was like the old days of poppers in Margate with the paint smell. Time to get out and about, and to eat of course with my chick on my arm.
One is now using this rather cool MobileApp to do some Vlogging (so the kids tell me). So CLICK HERE TO SEE in near real-time the foodies experience today. Sorry if this is shit, but it really does make me giggle to do this and annoy the kids that Dad might have his own Tik Tok channel one day. It does make me laugh. Anyways let's get to it. Only two main courses today at the wonderful Tonito's @ Jewel – Lunch with Wifey 
You will see this on my ever so professional Vlog content, almost Netflix grade. But this is wifey's beef skewers. I tell you what you can't get from this is the flavour of these sauces combined – INSANE. Seriously a Mexican combo to die for with some chargrilled beef-steak skewers. Just so very good. Actually called Peruvian Anticuchos, marinated beef skewers, Adobo sauce, red onion salsa. They omit that you also get Chimichurri sauce (the green stuff) and that the Adobo and Chimmichurri combined is like Angel's saliva – you just want more and more…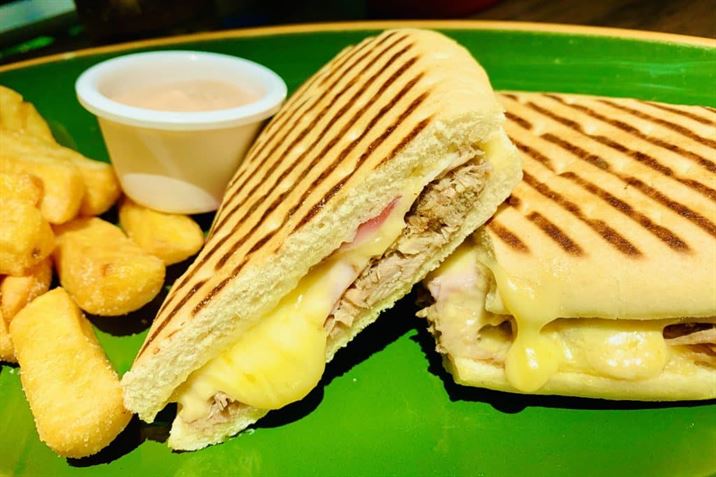 Tonito's @ Jewel is a favourite family haunt for us. We just love the variety on the menu. You literally get from Mexico to Argentina options and no Trump (thank God) and there is no wall around this place. Very welcoming. Great staff helping you. The waterfall and uber-cool atmos and just seriously bloody good food time after time. If you live in Singapore and have not been here, or to Jewel come to that, you are food stoopid. It's a top foodie location as you may have seen from this and other blogs. And with our virus the airport is bloody empty so get hungry, get in a Grab and come support these guys in difficult times. The food is amaze-balls, I guarantee you will –
ENJOY!!!