Bistecca Restaurant
Traditional Tuscan Sharing Steaks & Authentic Italian Cuisine
Bistecca Restaurant is a top end dining experience in Singapore it has to be said – both the price and the food experience that is.
Was eating at Bistecca Restaurant worth it? Oh yes, EVERY single cent.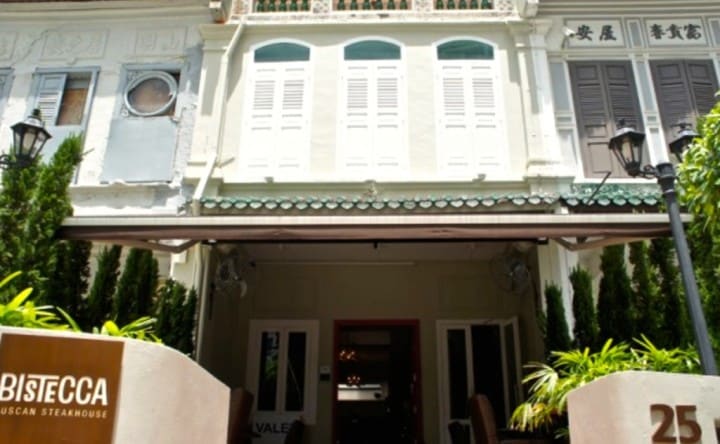 This is very much an East goes West experience – a Tuscan meat Bistro, called Bistecca Restaurant on Mohammed Sultan Road, Singapore. Oh my goodness. You'll need to book as this place just gets monster full. I had been here before with work, and knowing Mary I knew she'd love this place too – plus for yours truly it was another great reason to go back. Apologies now for the photo quality but I only had my BlackBerry, and the camera was clearly not too hot on that!
Here is Mary and I when the main course arrived. A huge hunk of T-bone steak, some pureed potatoes, and grilled asparagus with lemon oil. It also comes with 4 little dips, you can just see at the bottom. Porchini mushroom, garlic aoili, sweet pepper and a green one I could not tell you what is was.
This steak is like 2 inches deep guys – yes 2 inches. Everything they prepare is done on a charcoal grill, so you get blackened, smoky, crunchy outside skin and melt-like-butter pink meat inside (we had it prepared medium as Mary is not a fan of bloody meat sadly). I think you can indeed see that from the photo.
We majorly had to do a doggie bag from this HUGE session of meat – so Ollie had steak and eggs in the morning for breakfast, lucky bugger! He He!
Starters now.
Looks like a pretty plain mozzarella right? Wrong friends. This is called Burrata, and comes with some oil drizzles, reduced balsamic and grilled egg plant & tomato. It's mozzarella and double cream combined in the middle, with the outer "crust/rind" being standard mozzarella.
Bistecca Restaurant food is freaking awesome. Sometimes the outer skin can be filled with things like butter. Hence the word Burrata being Italian for buttered. You catch my drift. An amazing cheese!
Bring on the bone marrow.
Holy COW! Turn off your eyes peoples, ignore that fact that this is goo from the inside of a cow leg bone, ignore all the blood on the plate because this is prepared medium raw – just sprinkle a little sea salt on top of the wobbly mass and get it straight in your gob.
OMG, I kid you not, this is truly unbelievable. Gone in seconds. This dish I think is simply grilled on the bone, or bashed in the for few seconds. The flavour is just incredible. Accompanied by caramelised onions and these stunning sauteed peach slices as well. I am literally nearly falling off my chair as I type.
As my mate Dougy would say: "Winner, winner chicken dinner!" Worth a trip just to get this! But this is "Winner, winner bone marrow with sea salt, caramelised onions and peaches starter!
And for the main we ordered T-Bone steak, which gets served table side. Carved as you watch, from straight off the charcoals, well after a rest of course. Enough supposedly for 2-3 people. I think they got a hyphen in there incorrectly as this will actually feed 23.
It's just beautiful, but my bloody Blackberry camera is really not doing this the justice it deserves. Hmmm perhaps I need go to bed with my camera ha ha.
We had it with pureed mash potato and chargrilled asparagus with lemon oil.
You also get some Tuscan salt, which I think has oregano in it – plus an accompaniment of 4 dips/sauces. Porcini mushroom, garlic aioli, sweet pepper etc.
One of, if not the, best steak ever to cross these lips of mine. This is blackened and crunchy with smoky flavour because of the wood fired BBQ grill, then lightly finished in the oven I presume. You end up with this thin layer of charcoal crust and then pink insides that literally take no effort to cut as it is like butter. And it melts in your mouth like butter too. You gotta get some of this.
Bistecca Restaurant is mixed with wonderful staff, great drinks, great decor, a wonderful ambience – it really is just so so bloody good. Save your pennies and get there. Sure they'd love to have you, but again don't forget to book ahead to save disappointment.
Enjoy!!
Connect with Us on Social Media