Day 2, 3, 4 & 5 in Bohol – eating our way through the island
What can I say? What an absolutely bizarre trip so far, and I am certain more to come because of our mate Covid-19. My Mum could not come in. the end due to having a chest infection so bounced her Singapore trip. That trip also included us all coming to the Philippines so she could meet the family here and also see and stay at the house. With no Mum and no need to await someone getting over their jet-lag, we brought forward our flights to spend another 2 days here in Paradise. How those additional 2 days have impacted our short-term life? I felt the need to document this section in detail. Let's have a further read on of Day 2, 3, 4 & 5 in Bohol – eating our way through the island.
It goes like this – could become a film-script – happy to discuss with anyone interested haha;
We were leaving on 16th – but left today on 14th (the 2 days earlier flight). That was also 2 days before Singapore declared a 'soft-ban' on all non-essential flights. So we exited easy-breezy and with smiles from Singapore ICA, and entered Cebu with smiles from their immigration. Remember the Dave Kennett passport blog, yep they were all happily playing along with that as we said goodbye and hello. NO ISSUES AT ALL!!!
Had Mum still been coming we would not have been allowed to leave probably on 16th. Funny how things happen.
We have one night in Cebu at Radisson Blu Hotel which was really nice, despite being completely empty of people. A nice family meal, a night of nice sleep and a lovely breakfast the next day. Off to Pier 1, we go on 15th, with again no issue at all from Immigration as we say goodbye to Cebu and travel off to Bohol on the fast ferry. We land and go to the house. We have a lovely lunch @ Fiesta Bolanon and welcome to Jimboy @ Galleria, then back to the house, unpack, and then dinner @ Sepo. A cracking 1st day, as always here – just very quiet everywhere.
Then the 16th kicks in. Completely out-of-the-blue Cebu bans all domestic flights and ferries. Bohol then cancels all ferries to Cebu for a month. It is official we cannot get to Cebu on 21st for our return flight. Now starts the ringing round and emailing of every airline and ferry, even evaluating could we hire a private jet from Bohol to Cebu. All roads hit a dead-end – we cannot get to Cebu. Also, Singapore then announces invoking the mandatory Stay @ Home Notice for all travellers from a number of different countries returning to Singapore, including ASEAN. Yep, that's us living at home for a mandatory 2 weeks when/if we get back.
17th we have a yummy breakfast cooked by yours truly. We have a lovely lunch at one of our favourites, Gerarda's and then pop to ICM to get some supplies and also meet Jhea & Mamang. Back to the house we go and order a takeaway from Shakey's Pizza. It's weird, blind panic happening all over the World but Bohol seems to have some sense of normality.
On 17th we then see a flight available on 22nd but now from Panglao via Manila to Singapore. We decide to cancel our Scoot and look to book that flight but will go to the Panglao airport tomorrow to double-check if that flight will actually fly. On the 18th we look online and that flight on 22nd has gone/cancelled. Philippines Airlines respond finally to a message and give some confidence and we book the next available flight now on 29th.
And then from the 18th onwards, the world goes madder and madder. We just sit back and look at all the updates being pinged on Govt Apps, Airlines, Insurance Co's, Facebook etc… We're still having a fun holiday though #fuckthevirus. It's lovely to see the family all together. It's lovely to be in an empty paradise in our beautiful house.
It was absolutely wonderful to do the very first ChillaxBBQ with wifey for the family in the Philippines at the house too.
I will be working from our Philipines home next week from 23rd until we try to depart on 29th (fingers crossed). It just goes to prove home-working can be done from anywhere in the World. All you need is Wifi and the wherewithal to make it work. Absolutely zero face to face meetings happening with clients and total flight ban anyway so what's the difference? None in my reckoning.
Day 2, 3, 4 & 5 in Bohol – eating our way through the island – #fuckthevirus, let's have a look, shall we?
Day #2
Time to get some Vlogging and video out of the way. In fact, I am changing from doing Vlogging to a new name that was suggested by #1 and I love it. For Day 2, 3, 4 & 5 in Bohol – eating our way through the island I have done some FLOGGING. Yes, they are video blogs about food. Genius #1, Genius! We are a Flogging from now on. So CLICK HERE to watch some Flogs of our first few days and foodie times.
Day #3
Day #4
Just a couple of photos as we have already blogged about these guys and have them featured in our Top 10 eateries of Bohol.
Have the car so off to town we go to Alturas Shopping Centre, to get some mobile top-ups, some swimmers for the kids for our trip to Bellevue Resort and also to buy some food supplies – as tonight folks we are doing our very 1st Philippines ChillaxBBQ. Let's go shopping.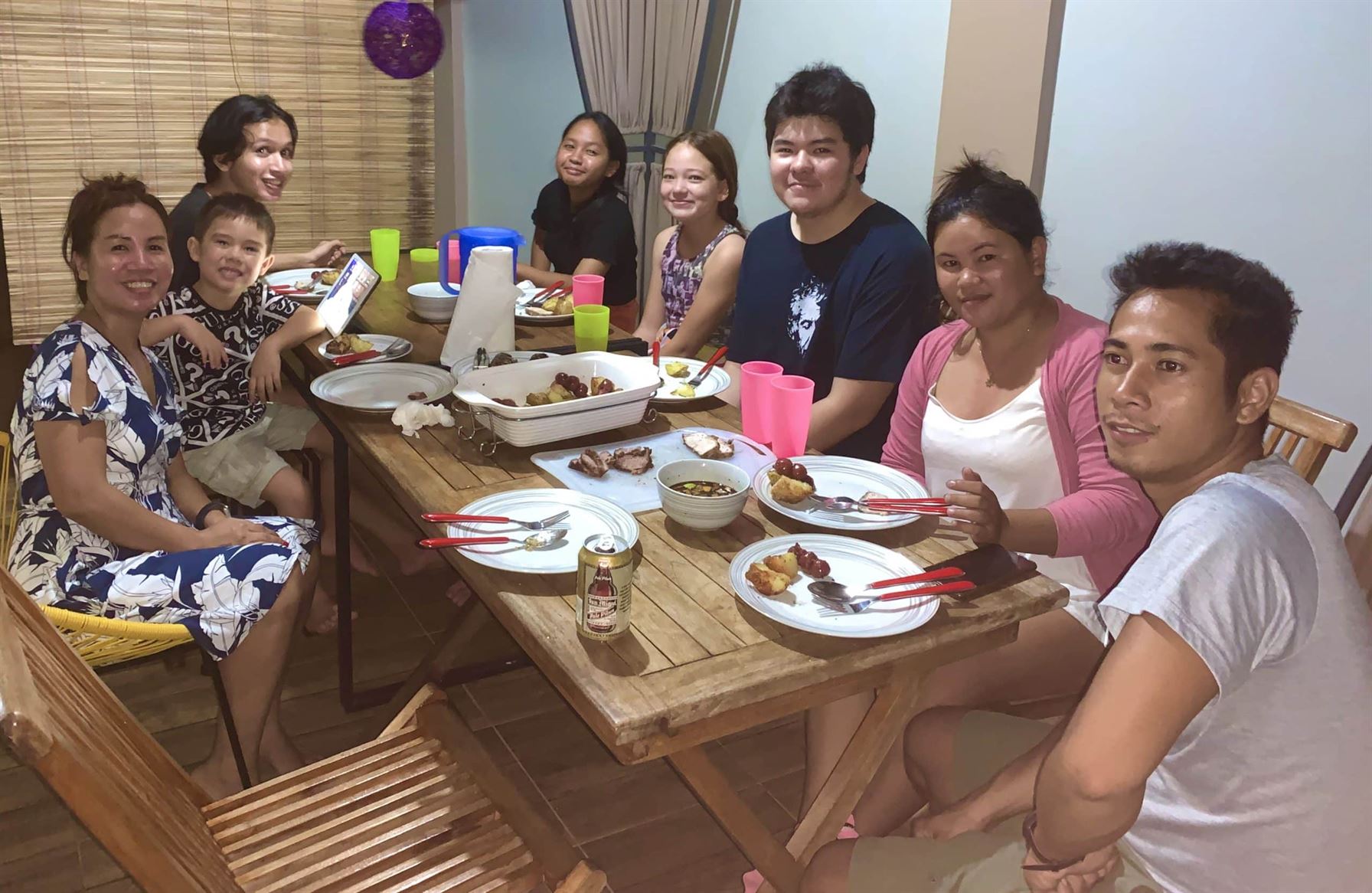 Day #5
Day #5 of Day 2, 3, 4 & 5 in Bohol – eating our way through the island will get more individual write-ups and Flogs as that is about our stay at Bellevue Resort on Panglao. A rather sad Covid-19 = 1 'v' Bellevue Resort = 0. It has been a crazy first 4 days since leaving Singapore. I have never seen the World in such panic and change by a 12-hour timeframe. Decisions are being made, policies are being changed literally by the 12-hour slot. We left on the 14th and everything was pretty much OK, but by the 16th we are on an island in complete isolation due to lock-down. This is the 1st in my 51 years on this planet. But we are making it still a wonderful family reunion and having fun this week, in between trying to secure new flights, new ferries, our 2-week SAH, work of course, and dealing with ICA, MOM, MOE, MOD, Schools x2 and the list goes on. So far we are absolutely making sure we focus on family this week and just – ENJOY!!!