Cheesy, creamy potatoes
I suppose a sort of spin on Dauphinoise Potatoes – but let's go for the full heart attack, no point pussy footing around with this one. Loaded up with all things bad, which then of course makes it all so good. My Cheesy, creamy potatoes. These will go great with any meat dish – beef, chicken, pork I really don't see it being wrong with anything. Even on its own, perhaps with a salad to accompany as it can be rather filling too.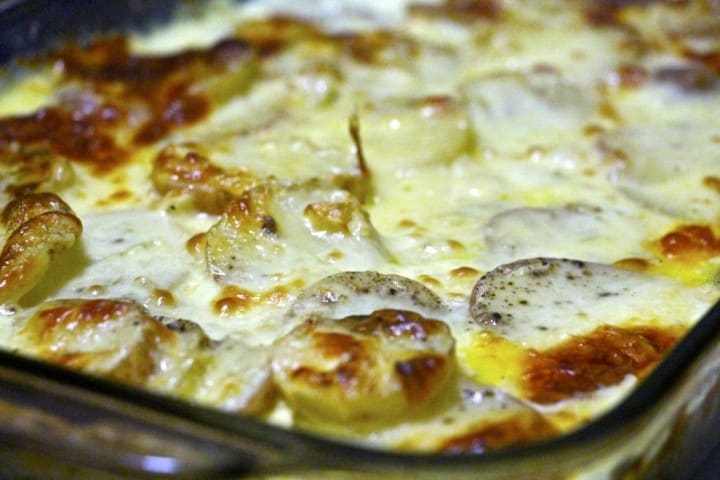 You'll have a huge baking tray full of Cheesy, creamy potatoes if you follow the recipe as below;
2 packets of washed spuds, skins on (I got red and white to give some colour) and sliced to 3cm or so thick;
2 tubs of full cream (none of the 'lite' nonsense);
10 cloves of garlic that I simply finely chopped;
2-3 packets of grated Mozzarella cheese;
A packet of grated Parmesan cheese; and
A jolly good pinch or two of Salt & Pepper.
This is so very simple as a recipe, and has now become a major family favourite – how could you not like all of the above? You also add some thyme or rosemary to jazz it up even further – rosemary if serving with lamb perhaps. Up to you.
Take a large pan and add some salted water and place in the sliced spuds and boil until you can stick a fork in them easily. Not too soft, not too hard, sort of in the middle. Not crunchy, but certainly not falling apart. You want to retain the sliced potato not have mashed potato, and as the cream seeps in there it will also soften them up a little.
Drain the spuds once cooked, and then take a baking tray and layer half of them in the bottom. Pour a tub of cream all over – try to coat them all. Spread over half the chopped garlic, and then sprinkle all over with salt and pepper. Layer Mozzarella to cover all the spuds and then a fine sprinkle of Parmesan – not too much Parmesan as this can be quite a strong tasting cheese.
Layer 1 of Cheesy, creamy potatoes completed.
Layer 2 of Cheesy, creamy potatoes now; Spread the remaining spuds on top. Pour the second lot of cream all over. The remaining chopped garlic and more salt and pepper. Another layer of Mozzarella to cover the spuds. Sprinkle again with Parmesan. Boom, you are finished with the preparation of Cheesy, creamy potatoes.
Oven to 180. Pop these in and watch until the cheese has started to brown and crisp. No more that 20 minutes I would say. See the photo for the desired outcome. It really does not take long. The flavours will all seep in and soften the potatoes a little more. The cheese will melt and the cheese will nicely brown on top. You are finished.
I like to serve straight from the tray as it's fun watching everyone stretch the cheese to get it on their plate. Plus it looks nice as a dish on the table – what do you think? Delicious, and perfect accompaniment from pretty much anything as I said before. These Cheesy, creamy potatoes are winners, and you have to admit are damn simple. Great for your Xmas lunch fast approaching – ENJOY!!!