Amazing Baby octopus with Chorizo Recipe (2023)
This really is one of the easiest things to prep and cook. But it lands on the plate vibrant in colour, and intense in flavour. Try not to blink as this will be going bloody fast believe me. Here comes my Baby octopus with Chorizo.
The meat of the octopus, which is known for being both tasty and tender if cooked correctly, has made it a favorite food in many regions of the world. In fact, it is likely my Wifey's very favourite food, again if cooked correctly and respecting the taste of the octopus.
There are numerous methods for preparing and cooking octopus, including frying, stewing, grilling, and even serving it raw as sashimi. Here follow some of the common approaches to cooking octopus, as well as provide advice on how to achieve the very best results each and every time.
Boiling Octopus:
Boiling is one of the most common methods for cooking octopus and is an excellent way to tenderize octopus meat. To boil octopus, simply place the pieces after they have been cleaned and sliced into a pot of boiling water and let it cook for 45 minutes to 1 hour, or until the octopus is cooked and the skin can be easily removed. Octopus may then be eaten.
Grilling Octopus:
Octopus can be cooked quickly and easily on the grill, which also imparts a smoky and burnt flavor to the meat. Marinate the octopus in olive oil, lemon juice, and any other herbs and spices of your choosing, and then grill it for two to three minutes on each side, or until it reaches the desired degree of tenderness and charring.
Sautéing Octopus:
Sautéing is an excellent method for cooking octopus in a quick and uniform manner. Simply heat some oil in a skillet, add the octopus, and cook for two to three minutes on each side, or until it is browned and cooked all the way through. Serve with a sauce that is created from lemon juice, olive oil, and various herbs.
Stewing Octopus:
Stewing is a method of slow cooking that is ideal for octopuses because it enables the flavors to develop and the meat to become tender and juicy. Stewing may be done on the stovetop or in the oven. To make octopus stew, place the octopus in a saucepan together with vegetables, herbs, and a tasty broth. Cover the pot and place it over low heat. Cook the octopus for several hours, or until it is cooked and the flavors have combined.
Sashimi Octopus;
Is a delectable option for those individuals who enjoy eating their octopus in its raw form. Slicing the raw octopus very thinly and serving it with soy sauce, wasabi, and pickled ginger is all that is required. Octopus that is suitable for sashimi may typically be found in Japanese grocery stores as well as seafood markets.
In conclusion, octopus is a flexible component that can be prepared in a wide variety of distinct ways. There is a way of cooking that can accommodate every preference, whether it be boiled, grilled, sautéed, stewed, or served raw. If you want the greatest results, you need to make sure that the octopus you use is fresh, of good quality, and that you cook it correctly.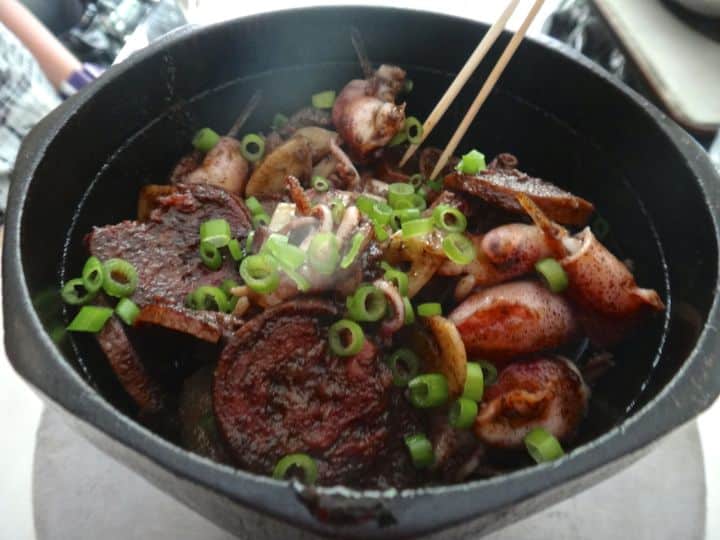 Enough for 3 or so;
1 packet of whole baby squid;
10-15 thin slices of chorizo;
4 finely chopped garlic cloves;
1 teaspoon of smoked paprika; and
Some sliced green tops of Spring Onions.
Pop some Olive oil in a wok, and get to the smoking point. Then simply add in all the above and stir fry until those little squid legs curl up. That should take about 5-10 minutes tops. You are done. You have just made a Baby octopus with Chorizo. I mean come on he easy is this recipe? The oil should go reddish black with the squid ink and from the chorizo and paprika. Smells and looks amazing.
Serve up in a bowl and garnish with some finely sliced Spring Onion tops as you can see in the picture and there you have it my Baby octopus with Chorizo.
Oh yeah, baby! I told you not to blink. This is so so fast, but so so effective. Mary and Ollie raved about this one, and hopefully so will you all do too – ENJOY!!!