Thai Red Curry BBQ Prawns Recipe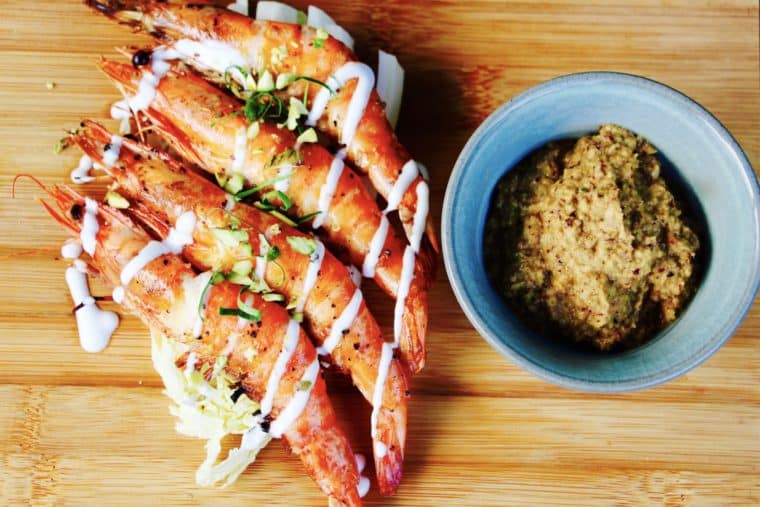 This could be one of my chosen main course options for Kilo Under Pressure – I made this up today
I have been thinking and thinking about my menu, over and over again in fact for Kilo Under Pressure. I think I am decided on one, this fusion version of a Thai curry dish. This is my Thai Red Curry BBQ Prawns. I liked this a lot today. A couple of things to change of course, as you would expect. All improvements and enhancements, but the basics are firmly there, and it came out so very very well. I am very happy with this, especially after having Filipino critique Marysol Kennett all over this one, and you know what she is like with her fish dishes.
Any honest opinions would be gratefully received regards what you think of it. Would you eat this if it rocked up at your table? I decided to create a version of a dish I had in Thailand one time, but deconstructing it to be BBQ grilled prawns to get some char and flavour on them buggers, and then have the red curry as a dipping sauce. Maybe add a little white rice as a side, and definitely, I will be changing the greens from raw cabbage to wilted Asian greens or Asparagus.
But overall with the flavours of the curry paste and the prawns, I am very happy. A match made in heaven. So, with sign-off from Kilo, I will have this on my menu as one of two main course options, my Thai Red Curry BBQ Prawns.
I did enough here for two (makes me sort of panic about the restaurant caper, with 100 potentially coming). Below will enable you to make more than enough of the Thai red curry dipping sauce though to feed a small village in Thailand. So it's quite a simple recipe as you can make loads of the Thai red curry dipping sauce, it's then a case of how many BBQ prawns per person you want to offer up. I think with rice, and maybe some greens of some description 4 or 5 prawns per pax is good. Here comes the recipe for Thai Red Curry BBQ Prawns, The Semi-Naked Chef style.
BBQ Prawns
8 prawns – I left skins, head, and tails on – but will likely ask the cooks to de-skin for the restaurant and leave the head and tail on to avoid the fiddling;
Sea salt and cracked black pepper; and
Simply take some bamboo skewers and pierce them from the tail all the way through the body and out through the head. This is going to allow the prawns to cook straight so you can plate them nicely when cooked. Lay them on a tray and sprinkle them with sea salt, cracked pepper, and Olive oil on both sides. Cover and move to one side.
Thai Red Curry Paste
In a blender (if cheating) or pestle and mortar, blitz or pound all the following to a smooth paste;
2 limes zest – I simply cut off the skin to the pith with a very sharp knife;
10 dried chilis, that I soaked in water for an hour or so before;
A good pinch of sea salt;
2 good pinches of cracked black pepper – of course, I used Kampot;
2″ piece of galangal or young ginger, roughly chopped;
3 cleaned stalks of lemon grass, roughly chopped;
6 or so Coriander roots, roughly chopped;
2 shallots, roughly chopped;
2 tablespoons of finely chopped garlic; and
5-6 tablespoons of coconut cream.
The Salad & Dressing
I used some BBQ'd Chinese cabbage thinly sliced – maybe next time asparagus or wilted Asian greens;
I might add a small mound of simple steamed white rice next time;
Some coconut cream in a squeezy bottle;
Some finely sliced Kaffir lime leaves; and
Some finely chopped Pistachio nuts.
Here we go – Thai Red Curry BBQ Prawns;
Grill those prawns on the BBQ or griddle until nice and pink and puffed up, then pull the skewers out;
In a hot dry pan, fry off the Thai curry paste until it starts to bubble and releases all the fragrances;
Quickly grill the cabbage (or alternative – see above);
Place the cabbage down on the serving plate;
Lay the prawns as I did in the photo on top;
Drizzle the coconut cream over it;
Sprinkle with Pistachio nuts;
Sprinkle a little of the Kaffir lime leaf; and
Spoon a decent serving of the Thai red curry dipping paste into a small dish next to the prawns.
There you go, my friends. A new version of Thai Red Curry BBQ Prawns. Hoping you like it. Hoping you like it enough to maybe come to try at Kilo Under Pressure, or just have a go yourself and still come ha ha. It got a big thumbs up from my best critiques, so I am personally happy with that, and I think you will be too. Not bearing in mind this was all cooked and served at a BBQ pit. Looks a bit more restaurant served I think you'll agree. Have a go, and – ENJOY!!!
Click below for more amazing prawn recipes from ISLIFEARECIPE.net