Kilo Restaurant, Jalan Drupadi, Seminyak
Of course, we had to come to our mate Javier's Bali version of the Singaporean favourite, Kilo. We had to. So I pre-booked Christmas Day lunch at his place. Yeah, this was going to be good. Bring it on Kilo Restaurant, Jalan Drupadi, Seminyak. I recommend you taxi it to the restaurant, as we started walking and it is a jaunt believe me. BUT, after lunch and watching some guests with 'local knowledge' there are alleyways that cut straight through to the main drag saving about 20-30 minutes walk time. No BS. So walking became OK, just ask the staff for the shortcut home perhaps.
We had one little glitch to start with no one seemingly able to work out we had booked about 3 months ago, so we were sort of parked in the smoking area. We were sweaty, irritable now. Getting angry. But all was sorted in the end and inside we went for a cracking Christmas Lunch Feast. Javier – seriously my friend, bloody brilliant. Be proud fella!!! Oh yeah, folks, if you are from Singapore, use your UOB card – a whopping 15% discount off all food – hell yeah, Kilo Restaurant, Jalan Drupadi, Seminyak, is a rocking!!! Jingle bells indeed!!!
Let's have a look, shall we?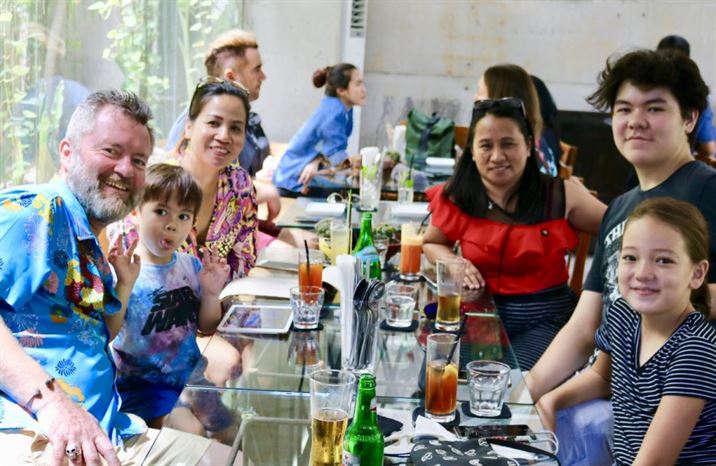 There you have it folks our Christmas Lunch at the amazing Kilo Restaurant, Jalan Drupadi, Seminyak. Javier mate, that was a cracker. Washed down with Bintangs, Lychee Lemonades and the like, 6 VERY happy dining campers walked out. Such inspiring and creative dishes were on offer, plating was to perfection (OMG I am going back to Kilo Under Pressure days…). It's a stellar lunch. This is a restaurant you simply must go to if in Bali, Seminyak. We had a ball – you will absolutely – ENJOY!!!