Naumi Hotel's authentic Italian restaurant Singapore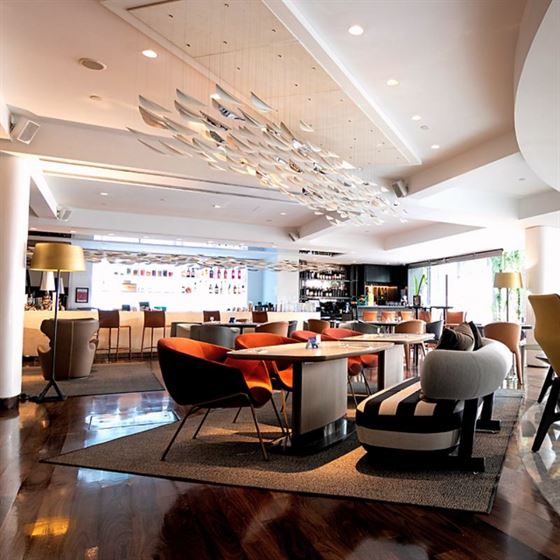 Florian is a Venetian restaurant that is an intrinsic part of Naumi Hotel Singapore. You can dine and drink in the restaurant on the ground floor of the hotel or even take a brunch with stunning views of Singapore city skyline at the hotel's rooftop pool & bar area.
I have been to the Naumi Hotel rooftop terrace bar and it is exceptional as you'll see below.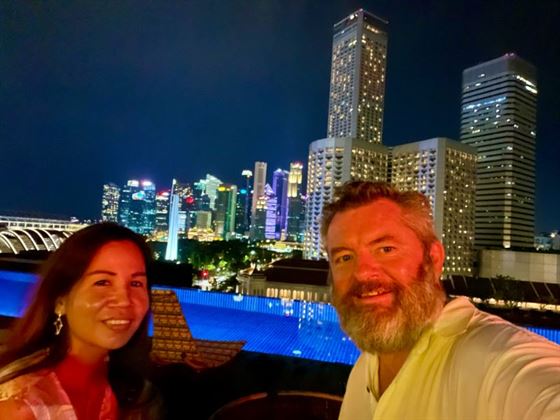 I humbly believe it is one of the top Italian restaurant in Singapore compared to others I have tried, and because of that, I have visited twice now. Once when on a staycation at the Naumi Hotel for my wedding anniversary and recently with the whole family for dinner.
Florian's mouthwatering menu is a veritable ode to Venetian gastronomy and the Italian Restaurant & Bar's flavours are incredibly diverse and rich as you'll see from the Florian Menu below.
They have incredible tapas-style plates so you can sample many flavours, textures and food groups without slipping into a food coma. Mix the food up with a stunning array of wines and cocktails and it becomes a rather special dining experience.
Let's hear from Florian... it's quite 'confident' shall we say
Watch our little Vlog of Florian here
Florian Italian Restaurant Review now steps up a notch to look at the food we ate over out TWO sittings here.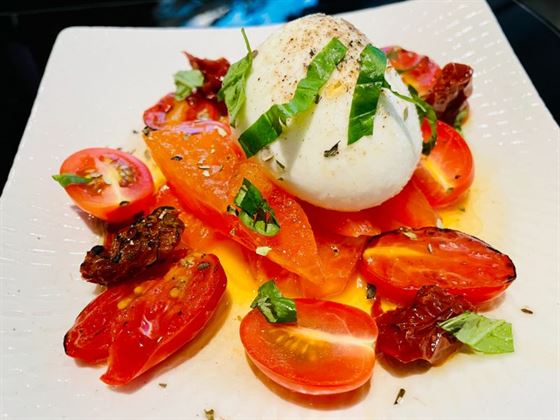 Burrata Pomodoro -various varieties and textures of tomatoes. I'd love this even more with a wee sprinkle of sea salt & cracked black pepper
@ $16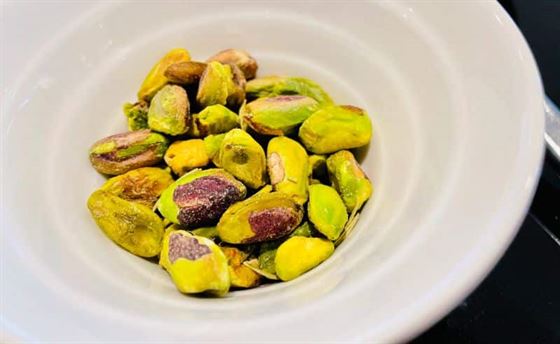 Cichetti Roasted Pistachio – oh yes, must come with an icy cold beer. Pistachio with rosemary & sea salt. WOOF!!!
@ $6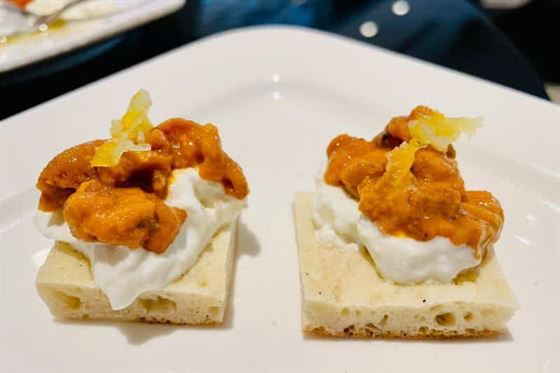 From our 1st dining session with Florian. Wifey loved it. Now off the menu as the guys could not match their desired freshness with demand vs import. Much respect. This was an uni on creme fraiche with lemon, type thing.
Cichetti Prosciutto Platter – It really is just so good. We carnivores devoured this in seconds.
It's an assortment of the finest Italian cold cuts.
Just delicious cold cuts in fact. The spicy Italian salami is off-the-charts good.
@ $18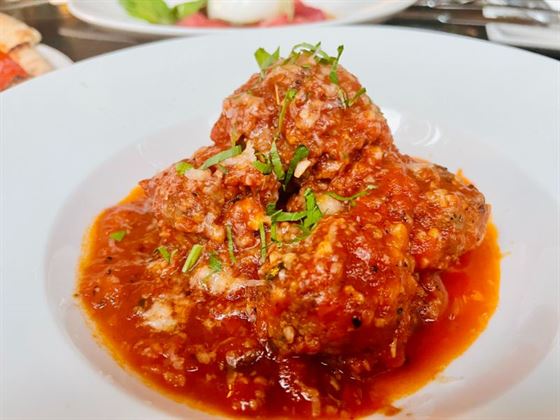 Cichetti Nonna Meatballs – So sorry to say Florian but I don't like your Nonna's meatballs. Lacking seasoning and over-spicy to be honest, and I like spicy. Not a repeat order for us.
Made with Chef's Grandma's recipe.
@ $18
What is Venetian cuisine?
Venice's AKA Venetian AKA Veneto food has a long history and is distinct from other cuisines in northern Italy but with some similarities to Austria, and the Slavic nations (especially Slovenia and Croatia). How about that?
Veneto is the wider expanse and is split into 3 regions;
Venice & the Lagoon
Verona
Vicenza
Each has its unique style. No surprise that Venetian is near open water and is, therefore, more piscatorial oriented.
What you get here at Florian aligns to the regional Venetian Cichèti, tiny meals served in Bacari, the city's traditional wine taverns, that are a speciality of Venezia. In recent years, they have become a sort of Venetian sub-culture, enjoyed by a younger generation as well as those from outside the nation, making them a famous tourist attraction. Save a long flight… come here to Florian.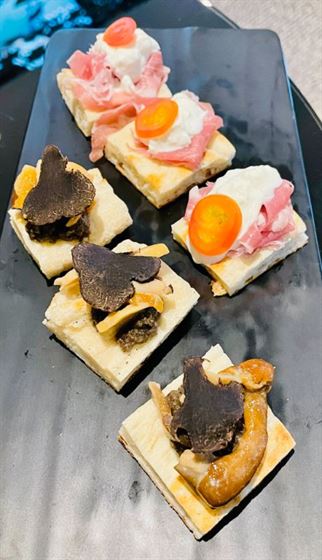 2-in-1 Cichetti here Tartufo Porcini Crostini & a 'free one' – Bless the crew. They came out and admitted they had over-seasoned the calamari and gave us a couple of Cichetti on the house. Wowser!!!
One was this ham with creme fraiche and the other decadent black truffle with Porcini mushrooms.
Stop the tapas bus!!! WOW!!!
@ $12.00
Cichetti Splanata Calabra Crostini – I absolutely LOVED this one. Textures & flavour pops all over the place.
Spicy Italian salami, Friarelli, Parmesan. Just a WOW!!!
@ $7.00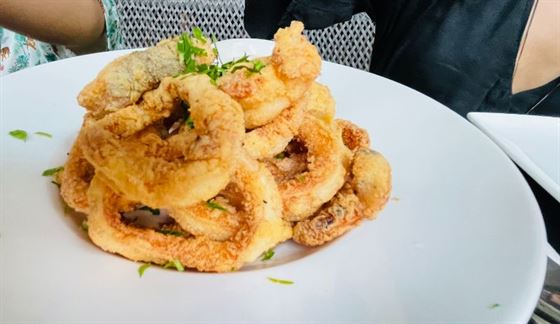 Seafood Cichetti Fritto Misto – So Wifey tried to order a repeat of the Calamari in Umido but the server said no you are mistaken this is the one. We were right, and I proved it with images of our 1st time here. Anyways it was ordered. Bits and pieces of fried fish, scallop etc.
@ $29.00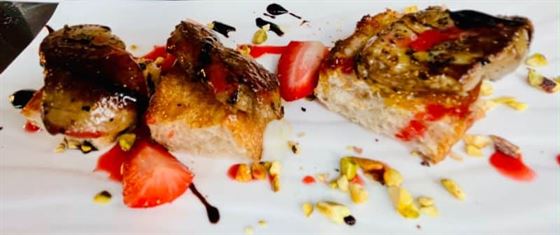 Cichetti Foie Gras Crostini– Double WOOF!!! 
Little toasties with unctuous foie, a zing of vinegar, savoury of nut and even sweet of strawb. Winner!
Foie gras, Balsamico, pistachio
@ $19.00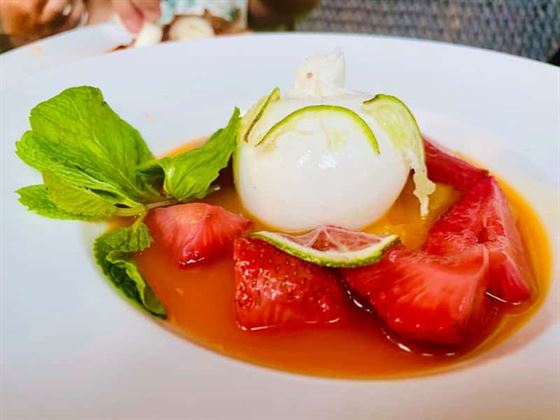 Burrata Passion Fruit & Yuzu – passion fruit, Yuzu, lime, marinated strawberries
Sounds more like dessert time right? But this was knockout. A stunner of a Burrata with such a sour selection of fruit – incredible bedfellows.
@ $18.00
Florian Food Menu and Pricing
We love the variety and small-ish tapas-style plates so you can explore the menu more. It's got a really nice balanced variety across the meats, piscatorial & veggie options so everyone is more than covered. Let's have a look.
I am adding in the drinks menu, which might be the 1st for any Singapore Food Blog review I have ever written. Why?
Because their cocktails are INSANELY good.
Recommendation = Bellini!!!
See Wifey's face… nuff said!!!
Florian Singapore specials are more on a whole event than options on the menu, with their Rooftop Sunday Champagne Brunch
What could be better than a lavish Brunch being a foodie living in Singapore? Maybe a brunch with a view of the Singapore skyline as well. We have never done this as it looks very much more couples than family, but…
Looks like fun though to join them for Florian's Sunday Rooftop Brunch, located on The Rooftop At Florian, for just $98++, for;
Free flows of Cocktails, Wines & Prosecco

Seasonal Cichetti Platter

Seafood Ceviche

Truffle Cream Pasta & Grilled Wagyu
From 12:30pm – 2:30pm, every Sunday, seating is only limited to 25 pax. Drink in the good times with them at Florian's Rooftop.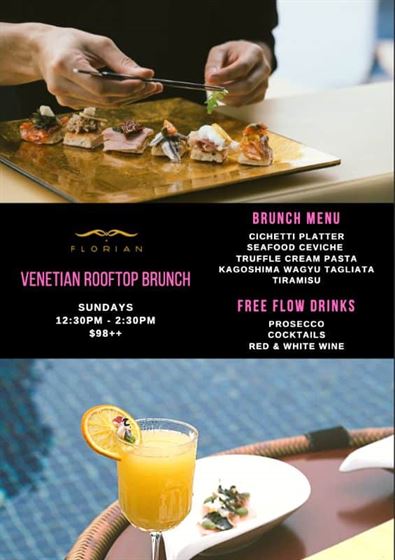 Watch our little Vlog of our Staycation at Naumi Hotel with snacks and cocktails at Florian Italian Restaurant
Frequently asked questions about Florian Singapore
Our conclusions about Florian Italian Restaurant at Naumi Hotel Singapore
I love the concept and I love the place. It has cool sounds and vibes, a great interior, superb drinks & food, awesome wait staff, the funkiest of sisters in Naumi Hotel (just check the artwork and get up to that rooftop), and it is in such a cool neighbourhood with some hipster stuff going on there.
The food concept of Venetian Cichetti rocks my world too. I align with this completely. Small portions, one-bite sized, but loads and loads of them so you get variety and can explore the menu and graze. I remember watching 'Somebody Feed Phil' when he visited Venice and his fixer took him to some local joint and he must have eaten 30 one-bite-sized Cichetti's. It's the only way to dine!!!
On our second trip here I happened to bump into a mate from over West who was about to dine here. I asked him afterwards for his feedback and he concurred that it was a superb restaurant with great food, varied selection, great service and kicking cocktails.
There you have it, folks. It surely gets my vote. This is a repeat place for us and we'll keep coming back again and again.
Florian, be seeing you for a boozy Sunday brunch when me and the Wife can dump the kids!!!
Why not try some of Is Life a Recipe's recipes for our very own version of Cichetti.
To compare to Florian's Review let's have a look at some other top Singapore Italian restaurant reviews from 
ISLIFEARECIPE
Cugini Trattoria Pizzeria – over at Joo Chiat Place and a family favourite. Sit on the veranda and feel like you have been transported to the Mediterranean

Etna @ Siglap – sister restaurant to the one up Dempsey, we have the great fortune to have this in Siglap. Superbly authentic and ALWAYS with a special board to die for 

Al Forno – with two locations on East Coast they are rocking, big Sunday brunches at the main branch and a smaller menu at the Siglap branch
ENJOY!!!