I love to have this cucumber dish, Morokyu, when I visit Japanese restaurants, but Chef Ryan has taken it up a level. The freshness and intensity was the best I ever experienced, almost akin to a Japanese palate cleanser. This is Japanese cucumber, moromi miso, myoga flower. Savoury, sweet, salty and then crisp with the cucumber – bring me another beer please!!!
@ $14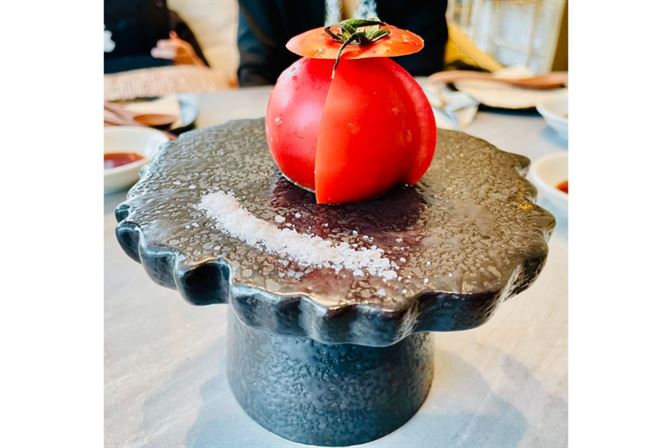 I am just going to give this a WOW and massive thumbs up. You'll probably cringe when I tell you the price of this for one tomato, but believe me this is a tomato on steroids for flavour. And then try it with a little salt and you'll likely fall off your chair with just how insanely good a tomato can taste. Japanese fruit tomato, sea salt.
@ $12
Oh my… up next is a potato. Yep, a sweet potato. I mean how can you write a review about a potato, right? Well this is where the whimsey and creativity of Chef Ryan Clift kicks in.
Check out what he does to a potato to make it likely the best you'll ever eat as a stand alone dish. Sweet potato skins, black truffle sour cream, ebi sakura, wasabi. Like off-the-charts good. The skin was a piece of crispy heaven we were all fighting for, and the potato pieces were like super-savoury fluffy clouds.
@ $12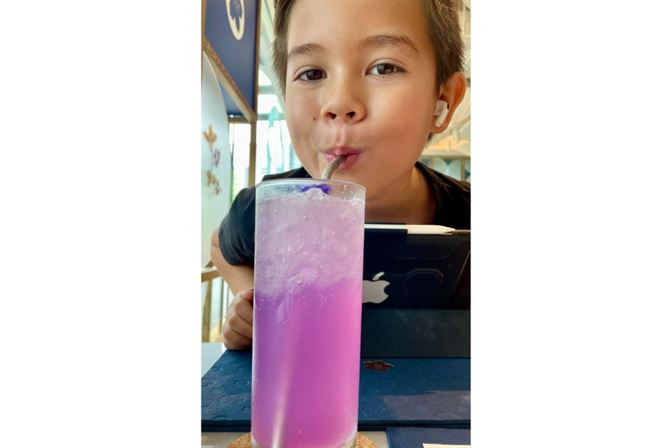 I have to call this one out. Jude Jude ordered a lemonade, and this bad boy rocks up. I had to ask… They use blue pea flowers to make this lilac hue for the fresh lemonade. Best you'll ever have.
@ $8
Another one I simply cannot comment on I am afraid, apart from how absolutely divine that looks plated up. Uni on toast, nukazuke morokyu, oba chimichurri, fermented green kombu hot sauce.
It disappeared and I was very lucky to get a photo before it did. Wifey calls out the freshness of everything, in between chomping.
@ $50
Now we're back in my wheelhouse with this fatty, unctuous thing of beauty. I literally only managed to commandeer half of one, because Jude Jude snaffled the rest. Damned-fine food.
I seriously could have order another portion, but we had so much still to come. What a beauty!!! Wagyu Beef Sushi.
@ $30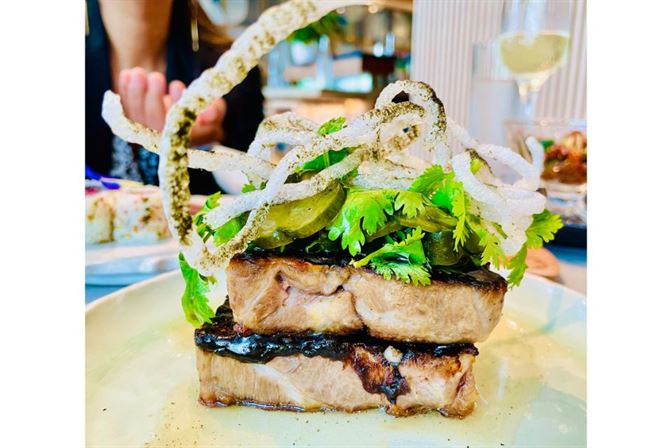 When someone says this has been sous vide for 36 hours you just know something is going to be rather special. Not that I like sous vide, but rather the low and slow approach of cooking. And yes, this pork belly was just up there with the gods of pork belly.
You even have a table-side serve of some dressing (which I have completely forgotten what it was). This is touch and fall apart, fatty, ever so unctuous and just delectable pork belly. Kagoshima pork belly, dashi noodles & fermented cucumber.
@ $44
And saving the biggest of the servings to last is this umami big boy. Woof!!! OK, Moo!!! What a steak. Touched by the flame, but such a perfect char and smoke for this butter-steak. I call it that because you put it in your mouth and it melts.
Then you see this beauty of a Burrata cheese topped with blanched Japanese Fruit Tomato and hiding a secret Kampot black pepper paste to jazz it all up. Add to that the crisp fresh salad with a beauty of a mustard salad dressing. I did ask for a little salt for the steak, it's a me thing with steak especially with Wagyu. This was lusciousness!!! A5 Kagoshima wagyu sirloin, burrata, fruit tomato, mizuna salad.
@ $150