New Butchers in Siglap Eater's Market
With the opening of Eater's Market Siglap, Siglap Food is just getting better and better, from all those incredible restaurants to now this. And this is an ISLIFEARECIPE scoop. We went for family dinner at one of our Siglap Food eatery favourites, Iza, Izakaya Bar & Restaurant, Siglap. And as I walked past what used to be Jude's dentist and Dr. I espied this place decked out with 'good luck' flowers. Hold on, it's a… BUTCHERS!!! It's Eater's Market Siglap.
Closed for a private function I was not able to enter, so I think I will be going tomorrow, I have to see what's on offer in this place because it is offering Siglap Food from a new location and it looks so cool. From a distance, it looked incredible with huge rows of fridges and a massive butcher's counter. I really cannot wait.
This will be an iterative blog post for Eater's Market Siglap, because as soon as I get in there I will be showing off the wares I purchased and cooked up. Watch this space!!!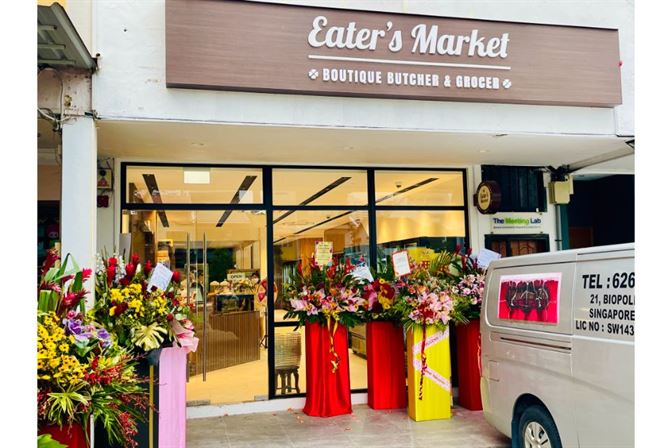 Let's hear from Eater's Market Siglap "Boutique Butcher & Grocer" and new Siglap Food
I truly am so very happy to have this brand new Siglap Food offering open here. I now have comfortable walking distance to produce and a butcher, yes a butcher in Siglap (that I cannot wait to see).
I have been using our BFF's at Katong, Butcher Box, since forever for all our cooking needs and ChillaxBBQ produce and ZAK's if I need halal. Now I have this as well on my doorstep, and I mean like literally a 5-minute walk MAX.
I'm stealing a couple of their photos now from their Facebook (as limited as they are...) the suspense is killing me
Now of course you will ask why on earth has he included a picture of a wooden panel in this Siglap Food blog about Eater's Market Butcher. Well, let me share why Eater's Market chose that colour scheme; "Light natural walnut brown to represent our no preservatives, hormone-free meat, and ready to eat and cooked produce!"
You just have to love that!!!
What are the opening hours for Eater's Market Siglap?
Monday Closed
Tuesday 10am–7pm
Wednesday 10am–7pm
Thursday 10am–7pm
Friday 10am–7pm
Saturday 10am–7pm
Sunday 10am–7pm
Address, Telephone Number and contacts for Easter's Market Siglap
This is clearly very brand new. There's no website up yet despite having a URL, and some Facebook presence. Here we go.
Phone: +65 8884 6899
Website is not up yet: http://eatersmarket.sg/
Facebook: https://www.facebook.com/Eatersmarket
Connect with Us on Social Media