Slow-Roast Hokkaido Pork Belly
Oh, today is going to be good. Maybe a tad poncy with Hokkaido pork though from Japan, but hey who cares. As I said, this is going to be good. As a family, it was decided that we wanted a cooked lunch on Sunday, and as it was Sunday to have a roast. Just like the old days in the UK. So be it. And so was created ChillaxBBQ Stay@Home Recipes #49 – Slow-Roast Hokkaido Pork Belly. And believe me guys, this was an absolute stonker of a lunch. I'd be happy, happy, happy if I had ordered this at a restaurant. It's pretty simple too. But SERIOUSLY delicious. I am proud of what I cooked today, very proud in fact.
Wifey and I were talking about Filipina restaurant ideas with this style of food front and centre. #Hobson'sChoice. As in, no choice!!! Big family sharing platters. Big family picnic tables. I love the idea. Perhaps #49 recipe becomes #1 on the menu?
Slow-Roast Hokkaido Pork Belly
You will need the following for 5 peeps;
1Kg of pork belly
1/2 Kg of cleaned potatoes with the skins on
2 Chorizo sausages – cut into bite-sized pieces
1 bunch of fresh Thyme
1/2 Kg Brussels sprouts
4 rashers of streaky bacon cut into bite-sized pieces
2 Tbps of finely chopped fresh garlic
3″ knob of salted butter
Sea salt & cracked black pepper
Ready, steady, go…
Pork;

1st up – stab that pork belly all over with your tenderiser (of thin sharp knife/metal skewer);
Season that with some good sprinkles of sea salt and cracked black pepper all over – then drizzle with Olive oil;
Pop that on a shelf in the oven, about halfway up.

Spuds;

Cut the spuds to the size you want and get them in boiling salted water, and simmer until they just fall off a fork if you stab them;
Drain and put in a baking tray, throw in the Chorizo and Thyme, drizzle with Olive oil and sprinkle with sea salt & cracked black pepper;
Pop that tray beneath the pork belly and put the oven to 90 degrees for three hours;
30 minutes before you are ready to eat whack up the heat to 220 agrees and crisp off the pork and the potatoes;
When you plate, give them a little sprinkle of sea salt on top.

Sprouts;

In parallel cut the sprouts in half lengthways and pop them in a big pan full of salty water;
Bring to a boil and simmer until the sprouts are cooked but still have a 'crunch' to them;
Whilst they are boiling fry off the bacon and garlic in the butter until the bacon starts to crisp up;
Throw in the sprouts and mix them all together and fry until the sprouts start to brown a little;
Plate them up like in the photo.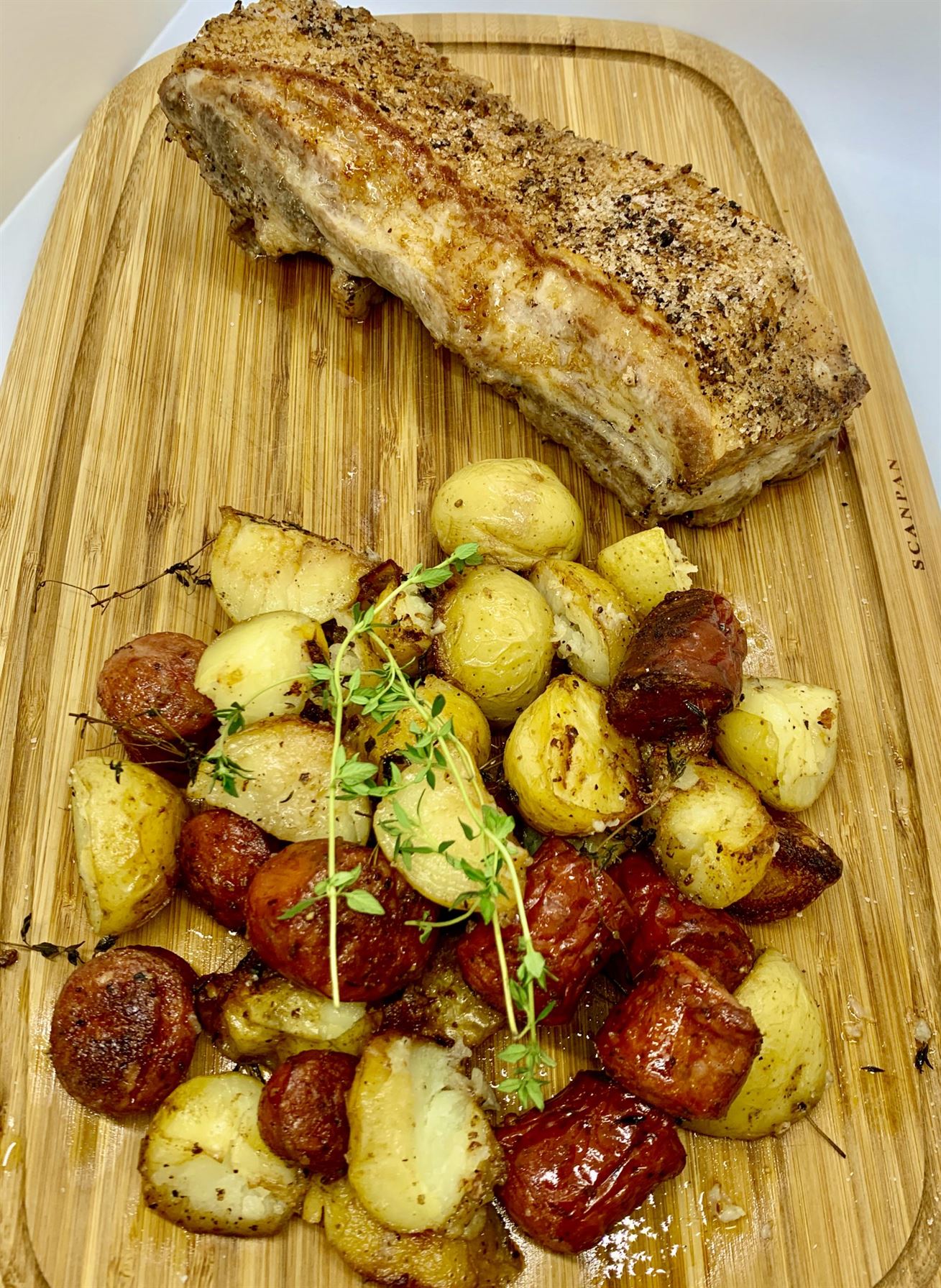 And there it was. A very special Sunday Roast today. We'll be getting that pork again that is for certain. Best pork belly EVER. Of course, a lot of this has to be due to the way it was cooked, cough cough… It was amazing folks. Three dishes were off-the-charts. And the 1+1+1= something like 4,000. Sooooooo good. Deffo have a crack. Meat Collective for the skinless Hokkaido Pork Belly. The rest from the usual supermarket, just follow the steps above to get a winner. ChillaxBBQ Stay@Home Recipes #49 – Slow-Roast Hokkaido Pork Belly = ENJOY!!!