A Recipe for Kofta Kebabs
Doner Kebabs Recipe | Lockdown Recipes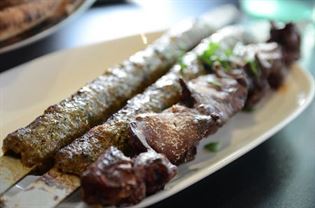 The Kofta Kebabs Recipe was inspired by something we miss as a family from our days in Margate & London. Kebabs. Traditionally in Margate, you'd had the meat carved off a spit and put in a pitta with your choice of salad mix, chilli sauce and/or garlic mayo. Literally, this would be piled in and gets very messy because it all starts falling out of the polystyrene container.
Affordability…
It's classic beer food because usually, you'd be completely drunk when you buy these and wake up in the morning with 'that taste' in your mouth. It's classy.
So for the family today I decided to recreate. I could not do the spit today so fashioned the kebabs as Koftas on skewers, oven-baked, charred and then carved to be like Doner Kebab meat. Self-serve thereafter to build-your-own and stuff that warmed pitta with your desires.
I served this up with some mayo that I simply stirred in some finely chopped garlic and some supermarket Sriracha mayo – yes I was on a time-clock.
This is a BEAUTY of a recipe and pretty simple actually.
In a big mixing bowl throw in the following; – 1Kg of lamb mince – 1/2 cup breadcrumbs – 2 Tsp each of;
sweet paprika (you can add chilli powder or cayenne) crushed coriander seeds & crushed cumin seeds – 1 egg – 3 small red onions finely chopped – A good pinch of sea salt & cracked black pepper
Mix and massage this so that all the meat is evenly coated.
Simply follow the steps;
Pop the bowl in the fridge for 4 hours to marinate and also to 'form' together – you need this for when moulding the meat to the skewers – basically, so it does not fall apart.
After 4 hours take out the meat mix and get your skewers ready. Take your skewers and mould the meat down the length – not too thick. Watch the video for this technique.
Preheat the oven to 180 degrees. Lay down the skewers in the oven on a baking tray and bake for 20-30 minutes until they are cooked through, browned and sizzling.
Plate them up with some roast peppers for colour. Now up to you here. You could char them on the BBQ or, as I did for speed, used my Chef torch at table-side to char them. Also gave some cool food theatre before eating.
Carve them up and serve with the salad, warmed pittas, salad, garlic mayo and Sriracha mayo.
There you go. A new Angmo Cooking Show recipe for lockdown in June and to take you back to drunk days in the UK perhaps?
ENJOY!!!
Connect with Us on Social Media