Lobster, chorizo, bacon & cheese
My lucky lot got this one night for dinner. Lucky lucky buggers. It's not every day you get Lobster, chorizo, bacon & cheese. It started off as usual doing the weekly shop. I popped in to Cold Storage and went to the fresh fish counter to see if they had octopus, as my Mary loves octopus. As usual though the answer was nothing in fresh, so let's check in the frozen fish area for the same beast (again to no avail) – but then I spotted lobster in these little boxes, all the way from Canada. Literally one lobster per box, stating pre-cooked lobster within. And at $26 I thought pretty damn reasonable actually, so yes I'll grab a couple of those and manufacture a new recipe.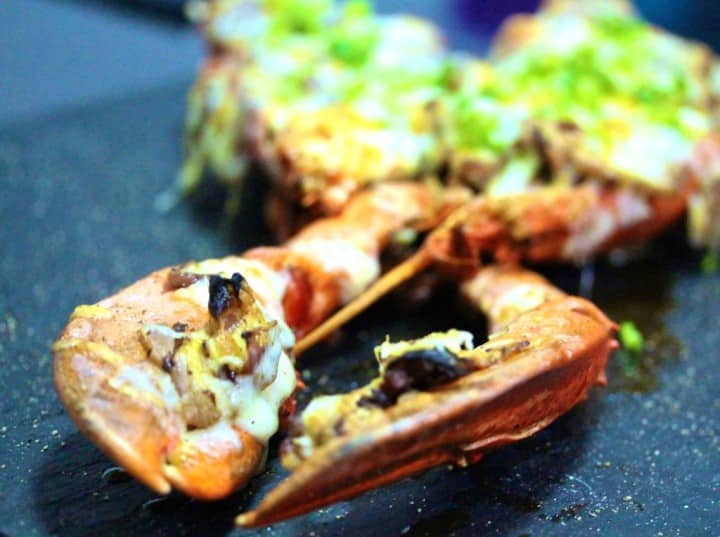 But WTF do I cook with it? I have seen lobster dishes with cheese, of course bacon goes well with fish, and in fact so does a nice smoky chorizo. I know I'll add them all in, and in so doing so created Lobster, chorizo, bacon & cheese. Feedback from the two lucky campers that gained access to this culinary delight was that it was absolutely delicious and all that was left was empty shells.
It worked out that one lobster served two PAX, and for that you will need;
1 pre-cooked lobster from Cold Storage (if you have a fresh lobster, it's simply a case of dropping it in iced water to calm it down, then bash it in boiling water until it turns bright orange – normally 5-10 minutes);
A 3″ piece of chorizo sliced thinly and then cut in to quarter cubes;
4 slices of smoky bacon cut in to thin strips;
A packet of grated cheese;
3 thinly sliced small red onions;
2 teaspoons of roughly chopped garlic;
1 teaspoon of smoked paprika;
A knob of ghee or butter;
Sea salt & cracked black pepper; and
A tablespoon or so of finely sliced green tops of Spring onions for sprinkling on top.
Take your your lobster and with a cleaver or large sharp knife stick the point in to the head area in the middle, where you see a line running from the head to the tail. Then push down and basically cut the lobster in half from head to tail. It should be fairly easy to do this;
Crack the big claws with pliers or a tenderising hammer, lay this on a baking tray and brush the fleshy parts with the butter;
Pop this in an oven at 22o for 10-15 minutes to warm up the meat, let the butter soak in an start to create a little charring – this is the beginning of Lobster, chorizo, bacon & cheese;
In parallel to this process take a wok/pan, add a drizzle of olive oil, get it heated and then and fry off the onion, garlic, bacon, paprika, salt & pepper and chorizo until browned. Take this off the heat;
Spoon over the chorizo, bacon, garlic, onion mix all over the lobster – including the claws;
Then drizzle the oil all over. This should be reddish in colour from the chorizo and paprika and will add a seriously delicious flavour to the lobster and will also soak in to the claw meat through the cracks;
On top of that sprinkle the grated cheese to make an even covering;
Back in the oven and keep your eye on it now – you want melted and browning cheese. Once that is done out it comes; and
Sprinkle on the chopped Spring onion to give it a little colour and a final sprinkle of ground black pepper.
Serve away my friends and make sure you stand back as they'll be teeth, pliers, claws all over the place. This is my Lobster, chorizo, bacon & cheese. Not my best photo ever sadly – too much claw focus and I apologise for that. But believe me this looked stunning and according to the consuming audience, it tasted the same.
ENJOY!